Veterans in the Arts (VIA) is an initiative of the Arts Council aimed to addresses equity, access, and opportunity by providing project and partnership support to reach veterans, active military, and their families.
---
Recent Programming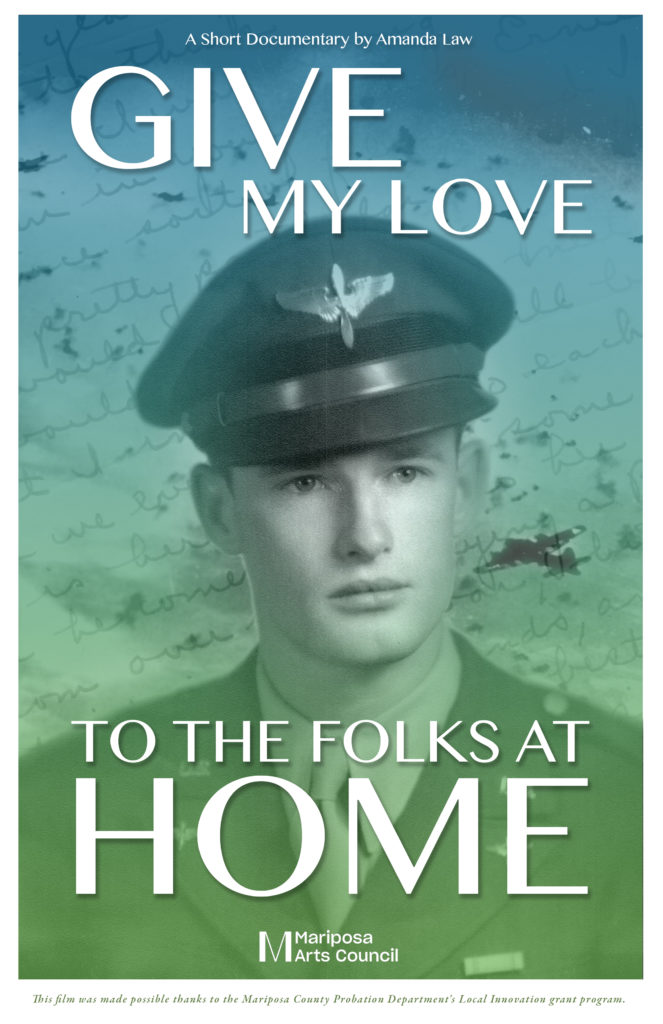 Give My Love to the Folks at Home – 2019 Short Documentary

Created and directed by San Francisco videographer, Amanda Law, this film tells the story of Mariposa County Veteran Keith Bertken through his own letters, songs and recordings.
The documentary premiered at Mariposa's VFW Hall, the Keith Bertken VFW Post #6042's, on Veterans Day dinner in 2019. Together with veterans, their spouses and family, and active military personnel, filmmaker Amanda Law and Cara Goger, Executive Director of the Arts Council hosted a question and answer session after the premier. The project used Bertken's archival records, paraphernalia and family heirlooms (kept and cared for by the VFW hall) to bring Bertken's history to life.
As a component of this project, the Arts Council created a free workshop proceeding the Give My Love premier called Veteran Tributes, which invited local veterans and their families to learn how to make a short documentary highlighting their or their loved one's experiences in service.
---
Special Exhibitions
Hand-to-Hand: An Installation by Ehren Tool

In 2017, Arts Council and the Keith M. Bertken Veterans of Foreign War Post 6042 presented Hand-to-Hand, an installation by veteran Ehren Tool. The installation of over 200 ceramic cups addresses a wide spectrum of issues and concerns facing veterans and service people. Many Mariposa veterans submitted photographs, thoughts, and images of personal artifacts which Tool fired onto cups and incorporated throughout the installation.
Tool also gave a public presentation and live art demonstration to community members during the Mariposa Rotary Art and Wine Festival. Local and visiting veterans and their families were invited to bring service photographs, images, or other artifact to share with Tool, who incorporate them into ceramic cups made on site.
---
In Uniform: Military Uniforms and the Stories They Tell

Curated by Arts Council Director Cara Goger in 2017, In Uniform included the work of Drew Cameron, Binh Danh, and Pam DeLuco — artists who utilize military uniforms in the art-making process to explore the experience of war individually, collectively and environmentally to tell the stories of American military veterans. In addition to this exhibition, the Arts Council hosted a public talk and papermaking demonstration with artist Drew Cameron of Combat Paper.
---
Special thanks to the Mariposa County Probation Department's Local Innovation Grant program for supporting this program. Veterans in the Arts (VIA) serves to enrich the lives of veterans through arts programming that is sensitive and responsive to their unique experiences.