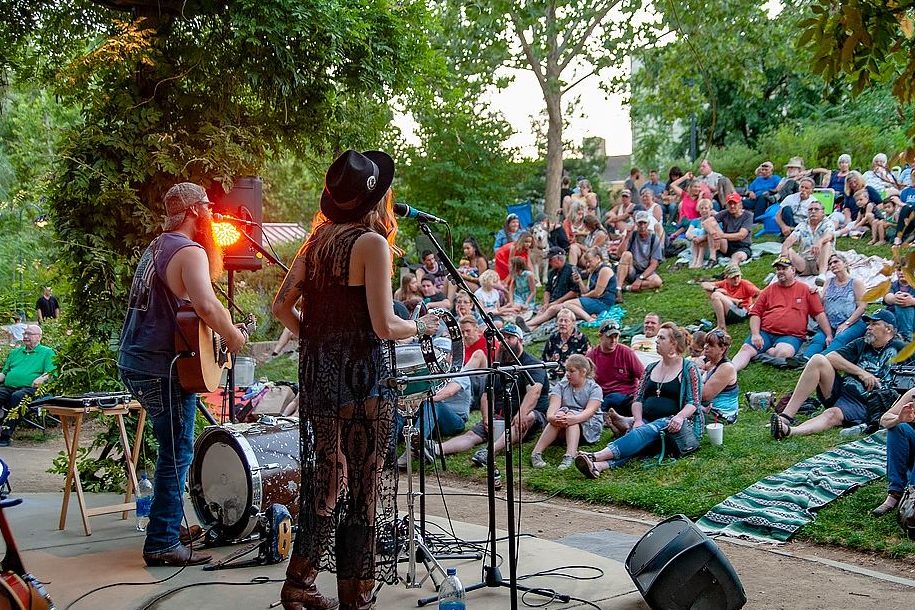 Every Friday and Saturday evening during the summer, the Mariposa County Arts Council hosts Music on the Green Summer Concert Series in downtown Mariposa's outdoor Art Park. These free concerts begin at 7pm and feature folk, bluegrass, rock, jazz, reggae, country, and world music bands hailing from the Sierra Nevada, Central Valley, and San Francisco Bay Area, bringing together both local and visiting concertgoers of all ages. This program is produced by Andy Roberts.
---
---
2023 Line Up
| | |
| --- | --- |
| June 2 | The Terry Barnes Trio |
| June 3 | James Lee Cult Revival |
| June 9 | Green Machine |
| June 10 | Ted Nunes |
| June 16 | The T-Hawks |
| June 17 | Scott Little |
| June 23 | DK Ritz |
| June 24 | Yosemite Songwriter Retreat Showcase |
| June 30 | The Jespersons |
| July 1 | Soul Galaxy |
| July 7 | Skull Country |
| July 8 | Little Tiger |
| July 14 | The Trespassers |
| July 15 | Home Tonight |
| July 21 | Night Wolf |
| July 22 | RandyMandy and the Frequency Experience |
| July 28 | JNX |
| July 29 | Mike Hammar and the Nails |
| Aug 4 | Tiffany Rose and the Outlaw Hearts |
| Aug 5 | Chris Murphy |
| Aug 11 | Nicholas Lefler |
| Aug 12 | Them Badgers |
| Aug 18 | Honey Run |
| Aug 19 | Good Medicine |
| Aug 25 | T-Ranch's Folk Extravaganza |
| Aug 26 | Roger Perry |
---
Music on the Green Student Artists
Original artwork for Music on the Green is created by young artists in Mariposa County. This initiative provides youth with a creative community project and professional development opportunity in collaboration with Arts Council staff. Artwork is used for all Music on the Green marketing material and is shared across the Arts Council's wide-reaching platforms, intended to advance young artists' visibility and position them for entrepreneurial engagement within their community.
Liam's artwork is based on a photo he took outside of his home. He says he "…wanted it to feel distinctly Mariposa" with the blue oak and dry grass hills – "solitary and captivating" with a colorful calm.
This year's Music on the Green's artwork was created by Liam Willis, a Mariposa County High School Junior. Liam began exploring his creativity through art around four years ago and has grown exponentially in multiple mediums including acrylic painting and digital illustration. One day, he'd like to open an art cafe; for now his work can be found on graphics and swag at Pathos Screen Printing.
"Creating art is a way for me to decompress when a lot was happening in my life. It was also a way for me to skill build, I have always enjoyed learning and growing, and this was a way for me to see my progress through the years; To have tangible evidence of my growth was a big confidence builder. Having a creative outlet is always healthy, so learning new techniques and mediums was always so rewarding and helped my mental health."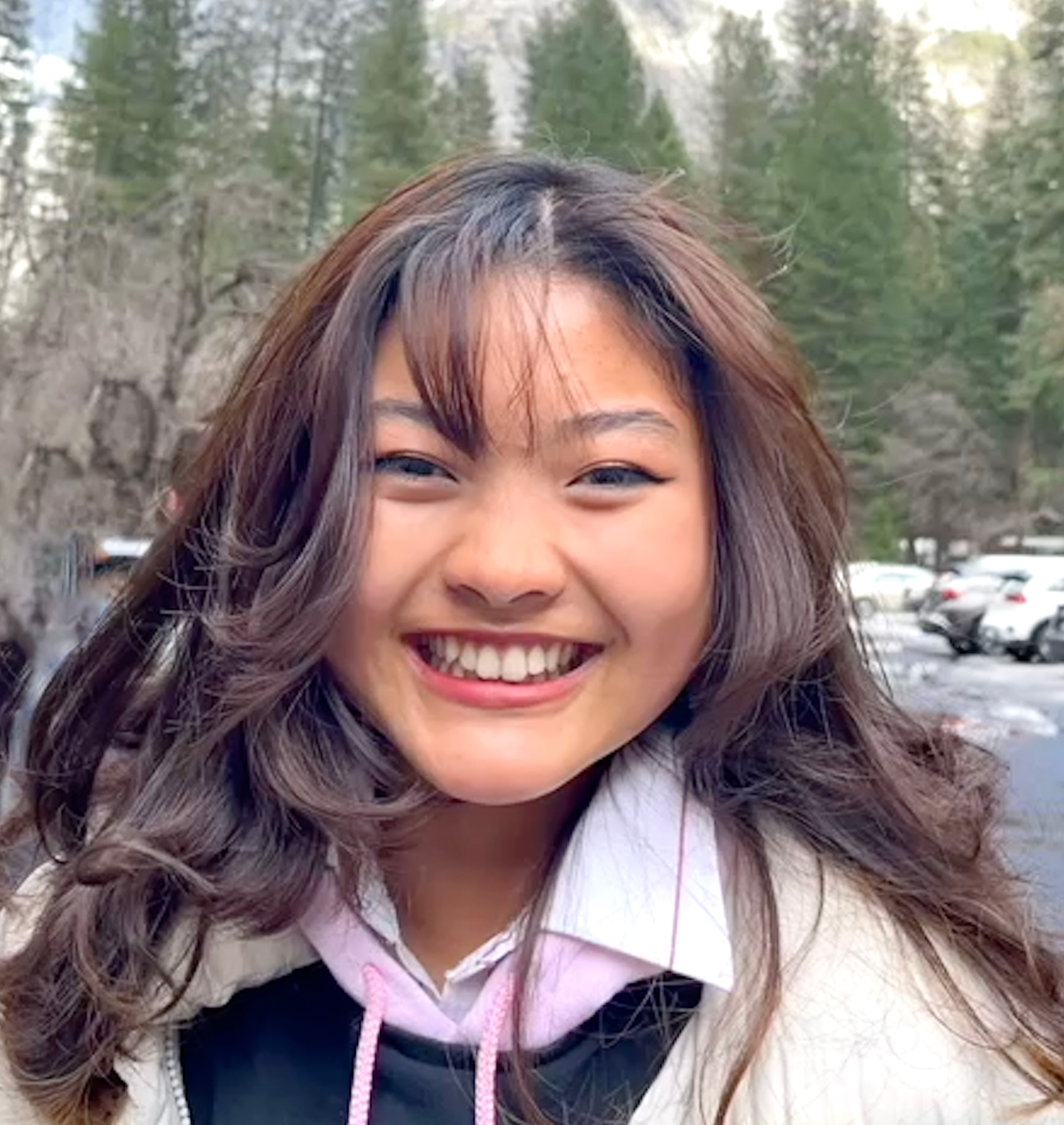 Music on the Green's artwork, "Dogwoods" was created by Celianna Lee, a Senior at Mariposa County High School. Celianna is a versatile artist with a focus on digital illustration and acrylic painting. Her various inspirations have helped develop a contrast and color-orientated style, which play deeply into each composition.
"I'm a passionate artist. Every piece I create is made with intention, emotion, and love. I chose dogwood flowers to symbolize our community."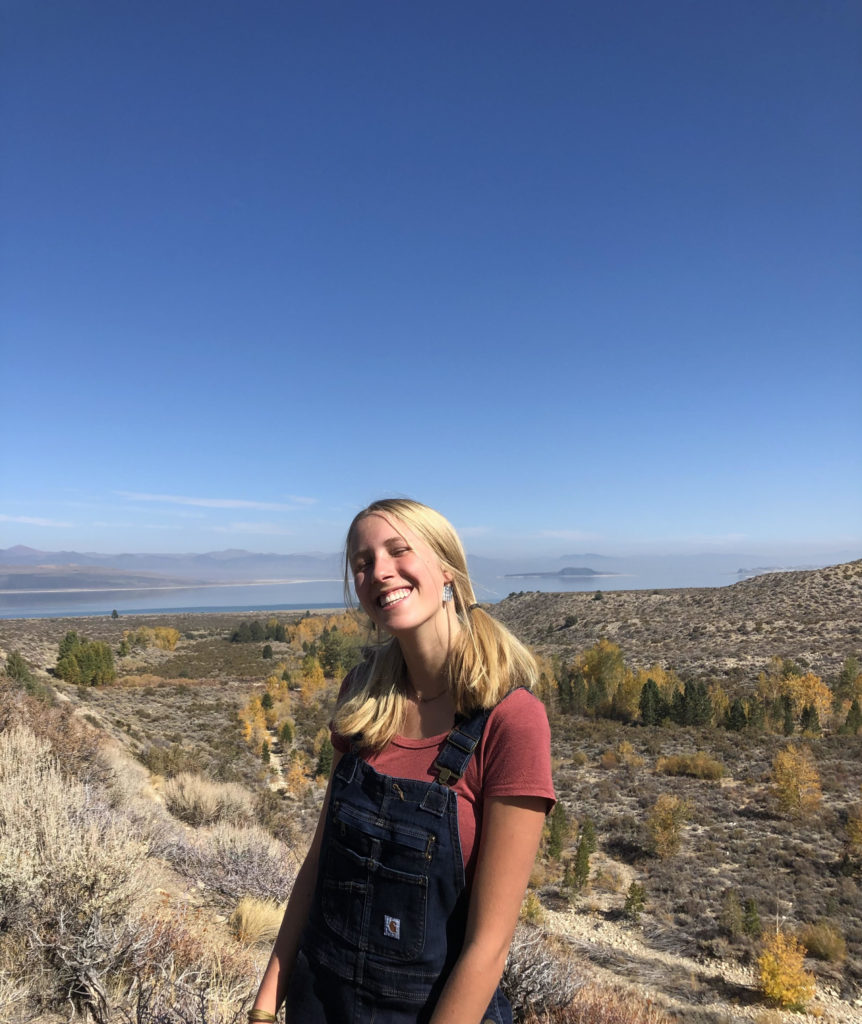 Music on the Green's 2021 artwork was created by Mariposa High School soon-to-be Senior, Autumn Stock. Autumn grew up in Yosemite National Park and her watercolors are endlessly inspired by the rich landscapes and vibrant flora and fauna of the Sierra Nevada. 

Details from her piece "In Tuolumne: Clark's Nutcracker and Indian Paintbrush" were used throughout 2021 marketing material.
---

Special Thanks to Our 2022 Sponsors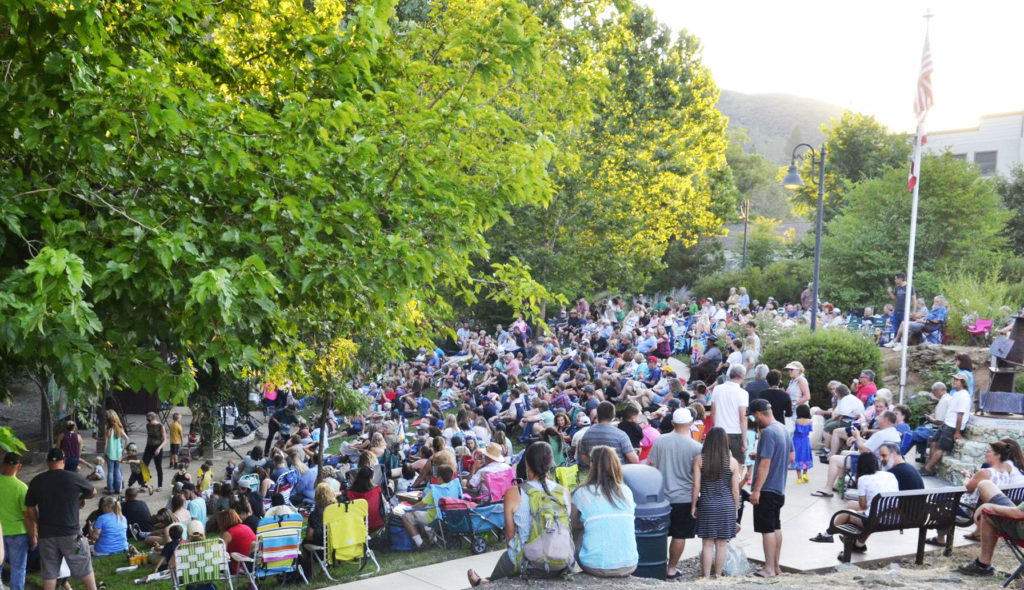 Performances are made possible by support from Mariposa County, the California Arts Council, National Endowment for the Arts and the following loyal sponsors:

James Wittkopf
Anita and Tim Bryant
Saralynn Nusbaum
and Don Melcher

Kevin Cann and Beth Waldow
Pamela Flick
Dave and Terry Rozelle
Restful Nest Bed & Breakfast
Meadow Creek Ranch Bed & Breakfast
The Local Grape
Sierra Artist Gallery
The Starchman Family
Yosemite Songwriting Retreat
---
Program Origin & Cousin Jack
Save
Known as a "One Man Happiness Festival", Cousin Jack Franklin was a minstrel, street musician, promoter, "tuistinairist" and beloved by the community. Music on the Green was originally called "Cousin Jack's Music on the Green" in honor of Cousin Jack's efforts establishing the Mariposa Art Park and his dedication to Mariposa's creative music community . . .
. . . read more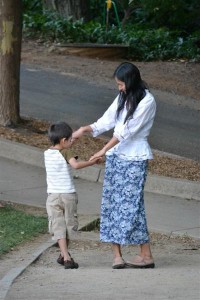 Cousin Jack loved Mariposa, and loved making Mariposa visitors remember their trip-sharing samples of gold, coins from all over the world, balloon sculptors and spontaneous performances, Cousin Jack was instantly loved. In gratitude to Cousin Jack and Alinda, for being a positive representative of Mariposa, sharing their smiles, spirit, good cheer, support, energy and expertise so generously, Cousin Jack was named "Honorary Mayor" and Good Will Ambassador for Mariposa.

Cousin Jack's birthday celebrations were a time of year to gather the community, play some music, have fun, and raise funds in support of organizations such as the SPCA. This free-spirited musician, who picked a 1920's Montgomery Ward Parlor acoustic guitar, dulcimer, harmonica and that throwback banjo, played for anyone who would listen! Cousin Jack could play "Mary had a Little Lamb" on virtually any instrument for local youth. He spent many hours volunteering in the schools giving free music lessons to children, and supported many local organizations.
Cousin Jack and a group of business owners influenced the County to purchase vacant land on Hwy 140 and 4th Street to become an Art Park. Cousin Jack's dream became a reality in 2004 with the new Mariposa County Art Park. It is a beautifully landscaped natural amphitheater with a small stage. For the 2005 celebration for Cousin Jack, the Mariposa County Arts Council was pleased to dedicate our Summer Music series in his honor. Music on the Green is well known as: "Cousin Jack's Music on the Green."
Show less