November 7, 2015 through March 20, 2016
By necessity, and because it was SOP, they all carried steel helmets that weighed 5 pounds including the liner and camouflage cover. They carried the standard fatigue jacket and trousers. Very few carried underwear. On their feet they carried jungle boots – 2.1 pounds – and Dave Jensen carried three pairs of socks and a can of Dr. Scholl's foot powder as a precaution against trench foot….Because the land was mined and booby-trapped, it was SOP for each man to carry a steel-centered, nylon-covered flak jacket, which weighed 6.7 pounds, but which on hot days seemed much heavier. Because the nights were cold, and because the monsoons were wet, each carried a green plastic poncho that could be used as a raincoat or groundsheet or makeshift tent. With its quilted liner, the poncho weighed almost two pounds, but it was worth every ounce.

Tim O'Brien, The Things They Carried
The clothes we wear prepare us for the circumstances we encounter, identify our roles and position in life, and bear witness to the things we have seen and done. Recognizing the significant weight that clothing can carry, the artists in this exhibition all utilize military uniforms in their artmaking process to tell the stories of American military veterans and explore the experience of war individually, collectively and environmentally.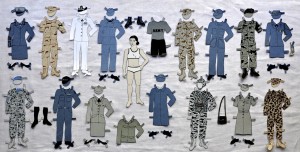 Pam DeLuco is a textile artist and co-founder of Shotwell Papermill (San Francisco, CA). Her book, Paper Dolls, shares the stories of women in the armed forces through accurate renderings of their uniforms in the form of hand made paper dolls. Paper Dolls is a modern and artistic military anthology honoring the service of female veterans. Paper Dolls has been featured on PBS' television show Craft in America, the Huffington Post, Atlantic Cities, The New York Times and can be found in the collections of the Rhode Island School of Design, Print Making Center of New Jersey, Arizona State University, and the Metropolitan Museum of Art's Thomas J. Watson Library. Watch a highlight of Paper Dolls.
---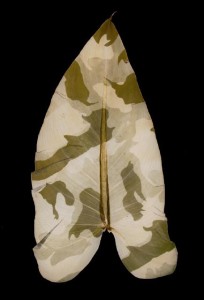 A modern photographic pioneer, Binh Danh's work considers collective memory and the lasting remnants of war through his unique chlorophyll prints. Using photosynthesis, Danh has created a project using military camouflage patterns exposed directly onto leaves (specifically, leaves that bear a striking resemblance to the tropical leaves found in his native Vietnam). This project, titled Military Foliage, not only turns the idea of camouflage on its head by disguising the appearance of natural elements, but also explores how a country's landscape can bear witness to the wars fought on its soil. Danh's work can be found in the collections of the M.H. de Young Museum (San Francisco, CA) the National Gallery in Washington D.C., the Philadelphia Museum of Art (Philadelphia, PA), the George Eastman House (Rochester, NY), and the San Francisco Museum of Modern Art (San Francisco, CA) among many other institutions. His projects and exhibitions have been covered by National Geographic, the New York Times, the Boston Globe, Arts Illustrated, Artsweek, the Los Angeles Times, and National Public Radio's Morning Edition. Watch an episode on Danh's work here.
---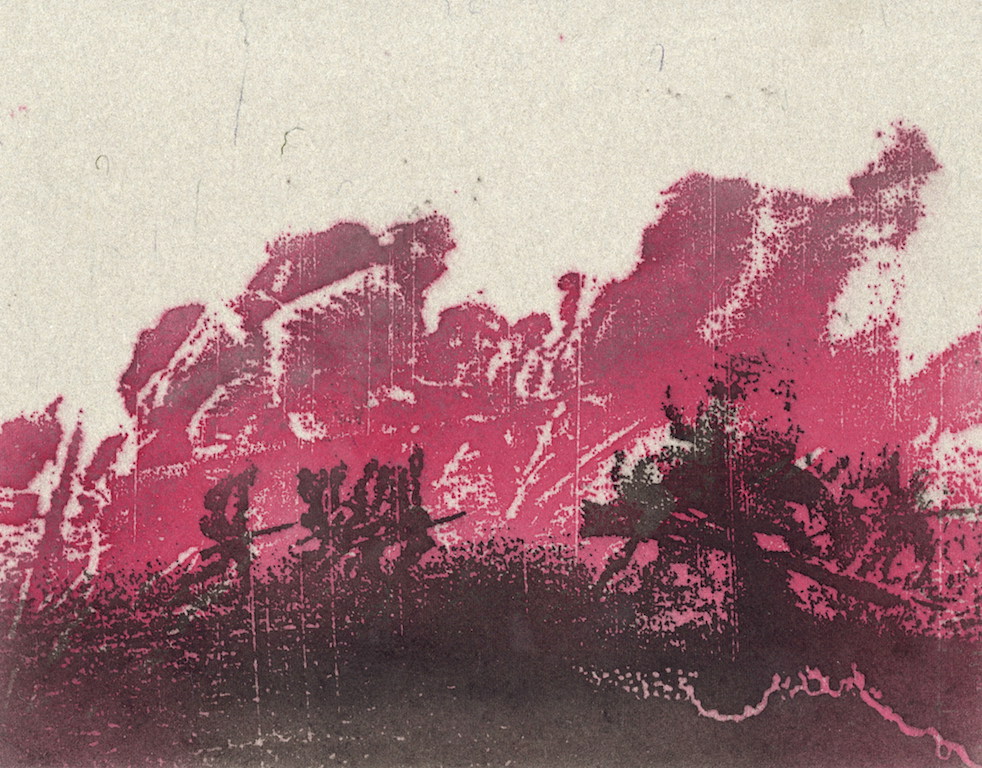 Artist and Iraq War veteran Drew Cameron uses military uniforms to create handmade paper that become the foundation of his artwork. His organization Combat Paper conducts papermaking workshops where veterans use their uniforms to create their own works of art. In a modern iteration of the long tradition of turning swords into ploughshares, during these workshops uniforms are cut up, beaten into a pulp and formed into sheets of paper on which veterans create art that expresses their experiences with the military. Cameron's artwork can be found in the collections of the Rhode Island School of Design's Fleet Library (Providence, RI), the Library of Congress (D.C.), the New York Public Library (New York, NY), and the Wisconsin Veterans Museum Research Center Library (Madison, WI). His work has been included in exhibitions at Los Angeles' Museum of Craft and Folk Art, San Francisco's Museum of Craft and Design, the Capshaw-Spielberg Center for the Performing Arts, New Roads School in San Monica, CA, the Museum of Contemporary Craft in Portland, OR, and the Southern Exposure in San Francisco, CA. Watch a Combat Paper highlight here.
---
Incorporated throughout the exhibition are uniforms belonging to local veterans and individuals still serving in the military. There are approximately 2500 veterans living in Mariposa County, that is well over 10% of our county's population and it is important to recognize their service to our country and the sacrifices they've made to uphold the ideals and values we hold so dear. The weight of war is very heavy and it can be very difficult for both veterans and civilians to open up a conversation about what it means to serve in a combat zone. This exhibition provides an opportunity to honor our local veterans and opens the door a little wider for a constructive dialogue about our collective responsibility and understanding of war and those who have served.
---
Complementary public programming for the exhibition will include a public talk and a papermaking workshop conducted by Drew Cameron of Combat Paper on February 11 and 12, 2016.
In Uniform is jointly organized by the Mariposa County Arts Council and Mariposa's Veterans of Foreign Wars Post 6042 and is funded by the California Arts Council's Veterans in the Arts (VIA) Pilot Grant Program, which addresses equity, access, and opportunity by providing project and partnership support for State-Local Partners (SLPs) to reach veterans, active military, and their families. VIA serves to enrich the lives of veterans through arts programming that is sensitive and responsive to their unique experiences.
---