Upcoming Performance:
Merced Shakespearefest's
COMEDY OF ERRORS

$12 General Admission
$10 Senior/Student
$9 Arts Council Members
 Merced Shakespearefest brings Shakespeare's Comedy of Errors to Mariposa on September 28 and 29, 7 p.m. at the Mariposa County Park Amphitheatre (4889 County Park Rd, Mariposa.) 
Comedy of Errors starts in the stars with a healthy dose of intergalactic hilarity, opening aboard the space station Ephesus, locked in a war with the nearby rogue planet, Syracuse. When two sets of twin brothers board the station unaware that their doppelgangers are also present, it's one nonstop case of mistaken identity and confusion for all involved — much to the amusement of the audience. 
This production features aliens, interplanetary merchants, strange technology and costuming like none ever seen before on the Shakespearean stage. It aims to bring Shakespeare to a whole new audience through the look and feel of late 1950s-Early 1970s pulp science fiction while staying true to one of the funniest comedies of all time. With a talented cast and set of designers on hand, the show is sure to delight young and old!
---
About Mariposa Theatre Alliance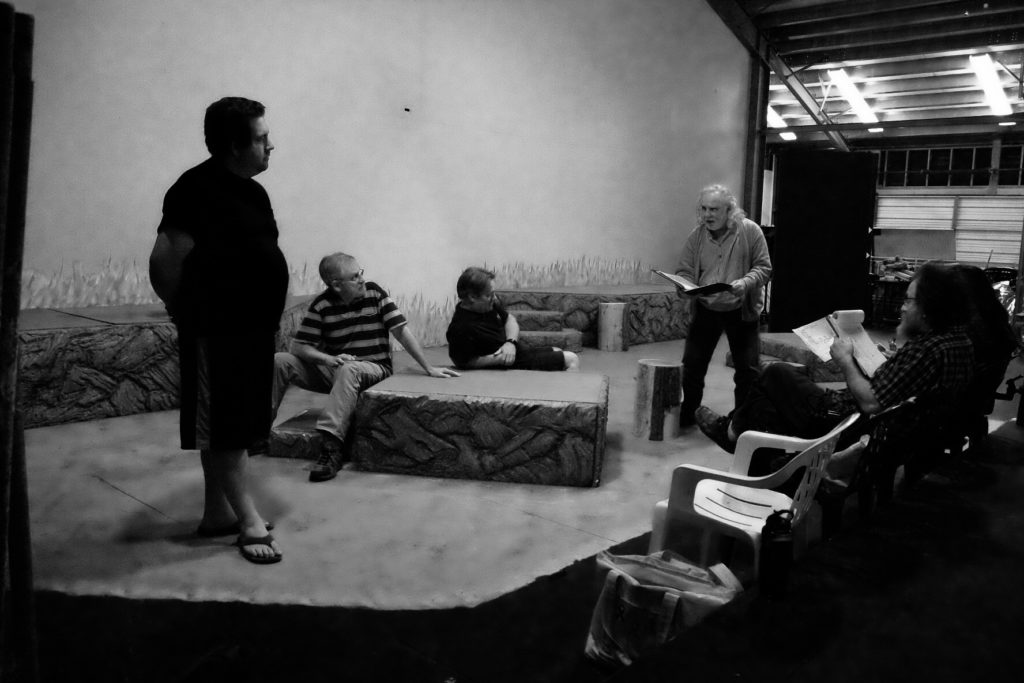 The Mariposa Theatre Alliance (MTA) is an association of producing theatre artists formed to foster and promote theatre throughout Mariposa County. Its purpose is to share information, resources, and technical support. In addition to staging productions, the MTA provides theatre classes and workshops open to members of the community at large. The Mariposa County Amphitheater is the MTA's home base, but its programs are held countywide.
---
Producing Directors:
AUDREY DAVIS
Audrey Davis is passionate about the impact that theatre arts can have on social change and the human psyche. As a child she could frequently be found orchestrating performances with her willing friends and family. She received her BA in Dramatic Arts from UC Santa Barbara in 2001 and her MA in Theatre Arts from CSU Sacramento in 2008. Since then she has thoroughly enjoyed being involved in theatre productions with her community in El Portal and Mariposa.
FREDERIC A. FRIEDLAND
Fred Friedland, Professor Emeritus, Merced College, holds a Bachelor of Arts degree in Theatre, a Master of Arts degree in Theatre Production, and an MFA degree in Directing from Humboldt State University. He has taught college level classes in acting, actor's workshop, drama production, theatre crafts, readers theatre, voice production for the performer, introduction to theatre, stage combat, and fencing. He began his professional career thirty-nine years ago – a career which includes having worked as a director, actor, playwright, set designer, lighting designer, fight choreographer, and theater production manager. He has been active in developing community theatre in Mariposa for the last four years.
LES MARSDEN
Over 4,000 stage performances marked Les Marsden's distinguished career as an actor, playwright and director long based in London, Manhattan and Los Angeles.  Nominated for or won many international honors including London's prestigious Laurence Olivier Award, London Critics' Award, Carbonell Award, etc.  Starring roles ranged from Shakespeare and Chekov to Cole Porter and Neil Simon, as well as many historic revivals of classic American Broadway hits from the 1920s.  Author and star of the internationally-produced "A Night At Harpo's," the only authorized show on the life of Harpo Marx, created with the full cooperation of the late comedian's widow and Marx Brothers' families. Extensive credits as a film, television and commercial actor. Experienced arts producer and administrator; designated a Master Acting Instructor by HB Studios' Charles Nelson Reilly.  Marsden retired to Mariposa after becoming disabled in an onstage accident in 1999.  Also a classically-trained instrumental musician, composer and conductor, in 2002 he founded the Mariposa Symphony Orchestra and serves as its Music Director and Conductor. Marsden is a member of Actors Equity Association, SAG-AFTRA, the Stage Directors and Choreographers Society, the Conductors Guild, National Association of Composers-USA and is an ASCAP Artist.
BRYAN STARCHMAN
Bryan Starchman grew up in the small foothill town of Mariposa, CA., just outside of Yosemite National Park. He began writing short stories in the first grade and fell in love with screenwriting in high school. Soon he tried his hand at playwriting. At UCLA, he spent four years honing his craft.There, he won the UCLA playwriting award for his satire on fraternity life. Unfortunately Bryan and Los Angeles went together like Elizabeth Taylor and husbands — it just wasn't meant to be. Now he lives in Mariposa with his beautiful wife Noel (even a geek sometimes gets the girl!) and his cats, Prince and Pinkerton. He teaches English and Drama at his old high school. His plays have been produced over 1600 times in all 50 states and Puerto Rico, 9 out of 10 Canadian Provinces (come on Prince Edward Island!) and seven more countries including Mexico, England, Italy, Dubai of the United Arab Emirates, South Africa, Nigeria, and Portugal. He has also collaborated with fellow Eldridge playwright and composer Stephen Murray to create "Just Another High School Musical" and "Parents Just Don't Understand: The Musical." More information at www.bryanstarchman.com
CONNIE STETSON
Connie has studied at Santa Monica College, UCLA, The Groundlings, and in various workshops, acting classes, and theaters from LA to NYC. She has been Molly in the "Unsinkable Molly Brown", in "Gypsy", "West Side Story", "Guys and Dolls", and has been featured in many other musicals, comedies, dramas, and was most recently in "Noises Off " at Playhouse Merced. She began directing and teaching in El Portal in 1989 and continued to do that until her move to Midpines in 1999.
Soon after, Connie was contacted by Mountain Crisis Services to direct "The Vagina Monologues" as a fundraiser and did that successfully for five years. She then produced "Love Letters" and "Almost, Maine" to sold out houses. Connie also performed for thirteen seasons, a one-person show,"Sarah Hawkins Contemplates a Fourth Marriage" in Yosemite National Park. She is comfortable with performing, directing, producing, administrating, and teaching.
LEE STETSON
Lee's career includes founding and managing the Hawaii Performing Arts Company, being the Artistic Manager of both the Hawaii Theatre Festival and the Antique Theatre Festival of Idaho, and freelance directing throughout the Northwest and in Los Angeles. Lee has an M.A. in American Studies and a certificate in Arts Administration from Harvard University. As an actor he has performed more than fifty major roles from Shakespeare to Simon, and his television credits include a dozen episodes of Hawaii 5-0. His many original dramatic productions include four one- person shows based on the life of the naturalist John Muir, which have been presented inYosemite National Park since 1983 to hundreds of thousands of visitors. Additionally, the Muir shows have toured throughout the country to universities, parks, museums, wilderness and environmental organizations from Washington D.C. to Hawaii, and have toured as well throughout Scotland, Canada, and Japan. In 2009, Lee was featured – as Muir scholar and providing the voice of Muir – in Ken Burn's PBS series "Our National Parks, America's Best Idea."
---
This program is made possible thanks to these sponsors: 



 Dewey Family Trust
Carol Johnson