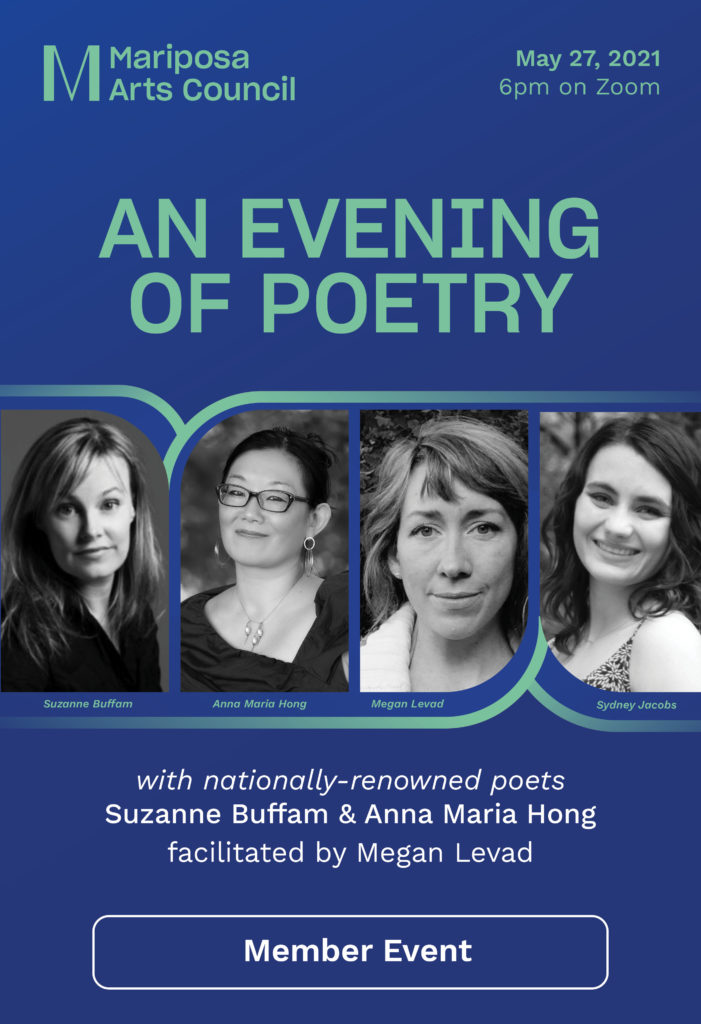 ---
The Mariposa Arts Council is proud to announce a special appreciation event for our Members: An Evening of Poetry with Suzanne Buffam and Anna Maria Hong on Thursday, May 27 at 6 p.m. via Zoom.
Special art events and curated conversations throughout the year are just one way we like to show our appreciation for our Members and their generous support. Members can register now, non-Members are welcome to join membership for access to this event and more.

---
Extended Invitations
Students + Educators
Aside from Members, the Arts Council welcomes educators and students of any age to attend this event. If you are a student or educator, click here to register. (Be sure note in the comment section what school you attend or what subject you teach.)
---
About the Event
This event brings keynote renowned poets and authors Suzanne Buffam and Anna Maria Hong together in conversation with the Arts Council's two primary poetry programs, Poetry Out Loud (POL) and Arts in Corrections (AIC). The event will be facilitated by professor, poet and author Megan Levad with our own Executive Director, Cara Goger. Special features include:
Recitation from Mariposa County Poetry Out Loud finalist Sydney Jacobs
Readings from the Arts in Corrections poetry program with teaching artist, Laura Phillips
Live Q&A with the poets and program teaching artists
Earlier this spring, the Arts Council awarded Mariposa County High School senior Sydney Jacobs the county Poetry Out Loud finalist title. Coached by Laura Phillip and Megan Levad, Sydney moved on to compete in California State Poetry Out Loud Finals with a recitation of the poem "Enough" by Suzanne Buffam. Consequently, Megan was able to connect with Suzanne who volunteered to headline a poetry event highlighting the Arts Council's current poetry initiatives along with Anna Maria Hong.

As a gift to Mariposa's community, Suzanne and Anna Maria both donated copies of their published work to the Mariposa County Library and to the Detention Facility's library, courtesy of Small Press Distribution.
---
About the Poets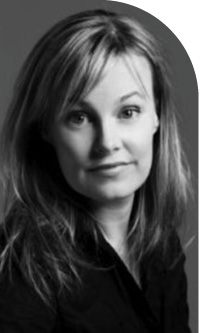 Suzanne Buffam is the author of three collections of poetry, most recently A Pillow Book, which was named one of the ten Best Poetry Books of 2016 by The New York Times. Her other books are The Irrationalist, a finalist for the 2011 Griffin Poetry Prize, and Past Imperfect, winner of Canada's 2006 Gerald Lampert Award. Poems have recently appeared in The New York Times, The National Post, The Walrus, and A Public Space. Her work has been supported by fellowships from the National Endowment for the Arts, the Jeannette Heian Ballard Writers' Trust, and the Canada Council for the Arts. She has taught Creative Writing at the Iowa Writers' Workshop, the University of Chicago, and Columbia College Chicago, and frequently serves as a mentor in the University of Guelph's Summer Mentorship program. Born and raised in Canada, she lives in Chicago.
---
Anna Maria Hong is the author of three recent books: Age of Glass, winner of the Poetry Society of America's Norma Farber First Book Award and the Cleveland State University Poetry Center's First Book Poetry Competition, the novella H & G (Sidebrow Books), winner of the A Room of Her Own Foundation's Clarissa Dalloway Prize, and Fablesque, winner of Tupelo Press's Berkshire Prize. A former Bunting Fellow at the Radcliffe Institute for Advanced Study, she has poetry and fiction published and forthcoming in publications including The Nation, Colorado Review, The Common, Shenandoah, Plume, Ecotone, The Hopkins Review, Poetry, Poetry Daily, and The Best American Poetry. She is an Assistant Professor at Mount Holyoke College
---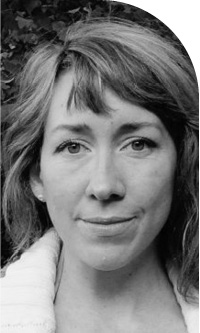 Megan Levad is the author of Why We Live in the Dark Ages and What Have I to Say to You. A recent MacDowell Fellow, her poems have appeared in Tin House, San Francisco Chronicle, Poem-a-Day, Granta, Fence, and the Everyman's Library anthology Killer Verse. Megan also writes lyrics and libretti; When There Are Nine, a song cycle about Justice Ruth Bader Ginsburg composed by Kristin Kuster, recently debuted at the Cabrillo Festival in Summer 2019, where Megan was the Writer-in-Residence. Born and raised in rural Iowa, Megan earned her BA in English from The University of Iowa and her MFA in poetry from the University of Michigan, where she won the Hopwood Program's Theodore Roethke Prize and was selected by Mary Ruefle for a Zell Postgraduate Fellowship. For several years after the MFA, Megan taught creative writing and ran the visiting writers series at Michigan. She has since lived and taught in Boise, San Francisco, and Los Alamos. She now lives in California, where she is the Creative Director at Fahey Associates, and teaches ethics and social justice classes for Boise State from her home with her husband and son in Mariposa County.
---
"A goal of the Arts Council is to utilize the arts as an equalizer and level-playing field where underrepresented voices and underserved individuals can be heard, amplified and engaged. All art forms are well suited to serve Mariposa's community in this way, but perhaps one of the most compelling mediums is poetry: a multi-faceted language form that engenders cultural empathy, exists in a deeply accessible space, and is a vehicle for fundamental self-expression.

Recognizing these qualities, we've intentionally integrated poetry into our public programs and arts education initiatives. It's our hope that through education and demonstration, poetry becomes an embedded and valued community resource for building connectivity, awareness, and collective growth."

Cara Goger, Executive Director
---
Questions about this event?
Please contact Daisy at phillips@mariposaartscouncil.org or call the Arts Council's office at (209) 966 – 3155.