Over the course of her life, artist Ann Harris (1927-2017) used her work to process the changing and dynamic world around her, each piece exuding wonder, curiosity and a deep appreciation of the natural environment. Specializing in colorful and lively watercolor pieces her work falls into three categories: landscapes, mid-century styled abstracts, and native wildflower illustrations.
My hope is that as others view my paintings

they will share this immense human need for

joy in the presence of nature. ~Ann Harris
While a teacher and educator by profession, Harris consistently painted throughout her life. She exhibited her work extensively in both Riverside and Santa Cruz County, and was represented by galleries in Aptos, Capitola, Santa Cruz and Carmel. She and husband Tom collaborated on the creation of porcelain ceramics, which they displayed and sold at Kit Carson Lodge for many years. Tom made cups, vases and bowls which Ann decorated with native wildflowers. She was a member of Yosemite Western Artists of Oakhurst and the Arts Council's own Treetop Gallery. Her work was displayed in multiple Yosemite Renaissance Exhibitions and two Sierra Art Trails open studio tours. She was a participant in the Mariposa Rotary's Art & Wine Festival for several years, where her hand painted ceramic cups were always a popular item, and she won numerous blue ribbons at the Mariposa County Fair.
On September 8, 2017, Harris passed away and this exhibition is an opportunity for the Arts Council and community to honor her and all the vibrancy she brought to the visual arts in Mariposa. The Harris family has donated Ms. Harris' entire collection to the Arts Council and all proceeds from the exhibition will benefit the Treetop Gallery and the Arts Council's visual arts programs for children (Artists in the Schools , Young Masters Youth Exhibition and SITE+VISION).
Special thanks to Tom Harris, Jennifer Fosgate and the entire Harris family for sharing Ann's work with us.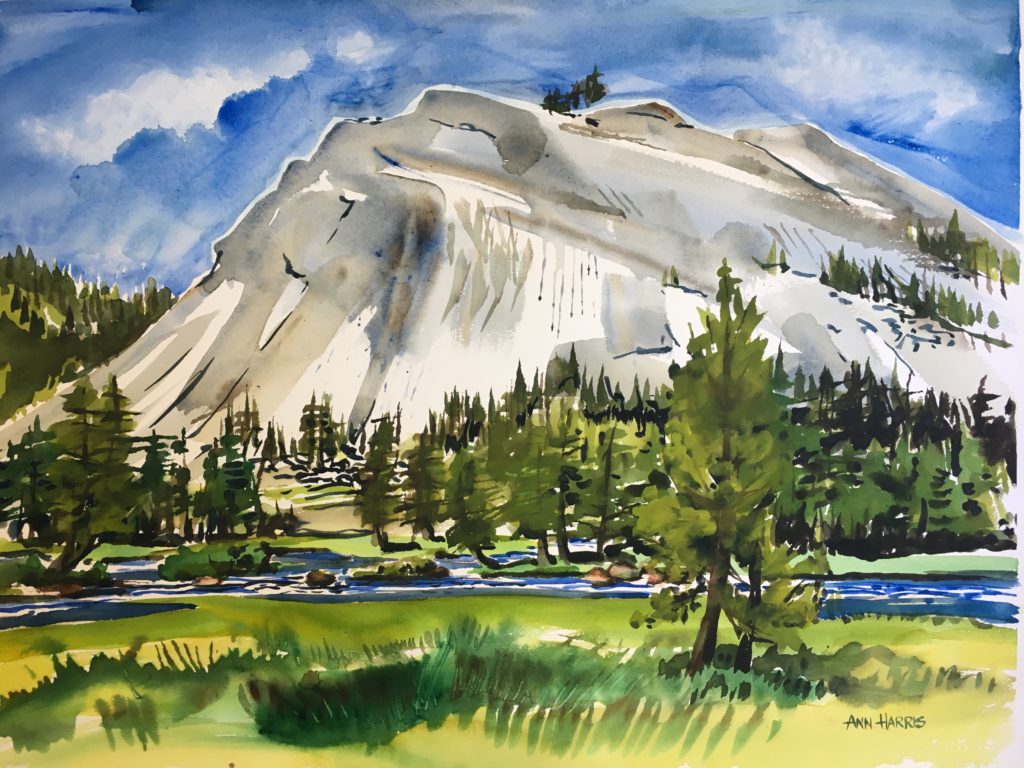 When asked about her mother, Harris' daughter, Jennifer Fosgate shared:

I have a very vivid childhood memory – playing by a mountain stream while Mom painted. That's what I remember – always her painting by a stream while I played nearby.
Ann Harris, Artist Statement
My painting reflects a personal search for consistency in a changing world. Being born and raised in Southern California, my acquaintance with the world as nature makes it was constantly severed and redefined due to the continual frantic havoc being wrought by the mushrooming growth of that area and the rapid pace of my own early life. I found a personal stability in painting trees, ocean, stream and mountain areas where nature still held reign, or by painting buildings whose age proceeded my lifetime and therefore had an established identity. The transparent watercolor medium, which demands rapid execution, fit in well with my hurried painting schedule.
When I moved to the Monterey Bay Area in 1969, it was easier, for awhile, to feel secure with my surroundings, as the imprint of man was still limited here. My paintings became reflections of the visual feast my new environment was presenting. Too soon, however, progress began to show its mark, and development continued the inevitable redesigning of my view of nature as the population about me again doubled its size each decade.
I found myself painting more and more in the seclusion of my own studio, letting the images come with out intellectual help. The spontaneous flow of color, and the delightful intricateness of texture possible with translucent watercolor, gave me great emotional satisfaction. The results were somewhat abstracted leaf, twig, flower or rock forms.
Finally, I realized that my own work was involved with progress and development, and that through varying moods in painting I had been expressing my concern with the changing world. At last I could see how change is so essential to creativity.
As the studio work continued to expand and as I returned, at times, to paint directly from nature, I felt close not only to the beauty but also the promise of a stable, continuing meaning to life even as change is ever present. Although this meaning is beyond my understanding, I see it issued in the varied, yet repeating patterns of nature which flow into my work when I "let go" and allow a painting to paint itself. This helps me to be more comfortable with changes, and now that I am able to devote my full energies to painting, I find it increasingly exciting to let change consistently be my leader.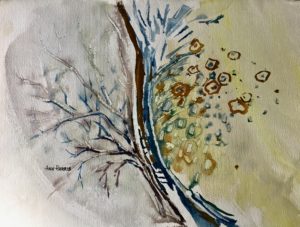 Finishing college with a degree in Art in 1948, I thought I would paint in my old age as I became a mother about a year after graduating. After a second child, four years later, I found myself teaching elementary school. However, in 1955, I looked out the back window and saw the beautiful hills and my daughters playing in the field behind our home in Riverside, California. I rummaged around and found my college watercolor painting materials and, using the washing machine for an easel, I began painting.

After that I couldn't keep from painting as often as I could; painting lots of fishing streams while we were on family outings. Eventually I was able to free myself from "scenes" and painted just for the joy of color, line, and accident. I tended to get so involved in the work, whether representational or abstract, that I go like a whirlwind…just "flowing" along until the painting tells me to stop.

~ Ann Harris
Ann Harris (1927 – 2017)
EDUCATION
Studied watercolor painting under Milford Zornes and Millard Sheets at Pomona and Scripps Colleges, Claremont, California (1946-48)
Pomona College, Claremont, California, B.A., Art (1948)
Utah State University, Logan, Utah, Graduate Work, Elementary Education (1948-49)
California State University, Long Beach, California, Graduate Work, Elementary Education (1951-52)
California State University, Fullerton, California, Graduate Work in Painting and Ceramics under Vic Smith and Jerry Rothman (1965-67)
San Jose State University, San Jose, California, M.A. Early Childhood Education (1978)
EXHIBITIONS
1963 Riverside Art Association Annual Purchase Group Exhibition, Riverside, California
1964 Riverside Art Association Annual Purchase Prize Juried Group Exhibition, Riverside, California
1965 Solo Show, Rotunda Gallery, Mission Inn, Riverside, California
Two Woman Show, Gleed Gallery, Riverside, California
Fine Arts Guild Group Show, Riverside, California
Riverside Date Festival Juried Group Exhibition, Riverside, California
1966 Solo Show, Rotunda Gallery, Mission Inn, Riverside, California
Riverside Art Association Annual Purchase Prize Juried Group Exhibition, Riverside, California
Eleventh Annual Invitational Pots N' Prints Group Art Show, Desert Sun School, Idylwild, California
Riverside Date Festival Juried Group Exhibition, Riverside, California
1969 Riverside Art Association Annual Purchase Prize Juried Group Exhibition, Riverside, California
1971 Altrusa Club International Benefit Group Exhibit, Riverside, California
1972 Solo Show, Santa Cruz Public Library for the Delta Kappa Gamma Society, Santa Cruz, California
Santa Cruz Art League Juried All State Show, Santa Cruz, California
Santa Cruz County Fair, Watsonville, California
1973 Solo Show, Rob Roy Gallery, Capitola, California
Santa Cruz Artists Museum Juried Project Show, Santa Cruz, California
Los Gatos Art Association Juried Membership Show, Los Gatos, California
Santa Cruz Art League All State Show, Santa Cruz, California
Santa Cruz County Fair, Watsonville, California
1974 Santa Cruz Artists Museum Juried Group Contemporary Exhibition, Santa Cruz Public Library, Santa Cruz, California
Los Gatos Art Association Juried Membership Show, Los Gatos, California
Santa Cruz Art League Juried All State Group Show, Santa Cruz, California
Santa Cruz County Fair, Watsonville, California
1975 Solo Show, Rob Roy Gallery, Capitola, California
Los Gatos Art Association Juried Membership Show, Los Gatos, California
Santa Cruz Art League Juried All State Group Show, Santa Cruz, California
Santa Cruz County Fair, Watsonville, California
1977 Solo Show, Montalvo Center for the Arts, Saratoga, California
Los Gatos Art Association Juried Membership Show, Los Gatos, California
Santa Cruz County Fair, Watsonville, California
1978 Solo Show, Nostalgia Plus, Santa Cruz, California
Santa Cruz Art League Juried All State Group Show, Santa Cruz, California
Santa Cruz County Fair, Watsonville, California
1979 Solo Show, Central Coast Art Association at Carmel, Carmel, California
Santa Cruz Art League Juried All State Group Show, Santa Cruz, California
1980 Santa Cruz Art League Juried All State Group Show, Santa Cruz, California
Santa Cruz County Fair, Watsonville, California
1981 Solo Show, Central Coast Art Association at Carmel, Carmel, California
Santa Cruz Art League Juried All State Group Show, Santa Cruz, California
Santa Cruz County Fair, Watsonville, California
1982 Santa Cruz Art League Juried All State Group Show, Santa Cruz, California
Santa Cruz County Fair, Watsonville, California
1983 Solo Show, Branciforte Library, Santa Cruz, California
Santa Cruz Art League Juried All State Group Show, Santa Cruz, California
Santa Cruz County Fair, Watsonville, California
1984 All Solo Shows:
Seascape Tennis Club, Aptos, California
Mangel's House, Aptos, California
Le Cafe, Aptos, California
Santa Cruz Public Library, Santa Cruz, California
Crocker Bank, Santa Cruz, California
Watsonville Public Library, Watsonville, California
1985 American Pen Women Invitational Show, Ben Lomand, California
Redwood Village Invitational Show, Aptos, California
Solo Show, Capitola Chamber of Commerce Annual Banquet, Aptos, California
Solo Show, Henry Cowell State Park Nature Center, Felton, California
Solo Show, Deer Park Executive Offices, Aptos, California
Solo Show, The Serving Spoon, Santa Cruz, California
1986 – 1995 Artist's Open Studio, Santa Cruz County Cultural Council, Aptos, California
1986 Solo Show, Henry Cowell State Park Nature Center, Felton, California
Solo Show, Mr. Toots, Capitola, California
Solo Show, Boulder Creek Library, Boulder Creek, California
1987 Yosemite Renaissance, Yosemite National Park, California
Santa Cruz Art League Juried All State Group Show, Santa Cruz, California
Santa Cruz Art League Autumn Classic, Santa Cruz, California
1988 Crocker-Kingsley Competition, Sacramento, California
Alumni Artists Invitational, Pomona College, Claremont, California
1989 Invitational Group Exhibition, University of California, Santa Cruz, Santa Cruz, California
1995 Yosemite Renaissance, Yosemite National Park, California
2018 Ann Harris: Celebrating a Life's Work, Mariposa County Arts Council's Treetop Gallery, Mariposa, California
GALLERIES
Riverside Fine Arts Guild Gallery, Mission Inn, Riverside, California (1963-68)
Riverside Art Association Rental Gallery, Riverside, California (1964-69)
Cupola Gallery, Santa Cruz, California (1970-72)
Rob Roy Gallery, Aptos and Capitola, California (1973-78)
Nostalgia Plus, Santa Cruz, California (1978-81)
Daly's of Capitola, Capitola, California (1981-82)
Greenleaf Gallery, Saratoga, California (1984-85)
Artist's Gallery, Pacifica, California (1984-85)
Ann Harris Gallery, Capitola, California (1984-85)
Friends of the Arts Gallery of Fine Art, Carmel, California (1985-88)
Country Court Tea Room, Capitola, California (1991-96)
Cora's Castaways, Aptos, California (1994-96)
Made in Santa Cruz, Santa Cruz, California (1997-98)
Nelson Gallery, Santa Cruz, California (1998-99)
Yerba Buena Nursery/Gallery, Woodside, California (2000)
Silver Lake Art Gallery, Kit Carson, California (1992-2009)
Elegant Earth, Boulder Creek, California (1998-2009)
Treetop Gallery, Mariposa, California (2012-2018)