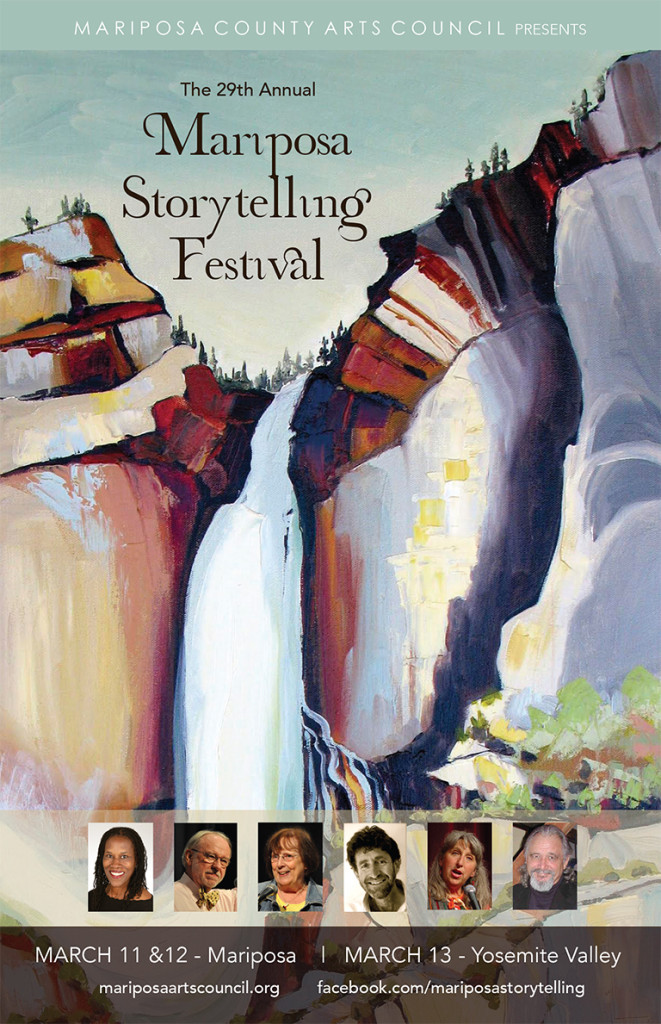 Our Annual Mariposa Storytelling Festival brings you the best storytelling performances every 2nd weekend in March. This spring 2016 will be our 29th Annual Storytelling Festival!
This festival begins in historic Mariposa, with storytelling events on Friday, March 11 and Saturday, March 12. On Sunday, March 13, the festival moves to Yosemite National Park for the finale in the East Auditorium at the Yosemite Valley Visitors Center.
To view and/or print this year's schedule, please click here: Mariposa Storytelling Schedule 2016. To view and/or print our registration form, please click here: Mariposa Storytelling Registration Form 2016.
To join our mailing list, please email rodriguez@mariposaartscouncil.org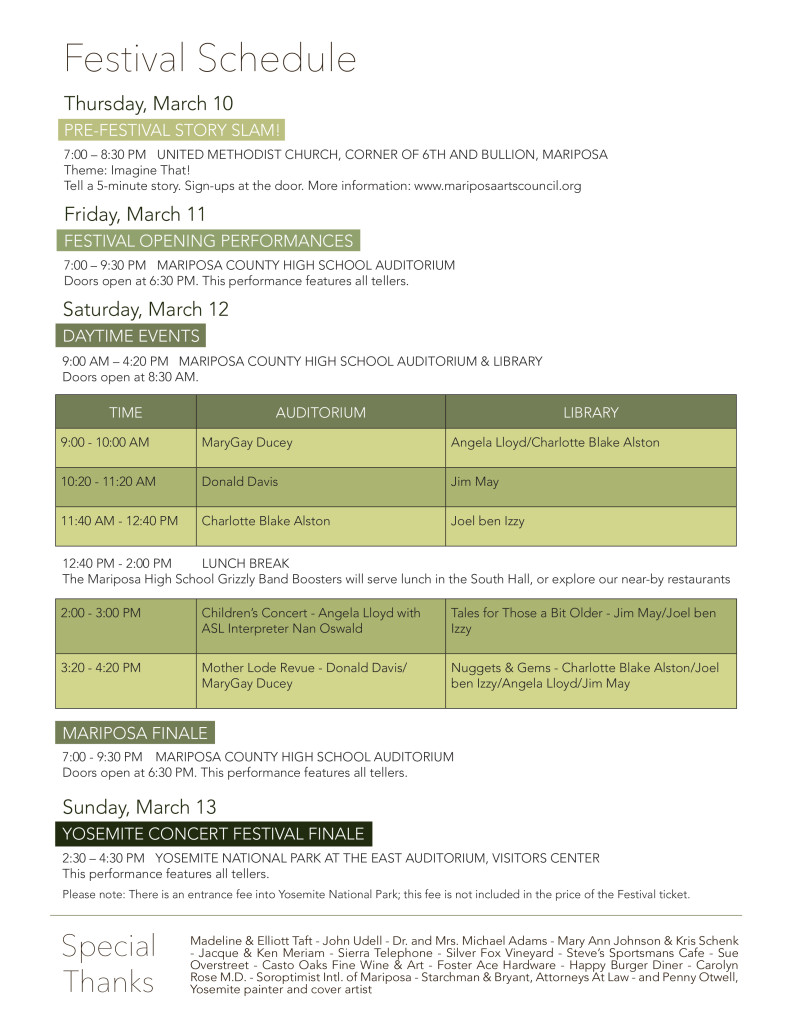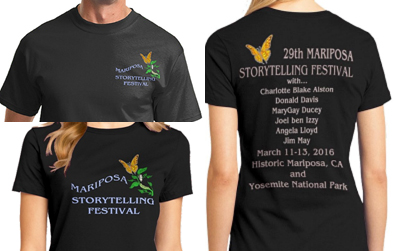 2016 Mariposa Storytelling Festival t-shirts are now available for pre-order. Please visit our online shop.
Teachers call for Dominican University credit for Festival attendance, (209) 966-3155.
All Festival sites are handicapped accessible. Check the schedule for performances with ASL interpretation for the hearing impaired.
Festival is recommended for ages 8-108. Children's Concert is on March 12 at 2:00 PM
Lodging: Contact Mariposa County Visitors Center at (866) 425-3366 or visit www.yosemiteexperience.com. RV parking at the fairgrounds: (209) 966-2432.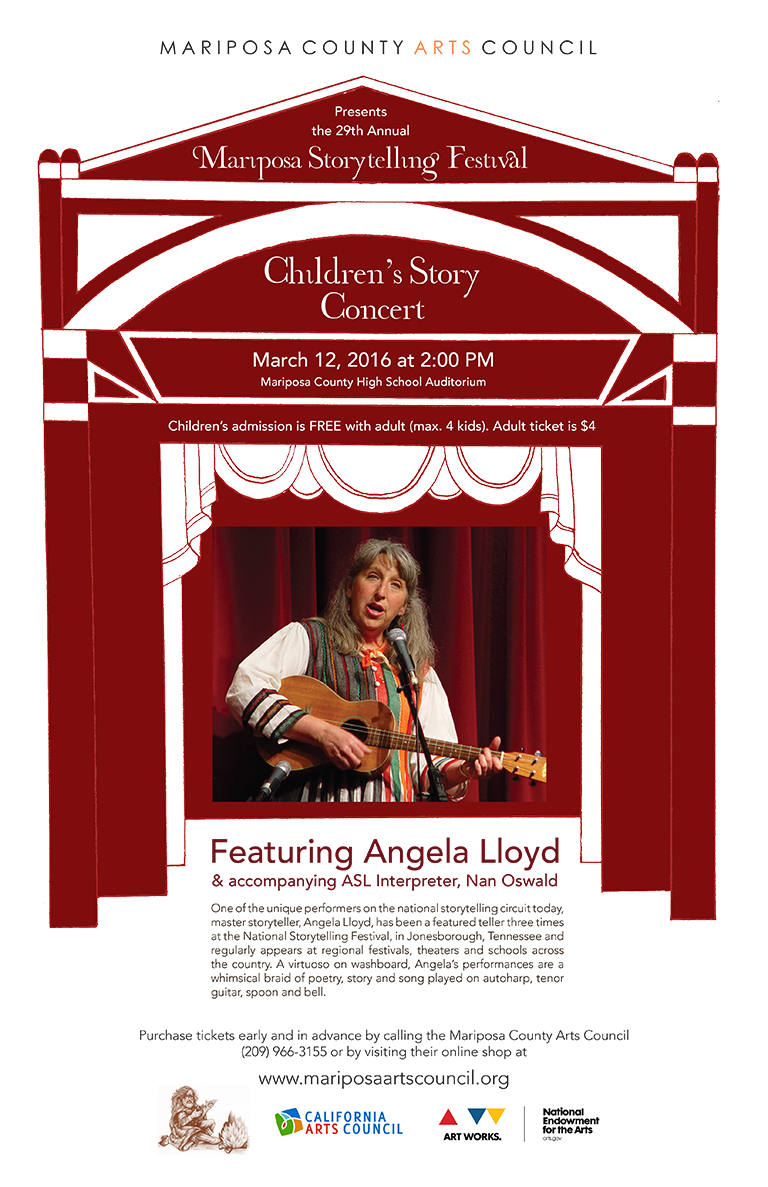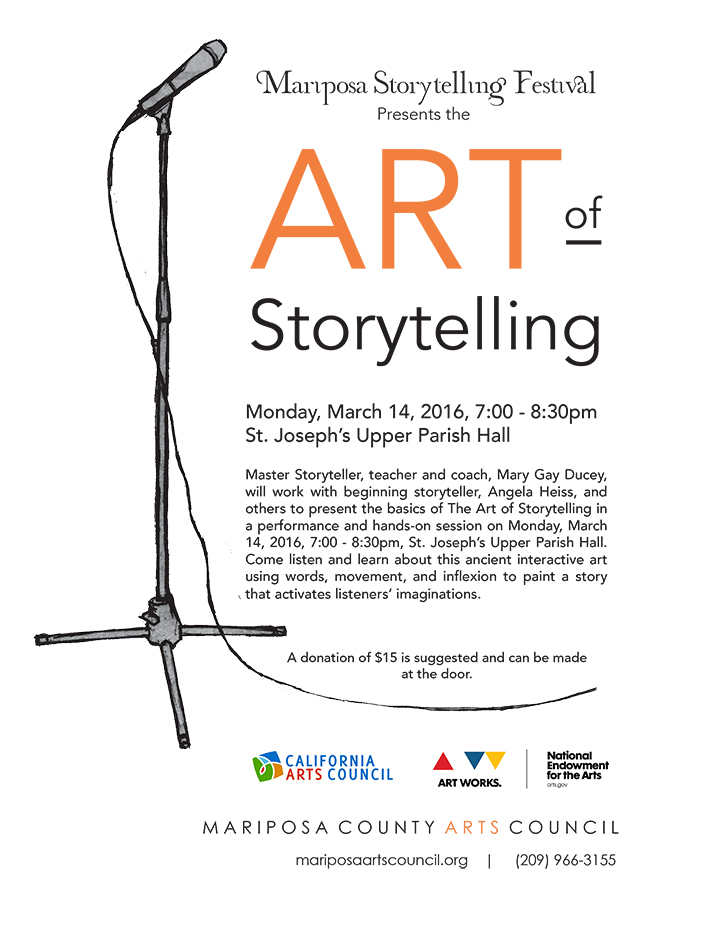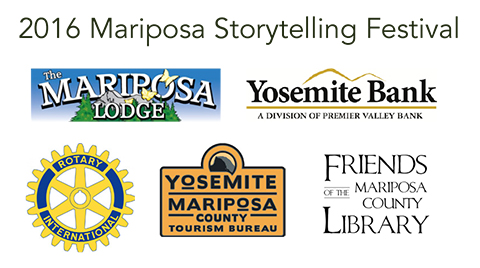 Additional Sponsors: John Udell – Madeline & Elliott Taft – River Rock Inn & Deli Café – Sue Overstreet – Silver Fox Vineyard – Mary Ann Johnson & Kris Schenk – Casto Oaks Fine Wine & Art – Dr. and Mrs. Michael Adams – Jacque & Ken Meriam – Starchman & Bryant, Attorneys At Law – Foster Ace Hardware – Happy Burger Diner – Soroptimist Intl. of Mariposa – Steve's Sportsman's Cafe – and Penny Otwell, Yosemite painter and cover artist