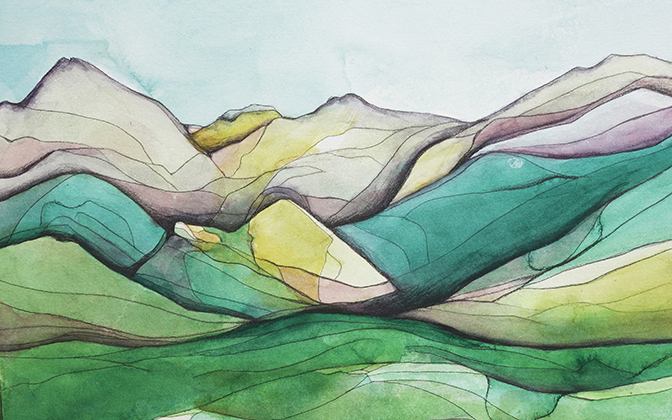 Summer Activities for Young Artists (and Older Artists!)
I have had a few parents approach me about the summer visual art opportunities for young adults in Mariposa. While the Mariposa County Arts Council does not currently offer programming for 13-16 year olds during the summer, there are still many opportunities to learn and grow as a young artist. Below is a list of my suggestions:
BUILD SKILLS
Having a variety of skills at your fingertips allows you to realize more of your projects and it opens the doors to new ideas. Here are some suggestions for building your creative skills:
The Yosemite Conservancy offers very affordable classes in Yosemite all summer long. To see their schedule, please click here:
Free option: Go outside (Yosemite, or even your backyard) and paint/draw outside. Every time you practice art, you're building skills.
This online workshop subscription is full of fun projects and classes to learn new skills. Sew, weave, draw, knit, make books, jewelry, and much more!
Free option: There are a lot of fun projects and tutorials that you can find on YouTube or Pinterest.
This is another website with tutorials, but it focuses mostly on professional art programs like Adobe Photoshop, InDesign, Illustrator, etc. The earlier you can master these programs, the better! Proficiency in these programs can lead to well-paying jobs. It's never too early to start!
Free option: Again, YouTube has a lot of great tutorials for these programs.
Find a Mentor
With access to unlimited information on the internet, we sometimes forget the oldest model of learning — apprenticeships. Find a local artist from whom you'd like to learn. I can't recommend this method of skill-building enough! If you don't know of any local artists, please ask us for suggestions.
DO RESEARCH
Do not underestimate the power of libraries! I find that in every trip to the library, I learn something new and amazing that I didn't intentionally seek out. There is so much knowledge and inspiration waiting for you there. As Maria Popova says in Brain Pickings, a blog I highly recommend, "…creativity is combinatorial, that nothing is entirely original, that everything builds on what came before, and that we create by taking existing pieces of inspiration, knowledge, skill and insight that we gather over the course of our lives and recombining them into incredible new creations." The more inspiration, knowledge, etc. that you have, the more you'll have to work with.
Do Web Research: Read Creative Blogs, Watch TED Talks
Reading creative blogs are great ways to keep visually up-to-date. They can inspire new ideas. They can be a great place to gather resource images.
TED Talks are great ways to learn more about important issues in our world.
Watch Art Documentaries
Artists need artists, and sometimes, there just aren't enough around! When I need a dose of an artist's spirit, I watch an art documentary. Netflix has a ton of excellent documentaries. PBS has a series called Art21 about current (contemporary) artists. KQED's Spark is a good series about regional artists. I also watch documentaries about music artists because even though I'm not a musician, the artistic process is similar.
Look at Art (preferably in person) – on the local, national, and global level
One of the greatest pieces of advice I got in art school was to go see art. Go to galleries (and gallery openings), museums exhibitions, art festivals, etc. Pay attention to what you like and what you do not like, and figure out why. This exercise will help you discover what you want/do not want to do in your own work. Also, think about why a curator may have grouped the artists' work together. What is he/she trying to communicate? What are the artists trying to communicate? If your family is traveling out of town, see if you can go to at least one art museum, gallery, or event.
DEVELOP YOURSELF
Being a good artist is not just about having good hand-eye coordination or knowing all the techniques, it's also about knowing yourself and making art through your own unique voice.
Stretch Yourself
Get out of your comfort zone (safely! I'm not advising high-risk sports). Traveling and teaching others have been two ways that I have stepped out of my comfort zone and have grown tremendously. As a young adult, that may be volunteering, babysitting, or taking a class in something new.
Take Care of Your Body
Artmaking can be very sedentary work. It's important to keep active. Exercising will give you more energy to do your work, and help your mind stay clear and focused.
Develop an Awareness of Yourself and the Outside World
I believe that successful art tells a story about something important and is a reflection of who the artist is. Know what is happening in the world. Read the news, books, articles, and have conversations about these issues. Keep a journal/sketchbook. Find out what is important to you and tell that story. Art is a great vehicle for public awareness.
DO THE WORK!
Don't let your ideas go stale in your sketchbooks! Realize your ideas. It doesn't have to be perfect and you don't have to wait for the right time to work (there's rarely a "right" time). Practicing art is like any practice — the more you do it, the more "in shape" you'll be, and the easier it will be to do more of it. Malcolm Gladwell popularized the idea that it takes 10,000 hours of quality practice to achieve greatness. Sometimes the hardest part can be motivating yourself to start. Here are a few motivation tactics:
Create for a Festival
Sometimes it's motivating to have a festival, competition, or art fair to work toward. These events provide you with some deadlines and sometimes a theme. A little structure like that can be very helpful. The financial incentive can also be very motivating.
There are many opportunities to sell your work in Mariposa. Pick an event and start making work for it. Selling at festivals is hard work and an excellent learning experience. Some artists struggle with the business side of things, so I think it's good to start practicing this early. Keep track of how much your raw materials cost you (or your parents/guardians), how many hours you worked on each piece, and start pricing your work accordingly.
Create for Loved Ones
If you're not into selling (which is okay, not all artists have to sell), start making art for your loved ones. Giving your work to friends and family can be more satisfying than buying them a gift. I also find it more motivating to have a particular person in mind when I'm creating.
Create for Yourself
Working without the pressure of an outside audience can also be an effective way of approaching artmaking. I love sketchbooks for this reason alone — a place to be totally free, honest, and unconcerned with what others think. A place to experiment with colors, lines, shapes. This is a great way to develop your artist voice and build on your ideas and inspiration.
I wish you all a great summer! Please let me know if you have any ideas to add to the list. friedland {at} mariposaartscouncil.org
Anna Friedland
Education and Public Programs Coordinator