The Mariposa Symphony Orchestra's
2019 Festive Holiday Concert
Saturday, December 21st at 7 PM.
Fiester Auditorium, Mariposa High School
---
This concert will be dedicated in joyous celebration of the life of Martha Eads.
Our friend and fellow musician Martha Eads passed away on Saturday, November 30th after suffering a stroke earlier in the month. She was a founding member of the MSO, having participated in the orchestra from its very first rehearsal in September, 2002, and first concert on December 21, 2002. A gifted string player and retired teacher from Southern California who had lived in Oakhurst for years, Martha initially played viola in the MSO before moving to the first violin section, eventually becoming Concertmaster of the orchestra.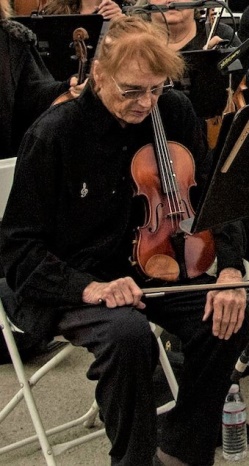 She held that position for three seasons, from July 6, 2013 until August 21, 2016 at which point she stepped back to sectional playing in the first violins, before playing her final MSO concert on Saturday, December 16, 2017. She retired from the MSO after that concert due to health considerations, after spending 15 years in the orchestra. Martha DEFINED music. And when one thinks of Martha, well – music defined HER. She lived, breathed, ate – and simply, WAS music: a symbol of music throughout our region. In all our communications since she left the orchestra, she always told me how much she missed playing in the MSO; she regularly sent me carefully cut-out clippings on classical music from the Wall Street Journal, New York Times, and other sources.
Even though she stopped playing in the MSO, she attended our concerts faithfully, and was sitting on the aisle at our last concert – our October 19th Season Opening Concert in the Fiester.
It's ironic that we lost Meg Clark in December of 2018; Meg was the first principal cello of the MSO. Then our Founding principal violist Ken Keuning passed in January of this year, and now – at the end of the year: the musician who began in the MSO as Ken's partner in the viola section, and who played innumerable chamber concerts or just: sessions – in her home and elsewhere – with Ken, Meg – the entire MSO, and so many other musicians. If music was to be made, Martha was THERE.
Our concert will be offered not in sadness, but in great joy for the music Martha loved, the music she made – and the music which will always be her legacy.
(Pictured above: Martha Eads at her final concert as MSO Concertmaster: August 21, 2016 at Glacier Point. NPS Photo by Al Golub.)
---
On a happier note, I'd also like you to know that the MSO is the subject of a new five minute film documentary: "Mariposa is Music!" by filmmaker Karen Dusek. The documentary was made thanks to a grant from the Central Valley Community Foundation in cooperation with the Community Media Access Collaborative. The world premiere and red carpet event were held at Fresno's Tower Theatre on October 25, with Les Marsden and members of the orchestra in attendance.
---
Our December 21st PROGRAM:
Georges Bizet: Suites #1 and #2 from the incidental music to "L'Arlesienne"
Nikolai Rimsky-Korsakov: Suite from the Opera "Christmas Eve"
Les Marsden: Sierra Christmas Party
---
Program Notes by Les Marsden, MSO Founding Music Director/Conductor
Suites #1 and #2 from the Incidental Music to Alphonse Daudet's drama "L'Arlesienne" (1872) by Georges Bizet (1838-1875)
Bizet's personal story is itself the stuff of an opera libretto. Born "Georges Alexandre César Léopold Bizet," in the French town of Bougival on Oct. 25, 1838, he decided he just liked the "Georges" part – and so, that's how he came to be known. He was born an only child into a musical family – both parents were singers. His father was actually a voice teacher who recognized his son's prodigious musical gifts early on – and intended a music career for his son. And yes, Bizet the kid WAS a remarkable child prodigy who was admitted to the Paris Conservatoire at the unbelievable age of NINE. He was a brilliant student – he won many prizes and developed into a phenomenal pianist who was praised for his keyboard skill by the great Franz Liszt and Hector Berlioz, among many others. He was such a remarkable pianist that THAT could have served as his career, but – he really wanted to be a composer. He studied with Jacques-François- Fromental-Élie Halévy, who had in 1835 written a masterpiece of an opera in "La Juive" ("The Jewess") – which became a cornerstone of the French Grand Opera tradition, and the one work for which he would be remembered even to this day. He was to be an influence on Bizet – and more even than that. There'll be a bit more about Halévy below.
Bizet's student compositions during his teen years are polished, mature – and often amazing works for one so young. His opera "La maison du docteur" was composed at 14; the early-masterpiece opera "Le docteur Miracle" was written by a 19-year-old Bizet and received universal praise as well as the first prize in the premiere year of an operetta competition founded by the master of THAT form, Jacques Offenbach. The perhaps-cocky young man wrote at that time to his mother, "When you have talent, you break doors down and you owe nothing to anyone!" The impulsive, impetuous young man Bizet had no patience for working quietly, diligently for years while his career was slowly being constructed – he wanted it all, and right NOW. But perhaps his genius lay partially in the audacious: quickly now, aside from the young Bizet's "Le docteur Miracle" do YOU know of any other operas – comic or not – whose plots revolve around an unpalatable OMELET – and even have a number for vocal quartet singing about that omelet?! The omelet, incidentally: will serve as a key plot point which will eventually result in the marriage (against parental disapproval) of a loving young couple! But anyway, Bizet's symphonic works from this period include an Overture in A (written at 17) and the amazing Symphony in C, written at age 16/17. That symphony, incidentally: was virtually lost and unknown, not to be discovered until some 60 years after Bizet's death – having its premiere in 1935. It was immediately recognized as a masterpiece and frequently shows up on concert programs of symphony orchestras all over the world. Including: ours – we performed the Bizet Symphony in C back in 2008. And have performed both suites from his most famous opera – "Carmen" on a couple of occasions. But let's not get ahead of ourselves.
In any event, at the age of 19, Bizet won the coveted, highly-prestigious Prix de Rome, which awarded him with two years of study in Rome, then one year in Germany and finally, two years back home in Paris, as well as the financial support to cover all his needs during that five-year period. Freed from the distractions of teaching or performing merely to be able to meet his living expenses, Bizet's work during those years in Rome (beginning in January of 1858) was unfortunately: uneven to say the least – and he was distracted by all the attractions of Rome. The condition of the Prix required him to compose and submit major works, one per year. Bizet was averse to writing religious music; instead of a required Mass, he wrote and submitted a two-act Italian comic opera: "Don Procopio" – fortunately without incurring the wrath of the Prix de Rome's administrators. That opera wouldn't actually be produced until three decades after Bizet's death – finally seeing the light of day in 1906. In that first Roman year he did begin (and destroyed) a couple of symphonies; one WAS later resurrected by the composer, and Bizet would eventually tinker with it for a full decade – beginning in that Prix de Rome period all the way up to its eventual 1869 premiere. And even fiddled with it for a few years AFTER. Known today as "Roma" or the Roma Symphony, it's actually a pretty impressive work. He barely completed his required work for the second year – a symphonic poem "Vasco da Gama" – for orchestra AND chorus – which, fortunately again: passed muster back home. He completed his two years in Rome, asked to substitute his proscribed year in Germany for a third year in Rome (a request which was granted,) but in the autumn of 1860, cut that final Roman year abroad short after being told his mother was near death back in Paris. He returned home with the remainder of that year and his final two years of financial security before him. Home to Paris – but somewhat adrift. He recognized in Paris a music-loving yet largely conservative public which had little interest in the works of new composers, and oddly enough: scarce interest in new FRENCH composers. Italian opera ruled the day, though incursions were being made by Gounod and other Frenchmen. In 1861 Bizet attended the French premiere of Richard Wagner's "Tannhauser" – and was immediately converted. Wagner was no longer the outlandish outlier of opera as Bizet previously dismissed him to be: now Bizet truly saw Wagner as the wave of the future of opera, and music in general. Not long after he returned to France, Bizet's ailing mother died, thus cutting yet another tie to his past. How did he react? Wellllllll….Bizet consequently began an affair with his mother's nurse, who would bear him a son in 1862 – a son Bizet never acknowledged, sad to say. But – despite all: he turned his energy to composition. And by this time, he had realized – wisely – that he was best suited not for symphonies or concerti or chamber music, but for the stage, and principally for opera. However, he was not to achieve success on the stage – at least not for now. But he was correct regarding his estimation of just where his talents would best be served. As a matter of fact, there's a story that he ran into fellow composer Camille Saint-Saëns (represented on our 18th Season Opening Concert on October 19th concert program by his "Danse Macabre") one day. Saint-Saëns, feeling similarly adrift and ignored due to the then-lackluster reception of HIS stage works, said to Bizet, "Since no one wants us in the theatre, let's take refuge in the concert hall!" Bizet replied – according to the story: "I am not made for (composing) symphonies; I need the theatre and cannot accomplish anything without it."
And so: he plunged into the composition of operas. A mere two years after returning home from Rome, he began writing his "Ivan IV" – an opera about that man better known as Russia's "Ivan the Terrible." He worked on that one for many years, but was distracted by other projects and the need to make money. One distraction was his opera "La guzla de l'emir" ("The Guzla of the Emir") also composed in 1862 – a one-act comic opera ("guzla" is a variant spelling for the gusla/gusle – a Balkan single-stringed musical instrument.) He submitted that opera to the Paris Opera-Comique – which approved it for production, but Bizet himself later withdrew the opera before it could be mounted. And that was because Bizet received a major commission for a new grand opera from Léon Carvalho, director/manager of the Théâtre Lyrique, which was a very big deal indeed. A requirement of that commission was that this newly-commissioned opera was to be the first-ever publicly performed opera by the 24-year-old Bizet. A brand-new work, and fortunately the performances of student pieces (such as the 19-year-old's award winning student work "Le docteur Miracle") didn't count against him. Bizet COULD get away with re-purposing some of the music he had intended for "La guzla de l'emir" and so he tore bits and pieces off that withdrawn "Guzla" and padded them onto his next major work, the commissioned grand opera: "Les pêcheurs de perles" ("The Pearl Fishers",) which was produced at the Théâtre Lyrique in 1863 – to a mostly savage critical reaction and ho-hum public. "Pearl Fishers" is occasionally performed today, and is well worth hearing, despite that unfair reaction at its premiere. The approval it DID have from – among others: Hector Berlioz, were more for Bizet's writing and far less for the libretto by Michel Carré and Eugène Cormon. Next up: the composer slaved away on a one-act opera "Djamileh" – (which finally had its premiere a decade later in 1872): a fascinating piece but one which was about as dully received as "Pearl Fishers" had been.
At the end of 1862, the income from the Prix de Rome ended, and Bizet was – after years of financial independence: forced to work for a living. The decade of the 1860s was a tumultuous one for Bizet – his life took many turns, his struggles were rampant – his course was nothing like that which he intended. He taught piano, served as a music critic, created literally hundreds of transcriptions of other composers' music for a publishing house, and did whatever he could to keep food on the table. One particularly galling assignment of hack-work was the chore of transcribing 50 Italian opera arias from a full orchestral score to piano accompaniment reduction. He continued to compose throughout the 1860s, returning to "Ivan IV" when he could, working on other operas as well – and was apparently outraged when the premiere of that opera at the Théâtre Lyrique was announced in the press more than once, every few months for a few years – with no production forthcoming. He sent the score to the copyist's in the summer of 1865, angrily broke off from the Théâtre Lyrique and sent the score to the Paris Grand Opéra – which never had any intention of producing the piece. Consequently: "Ivan IV" – the opera which obsessed Bizet for so many years and took so much of his working life: was never produced in his lifetime, finally being staged for the first time in 1946. It's only been recorded once, as far as my research shows: and that recording (which I have) demonstrates it to be an accomplished opera totally undeserving of the anonymity it's experienced for the past 150 years.
Incidentally: and though Bizet angrily broke with the Théâtre Lyrique, Léon Carvalho commissioned another opera from him the very next year – "La jolie fille de Perth" ("The Fair Maiden of Perth.") Based upon the novel by Sir Walter Scott, it incidentally takes place in Perth, Scotland, not Australia. Bizet composed it during the summer and fall, and the opera premiered on December 26, 1867 – to the same sort of critical and public reaction his past operas had been dealt, but in the case of THIS one, much of the blame lies squarely on the wretched libretto which was terribly adapted from the original book by Jules- Henri Vernoy de Saint-Georges and Jules Adenis. It's among the worst of libretti ever set to music – and THAT is saying quite a lot. The music in many ways DOES valiantly overcome the trite, banal and mentally-insulting, predictable-yet-far-fetched libretto. But still – no great overriding final product, no totally-whole major, classic work of art.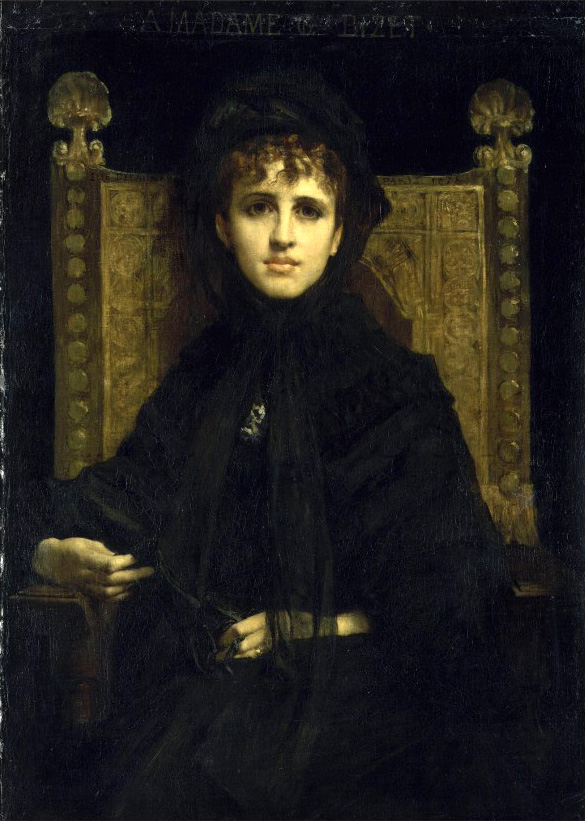 Backing up a bit, though: in 1862, Bizet's former professor, the famed Fromental Halévy had died, and at that time, his widow asked Bizet to consider looking at her husband's unfinished opera "Noé," and perhaps to compose sufficient music to put it into a performable version. While Bizet could not take on such a project at that point in his life, he did become a fixture in the Halévy household which was, to put it mildly: a very bizarre place. To be delicate: mental illness ran in the family's genes – both sides. The widow Halévy was left with two daughters and when the elder of the two died in 1864, her mother found it impossibly sorrowing to live with or even be in the company of her remaining daughter (Geneviève) and so: sent the 15-year-old away to live with other relatives. Bizet, meanwhile: had become infatuated with the girl, and made it clear he wished eventually to marry her, even though the widow Halévy firmly refused on the grounds that Bizet was poor, was politically a leftist and an atheist to boot. Although: he WAS good enough to be expected to complete "Noé," of course. Eventually the family (and widow) came around – and in 1869 Bizet married his deceased former professor Halévy's daughter: that very same Geneviève. (Seen at left – as the young widow fate would have her become.) His new wife was – well, a bit unstable, as was much of her family. But despite all, Bizet held things together, had a good relationship with his mother-in-law and proved to be a good husband for Geneviève – which was difficult, considering her erratic behavior and decline. He even (finally) acceded to his mother-in-law's request that he try to do SOMETHING with her seven-years-dead husband's unfinished opera "Noé." Bizet diligently set to work – and cannibalized his own music (including sections from his early symphonic poem "Vasco da Gama" – remember? From his second year in Rome? – and music from that on-again, off-again ill-fated opera of his "Ivan IV") to help pad out "Noé." "Noé" is – just to explain: the French name for Noah and the opera itself is based upon the Biblical story. Bizet strongly urged the widow to allow him to call it "Le Déluge" – "The Flood" – but no good. "Noé" is what Halévy intended for it to be called, and "Noé" is what the finished opera WAS called. Bizet – and the Halévy family managed to get a production scheduled at Bizet's old friend/nemesis Léon Carvalho's Théâtre Lyrique: just in time for Carvalho to go bankrupt. The production didn't happen – and in fact, THAT opera – Jacques-François- Fromental-Élie Halévy's "Noé," completed nearly a decade after Halévy's death by his erstwhile student Georges Bizet: wouldn't see the light of day in performance until 1885: 23 years after Halévy's death and 10 after Bizet's.
The outbreak of the Franco-Prussian war in 1870 was greeted with a patriotic groundswell and even the 32-year-old Bizet enlisted, though he complained bitterly about the antiquated equipment which – he claimed, was more likely to kill the operator than the target. That relatively brief period of war service further eroded Bizet's already delicate health; more on that below. Not only physically harmful to Bizet, but that war was, of course: nearly immediately disastrous for the French nation, and with the capture of Napoleon III the armed conflict ended within months of its beginning. But with the end of the Prussian war, things remained difficult within the nation, and particularly so in Paris. The situation made things a bit uncomfortable to most French citizens: Gounod (for one) fled Paris for England with his wife, where – if you remember my notes from our last concert: resulted eventually in no end of unfortunate shenanigans on the part of Gounod AND that of the family the Gounods lived with in London. Things in Paris – and particularly the arts: were in turmoil, but the Paris Opéra tenuously re-opened, the Prussians withdrew after the armistice was signed in January 1871 – but: in the vacuum which followed, France became splintered and factionalized, with fighting in the streets for control of the government – or rather, over the lack of a government which had existed since the fall of Napoleon III's Second Empire. The resulting Third Empire was initially on shaky ground, and FINALLY, Bizet realized Paris itself was no longer safe due more to the internal strife over control of that city's municipal government than the (former) threats from the Prussians. Bizet evacuated the clan to safer areas outside Paris, but after only a few months, by mid-June of 1871, things were settling down in the capitol. They returned, he was offered the security of the job of chorus-master at the Paris Opéra and: for reasons unknown, it fell through. Despite ALL the distractions, 1871 DID see the completion of Bizet's opera "Djamileh" (referenced above – its 1872 premiere was a flop) and also the winning piano duet suite "Jeux d'enfants." That piano suite contains 12 movements and Bizet later orchestrated five of those movements, creating "Jeux d'enfants – petite suite." Charming, deliciously fun music in either incarnation.
Now we come to 1872. In July Geneviève bore their one and only child: a son whom they named Jacques. But a major event in Bizet's compositional career also occurred in 1872, and it's the composition which figures on our December 21st MSO concert. Bizet was asked to compose the incidental score to Aphonse Daudet's play – the tragedy "L'Arlesienne." A somewhat harsh, shocking (for its day) piece of drama, it had begun life as a short story by Daudet, published in 1869 in the volume "Letters From My Windmill." The story is alleged to have been based upon a true incident. The plot is pretty concise: it takes place in Provence, the title girl from Arles is idolized by a young peasant named – in the original story: Jan. From that story, translated, there was "a petite girl from Arles, (a) velvet and lace vision, whom he (Jan) had once met in the town's main square. This wasn't well received at first in the farm. The girl was known as a flirt, and her parents weren't local people. But Jan wanted her, whatever the cost." And so, he wins her, proposes, the wedding is set – but oops: he discovers she's not been faithful to him before their marriage, and that's all it takes to plunge Jan into depression, then lunacy. His family intervenes (ineptly) in an effort to restore their son's sanity and to get him OVER that girl from Arles, but: to no avail. And ultimately: Jan jumps from a high window – to his death on the stones of a courtyard below. The End. And keep in mind, again: that little hussy from Arles is never seen. Before, during or after the story transpires.
Well, Léon Carvalho of the Théâtre Lyrique saw the potential for a lucrative, long-running dramatic play in that little tale, and persuaded Daudet to turn his brief story into a full three-act play, with five tableaux. The "Jan" of the short story became "Fréderi" in the play – and the tale was fleshed out with subplots, added characters and perhaps most prominently (but also to the detriment of the play's ultimate success) bold psychological interpretation, including Daudet's analysis of human complexes – an approach to the study of the human mind which actually pre-dated Freud. Daudet's writing matured dramatically – but the play's script perhaps read better than it played on stage, with Daudet's co-mingling of truth with sheer fantasy, utter – perhaps ugly realism with poetry, whimsy, irony and compassion – which turned that brief tale into a pretty heavy – and perhaps LONG evening.
And then Carvalho persuaded Bizet to provide orchestral incidental music which would also include a chorus! Bizet WAS constricted (for budgetary reasons) to a pit orchestra of only 26 musicians, not a full symphony orchestra. And this is where Bizet REALLY rose to the challenge. He captured the "folk" sound of Provencal – devising tunes that could have been folksongs, but also DID include three actual existing tunes from the region: La Marcho di Rei (The March of the Kings), Danse dei Chivau-Frus, and Er dou Guet. La Marcho di Rei would – in particular: have resonance down to our very day, and it's why the Farandole movement is associated with Christmas. As I'll explain below.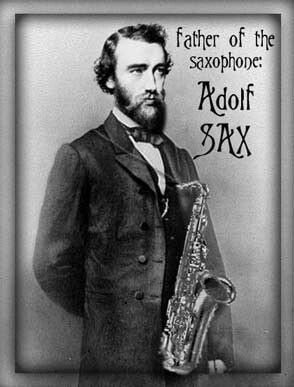 So: Bizet created this near-hour of music: music for chorus, orchestra, combined forces, even for the harmonium, which Bizet himself played at the play's premiere. The end result? If anything, the composer's work was too good. Or at least too good for a play which left audiences disgruntled and puzzling over – among other things, the fact that the maddening title character (the girl from Arles) is never seen! People either loved the music (which was actually considered to be complex) while disliking the actual play and its style, or: were in the audience intending to experience an intellectual, literary event – and found music, and particularly THIS music to be intrusive. In any event, (producer) Carvalho had thought that Bizet's music would help to moderate the play's grim harshness, but apparently the great grace and beauty of Bizet's score only highlighted the ugliness of the story. The play (and music) premiered on October 1st of 1872 – and Bizet had created just under an hour of wonderfully evocative, subtle, at times spritely, at other times psychologically probing music. You'll hear some very clever choices and touches, and in "L'Arlesienne" Bizet actually committed something of a revolutionary musical move: the piece is considered the earliest standard orchestral work to include a saxophone. The saxophone had been invented in (about) 1840 by the Belgian Adolphe Sax (the spelling on the picture card is incorrect!), who moved to Paris in 1842 to manufacture his namesake instruments. While the instrument was initially primarily utilized in French and Belgian military bands, small ensembles and as a solo instrument, it was still regarded with both a little suspicion and curiosity in the world of symphony orchestras. The saxophone's combination of a single reed aural quality combined with the agility of a clarinet – and the ability to project via a brass body like a horn – all gave it (still) a bit of an exotic timbre and association, and especially so when heard amidst the standard, accepted orchestral instruments of the time. But Bizet utilized exactly those perceptions of the instrument in using the alto saxophone to represent the mental derangement of the protagonist Fréderi's younger brother. And he used the instrument a quarter of a century before Debussy, well before Ravel – making the "L'Arlesienne" score its earliest, most important incursion into the symphonic repertoire. And that's a brief history of the saxophone and how it came to be welcomed into the symphony orchestra, via Bizet and later, other French composers – Ravel, Debussy – and of course WELL before it became a staple of American popular music, jazz and swing, and even Soviet-era Russian – and other national symphonic concert music. A mere 30 years after Sax began his production in Paris, and decades before any of those others: Bizet thought it would be a great choice for L'Arlesienne. And he was right – as you'll hear.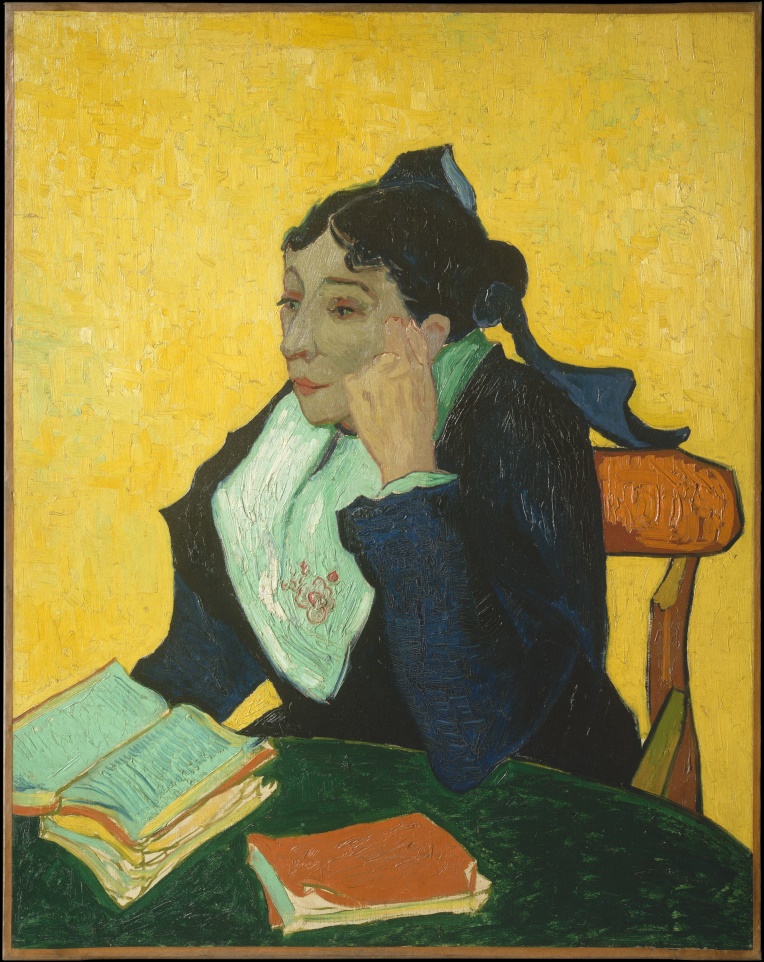 1888 – Van Gogh's "L'Arlesienne – Madame Ginoux"
For his "L'Arlesienne" incidental score, Bizet composed 27 numbers, some quite brief and only used as underscoring for dialogue – to more extensive stand-alone pieces, including the Prélude to it all. The play ran for only 21 performances before closing; it was more favorably received in an 1885 revival. But Bizet's wonderful music would have more life to it: life on its own. Just a month after that 1872 premiere of the play, the famed conductor Jules Pasdeloup – who had promoted Bizet's music, including conducting the premiere performance of the "Roma" Symphony – introduced in a symphonic concert a suite of four pieces from the incidental score, as extrapolated and altered, orchestrated and then put together in a cogent structural order for full orchestra by Bizet himself. Pasdeloup's orchestral concerts, known as "Concerts Populaires," were in fact, pretty popular concerts! Concerts were offered at a vastly reduced price, with well-attended Sunday afternoon concerts making great music available to a large audience which might not otherwise have had access. That orchestra, incidentally: was founded with a concert of 80 musicians in 1861 by Jules Pasdeloup and it's still in operation, making it Paris' oldest symphony orchestra. To have the patronage and endorsement of such a man as Pasdeloup and the visibility of those Concerts Pasdeloup – meant a great deal to any composer. And particularly so to Bizet. That premiere of that four- movement orchestral suite – performed for the first time on November 10, 1872: was a success.
Removed from the angst-ridden play and moved to the concert hall where listeners could appreciate the music on its own terms: it was enthusiastically received – to Bizet's great relief. Not to get ahead of myself, but seven years later, and some four years after Bizet's untimely 1875 death: a second suite from "L'Arlesienne" was premiered in 1879. That second suite also consisted of four movements, assembled and in some cases radically altered by their arranger/orchestrator Ernest Guirard. Guiraud and Bizet had been very close friends since their student days in the late 1858s; like Bizet, Guiraud was also a Prix de Rome winner. Guiraud was an extremely talented composer himself, with productions of his own operas under his belt, but he dedicated much of his life after his friend Bizet's death to editing, promoting and popularizing Bizet's music. Though Bizet had already lifted out the most easily-extracted movements when he created his (first) "L'Arlesienne" Suite, Guiraud had some clever moves up his sleeve when he created the second suite in 1879. First, truth be told: only three of the movements were actually from Bizet's incidental score from "L'Arlesienne" – Guiraud was only able to utilize three additional movements but to flesh it out to balance the four-movement first suite, he pulled a minuet from Bizet's 1867 opera "La jolie fille de Perth" ("The Fair Maiden of Perth") – where it became the third movement of the second suite. Here's a brief breakdown of the eight movements which comprise the two "L'Arlesienne" Suites:
L'ARLESIENNE SUITE #1:
I. Prélude, (Allegro deciso) This is the overture to the incidental music itself, pretty much unchanged when Bizet decided to also begin the suite with it. It's just been re-orchestrated for a full symphony orchestra from the original 26-piece pit orchestra. Right off the bat, you'll hear the ancient Provence Christmas tune "March of the Kings," also sometimes known as "March of the Three Wise Men." That tune goes back several centuries – the original composer is unknown. In the 1600s, the French Baroque composer Jean-Baptiste Lully (1632-1687) also used this very same tune in his (undated) "Marche du régiment de Turenne" and is sometimes erroneously attributed as the composer of the tune itself. But we just don't know for sure, and it seems the tune predated Lully's use of it. But as for Bizet: that tune will wind its way throughout other movements, most notably in the final movement of Suite #2.
II. Minuet, (Allegro giocoso) This is the original #17 in the incidental score, occurring as an Intermezzo between the second tableau of Act II and the first tableau of Act III; Bizet made the ending slightly more well-developed for the suite's version.
III. "Melodrame" in the original score, it occurs as #20 – the second of two "melodrame" movements – though the first (#19) is actually a "melologue" sandwiched between the Carillon and the Farandole. An absolutely gorgeous Adagio movement beautifully scored only for muted violins, violas and cellos. In the original incidental music, this is the underscoring for a scene in which the elderly characters of Mère Renaude and Balthazar meet – they had been deeply in love 50 years earlier but had instead married other mates. But here: meet again, after all those years…
IV. Carillon, (Allegro moderato) In imitation of a massive set of church chimes, the French horns initially boom out in unison for four bars before the 1st violins come in with the initial tune. That motif will recur repeatedly; the movement is broken by the inclusion of what WAS the "melologue" – #19 – which becomes a contrasting middle section in this, the suite's Carillon movement.

L'ARLESIENNE SUITE #2:
(As culled, arranged, orchestrated and woven into a second suite by Guiraud after Bizet's death. Guiraud actually did a lot of work – and in some ways, the second suite is nearly a composition BY Guiraud, based upon Bizet's tunes. But not quite.)
I. Pastorale, originally #9 in the incidental score, it occurs at the top of Act II as an entr'acte – and chorus. After the brief introduction, the unison strings and oboes in octaves introduce a broad, beautiful pastoral tune. The second subject includes single-bar intermezzi ending in fermati for solo instruments: saxophone, horn, saxophone again – and then the first flute, who then begins a rolling, embellished section which might depict nature much as Beethoven did in his 6th Symphony – before it all returns to the first tune again. A more intense, darker-hued middle section in three-four time which might even feel at home in Bizet's yet-to-come "Carmen" ensues; in the original incidental music – this movement ends with that darker middle section (which is – in the incidental score: actually sung by wordless choir) but Guiraud instead brought back a restatement of the opening section to conclude this movement in the suite version – cyclical, satisfying for the use of this music in a more structured suite.
II. Intermezzo, (Andante moderato ma con moto) originally #13 and serving as the entr'acte to Act III. Brusque, unison threatening music played by the full orchestra, with beautifully-scored contrasting bars before an absolutely rapturous secondary theme/section of a more heroic, yet understated nature takes over, with saxophone and French horn playing in unison, initially. Guiraud changed the original ending for a more satisfying conclusion.
III. Minuet. (Andantino quasi Allegretto – which means, essentially: a little quicker than Andante (slow) – as if it might almost be quick – or bright!) As noted above, here Guiraud was stuck: he needed a movement that would serve the shape of the suite as a bit of a set-up for the final movement; there was nothing appropriate left to plunder in "L'Arlesienne" though. So Guiraud turned to Bizet's 1867 opera "La jolie fille de Perth" ("The Fair Maiden of Perth") and pulled out this lovely little minuet, about which nothing much more needs be said!
IV. Farandole (Tempo di Marcia) – and here Guiraud wisely ends the second suite in the way the first suite began: with the prelude's quotation of this energetic, assured "March of the Kings" – but then REALLY outdoes himself, and perhaps: even Bizet himself. After that initial statement of the "Kings" march tune, Guiraud combines the original "L'Arlesienne" scores numbers 21, 23 and 24 – building to a breakneck, raucous ending. It's an upbeat, exuberant and gloriously fun ending for this, the second of the two "L'Arlesienne" Suites – and ironically, nothing like the totally downbeat end of the play – or the dark-toned music Bizet wrote to effectively score the way THAT story concludes.
And what was next? For the most part, Bizet was completely focused on composing a great opera, the opera that would finally mark his breakthrough as a composer of real talent – and he was commissioned by the Opéra-Comique in mid-1872 to compose a three act opera; the source material was a novelette by Prosper Mérimée and the libretto was to be written by Henri Meilhac and Ludovic Halévy, nephew of Bizet's deceased father-in-law – and a very old friend of the composer. Matter of fact, he was one of the few in the Halévy clan who wholeheartedly endorsed Bizet's desire to marry Geneviève – and had made it clear he saw a brilliant future for the then-young composer.
The only problem was that the subject matter for this newly-intended opera was considered pretty salacious: and the planned production was put on hold. And so in the meanwhile, Bizet began to compose instead his "Don Rodrigue" hoping that THIS opera might be booked into the Opéra-Comique when: the Opéra burned down.
The path was eventually cleared for that other disgusting, obscene opera – and so Bizet returned to the Mérimé-Meilhac-Halévy project, and after a great deal of work, difficult rehearsals, continued delays, postponements galore: Bizet finished his new opera – the one which would make him a successful, well- known composer. You know: the opera "CARMEN."
And when "Carmen" opened on March 3, 1875: the critics DESPISED it. HATED it. TRASHED it. And that critical reaction to this, the latest child he had poured himself into creating: just destroyed him.
To be blunt: Bizet was somewhat physically sickly and also suffered from depression for nearly his entire life. Among other physical problems, Bizet suffered from painful complications following an 1868 tonsillectomy: he was plagued by a condition then known by the whimsical name of "quinsy" – though we now know it as a peritonsillar abscess. For much of the remainder of his life, his throat became habitually abscessed in the area of the removed tonsils, but that in itself led to miserable pain: swallowing became difficult, he suffered from frequent fevers and was susceptible to infections, colds and other illnesses due to a lowered resistance. He had constant throat swelling and neck pain, headaches, and with swallowing difficult, food and drink became challenging. And so what would ANYONE with such a condition do? Why, smoke like a chimney! And that's apparently what the man did…and after the trashing "Carmen" received, Bizet pretty much gave up; his quinsy actually led to deafness – and while "Carmen" continued to play to small audiences, barely able to struggle on, Bizet couldn't. He had a stroke – at the age of 37. And then died (his weakened heart may have experienced a heart attack – we're not sure, and then a couple days later, a second attack) on the evening of the 33rd performance of that initial run of "Carmen." June 3rd, 1875. And to make things even more tragic, Bizet died on the very day which just happened to also be the sixth wedding anniversary of Georges and Geneviève Bizet.
And of course, almost immediately, "Carmen" was suddenly seen as the masterpiece we now know it to be. Everyone from Tchaikovsky to Nietzsche to Brahms to even Wagner raved about "Carmen." A BRILLIANT opera composed by a tremendous genius; eventually "Carmen" became one of the most beloved, famous, often-produced and unforgettable operas EVER written; literally within only two to three years, the opera had been produced across the globe and everywhere the opera went, it drew massive crowds and new generations of believers. Success came to Bizet at last – just a shame he wasn't around to experience it.
His funeral drew a crowd of 4,000 and all the major lights of the day. His wife Geneviève would outlive him by nearly a half century. His son Jacques committed suicide in 1922 – 47 years after his father died. His unrecognized son – the one he had with his mother's nurse? Jean Reiter was awarded the Legion of Honor – and became an officer of the order. He had a very successful career as press director of Le Temps and died in 1939 at the age of 77. And Bizet's place as an immortal in the world of opera and classical music was assured – all because of that one last project he believed to have been a miserable failure – and that's the knowledge he took to his grave with him. If he ONLY knew…
Suite from the opera "Christmas Eve" (1894-5) by Nikolai Rimsky-Korsakov (1844-1908)
One of the most amazing things (to me) about the tradition of "classical" or "concert" or "serious" music in Russia is the fact it had no real identity until the mid-19th century, and then it virtually exploded—with extraordinary vigor and variety for well over a century into the Soviet era. And for all we know, that birth of the "Russian" sound and approach in concert music in the 19th century might never have occurred had it not been for the incredible number of profoundly deep – and lasting impacts of Peter the Great's mighty kick in the seat of Russia's pants more than a century earlier. Tsar Peter (1672-1725) reigned from 1682 (at age 10) to his 1725 death, and perhaps the greatest hallmark of his rule was the imposition of "Westernizing" reforms upon the Russian nation. He firmly dragged a cloistered, xenophobic Russia from its dark middle-ages mentality into the present day of his time. He looked to Europe for art, culture, philosophy – even attire, going so far as to impose grooming requirements upon men – including their very facial hair: men with beards were taxed; clean-shaven men were not. Government, agriculture, education, military – everything was reformed to contemporary European/world standards. Draconian or not, the country advanced to an amazing degree during his rule – he was determined that Russia should become a great European-centric world power. The gorgeous European-esque city of St. Petersburg was constructed virtually from scratch (though in swamplands); a remarkably beautiful world-class showplace with a position and eye to the West, and it became the capitol of the Russian nation. To further his ends, he imported the greatest minds he could persuade to immigrate to Russia – including artists, philosophers and most important: teachers. Art forms that had been forbidden by the medieval Russian Orthodox Church including portraiture, instrumental music and staged drama—were now not only allowed, but encouraged. Of course, immediate change couldn't occur overnight; many of the traditions of western art were totally alien to the philosophical strictures of the old Russian mindset and mere imitation did not a national school make. It would take time to first comprehend these new approaches to expression through art, to then attempt to create new art using these esthetics and techniques – but perhaps most important of all, to then be able to synthesize technique with the nationalism, or the very things which made Russia Russian: to produce true modern Russian art that might rival the greatest works of Europe and the rest of the world and yet: be unmistakably RUSSIAN. That final step is the trickiest one, and usually depends upon the 'revolutions' created by the individual artists. Which brings me to a man who may not have been an actual revolutionary of music, but who left his own distinctive imprint on "classical" music – as well as on the many distinguished students who learned from him – and carried the torch to nearly inconceivable distant destinations. And who – at least in the case of two of those students: served as fathers of their own incredible revolutions in music: Prokofiev and Stravinsky.
The century+ from the time of Peter's reforms to the mid-19th century saw a great deal of change in the world of Russian visual and performing art, but – much of it – and particularly so in the performing arts: was careful, cautiously tentative – and safe. Which is rarely how great art is produced or how modern trends occur. While the powerful Russian Orthodox Church still frowned upon secular music, by the mid-1800s – and chiefly because of composers Mikhail Glinka, Alexander Serov and Alexander Dargomyzhsky, Russian concert music and opera were beginning to come into their own. Glinka's great nationalist operas are well known today but Serov's "Judith" and Dargomyzhsky's "The Stone Guest" in particular SHOULD be (the latter is based upon the SAME event depicted in the finale of Mozart's great opera Don Giovanni.) And as the beginnings of a truly Russian esthetic of concert music began to bloom, the path now diverged in two directions: the door was kicked open by the young nationalists, the most important of who were the "Kuchka" – clockwise from top left: Alexander Borodin, Mily Balakirev, Cèsar Cui, Rimsky-Korsakov and Modest Mussorgsky. Their goal: to build upon Glinka's nationalist, nativist philosophy of music and in so doing, to establish a truly Russian "classical" music tradition, based upon Russian folk and native sources, eschewing formal European conservatory training and models. They believed in creating a folk-inspired, organic form and approach, and to teach and develop those techniques within their circle.
On the other side of this philosophical divide stood the Russian Musical Society. By 1860, long after the reforms of Peter the Great had given way to a time of little artistic support or interest, the Russian government had decided to train its own and emphasize the Russian arts and as well, to raise the esteem of the arts in the country, following in those footsteps of the long-dead Peter the Great. And the government was reaching for those highest established ideals of art (some, though – might call those established models as conservativism) just as the alternative arts were blooming all over Russia and giving independent birth to the times during which the "Mighty Five" were planting their own "anti- conservatory" musical seed. Both Russian Musical Society conservatories (St. Petersburg and Moscow) yielded brilliantly well-trained composers who mastered the very form of (for the most part) German- school techniques – the same techniques and formal structures which had been built upon Haydn and Mozart by Beethoven, and then which had been further developed by Schubert, Schumann, Mendelssohn and others. By the second half of the 19th century, those Euro-Germanic proponents of this "superior" formal approach and training in the West included Brahms, Bruckner, Dvorak – and others – while Mahler stood in the wings, ready to revolutionize the forms in his own eventual time.
The Society and consequently its St. Petersburg Conservatory (founded in 1862) were both the creation of Grand Duchess Elena Pavlovna (Tsar Alexander II's aunt) and the pianist and composer Anton Rubinstein – perhaps the most famous Russian musician of the day. Western-trained and a remarkable virtuoso on his instrument, Rubinstein was to play a pivotally important role in the renaissance of Russian musical art – as the importance of all the arts which Peter the Great had initiated was now coming back into vogue, some 140 years after that forward-thinking Tsar's death. Anton Rubinstein's younger brother Nikolai was also to become an extremely important proponent, advisor and at times, critic (particularly to Pyotr Ilyich Tchaikovsky) – and to compare those brothers, fiery first-born Anton was considered to be an astonishingly gifted virtuoso pianist whose performances at the keyboard could leave an audience feeling physically drained, and he was also a prolific composer and conductor, while the younger brother Nikolai was the far more introspective pianist – and only composed a small number of pieces, noting that his big brother Anton composed "enough for three." As Anton had founded that first Russian Musical Society's St. Petersburg Conservatory in 1862, the younger Nikolai would later found the Moscow branch of the Conservatory in 1866 – with both conservatories becoming the important training/breeding ground for the more highly-disciplined Germanic approach to music composition: the approach initially decried by the "Kuchka." So there, the lines had been drawn – though not with deep levels of acrimony. While disagreeing on the approach to composing music, there was guarded respect and even friendship between the two musical camps, though scoffing and even ridicule between the two sides did occur.
So there's a bit of background for you. But now for the man himself. Nikolai Rimsky-Korsakov.
His is not an unknown name within the concert-going public, or even, to a certain extent: within the non- concert-going world; there's something about the sound of that hyphenated last name that seems to have established itself even in the minds of people who may not have a clue about what he did or even merely just who Rimsky was. And about that name: it doesn't represent a union of his father's and mother's families, as we're used to hyphenate last names' meaning today. The "Korsak" portion was derived from a Czech-Lithuanian forebear in the middle ages; in the late 17th century, the family line was granted permission to add the "Rimsky" – meaning "of Roman ancestry" to the last name, which had become "of Korsak" – or: "Korsakov." And so: Rimsky-Korsakov it was, from the 1670s, representing a family of nobility – one of whom (Ivan Rimsky-Korsakov) was even one of the insatiable Catherine the Great's many…ahem: lovers. But even to those who know the name of Nikolai Rimsky-Korsakov, and who know his most famous concert work – "Scheherazade" (which the MSO performed in Mariposa and Yosemite in April of 2017, featuring our own Concertmaster Sally Martinez) – how much else of his music comes to mind? Perhaps "The Flight of the Bumblebee" from his opera "The Legend of Tsar Saltan." Maybe even the brilliant orchestral showpieces "Russian Easter Overture" or "Capriccio Espagnol." Those three major pieces (minus "Bumblebee") incidentally: date from the years 1887-1888, when he had a little burst of extra-special inspiration. But – beyond that? How many people know his three symphonies, or the c#m Piano Concerto, or the few chamber pieces, or the orchestral "Overture on Russian Themes" or the tone poem "Sadko" or the "Concerto for Trombone and Military Band" which, yes: the MSO has ALSO performed, with my orchestration and featuring as soloist, (the late) Bob Granskog, on October 22, 2011 – the opening concert of our 10th Season. Or even the fun secular cantata "The Ballad of the Doom of Oleg the Wise," or "Skazka" (Fairy Tale) or the "Sinfonietta on Russian Themes in a minor"? But then we come to Rimsky's OPERAS – and a wealth of incredible stuff. Which I'll get into below.
Rimsky DID spend a good deal of his productive time teaching (as you'll read below) and also salvaging and promoting the works of his late friend Modest Mussorgsky – and others, for better or worse.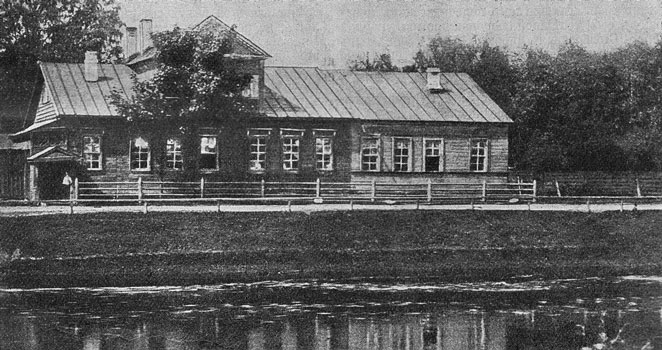 First, though: the obligatory biography. Rimsky was born on March 18, 1844 in Tikhvin, in the Novgorod District – to a (retired) mid-level civil governor fortunate enough – thanks to his lineage, to have been a landowner who could provide well for his family – a cultured family with a collective love of music. (At right: the birthplace of Rimsky-Korsakov.) And they DID notice that young Nikolai demonstrated a particular aptitude for music, but – that family also had a very long, very profound naval lineage – Nikolai's older-by-twenty-years brother actually attained the rank of "Admiral." And so music be damned, full sea(!) ahead: the young Nikolai was destined for a naval career; entering the St. Petersburg Naval College at 12 where he was trained as a naval officer. In 1861 at age 17 he met the fledgling Nationalist composer Mily Balakirev – with whom he studied while in the final year of his Naval College term – and was adopted into the "Kuchka" at that time (don't worry – I'll explain below,) but the next year, young Rimsky shipped off to sea on the Russian frigate Almaz – for nearly three years. He didn't let THAT end his interest in music: while at sea, the young man spent much of his time composing (he had already been bitten by THAT bug, of course) — his familiarity and love of the sea clearly stood him in good stead when time came 25 years later to write the work for which he's best remembered today: "Scheherazade." During that first tour – a pretty heady time for a young man, his ship actually sailed up the Hudson River and in Chesapeake Bay during the American Civil War. Upon the conclusion of that tour, he was stationed back in St. Petersburg; re-united with Balakirev's influence and the other members of the "Mighty Handful" (yes, bear with me: I'll explain that below!) Rimsky composed his first symphony. The piece was actually performed thanks to Balakirev's efforts (as well as those of the influential critic Vladimir Stasov, who was able to raise interest and money for the young nationalist composers, serving as an artistic godfather of sorts) and it MAY actually deserve a place in the record books as the first symphony by a Russian composer to have been performed for a public audience. As far as can be determined, it merits that recognition.
But: for now Rimsky was still wedded to the Russian naval service. While simultaneously, gaining many more important friends in St. Petersburg's developing serious music circle, through that Stasov/Balakirev connection. His hunger for knowledge compelled him to study with Balakirev, and also to read voraciously on the subjects of music history, music theory, harmony – all within the discipline of the traditional Germanic school of composition. While having endless discussions with the other members of the "Kuchka" and their associates about just WHAT the new Russian "art" music must – and must NOT be. This was a feverish time of creation, of expectation – and of anticipation of what WOULD come.
The "Kuchka"? Okay, I'll explain. As I've written before when we've played the works of one or more of its members, that was the semi-derisive, semi-proudly-serious name by which a loosely-formed circle of young Russian composer-mavericks had been referenced by the late 1850s. Meaning, "The Mighty Handful" or "The Mighty Five," the group consisted initially of Modest Mussorgsky, Mily Balakirev, César Cui – and within a couple more years, the younger Rimsky-Korsakov and Alexander Borodin, were officially welcomed in: the last to become members of the recognized Mighty Five. They all received encouragement from Stasov, and Balakirev was the ostensible leader of the gang – a gang all dedicated to creating this new, populist-derived, non-European RUSSIAN "classical" music. They were not without their detractors, of course: and the "Kuchka" or Mighty Handful was sometimes collectively ridiculed by those who objected to their seeming-undisciplined, unorthodox approach to creating new music. That name: was initially directed at them by Stasov with respectful pride, but the label was corrupted by others with mockery. Almost in defiance of their detractors, though: the five men wore the name with honor.
Now, keep in mind that at this time, Rimsky was STILL a member of the Russian navy – though, somewhat to his shock, he was offered a position as professor of composition and instrumentation at the St. Petersburg Conservatory in 1871. Apparently, it was part of the Conservatory administration's efforts to show that its doors were open to all, even to those who disdained the traditional approach to music theory/harmony/composition. But, that's the position he was offered while still a 27-year-old – and for a very good rate of pay. Rimsky was still required – as a naval officer: to wear his naval uniform at all times. He accepted the position, though he felt completely unworthy – despite his autodidacticism, he felt totally ignorant of harmony and counterpoint, and especially untutored in the critical art of form, having composed up until that point from an instinctual standpoint. So he doubled down on his efforts to learn, continuing advanced studies on his own but also with one of his young pupils – a gifted pianist and composer named Nadezhda Purgold (at left) – who, in 1872: would become his wife. Such was the advanced level he attained in the study AND practical execution of the musical arts – the traditional, Euro/Germanic compositional skills, that he was actually able to write textbooks from the position of very rare perception and master accomplishment: on music theory, harmony – and most importantly: orchestration. I have his books, as well as his autobiography "My Musical Life" – and all are fascinating reads for anyone intrigued by the inner workings of music. So – he became a master not only of these subjects, but a brilliant professor possessing the rare ability of imparting those subjects to countless students over the decades to come. Students who would include Anatoly Liadov, Alexander Glazunov, Mikhail Ippolitov-Ivanov, Alexander Gretchaninov, Sergei Prokofiev, Ottorino Respighi, Anton Arensky and perhaps most importantly and notably: Igor Stravinsky.
And then – only two years later in 1873, this man of the Russian navy: was ALSO appointed an official inspector of Russian military bands – an area of great interest to him due to his voracious interest in orchestration – adding to his practical knowledge of how instruments worked, how they functioned, their timbres, their ranges – how they sounded in combination, in competition – and this master who had begun as a self-taught amateur used this period to build his skills to the point of becoming quite literally: one of the greatest orchestrators of all time. Rimsky's band inspector portion of his naval career actually paid off in his composition of that Concerto in Bb for Trombone and Military Band, (1877) to which I alluded above, the Variations in G minor on a theme by Glinka for Oboe and Military Band, (1878) and the Konzertstück in Eb for Clarinet and Military Band, (1878.) And if anything, Rimsky moved closer to the European traditions and training in his late 20s and into this period of his early 30s.
But it's important to know: Rimsky never became that which the "Kuchka" railed against. He continued to compose, to teach – and to improve his own technique. He was, by far: the best-trained of the five. Mussorgsky may have had the edge in sheer, raw talent – but he was dragged down by his alcoholism and early death, leaving a huge amount of unfinished music, or music which his remaining Mighty Four felt needed: some cleaning up. That certainly applies to his "Night on Bald Mountain" which Rimsky perhaps tamed to a degree too far (and which we performed for you on our last concert in October) and Boris Godunov as well as other works, and while Borodin and Balakirev also composed some incredibly well-polished works, none are as masterful as those of Rimsky. Matter of fact, Rimsky himself had some interesting things to say about his fellow "Kuchka" brothers, and especially when it came to training – and particularly the areas of technique, voice leading, harmony and counterpoint:
"All of us, myself and Borodin and Balakirev but especially Cui and Mussorgsky, neglected this. I consider that I caught myself in time and made myself get down to work. Owing to such deficiencies in technique, Balakirev writes (composes) little; Borodin, with difficulty; Cui, sloppily; Mussorgsky, messily and often nonsensically; and all of this constitutes the very regrettable specialty of the Russian school."
Rimsky did have periods of depression – he was unable to work for extended periods after the deaths of two of his three daughters. A lifelong avowed liberal, he also had instances of strife brought on by his ideals: the revolutionary stirrings of the Russo-Japanese war of 1905 saw Rimsky siding with his upstart conservatory students – no conservative he: and that dedication resulted in Rimsky being fired from his professorship. Which led to MORE protests and walk-outs by hundreds of his students; he was reinstated in his position, though he did retire from the Conservatory the following year. He had a remarkably intriguing place in the transition of music; he despised Richard Strauss' opera "Salome" – admitting he had actually hissed at the performance he attended. Ditto the music of Debussy, and yet: Rimsky's prime student was undoubtably Igor Stravinsky – and in Stravinsky's early works one can absolutely hear Rimsky's voice. What might Rimsky have thought of the Stravinsky of only a couple years after Rimsky's 1908 death? The ear-shattering revolution of Stravinsky's "Le Sacre du Printemps"? And then – the rise of the Second Viennese School? Fascinating to muse upon, especially considering the fact that Rimsky died at only 64 – and could have easily lived into the time and music of Berg and might have experienced the wild NEW enfants terribles such as early Prokofiev and even Shostakovich. Ravel, Scriabin. Schoenberg, Busoni. These were not Rimsky's fellow travelers – what would he have thought?
Rimsky had angina and heart problems for years, beginning in the early 1890s. During times of inability to compose due to a dearth of inspiration, he would dredge up a work from the past – more often than not, one of his early operas, revising it, until he had produced new versions of just about all his initial incarnations in the genre. He had a lifelong sense of competition with Tchaikovsky; it was a sense of resentment due to the public's general love of Tchaikovsky's music; after Tchaikovsky died in November of 1893, Rimsky wrote some snarky things questioning whether Tchaikovsky had really died from cholera – implying something ELSE when he noted that antiseptic conditions weren't in place on the bier, and people were throwing themselves on the body, kissing the dead lips – how could THAT be if Tchaikovsky had succumbed to that dreadfully contagious CHOLERA?!? In any event, it was after his more popular competitor (who never had anything but kindness for Rimsky!) died that Rimsky began getting more opera commissions – and began writing and filling those commissions with a vengeance. His newfound energy for stageworks was rewarded with greater reception for his operas – with each better regarded than the last. And what terrific works they ARE! Nearly unknown in the West, he eventually composed 16 in all, and of those, about half are based upon fairy tales, fantasy and pure whimsy, with the others are mostly historic (including "Mozart and Salieri" – based upon Pushkin's fantasy verse-drama of that name, with the story of Salieri being responsible for Mozart's death – a theme which much later became Peter Shaffer's successful, if wildly inaccurate "Amadeus" – both the play AND film!) or folk-based. Including: this one, from Nikolai Gogol's wildly funny short story "Christmas Eve," which comes from the collection entitled "Evenings on a Farm near Dikanka, (part) II."
Ironically, that very same Gogol story had served as the basis for Tchaikovsky's 1874 opera "Vakula the Smith," which the composer later revised as "Cherevichki" or "The Slippers" or "Oksana's Caprices" in 1885. Tchaikovsky's version is wonderful, and – in so many ways, so is Rimsky's. Rimsky chose to elevate the fantastic elements of a wildly fantastic story to begin with, and his music absolutely rises to fit his conception of that short story.
But it seems Rimsky had to wait until Tchaikovsky's death before he'd consider using the story his pseudo-competitor had already set to music. And so, he did. Rimsky began composing his "Christmas Eve" opera in April, 1894 – in the months following Tchaikovsky's November 1893 death. He wrote his own libretto, and after first deciding to follow Gogol's original story very closely, Rimsky wrote in his "My Musical Life,"
"…but my predilection for the gods and Slavic diabolism, and for the sun myths, had not forsaken me since the period of "May Night" (his previous opera) and especially "Snegurochka" ("The Snow Queen" – for which Rimsky had written a revision of his 1881 opera just before taking up "Christmas Eve")…I had the idea of introducing these extinct beliefs into the scenes from Ukrainian life described by Gogol in his short story. Thus, on the one hand, my libretto closely followed Gogol, even in his language and expressions, and, on the other, contained numerous new things introduced by myself in its fantastic parts."
Composing this opera took him one year – from April 1894 to April 1895. While yes, he did remain somewhat faithful to Gogol, he DID introduce additional characters – including,
"…the mythical figures of Ovsyen and Kolyada, who do not figure in him, in no way betray him, since they are introduced only in the fantastic scenes to which he makes certain allusions."
There was one scandal: Rimsky had retained the character of the Tsarina – clearly based upon the real-life Catherine (the Great) in the opera, seen at right. It's actually HER slippers that are alluded to in the title of one of Tchaikovsky's revised versions of the opera, but just before the premiere performance of Rimsky's "Christmas Eve" on November 28th 1895 at the Mariinsky Theatre, the Grand Dukes Vladimir Alexandrovich and Mikhail Nikolayevich attended the dress rehearsal and were outraged by the Tsarina's appearance as a character onstage. "I see that you are now my great grand-mother," Vladimir angrily snapped at the soprano playing the role. And so: the opera could NOT be performed unless the Tsarina was changed to an anonymous, regal character referenced as a "Serenissimo." And to make the connection to the real long-dead Catherine even LESS recognizable, the role was now to be sung by a male baritone. Rimsky was fit to be tied, but – had no alternative; otherwise, the opera would not go on. He protested, however: by not attending the opera's premiere. The opera was a huge success, but – Rimsky had run afoul of the Imperial Family – and the house of Romanoff was closed to the composer.
Here's the story of the opera, in Rimsky's version. The witch, the devil – nearly all those elements of fantasy: are Gogol's own. Where ELSE would you find such characters in a story which transpires on Christmas Eve and Christmas Day?!? Both Rimsky's opera and Gogol's original story are set in the small Ukrainian village of Dikanka – some time in the 1700s.
As ACT ONE begins, it's a beautiful Christmas Eve and a witch named Solokha who just happens to live in the little village is visited by the Devil. Who is, of course: her old acquaintance. He's unhappy with Solokha's handsome young son, the blacksmith Vakula. It seems Vakula – who's also a talented artist: has been painting rude pictures of the Devil at a local church, including a mural depicting all the villagers throwing rocks and sticks at a terrified Devil. Who is, of course: very insulted by such a thing.
So of course, the Devil wants to get even. Vakula is in love with the beautiful Oksana, the most popular young woman in the small village – who is, well: downright stuck-up, as can be the case with beautiful young women. But her father, Chub, doesn't approve of a match with a mere blacksmith. So here's the thing: the Devil wants Solokha's help to steal the moon, and summon up a blizzard. That way, stranded without any moonlight to see his way, and with a cold blizzard blowing, Chub won't want to venture out to the party at the Village Sexton's even though there'll be spiced vodka. Instead, Chub will have to spend Christmas Eve at home, and Oksana won't be left alone, and so Vakula won't be able to declare his love to Oksana. As it happens, Vakula's mother Solokha (the witch!) herself has a number of suitors, including Chub. As she finds him the most attractive, she agrees to help the Devil.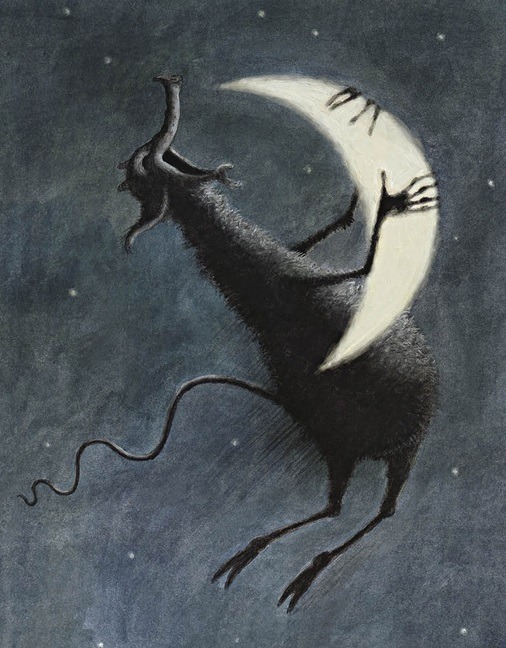 In a particularly ugly guise, the Devil puts his plan into action and steals the moon –
The Devil's plan goes into action. Chub and his buddy Panas are hoping to spend Chrismas Eve drinking together at the Sexton's. But they get separated in the darkness and snow, and Chub gives up, heading back home. Still, things don't work out the way the Devil expected. As Chub is approaching his house, he runs into Vakula. Assuming the blacksmith wouldn't dare come anywhere near the place, Chub thinks he's still lost. So he decides to visit Solokha instead. With Chub heading in another direction and the blizzard subsiding, Vakula decides to take his chance and propose to Oksana.
He finds her at home, in front of a mirror, obviously pleased with what she sees. When Vakula quietly enters, he's even more impressed with her beauty. But she puts him off. They've had a good time, she says, but now she's getting bored with him. She's waiting for some friends to drop by so they can go sing kolyadkas – Christmas carols – under everyone's windows; when the people hear the kolyadkas, they give you presents of sausages, or some bread or a copper or whatever they have the most of. On Christmas, everyone goes caroling – singing kolyadkas – and she's looking forward to all the compliments she'll get from the other young men in the village. Because, of course: no one is as beautiful as she.
When the others arrive, one of Oksana's girlfriends is showing off a gift — a fine new pair of slippers. Oksana complains that nobody ever gives her presents as nice as that. Vakula takes the bait, and promises to get her any pair of slippers she wants. In front of everyone, she takes him up on the offer. She'll marry him, she says — but only if he brings her the elegant slippers worn by the Tsar's wife — the Tsarina.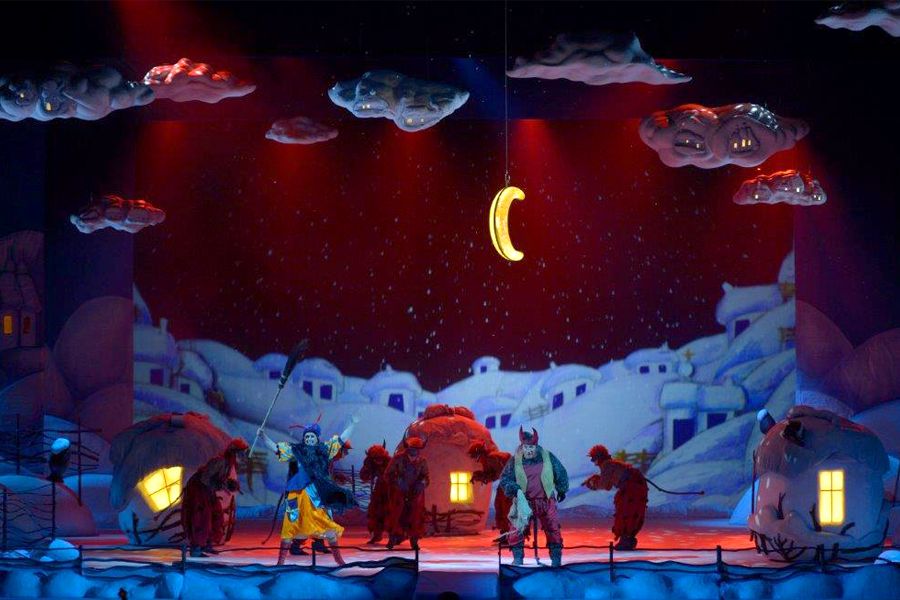 Scenic Design from Rimsky's "Christmas Eve" at the Mariinsky Theatre
Vakula figures he's been dumped, and turns away. After all: it would be impossible to get one's hands on the slippers of the Tsarina, right? The other young people begin celebrating with Christmas Carols. As Vakula wanders off, obviously disconsolate, Oksana wonders if she's made a mistake.
As ACT TWO begins, Solokha is busy celebrating Christmas Eve with the Devil himself, in her small home. Suddenly, someone knocks at the door. It's the village mayor, one of Solokha's many suitors. She can't let him see her with the Devil, so the Devil quickly hides in a sack as the mayor enters.
Soon, there's another knock at the door. This time it's the local Sexton, another of Solokha's admirers. Now it's the mayor's turn to dive into a sack — and the procession isn't over yet. Oksana's father Chub then arrives, with his own eye for Solokha. So she finds yet another sack for the Sexton. And when Vakula comes to visit his mother, she has to find a fourth sack to conceal Chub. Vakula takes a quick look around. The Christmas celebration is in full swing, and he thinks they need more room in the place. So he hauls the sacks away — complaining about how heavy they are.
Outside, villagers have gathered to dance and sing carols. When Oksana arrives, all the men are quickly drawn to her. But she has her eyes on Vakula, who shows up carrying the sacks. He sees her watching him, but when he approaches, she's still playing hard to get. "I'll marry you," she says, "but first, you have to get me those slippers."
Vakula decides this demand is impossible to meet, and says he might as well just kill himself. He trudges off, leaving all but one of the four sacks behind. The villagers worry about him, and Oksana is concerned that she might have driven him into the arms of someone else.
But there's still the Christmas celebration to think about. Eyeing the three sacks Vakula left on the ground, someone thinks he might have brought food, for the party. So as the act ends, they rip the sacks open, only to find three, very embarrassed men — Chub, the Mayor and the Sexton, who all complain that Solokha has bewitched them.
In ACT THREE, Vakula decides to see what he can do about getting the Tsarina's slippers for Oksana. He visits Patsyuk, a local sorcerer, while still carrying one small sack. Vakula asks Patsyuk to help him find the Devil, hoping for assistance from the dark side. Patsyuk calmly tells him that locating the Devil should be easy — Vakula is carrying him on his shoulder!
At that, the Devil pops out of the bag. He's willing to help Vakula, he says — but only in exchange for Vakula's soul. At first, Vakula pretends to accept the deal. But instead, when the Devil looks away, Vakula grabs him by the tail and produces a small cross. It seems the cross, together with the spirit of Christmas Eve, is too much for even the devil to resist — and he agrees to do whatever Vakula wishes. He's now Vakula's slave.
Vakula demands that the Devil take him to see the Tsarina, and the two fly off into the sky. Sorcerers and witches are gathering to celebrate their Sabbath — including one particular witch, Vakula's mother Solokha. They all rise, trying to stop the Devil and Vakula from reaching the Tsarina. But Vakula still has his cross, and the two go on their way.
In the Tsarina's court, everyone is preparing for a holiday celebration. The ladies of the court dance a Polonaise with a group of Cossacks. When the Tsarina appears, Vakula kneels at her feet. He tells her his fondest wish is for his beloved Oksana to have a pair of slippers as fine as the ones the Tsarina is wearing. Moved by his sincerity, the Tsarina removes the slippers, and presents them as a gift, on Christmas Eve. Carrying the precious slippers, Vakula hops on the Devil's back and they head for the village — as the sun rises, and Christmas bells ring out.
ACT FOUR takes place back home, where it's Oksana's turn to be unhappy. There's been no sign of Vakula. The villagers all think he must have killed himself – after all, that's what he said he was going to do, right? They argue over how he did it. Was it by hanging, or drowning? Off by herself, Oksana sings a melancholy aria, regretting the way she treated Vakula — and realizing that she has loved him all along.
While she sings, Vakula returns and listens in secret. At first, Oksana doesn't notice him, and he's overjoyed at what he's heard. He presents her with the slippers. She's grateful, but says would have married him even without them. Her father, Chub, might be expected to object. But Vakula has gifts for him, too — a colorful belt and sheepskin hat — and that wins him over.
Chub calls everyone together, and announces that along with Christmas, there will also be a wedding celebration. The joyful villagers crowd around Vakula, wanting to know all about his magical Christmas Eve journey, and the opera ends.
Not long after the premiere, Rimsky pulled nine segments directly from the opera – including some of the most beautiful music from near the beginning, when the stars are at play, the Devil ascends to steal the moon – and a comet passes through. It's absolutely magical music – you'll hear:
1) Introduction to Act I, Scene I –
2) Introduction to Scene VI –
3) Games and Dances of the Stars
4) Procession of the Comet – Round Dance
5) Czárdás and the Rain of the Shooting Stars
6) The Devil' s Kolyadka
7) Scene 7 – Polonaise
8) Introduction to Scene
9) Procession of of Ovsyen and Kolyada
I've wanted to program this music for a very long time – it's very rare, very special, a half-hour of magic by one of the greatest orchestral colorists who ever lived – and for the occasion, the MSO will be joined by a concert grand harpist to bring you this amazing score as Rimsky-Korsakov intended.
Sierra Christmas Party (2002; 2011 version) by Les Marsden (1957-)
The less said about this (thankfully) final piece on our concert program the better: but I will say that Sierra Christmas Party has closed each MSO December concert since our very first concert exactly seventeen years ago – on December 21, 2002. This piece was quickly (or recklessly?) composed by a certain unfortunate individual whose name-must-not-be-spoken. It was written at the instigation of local legend Miriam Costello, so please blame her. Over the last decade the piece has had additions from time to time until it got so out of hand I decided to cut it back down to what I considered to be its optimal length and froze it there! In this incarnation, and after an introduction which briefly hints at the "Hallelujah Chorus" from Handel's "Messiah," you'll hear the following Christmas carols, in order:
1) Deck the Halls (With Boughs of Holly)
2) We Wish You a Merry Christmas
3) Silent Night, Holy Night
4) God Rest Ye Merry, Gentlemen
5) Good King Wenceslas
6) O, Holy Night
7) Jingle Bells
There's really very little else to be said about this, my errant musical child – other than the fact that we do wish you the best sentiment, as is contained in the spoken line just before the piece's conclusion. And in any case, we do offer to you sincerely – with this concert: a wonderfully Merry Christmas, Happy Hanukah, Winter Solstice, Happy Kwanzaa, Feliz Navidad, Joyeux Noel, Pancha Ganapati, Jolly Yule. As noted at the start of these notes: from the MSO's very beginning, I wanted our annual Festive Holiday Concert to be an evening during which we might all come together under the finest of circumstances for a little good old-fashioned musical Holiday joy—best summed up by that (spoken) final line of Sierra Christmas Party. No matter what holiday you celebrate, the line works for 'em all and so please: if you do remember that line, feel free to jump right in and shout it out with this, YOUR very own symphony orchestra!