Program Notes from Les Marsden for our
upcoming April 14th and 15th concerts:

Have I got a trombonist for you!     
I'm really delighted to offer a musical experience like no other to you, right here, in Mariposa AND in Yosemite National Park.  My old friend and internationally-renowned trombonist Dr. Thomas Ashworth will guest perform with the MSO in Mariposa and yes, in Yosemite National Park on April 14th and 15th.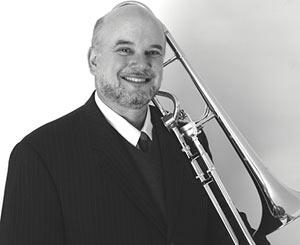 Tom's well-known artistry ranges the gamut of music from classical to pop and jazz.  He's performed or recorded with greats ranging from Ella Fitzgerald, Rosemary Clooney, The Temptations, Sammy Davis Jr., Doc Severinsen, Bobby McFerrin and Al Jarreau to the Saint Paul Chamber Orchestra, Kansas City Symphony Orchestra, the Minnesota Orchestra, Sydney (Australia) Symphony Orchestra and Chicago's Music of the Baroque – plus many more.  He's heard on innumerable recordings and has appeared on Garrison Keillor's "A Prairie Home Companion" as well as the broadcast premiere of Keillor's opera Mr. And Mrs. Olsen.  A longtime professor of brass studies at the University of Minnesota, Dr. Ashworth has also been on the faculty of numerous international brass conferences, and has appeared as a clinician, soloist and adjudicator throughout the USA, in Australia and Europe.   And believe me: that's only a small thumbnail of his distinguished record as a musician; his full professional bio appears at the end of my notes.
Tom and I go back – way back.  We first began making music together 45 years ago, before we could even drive – well, legally, at least.  Among other ensembles, we (as teens) were Principal Trombone and Principal Trumpet in the symphony orchestra at C. L. McLane High School in Fresno, as well as other local/regional orchestras including the Fresno Junior Philharmonic Orchestra.  We're both alumni of not only McLane High but CSUFresno, too.  After school, we lost touch with one another – my career was on stage and film after all, and took me in some ways outside my previous circles.  But decades after our student days, a few years after I had retired and Diane and I moved back to our home region and I had put together the MSO, I thought it would be fascinating to bring Tom out as guest soloist with the orchestra. And so in 2004 I composed my Concerto Burlesco for Trombone and Orchestra for Dr. Ashworth, who guest-appeared with the MSO in concerts in Mariposa and Oakhurst that next year with us and then came back in 2006 to play the piece (and others) in Mariposa and Merced.  After an absence of 12 years since our last collaboration, I decided it was time to bring my old friend back to the Yosemite region for these two special concerts for the orchestra's 16th season.
And what concerts they'll be!  In addition to Concerto Burlesco, the MSO will be heard in one of the most famous and universally-loved pieces of music ever written: Antonín Dvořák's 9th Symphony "From the New World." And – one of the great works by Dvořák's close friend and mentor: Johannes Brahms.   Read on, for complete information about the music on these concert programs – and whatever you do, DON'T miss them!  Because if you DO, you may kick yourself…and if you don't, I just MIGHT!
The Program:
Franz von Suppé (1819—1895)   Overture to the Operetta "Light Cavalry"
Johannes Brahms (1833 – 1897)   Tragic Overture, op 81
Les Marsden (1957 – ) Concerto Burlesco for Trombone and Orchestra
                            Featuring Guest Soloist Dr. Thomas Ashworth, Trombone
Antonín Dvořák (1841 – 1904)  Symphony #9 in e minor "From the New World"
The Saturday, April 14 Concert will be held at 7 PM in the Fiester Auditorium at Mariposa County High School.   Ticket prices are $10 Adults/$6 Students.  MCACI members: $8 Adults/$5 Students.
 The Sunday, April 15 Matinee Concert in the Great Lounge of the Majestic Yosemite (Ahwahnee) Hotel in Yosemite National Park will begin at 2 PM.  That Yosemite concert is a free event, with attendance first come, first seated.  Donations are welcome.  The MSO has been offering annual spring concerts in Yosemite for a decade. Those concerts are made possible by the orchestra's partnership with and the generous support of the National Park Service and Concessionaire Yosemite Hospitality – a Division of Aramark.
Tickets for the Mariposa Concert can be purchased online here  or by calling 209.966.3155 for more information.
And now: a little information on the composers and their works.
Franz von Suppé (1819—1895)   Overture to the Operetta "Light Cavalry" (1866)
Born in Dalmatia as Francesco Ezechiele Ermenegildo Cavaliere Suppé-Demelli, the man who wisely shortened his name to Franz von Suppé wrote a considerable number of musical works ranging from a Requiem and three additional Masses to art songs, symphonies and concert overtures, but he was best-known in his day for his three dozen operettas, nearly all of which share absolute, equal obscurity today.  Born in the town of Spalato (or – as it's called today: Split) to a civil-servant father of vaguely Belgian lineage and a Viennese mother, he received absolutely no support from his parents for his early love of music, but fortunately did receive encouragement from both the local town bandmaster and the choir director of the Spalato cathedral – which helps to understand his passion for music of the Church.   He dutifully followed his father's wishes by studying for a legal career in Padua, Italy – while privately maintaining his music studies and compositions on the side. Frequent trips during those student years to Milan only fed and whetted his musical appetite as he came to hear and know the operas of Rossini, Donizetti and the young Verdi – all men he came to know personally.
When he was 16 years old, his father died and his widowed mother moved with her son back to her native Vienna, and there: the die was cast.  Plunged into certainly one of the most musical of all European capitals, Suppé dabbled with classes at the Vienna Polytechnic University and the University School of Medicine, but finally dug in his heels for a career in music.   He studied privately, gave Italian lessons to support himself – and landed an unpaid, volunteer position as conductor at the Josefstadt Theater, gradually working his way up into paid positions in other towns, ending up in Bratislava from 1842-44.  Though he had been writing operettas and other musical works as early as his teens, he now began composing in earnest and finally had his first stage success in 1841 with a hybrid comedic theatre-piece with songs called "Jung lustig, im Alter traurig oder Die Folgen der Erziehung" – or "Happy in Youth, Sad in Old Age or The Consequences of Education."  To think people paid cash money to see something with a title like THAT!
His career slowly moved forward: by the mid-1840s he was regularly conducting the Italian operas that were then all the rage, speculatively composing his own works on the side while retaining the more-or-less steady job as a conductor – and even, on occasion: singing roles in operas.  In 1845 he struck gold: becoming music director/conductor/composer at the famed Theatre an der Wien – essentially: the Vienna Theatre, where he would remain for the next 17 years. It became a great laboratory of sorts for Suppé: he composed and sometimes scheduled his own works – and the period gave rise to more and more successful theatre pieces, Singspiels ("spoken/sung" plays or music-dramas) and even operas.   With a well-regarded Requiem in 1855.
Then in 1860, with Suppé entering his forties, the successes slowly began.  In that year, the staging of his Das Pensionat initiated a new genre of Viennese operetta at Theatre an der Wien – and just when things were on a roll, the owner of the theatre went bankrupt in1862.  But by then, Suppé had becoming a promising commodity and he was quickly snatched up by the Carltheatre – where his career as a composer of operettas would be made, and solidified – at least for the rest of his lifetime.  He would eventually retire from the Carltheatre in1882 after a falling-out with management over his opinion that the failure of his Das Herzblattchen (The Sweetheart) was strictly due to it being badly-staged.  Beginning with Das Corps der Rache (The Revenge Corps) in 1864 with his mature period to his final, incomplete operetta Das Modell – left unfinished at his death in 1895: there lay 31 years of not only operettas but nearly 20 operas as well, a total of 50 in his lifetime, including the remains of Das Modell, as finished by others.  Although his full catalogue of works (mostly all theatre) is over 200.   His prime contribution to music, and particularly to music of his day: was a hybrid combination of Italianate comedy with solid Viennese workmanship – even more so than the up-and-coming Johann Strauss (who would push things into a mostly-lighter direction,) Suppé was a solidly-trained craftsman whose tremendous background of decades in the theatre beginning in his teen years: really delivered the goods.
And what of those operettas today?   Well – you'd be hard-pressed to find a production of any of them now.  And the operas – even less so. They're just not as respected and well-liked as they were in Suppé's day.  Call it the fashion of the times, if nothing else. But oh, those operettas' overtures! Long after Suppé's death they would become a staple of cartoons, early silent-movie music, television and radio, and eventually: to permeate pop culture. "Morning, Noon and Night in Vienna," "Poet and Peasant," "The Beautiful Galatea," "Jolly Robbers" and others are very familiar, but "Leichte Kavallerie" is probably his best-known; from the opening (and recurrent) fanfare to the rollicking cavalry 'galloping' tune, you've heard his music before!   Even though Suppé's operettas were fairly popular at the time, it didn't stop his contemporaries from taking potshots even in his own day. One Viennese music critic glibly noted that Franz' music was NOT the "heady wine of Johann Strauss, Jr. but a Dalmatian Suppe (soup.)" Amazing what passed for clever music CRITICISM in that day…
Johannes Brahms (1833 – 1897)   Tragic Overture, op 81(1880)
Oh, Brahms.
One of the greatest of the odd men of music (and when one considers all the great, odd men of music, that's truly saying something.)   Born to a father who was a hornist and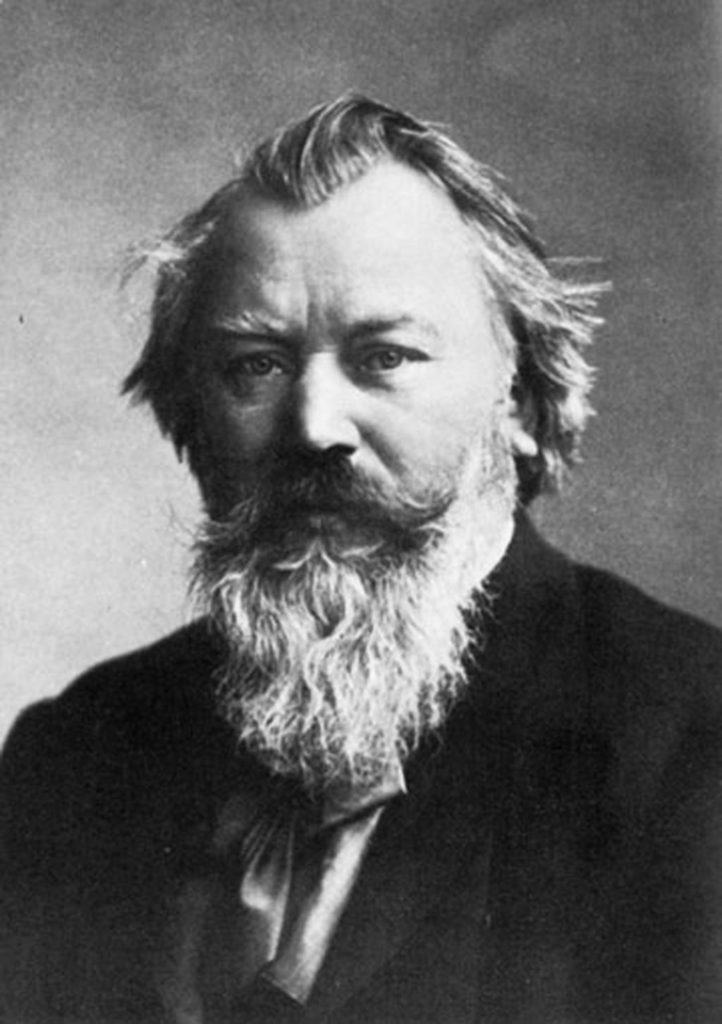 double-bass player, and a seamstress mother 17 years older than her husband, Brahms received his initial musical training from his father.  A truly monumental piano virtuoso, young Johannes' early years were spent playing piano in dance halls and other – shall we say: less-than reputable establishments? Brahms himself claimed that his early youthful vocational experiences may have resulted in his own inability to relate to women in normal ways; suffice it to say he remained a life-long bachelor.   By age 19 he began to gain a small amount of renown as a concert pianist, and would include many of his own piano works along with the classics he was expected to play in concert. At age 20, he met the famous Hungarian pianist and composer Franz Liszt and Hungarian violinist and composer Joseph Joachim; Joachim arranged for Brahms to meet with the older composer Robert Schumann in Düsseldorf.  And there – on October 1, 1853: one of the most important courses of music history was charted. Schumann (hugely influential not only as a composer, music advocate and critic but also as a "discoverer" of new talent) was simply blown away by the music and musicianship of the 20-year-old Brahms. Schumann, of course – was no slouch; after the self-induced injury that had ended his own piano performance career, he had established himself as a wonderful composer and knew what he was talking about.  Schumann immediately insisted Brahms move in with the Schumanns – the household of which already included the surviving seven of their eight children. Brahms lived with them only for a few weeks, but became a member of the family for good. Schumann's devoted wife Clara (Wieck) Schumann was herself a profoundly talented piano virtuoso AND a real rarity: a gifted female composer. And Brahms became madly infatuated with her – I would think that beyond all the immediate, obvious charms, talents and attractions of Clara, Brahms may also have been drawn to her because she was: unavailable.   My conjecture only. But in any event, within five months of the meeting of Brahms and Schumann, on February 27 1854: Schumann attempted to kill himself by throwing himself into the Rhine after being beset for some time by angelic and demonic "visions." Pulled out of the Rhine by fishermen, he immediately had himself locked away in a mental institution (which is the polite term,) where he was not allowed to have visits from his wife. And so: the two never saw one another again until two days before he died, little more than two years later on July 29, 1856. And at that meeting, he appeared to recognize her, but couldn't speak.  Remember my statement (above) about the great, odd men of music? At the time of his death, Schumann was 46. Brahms was 23. Clara was 37: 14 years Brahms' senior. Brahms had become the Schumanns' go-between (allowed by the mental institute) during those final two years, and had in effect (as well) become the head of their household. After Schumann died, Brahms moved into an apartment above the Schumann's home, putting his own career on hold while devoting himself entirely to Clara. One of the great unanswered music-world questions from that time to our own is: just what WAS the nature of their relationship? It's a great mystery – and as each actually destroyed their letters to one another, we'll probably never know.   But Brahms – the eternal bachelor – remained close and devoted to Clara until her death 40 years later at 76 in 1896; Brahms himself died at age 63 less than a year after Clara.
In those intervening years, Brahms distinguished himself as a composer – being endowed by the great conductor Hans von Bulow with the estimable inclusion as one of music's "Three B's" – Bach, Beethoven and Brahms.  In any event, this brilliant, constantly self-critical man left behind a remarkable legacy of music: some of the great works of the piano literature, 2 wonderful piano concertos and a violin concerto, his "A German Requiem" – which, with his irreligious personal nature he claimed he would have preferred to have named "A Human Requiem," some pretty wonderful chamber music.  And so much more including four brilliant symphonies – his first symphony ALONE took him some 21 years of composition and self-editing before he felt it ready to be unleashed upon the world in 1876 when he was 43: it was immediately proclaimed as "Beethoven's 10th" by a music public which had been eagerly awaiting this first foray into that form by the gifted composer. To his death, he remained true to his personal creative philosophy of alignment with "classical" principles even as the world of music was upended by Wagner, Liszt and Mahler.  Among many others. In the late 19th century, you were either a "Brahmsian" or a "Wagnerian" and rarely both. And many a contentious battle was fought and a friendship ended over those clashing philosophies of music. A remarkably complex personality, Brahms was dedicated to nature – and he was described by those who knew him well as "lovable" though at the same time: abrasive, sarcastic and liable to alienate people without caring whether he did so or not. But at the same time he was enormously generous – after his concert career and published compositions allowed him to accrue a bit of wealth, he helped many needy causes and musicians out – but always under the condition of anonymity.  He loved his drink, he loved his cigars – and indulged in both on a daily basis (his favorite tavern was Vienna's "The Red Hedgehog" and he could be found there every single day.)
In 1880 Brahms was awarded an honorary doctorate by the University of Breslau.  Though there was no rulebook determining such things, a new dignified, soaring symphony was expected in return.   Brahms eventually tardily responded with his Academic Festival Overture, op. 80  – one of my favorite works, incidentally – and one which I've programmed more than once on our MSO concerts.  That overture, showing much of the thumb-nosing character as well as the acerbic humor of Brahms: is built upon well-known student drinking songs of the day.  And to tie THAT piece to one on this program: Brahms wrote in a letter to a friend that in his Academic Festival Overture he had composed a "very boisterous potpourri of student drinking songs à la Suppé."  Brahms conducted the premiere at a dignified convocation in Breslau, to the shocked dismay of the humorless academics.  Not to atone – NEVER that, but certainly due to his own interest in providing contrast to THAT comedic one, Brahms' very next composition was his dead-serious Tragic Overture, op. 81 – which we WILL play on this concert program.  One of my favorite descriptions of these two overtures is Brahms' own: "one laughs while the other cries."  And it's that latter emotion we'll visit on this concert, and that one we'll perform. That latter, brilliant work.
I can imagine no greater demonstration of Brahms' amazing skill and his core philosophy of music than his Tragic Overture.   The contrast between the two pieces alone is amazing.  I can think of no other composer who COULD delineate the differences between comedy and tragedy as Brahms did; the only one I can possibly put NEAR Brahms would be the man with whom Brahms was most often compared (albeit a man who died six years before Brahms was born): Beethoven.  But even THERE, while Beethoven was a master of pathos and deep tragedy, his comedy is really not giddy. It's always tinged with madness; with – perhaps a relentless sense of the perception of humor, rather than actual humor itself.   But Brahms – as I hope the MSO has demonstrated in the past: could be wildly, naturally and uninhibitedly funny.  And he was also a master of tragedy – perhaps because he knew it well.
To me, his Tragic Overture is Beethovenian in the sense that it begins, and is mostly obsessed with: rallying against fate.  Shaking the composer's fist at the heavens. But – and here's where he's unlike Beethoven: Brahms' sense of tragedy is imbued with – ultimately: hopelessness.  And Beethoven's tragedy rarely goes THERE (although he DOES do so in a passage in the funeral march of his "Eroica" – Third Symphony, which we played a couple seasons ago.) Brahms' tragedy is infused with hopelessness; an awareness of the human condition which goes hand-in-hand with many of the philosophies which were popular during the latter part of the 19th century.   Oh, sure – there's a final attempt to shake the heavens in the closing bars of the Tragic Overture, but – to me, it's more for show.  An acknowledgement within Brahms' expressive musical world that yes, the world is stacked against human beings – and I'm going out with a scream because there's not a thing I can do about it.   This was the world that would, and very soon: give rise to Mahler, after all.
Brahms wrote of the Tragic Overture that it did not "have a particular drama as a subject in mind."  But simply: the sense of tragedy – stage tragedy? This COULD be the tragedy of Ibsen, but not Shakespeare.  It's the tragedy of naturalism and one deeply rooted in reality. The piece is marginally in sonata form, and predominantly in d minor.   There's a haunting contrasting theme in the relative major key of d minor: F major – but that theme is only a half-hearted response to the overall sense of tragedy within the piece.  There's no Beethoven rebellion here – only a slow acceptance of what? Death perhaps? Our inability to, when it comes right down to it: make a true metaphysical difference in the big scheme of things?  The beauty to me of Brahms is that he guides you in the specific direction, the emotional direction he wants you to experience, but then leaves that final subjectivity to you. Just brilliant. A magnificent expression of just what a human being – but only a genius like Brahms: CAN do, and did.
Les Marsden (1957 – ) Concerto Burlesco for Trombone and Orchestra (2004, revised 2018)
(Original version of the Concerto premiered April 23, 2005 in Mariposa with soloist Thomas Ashworth, for whom the concerto was composed – with the Mariposa Symphony Orchestra under the composer's baton.  Subsequent performances with the same forces were presented in Oakhurst and again the following season back in Mariposa as well as Merced. These concerts will be the premiere of the newly-revised version of Concerto Burlesco.)
Okay: it's 2004, I'm planning the MSO's upcoming third season and I decided I wanted to present a guest soloist for the concerts later that season, in the Spring of 2005.  And though a young man's fancy is SUPPOSED to turn to thoughts of love in the Spring, I'm no longer young nor given to thoughts of abstract affection, so instead, I turned to another old boy: my friend of MANY decades Dr. Thomas Ashworth.  Because I just loved the thought of making more and new music with someone I'd known since high school, someone I'd spent many hours enjoyably making music with way back then – and someone, particularly: who had so distinguished himself in the field of music in those many ensuing years.  So I tracked him down. He was then, and is still now: Professor of Music at the University of Minnesota, Minneapolis' School of Music. I gave him a call and the years immediately disappeared. Tom was game – and after all, he HAD performed some of my original compositions back in the 1970s, so he knew what he was getting in for!
And so we were off and running.  I asked Tom what would most interest him in a new concerto, listened attentively: and then composed exactly what I wanted!  The allure to me was profound: the trombone is an amazing instrument. It's one of the most ancient of all instruments, with its roots stretching back to the 1400s and its progenitor, the sackbut.  Much older than reed instruments, and older even than the chordophones from which today's stringed instruments descended, though there were ancient primitive strings going back thousands of years.
But first a little digression about why the concept of brass instruments is fascinating – and perfectly natural.  You can actually take nearly any kind of tubing and turn it into a simple musical instrument: it's frequently demonstrated with a garden hose with a funnel on one end and a mouthpiece on the other: if you create an embouchure with your mouth (a restricted air-flow vibration with your lips) and blow into a hose, you'll produce what are known as the natural harmonics of that hose.  Bear with me here, but: in a way, that's where our western music foundations were born: the LOWEST note a hose will produce is called its lowest partial. If you blow just a little harder, you'll naturally produce a tone that's about the interval of a fifth above that lowest partial; think of C as being the lowest partial and G being the next higher one. Blow a little harder and you now get a tone a fourth above that G or: the C an octave above that lowest partial.  Blow a little harder: a third higher is sounded: the E above that upper C. Harder still: an interval of a second. And so on. That's nature! That's science – all it all involves the natural vibrations of the movement of air – creating pure tones, wherein each sound, each higher pitch produced by MORE air: is an integer multiple of the fundamental, the lowest frequency.
All very well and good, but early natural horns were restricted to only those tones.  You had to blow REALLY hard to get up to the higher pitches that would produce whole or half-step tones that would allow for the flexibility of – CHOSEN pitches.  Great – if your hose is naturally in the key of C but everyone else is playing in the key of Bb, you're out of luck. There were later solutions, including changing "crooks" or small tubes used to alter the entire pitch series of an instrument, but some ingenious musician back in the mid 1400's came up with the idea of a slide, or effectively: a sliding, moving crook – that would give nearly limitless pitches to a hose: and the trombone was born.
Initially the trombone was thought of, and used primarily for: church or sacred music.   And that's where it was stuck for centuries – even as stringed and reed instruments developed all around it.  Oh, it had its place on occasion as a solo instrument or rarely: an ensemble instrument in the Baroque era, but it wasn't until the early 1800s that it was invited into the "modern" symphony orchestra of the day – most notably by Beethoven, who used the trombone in his famed Fifth Symphony.  But even there: he saves the instruments for ONLY the final, fourth movement of that symphony – presumably to add depth and power to his orchestra for that roaring finale. Other composers began using the instrument symphonically, and that was that. Today's orchestras use tenor trombones and the deeper-pitched bass trombone, and occasionally the contrabass trombone – though the 19th century saw many composers call for the even higher-pitched alto trombone (the Beethoven Fifth Symphony has some pitches that are a little more comfortable on the higher alto trombone than tenor) and even – and here Verdi's a good example: valved trombones called cimbassos.  Think of a bigger, much-deeper-pitched trumpet. Some of Dvořák's symphonies have rapidly-running phrases for trombones that are presumed to have been intended for valved trombones, though today's hotdog slide trombonists are rarely daunted by ANYTHING! Eventually, the norm for most romantic-era composers through our present day was, and is: to write orchestrally for three trombones – two tenors and a bass.
Well, back to our own times – or at least to the year 2004 and the really exciting thought of composing a trombone concerto for a master of his instrument.  Of all the things that attracted me to the idea, I wished to show some of the many great qualities of the tenor trombone: its lyrical nature, three-octave range – plus some really great low pedal tones, staccato attack, that unique glissando impossible for any other wind instrument, but more important: to show the skilled artistry of this trombonist: trills, flutter-tonguing, pp to fff volume changes, minor-third tremolos, huge leaps, slurred arpeggiation, the ability to maneuver through styles from farcical neo-classicism to blues in the uncommon 5/4 time to a rondo finale which combines elements (perhaps) of the circus, naïve dopeyness, pomposity… and of course: burlesque, before a recap reminder of that first-movement motif with its passing tritone ('diabolus in musica') an interval which seems (for some reason) to pop up quite a bit in my music…to bring it all home.  As usual, I tried to pack quite a bit into a relatively small, 20-minute piece of music.
The Concerto is in three connected movements:
I.  Allegro maestoso-andante melanconio-moderato,
II.  Andante disturbato and
III.  Rondo tarantella
Written for my friend Tom – a magnificent master musician who even back in our teen years, was amazingly dedicated to his instrument.  You could always tell when Tom had been working at his instrument because – his lips showed the imprint of the mouthpiece when you saw him walking down the halls; it was rare to EVER see Tom without that tell-tale giveaway because he was, and remains: so dedicated to the trombone and all other low brass instruments he plays.  He is, simply: an incredible trombonist. I was so pleased with the opportunity of writing Concerto Burlesco for Tom because in addition to being one of my favorite instruments, I knew that whatever I threw at one of my favorite MUSICIANS, Tom would master – and master ALL techniques and the interpretation of my music beautifully.
I'm honored and really tickled to present Tom to our audiences, and simply: to make music with my old pal of many decades.
Antonín Leopold Dvořák (1841 – 1904)  Symphony #9 in e minor "From the New World" (1893)
We began this, our 16th Season of the Mariposa Symphony Orchestra with the music of Dvořák: his appropriately-numbered 16 Slavonic Dances.  And, as we now approach the latter part of our season, 2018 marks the 125th Anniversary year of the 1893 premiere of Dvořák's landmark final symphony – his most famous piece, and one of the most beloved, recognizable pieces of music ever written. So I'm honored to program what was, and remains: one of the most influential pieces of music ever written – but more on that below.
Bohemia-born Antonín Dvořák was an extremely modest man who considered himself to the end of his life to be a simple peasant.  In many ways, that's certainly true: he had a child-like love for, and fascination with simple things: nature, trains – and was happiest when he was simply: home.  Home with his family, in his house, in his native country, living simply. The reality is that whether he wished it or not, he was also an incredibly complex man with deep intellectual capabilities and remarkable accomplishments.  And he'd end up being one of the most influential founders of the nationalist movement or "sound" of Czech music in the concert hall. He was born in the small village of Nelahozeves on the left bank of the Vltava (that's the Moldau to you) River, north of Prague in what's now the Czech Republic.  In those days: it was part of the powerful Austro-Hungarian empire, and as such the Bohemian-Moravian area was pretty much considered an ethnic enclave. Dvořák was originally destined to follow in his father's footsteps as an innkeeper and butcher, but he was passionate about music and struggled to make that passion his life.  Dvořák's mother Anna was the daughter of Josef Zdeněk, a local civil functionary for the Prince of Lobkowicz.
The young boy was the first of fourteen offspring – and the entire family was strongly Catholic – a faith Dvořák carried with him throughout his life.  (I've always loved the story of a friend who encountered a wild-eyed Dvořák on the street, just after Dvořák had visited his friend and mentor, the lifelong non-believer Johannes Brahms.  Dvořák declared over and over about Brahms to his friend: "Such a man, such a fine soul–and he believes in nothing! He believes in nothing!")
But back a few decades to Dvořák's early years.  His father played the zither, and quite well – but was convinced that music was no field for a career.  Young Dvořák got his hands on a violin and was apparently transfixed by the instrument, even at age six.  Despite his own concerns, father František was impressed by his son's talents – hoping they'd not take hold in the boy.  He was sent away to dutifully learn German at the age of thirteen, but aha! That German-language teacher Anton Liehmann was ALSO a musician, and taught the young Dvořák the piano, organ – and violin, along with music theory instruction.  He gave the boy a grounding in the great composers past and present, feeding the young man's appetite to the point that finally, father František realized he had lost. He gave his approval for his son to work towards a career as an organist, knowing that it was one of the few possibilities for decently supporting a family as a musician in the mid-1850s.  Young Dvořák was accepted into the Prague Organ School in 1857, graduated two years later and: then sought employment. He worked as a musician wherever he could: playing in theatre and social orchestras: performing in restaurants and for balls, branching out onto the viola, which was to become his chief stringed instrument – and doing whatever he could to scrape by.  A huge step up came when he became a violist in the Czech Provisional Orchestra – the "house" orchestra for opera productions, which allowed Dvořák the opportunity to learn about THAT art form from the inside out, as it were. He had been an admirer of the revolutionary Richard Wagner from his first exposure to the older man's music and the opportunity arose in 1863 for Dvořák to actually play under him when Wagner guest-conducted a concert of his own music.  All of Prague was apparently wildly anticipating that visit from Wagner, and Dvořák later wrote:
"I was perfectly crazy about him, and recollect following him as he walked along the streets to get a chance now and again of seeing the great little man's face."
Wagner influenced Dvořák's own developing musical style – though his music at times reflects elements of Beethoven and others – including Brahms, Bach, Handel, Mozart, Schumann and Mendelssohn.  The young composer began writing in earnest, with 1865 perhaps being the year of the most accelerated composition efforts by Dvořák – in that year he wrote two symphonies, an early cello concerto (not the famous later one – a youthful first one was lost until being discovered decades after Dvořák's death) and the song-cycle Cypresses – dedicated to his piano student with whom he had fallen madly in love: Josefína Čermáková.  Josefína did not return poor Antonín's affections in the least, breaking his heart when she married into minor nobility.  Dvořák eventually DID marry in 1873: he "settled" for Josefína Čermáková's young sister Anna. It was a happy marriage, though the composer did carry a torch for his sister-in-law until her death in the 1890s, about which he was informed while he was writing THE famous cello concerto during his sojourn in the United States.   The by-now world famous composer in his fifties revised the ending of that concerto with a quotation from one of the songs in the Cypresses cycle – his grieved "good-bye" to the woman he still loved, all those years later.
In the 1860s and 70s – he struggled.  At first to support himself, and then to raise his family, while maintaining work as a musician.   And composing when he could: string quartets, symphonies, eventually the opera "Alfred" in 1870, piano and chamber music; he began to get public performances of his music as early as 1872 when the A Major Piano Quintet (eventually: opus 5) was premiered – and then, his re-written opera "The King and the Charcoal Burner" was performed in 1874 in Prague.  People began to take notice of this Dvořák at home – though Prague was still considered a cultural backwater compared to the "proper" Germanic and Austrian centers of art.  Things did begin to pay off in 1875 when he was "discovered" by the aforementioned Brahms. Brahms had first come to know the young man's music via Dvořák's applications for scholarships from Vienna's Ministry of Culture and Education; Brahms was on the jury and immediately recognized a great talent.  Dvořák, incidentally: won a scholarship.
Brahms was particularly amazed by the younger composer's deft skill, bottomless pit of appealingly fresh material, and of course: the "ethnic" sound of Dvořák – always attractive to Brahms – who loved Gypsy, Hungarian and other non-traditionally "concert" styles of ethnic or folk music and incorporated them into his own music.   Brahms – with great generosity encouraged his own publisher Hans Simrock in 1877 to publish some of Dvořák's early compositions because "He is certainly a very talented fellow. And incidentally, poor! I beg you to consider that!" They were to become good friends for the rest of their lives (until Brahms' 1897 death) and the first piece published at Brahms' insistence by Simrock was Dvořák's Moravian Duets, which was a huge success. Always looking for the next profitable hit, the canny Simrock suggested Dvořák compose a set of Czech folk-inspired dances, hoping to repeat the popularity which Brahms' Hungarian Dances had been. The emerging 36-year-old was now in the folk-world of his upbringing and quickly complied with the opus 46 set of eight Slavonic Dances, for piano, four-hands.  Simrock asked him to orchestrate them and Dvořák did.  The reaction? Dvořák's music took the staid, know-it-all music establishment OUTSIDE Bohemia by storm. Written up everywhere by serious critics, suddenly people were talking about this man Dvořák and his music. And wanted to hear more.
Simrock was delighted (though the composer received a pittance of commission, thanks to his first contract) and immediately requested another set of eight MORE Slavonic Dances.  Dvořák famously responded that to do the same thing twice was "devilishly difficult" and "as long as I am not in the mood for it, I can do nothing."  Perhaps he was only holding out for better recompense from Simrock! In any event, the now world-famous composer eventually complied years later in 1886 with the second set (opus 72) for piano duet, and then orchestrated them at the end of the 1886. They are, if anything: even more remarkable, more varied, more—regional (containing not just Czech, but also Serbian, Polish, Croatian and Wallachian-Slovak-inspired dances) than the first, solely-Czech-Moravian-Bohemian-based set.  And it's important to note that Brahms in his 21 Hungarian Dances: had used existing melodies and folk tunes; Dvořák composed entirely original music in his two sets of dances, based upon the rhythms, tunes, and ethnic styles of various areas. And somewhat remarkably, and despite his own doubts: Dvořák did in fact repeat that success, and brilliantly. As I hope our audiences back in October realized when we opened this season with all sixteen of those remarkable pieces.
Backing up a bit, though: the symphony was a form which enticed Dvořák early in his twenties – and by the mid 1860's he began testing the waters.  His first symphony, written by the 23-year-old composer, actually disappeared during his lifetime, probably after he submitted the one and only manuscript score to a competition in Germany.  Believing it gone forever, he later described it as "destroyed" – and went to his grave mistakenly mis-remembering burning up the score. However – he hadn't – and it did turn up in a bookstore in Leipzig, Germany – and only after a strange set up circumstances, it became public nearly twenty years after Dvořák's 1904 death at age 62.  His second symphony from 1865 did survive, but only merited a single performance in its composer's lifetime – in 1888 well after Dvořák had achieved fame and a far greater sophistication. We've performed the third symphony (which Dvořák claimed to the end of his life to be his favorite among all his symphonies) as well as the eighth and yes, previously: the most famous 9th Symphony – subtitled "From the New World."  But it's time to revisit that brilliant work.  That influential symphony.
By the early 1890s the young Dvořák had become older – and world-famous.   And I mean MAJOR world-famous, right up there with Tchaikovsky, Brahms and all the other most-celebrated living composers of the time.  Throughout the 1880s he had received commission after commission for chamber music, concerti (including the violin concerto) and symphonies – among many other forms of music.  He had been widely performed, with his music drawing near-unanimous raves with each new premiere. His fame spread from central Europe – particularly to England, and of course to the music-hungry, culturally-growing and affluent United States.  He made the first of eight concert appearances in the United Kingdom in 1884, and that country hungrily lapped up his music and rewarded him with – as he recalled it: the greatest acclaim of his career yet, anywhere. At Tchaikovsky's influence, Dvořák conducted his own music in Moscow and St. Petersburg in the early 1890s (again, to great acclaim) and in 1891 Dvořák – like his friend Tchaikovsky – was awarded an honorary degree by Cambridge University.  Back home, he settled in as a professor at the Prague Conservatory, a quiet – solid job for one of the world's most famous and celebrated composers.
Until – he was offered the then-incredible sum of $15,000 by the wealthy American Mrs. Jeannette Thurber – who was determined at all costs to hire the great Dvořák as Director of her new National Conservatory of Music of America in Manhattan.  That was about ten times the amount he received at the Prague Conservatory, but still: Dvořák initially declined her offer. The simple man just wanted to remain home. But – largely at the influence of his wife Anna, he was eventually persuaded to take the job – and the money! And so, Dvořák came to America, where (aside from short sojourns home) he lived from 1892 – 1895.  The National Conservatory of Music was a reflection of Jeannette Thurber's own convictions: it was open (uncharacteristically for the time) to African-Americans and women.
Homesick though he was, like his friend Tchaikovsky – who had been persuaded to conduct concerts of his own music at the opening of Carnegie Hall in 1891: Dvořák was amazed by this land where they apparently knew and loved his music.  He was intrigued by the fact that American composers were trying their best to compose music in the style of the famous Europeans: Brahms, Beethoven, Dvořák himself: but was convinced that America had to develop its own "concert" music or nationalistic style.  And during that period, he finally decided to demonstrate to the world what he had been encouraging American composers to do: to find their own national identity and style by looking to the music of the young country itself: the sounds, rhythms and melodies of the native Americans, the former slaves (and as well, their African-influenced music) and finally: the music of the entire immigrant experience from the fiddling of the Irish to the hymns of the Moravians.   He composed his final symphony: the ninth, more commonly known as "From the New World" and while I have to say that there's quite a bit of Bohemia to it, it is also profoundly: American. American in a brand-new way. American as a reflection of those rhythms and modes (especially the pentatonic sound of the native Americans) and the vital energy of America. And that piece – more than any other: served as the basis from which America's own "classical" sound developed.   His own students (perhaps notably: the African-American Harry Burleigh) absorbed this philosophy of "American" music – but Burleigh himself served as a teacher to his professor Dvořák – who loved the sound of spirituals, and listened avidly for hours as Burleigh sang to the master. That sound of the spiritual is obvious in the famous second movement "Largo" of the New World Symphony – and it's believed Dvořák gave the famous statement of the tune to the English Horn because it most reminded him of the timbre of Burleigh's rich voice (which I have recordings of, made in 1919.)
The 9th Symphony is simply: an amazing piece to hear and to perform.  The first movement begins with a dark, soft deeply-troubled opening interrupted by interjections from the horns (and others) which then suddenly springs into life with an octave-and-a-half wide motif which soon develops into a full-orchestral tutti that takes one by the throat no matter how many times you may have heard the piece.  The second movement? One of the most famous "classical" tunes ever written, and like all the material in the symphony, it's Dvořák's own. He created a beautiful spiritual melody, with breathtaking harmony underpinning it – and after Dvořák's death, words to that tune were added by his once-pupil William Arms Fisher, who made a fortune off of it as the song "Goin' Home."
The wild third movement is much more akin to a Bohemian/Dvořákian syncopated scherzo than anything else, but for some reason, still: it just SOUNDS American – from the galloping interludes that have always evoked the wide-open prairies of our Midwest to me – to what may even constitute the feelings of Native American dances (and incidentally: Dvořák loved Longfellow's Hiawatha and began turning it into an opera, before abandoning the idea.)  And perhaps there's something to that sound of the open plains: the homesick Dvořák discovered there was a community of Bohemians living in Spillville, Iowa – and happily spent the summer of 1893 there, with his own people. I'd like to think that something of the heartland of America was absorbed by the composer there – and that he reinterpreted it back to us at times in this, the third movement.
The finale is just magnificent – and includes allusions to "Three Blind Mice" and perhaps more tellingly: "Yankee Doodle" – but you have to know where to listen for that.  Recapitulations of material from the previous movements give a sense of cohesion and unity to the entire symphony – but that, I feel is secondary to the experience of this movement, and on a larger scale: to the entire symphony.  This is music that springs from the EMOTIONS of Dvořák – the emotions of melancholy, of homesickness – and yet, even so: also the emotions of energy, excitement – and optimism of this strange new world in which the composer found himself.  And thus, this movement – and the entire symphony itself – after being mostly minor-mode, all finally ends with a huge major-mode triumph – though even that gradually dies slowly away into silence. And thus, this incredible work ends. And the sound of America begins, as Dvořák's students finally saw the light, picked up the ball from their professor: and ran with it.
That American sound would be developed further by those such as Aaron Copland beginning just 25 years after Dvořák's death, standing upon Dvořák's pioneering shoulders.  That sound lives on today not only in the concert hall, but in its harmonic AND tonal influences on country-western music – and even, in some ways: in the blues. And it all began with this great, original, magnificent symphony "From the New World" – this great gift by a composer given from the old world, TO the new world.
Dvořák's career output contained so many other great works from both sets of the Slavonic Dances (for piano duet and later, orchestra as well – music which he himself described as "they'll bring the house down; they sound like the very Devil himself!") to the great nine symphonies, the five extraordinary symphonic poems, concerti for violin, cello (two) and piano, symphonic overtures (including the trilogy of "In Nature's Realm," "Carnival" and "Othello") and many other orchestral works; the huge output of chamber and piano works including the fourteen wonderful string quartets – and no less than six operas – and much, much more.
In 1904 he was plagued by acute kidney pain which then, in April led to a bout of influenza.   After a lengthy period of bed rest, the seemed to recover, but then on May 1st of that year, after having a little soup with his family for lunch, said "I feel a bit dizzy, I think I'll go and lie down."  Which proved to be his final words. He became unconscious, and the immediately-summoned doctor found the composer had died, presumably of a stroke. It's now believed (don't you just love modern medical science?!) that the long bed rest resulted in a pulmonary embolism. In any event, Bohemia's greatest composer was dead at the age of 62.
And now – all about our Special Guest Soloist Thomas Ashworth:
Professor Ashworth teaches alto, tenor and bass trombone to undergraduate, masters and doctoral students. He also directs the UM Trombone Choir, leads the UM Jazz 'Bones, coaches chamber ensembles and teaches a graduate course in Studio Administration and Resources. Many of his former students are enjoying successful careers as public school and university educators, orchestral and military ensemble musicians and as freelance performers and teachers. Ashworth is a former member of the Kansas City Symphony Orchestra and previously taught trombone and jazz improvisation at the University of Kansas.
As the featured trombonist (alto, tenor and bass) with the Saint Paul Chamber Orchestra, Ashworth recorded CDs for Teldec, Atlantic, Decca and EMI, and performed with the SPCO in New York, Japan, Hong Kong and Singapore. In addition, he has appeared with the Minnesota Orchestra, the Sydney Symphony Orchestra and the Chicago-based Music of the Baroque. Ashworth has toured with the world-renowned Summit Brass and has performed on trombone and/or euphonium at the Summit Brass Institute, the Grand Teton Music Festival, the Brevard Music Festival, the Wintergreen Music Festival and the Ojai Music Festival.
In addition to numerous SPCO CDs, Ashworth can be heard on recordings by the Minnesota Orchestra, the Graham Ashton Brass Ensemble, the Summit Hill Brass, the Lou Fischer Big Band and Symphonia, a professional tuba-euphonium ensemble. He recorded a collection of contest solo pieces for trombone on Summit Records. Ashworth can also be heard playing lead and solo trombone on several recordings with the North Texas State University One O'Clock Lab Band.
From July 1994 to August 1995 Ashworth was the Lecturer in Trombone at the Canberra (Australia) School of Music. He performed with the orchestras of Sydney, Tasmania, and Canberra and joined the Sydney Symphony Orchestra for their 1995 European tour.
As a freelance commercial musician, Ashworth has performed with numerous artists, including Ella Fitzgerald, Sammy Davis Jr., Rosemary Clooney, The Temptations, Doc Severinsen, Bobby McFerrin and Al Jarreau. He has recorded music for radio and TV jingles, CDs and movies, and has extensive experience playing Broadway shows.
Ashworth has appeared on Garrison Keillor's "A Prairie Home Companion," and Bill McGlaughlin's "Saint Paul Sunday Live." He has also performed with the SPCO on their NPR broadcast of the premier of Garrison Keillor's opera, "Mr. And Mrs. Olsen" and recorded a DVD with the SPCO and Garrison Keillor. Ashworth has been on the faculty of numerous international brass conferences, and has appeared as a clinician, soloist and adjudicator throughout the USA, and in Australia and Europe.
Ashworth frequently organizes brass symposia at the University of Minnesota, and served as the Host of the 1994 International Trombone Workshop and the 1998 International Tuba-Euphonium Workshop. He has also hosted many guest artists and ensembles, including the American Brass Quintet, the St. Louis Brass Quintet, Dallas Brass, Vinko Globokar, Christian Lindberg, Charlie Vernon, Joseph Alessi, Raymond Premru, Michael Mulcahy, Patrick Sheridan, Gene Pokorny, Edward Kleinhammer, Oysten Baadsvik and Jaques Mauger.
Ashworth has degrees from California State University-Fresno and North Texas State University. His teachers include Larry Sutherland, Wilbur Sudmeier, Vern Kagarice, John Kitzman and Michael Mulcahy. Ashworth also studied with Swedish trombone soloist Christian Lindberg at the Schleswig-Holstein Musik Festival in Lubeck, Germany and in Pitea, Sweden.
Ashworth performs on Bach trombones, including a Mount Vernon 42B and a Mount Vernon 8LT.