Notes from the Founder and Conductor, Les Marsden:
The Program:
Sir Edward Elgar: Variations on an Original Theme "Enigma," Opus 36
Louis Joseph Ferdinand Herold: Overture to the opera "Zampa"
Engelbert Humperdinck: Evening Prayer and Dream Pantomime from
the opera "Hänsel und Gretel"
Ralph Vaughan Williams: Greensleeves Fantasy
Les Marsden: Sierra Christmas Party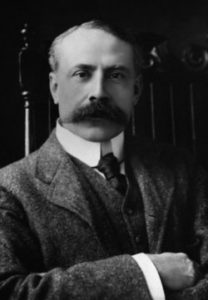 Sir Edward Elgar (1857 – 1934) Variations on an Original Theme "Enigma," op. 36 (1899)     This – the piece of music that created Elgar's career and immediately became his legacy: is one of my all-time favorites.  Born in 1857 to a middle-class, music loving family, Elgar was the exact "middle child" of seven offspring.   His father was an accomplished violinist and organist and his mother was a devout admirer of the arts.  Both made sure all their children received musical instruction.  Young Edward received violin and piano lessons, taught himself the organ (with a little help from Dad) and was composing by age ten.   At that last, he was voraciously and completely self-taught – reading any books on music theory he could possibly find.  After a half-hearted attempt at a career as a clerk, Elgar struck out on his own in his early twenties, supporting himself by teaching music.   When he was 22 he landed a job as conductor for the staff "orchestra" at the Worcester Lunatic Asylum; it had a mis-matched 15 or so musicians which comprised neither an orchestra, nor band but a sort of salon orchestra.  It was probably one of the best training experiences for a budding composer because he learned the practicalities of many instruments and as well, how to arrange for such a disparate group.   He simultaneously served as professor of violin for a private school for the "blind sons of gentlemen" during those early years and basically: did whatever musical work he could to get by – including a memorable experience of playing Dvorak's 6th Symphony and Stabat Mater in the second violin section of the Worcester Symphony Orchestra – under Dvorak's baton.   Elgar eventually took on a private student from a very well-to-do family; he was 29 and Caroline Alice Roberts was 37.   When he was 32 and Alice 40, they were married against her family's very firm objections: after all, he was a poor musician and a Catholic to boot: Alice's family actually disowned her and that was that.   The couple moved to London in the hopes of attaining connections that might help his career.   Edward continued to scrape by, while composing various works which only gained him a small bit of occasional attention.   They moved out of London due to the high cost of life there, and Elgar continued to struggle with little to gain from it aside from the profound moral support of his loving wife, being contracted to Novello as his publisher and small compliments from time to time from critics for his compositions.
The 42-year-old Elgar (who was given to wild mood-swings and to the "black moods" which sometimes overcame him) had just about given up on composing by 1898.  One late October afternoon, as he described it years later: "After a long day's fiddle teaching in Malvern, I came home very tired.  Dinner being over, my dear wife said to me, 'Edward, you look like a good cigar,' and having lighted it, I sat down at the piano. In a little while, soothed and feeling rested, I began to play, and suddenly my wife interrupted by saying, 'Edward, that's a good tune.' I awoke from the dream: 'Eh! tune, what tune!' and she said, 'Play it again, I like that tune.' I played and strummed, and played, and then she exclaimed, 'That's the tune.' And that tune is the theme of the Variations."
And as they discussed it, he began adapting that tune to reflect the character (or other elements) of some of their closest friends.  And thus was the idea hatched for what was to become Elgar's original theme and subsequent 14 variations which depicted 12 of Elgar's friends and as well: Carolyn Alice Elgar and her husband, Edward Elgar.  The enigma?  To this day, no one knows – it's a secret the composer took to his grave, and despite making numerous hints about just what that mystery WAS: no one has conclusively figured it out.  It's certainly not the identity of those depicted; Elgar clearly identified each, although with a little bit of cryptic fun initially.  And the score bears the dedication "to my friends pictured within."  Elgar wrote in a private letter: "It is true that I have sketched, for their amusement and mine, the idiosyncrasies of fourteen of my friends, not necessarily musicians; but that is a personal matter, and need not have been mentioned publicly.  The Variations should stand simply as a 'piece' of music.  The 'Enigma' I will not explain – its 'dark saying' must be left unguessed, and I warn you that the apparent connection between the Variations and the Theme is often of the slightest texture; further, through and over the whole set another and larger theme 'goes', but is not played…So the principal Theme never appears, even as in some late dramas – e.g., (Belgian playwright Maurice) Maeterlinck's 'L'Intruse' and 'Les sept Princesses' – the chief character is never on stage."   He elaborated that the hidden theme was one that "everyone" would know.  He once (well after the piece had become established) told his friend Dora Penny (who's depicted in Variation X – "Dorabella") that she, "of all people" ought to have guessed correctly.   He repeatedly stated (until the end of his life) that the larger, unplayed theme was so well-known that he was surprised no one had guessed it.  As for that "principal Theme" Elgar referenced (and it's probably better to think of it more as a philosophical topic) – well, most people think it's just Elgar himself – the uniting factor which brings all else together.  That enigma – that "dark saying" certainly jibes with Elgar's oft-stated self-estimation: "…just like me and my influence on everybody – always evil."  In his 1968 book "Portrait of Elgar" the author Michael Kennedy points out that the rhythm of the first measure's notes absolutely align with the natural speech pattern when one states the composer's name: "Ed-ward EL-gar."  I hope this gives you a small sense of why (aside from the fact that it's a GREAT piece of music) the piece itself, and Elgar's cryptic descriptions have baffled musicians, cryptographers and those who love a good mystery for over a century.  Many possible solutions for that second, unplayed "larger theme" have been offered (including the melodies of "Rule Britannia," "God Save the King/Queen," "Auld Lang Syne" and even "Pop Goes the Weasel" as an overlying harmonic map) but none have been accepted.  There is an intriguing bit of "Rule Britannia" that DOES fit the Enigma's tune – but.  Not quite compellingly enough.  But perhaps Elgar himself actually gave it away in 1912: he again used that original tune he had composed in 1898 in his "The Music Makers" and wrote at that time in a private letter that the theme "expressed when written (in 1898) my sense of the loneliness of the artist … and to me, it still embodies that sense."  So is that it?  Elgar's loneliness and the sense that he might never amount to anything in the area which meant the most to him professionally: as a composer?  Who knows!  Many people have proposed that if the actual mystery was cleared up for good, the piece might lose just a small bit of its magic.  So, let's be satisfied instead with the identity of each variation, and just what Elgar conveyed with each one.  Because they're all wonderfully delicious and clever:
(Theme) (Enigma: Andante)  The theme itself begins in the minor mode (think: sad) with six bars of strings only in which the first violins carry the melody leading to: four major-mode (think: happy) contrasting bars in which the winds join in with an upwards-yearning, ascending stretch before: a now seven-bar recapitulation for full orchestra of the initial string passage, leading to a major-mode final bar.  And THAT'S the actual theme upon which Elgar builds the rest of the piece.  The theme leads into Variation I without a pause (and that's the case with most of the variations – one leading into the next.)
 Variation I (L'istesso tempo) "C.A.E."   This one represents Caroline Alice Elgar, Elgar's wife.  You'll hear a four-note melodic fragment which Elgar whistled to his wife upon arriving home repeated throughout this variation.  Elgar wrote (after his wife's death) "The variation is really a prolongation of the theme with what I wished to be romantic and delicate additions; those who knew C.A.E. will understand this reference to one whose life was a romantic and delicate inspiration."  Dignified, warmly romantic. 
 Variation II (Allegro) "H.D.S.-P."  Hew David Steuart-Powell.   In Elgar's words: "Hew David Steuart-Powell was a well-known amateur pianist and a great player of chamber music.  He was associated with B.G.N. (of Variation XII – Cello) and the Composer (Violin) for many years in this playing.  His characteristic diatonic run over the keys before beginning to play is here humorously travestied in the semiquaver passages; these should suggest a Toccata, but chromatic beyond H.D.S.-P.'s liking."
 Variation III (Allegretto) "R.B.T."  Richard Baxter Townshend, author – and also amateur actor.  The Variation refers to R.B.T's performance(s) as an old man in amateur theatricals – the low voice cracking off occasionally into high-pitched timbre in imitation of an old person's voice.
 Variation IV (Allegro di molto) "W.M.B."  William Meath Baker, who was known for "expressing himself somewhat energetically" and who frequently but unintentionally slammed the door behind him whenever exiting a room, captured by Elgar in the music.   This is the shortest of the variations.
 Variation V (Moderato) "R.P.A."  Richard Penrose Arnold.  His father was poet Matthew Arnold and the younger man was an amateur pianist.  According to Elgar, the young man had a way with the piano of "evading difficulties but suggesting in a mysterious way the real feeling.  His serious conversation was continually broken up by whimsical and witty remarks."  This variation leads into the next without pause.
 Variation VI (Andantino) "Ysobel"  Isabel Fitton, a viola pupil of Elgar.  The variation begins with the viola section playing three notes on different strings, which requires lifting the bow or crossing the strings.  Fitton apparently spent a great deal of time perfecting her string crossing technique – and this variation forces the viola to do the same, jumping from the C string to the D string a ninth above without striking the G string in between.  The melody of this variation is played by a solo viola.
 Variation VII (Presto) "Troyte"  An architect, Arthur Troyte Griffith, was also a VERY enthusiastic, incompetent amateur pianist.  The variation good-naturedly spoofs Troyte at the piano – and perhaps even Elgar's frustrating, but ultimately useless attempts to teach Troyte to play.  It also has another meaning, and that's of a particular day on which Griffith and Elgar were out for a walk but were caught in a thunderstorm.  They scrambled for refuge in the Norbury house "Sherridge" (see next variation!)
 Variation VIII (Allegretto) "W.N."  Winifred Norbury, Elgar's very even-tempered, easygoing lady friend – who merits a comfortably relaxed variant.  The theme also refers to the very comfortable, quiet Norbury house "Sherridge," of which Elgar was fond.  The central section does contain a reference to Winifred Norbury's laugh, which was described by Elgar as "distinctive."  This variation ends with a single violin note held over into the next:
 Variation IX (Adagio) "Nimrod"  One of the most exquisitely beautiful pieces of music ever written.  August(us) J. Jaeger was a music editor of London publisher Novello – and probably Elgar's closest friend.  Elgar particularly appreciated his friend's great wisdom and judgment, which allowed him to give Elgar excellent advice, but at times, harsh criticism as well.  Jaeger, more perhaps even than the composer's wife: was the force who kept the moody Elgar going as an artist and who encouraged him to continue composing despite his lack of success; as a matter of fact, not long before Elgar began composing this piece, Jaeger had buoyed his friend by telling him that "your time of universal recognition will come."   Jaeger (actually "Jäger") in German means "hunter" (a little Jägermeister, anyone?  Now you know what THAT means: "master hunter.") and the Old Testament patriarch Nimrod is described in the Bible as "a mighty hunter before the Lord."  Bingo.  But this variation doesn't actually describe Jaeger so much as serve as an Elgarian homage to Beethoven – whose adagio (slow) movements both men loved.  Once, before the success of the Enigma Variations, Jaeger visited Elgar when the composer was in the middle of one of his worst depressions, vowing never to compose again.  Jaeger reminded Elgar of the strife Beethoven had faced in life, but wrote wrenchingly beautiful music nonetheless.  Jaeger then (as Elgar described it) told his friend emphatically "…and that is what you must do" before singing the theme of the second movement of Beethoven's Piano Sonata No. 8 "Pathétique" for Elgar.  Elgar later admitted that the opening bars of "Nimrod" deliberately suggest that theme, though not overtly: "only a hint, not a quotation."  This variation has had its own life as a stand-alone musical memorial; the MSO played this variation many years ago in homage to Joan Gloor, who had strongly supported this orchestra in our early years before she passed.  Sadly, Elgar's good friend August Jaeger was to die only ten years after the premiere of this piece, succumbing to tuberculosis in 1909 at age 49.
 Variation X (Intermezzo: Allegretto) "Dorabella"  Dora Penny was a young friend of the composer, introduced to him by his wife, who was a friend of her step-mother.  They became very good friends for some four decades.  Dora had a speech impediment: she stuttered.  And so, in this variation in 3/4 time, you'll hear the woodwinds broadly stuttering on beat 2 in loving imitation of the subject.  And no, she wrote of being flattered by the musical portrayal by her dear friend Elgar, not insulted.  The nickname "Dorabella" was the one Elgar used for her in real life, too – after the character in Mozart's opera "Così fan tutte."  Dora, later Mrs. Richard Powell, was the stepdaughter of the sister of William Meath Baker (Variation IV) and sister-in-law of Richard Baxter Townsend (Variation III.)  And in keeping with Elgar's penchant for enigmas, he sent her a letter in 1897 (the year before he even conceived of writing this piece,) completely written in cryptic symbols.  This so-called "Dorabella Cipher" remained in Dora's desk drawer for 40 years; she never figured out what it meant.  And no one in the years since has, either.  Three years after Elgar's 1934 death, she had his letter reproduced in her 1937 book on Elgar "Memories of a Variation" but the original letter has long since vanished.
 Variation XI (Allegro di molto) "G.R.S." Ostensibly George Robertson Sinclair, the energetic organist of Hereford Cathedral.  But not really!  In Elgar's own words: "The variation, however, has nothing to do with organs or cathedrals, or, except remotely, with G.R.S.   The first few bars were suggested by his great Bulldog, Dan (a well-known character) falling down the steep bank into the River Wye (bar 1); his paddling upstream to find a landing place (bars 2 and 3); and his rejoicing bark on landing (second half of bar 5).   G.R.S. said, "Set that to music."  I did; here it is."  And you'll hear Dan bark, repeatedly fall in the Wye, shake himself off – and finally, emit one final huge "Woof!" at the ending.  I played this variation to the great amusement of our Mariposa school students on my "Welcome to Classical Music" assemblies a few years ago when my subject was "Animals Depicted in Classical Music."  Although that topic could have also been "Classical Composers Show their Sense of Humor."
 Variation XII (Andante) "B.G.N."  Basil G. Nevinson was a well-known cellist, and so his variation centers on a gorgeous cello solo.   It was Nevinson (whom Elgar described as "a serious and devoted friend") who in 1920 inspired Elgar to write his Cello Concerto.  This variation leads into the next without pause – and there's a bit of a mystery to that 13th variation:
 Variation XIII (Romanza: Moderato) " * * * "   No initials – just those three asterisks.  Some believe this variation represents Helen Jessie Weaver – Elgar's first love, and the woman to whom he was engaged in 1883.   That engagement was mysteriously broken the following year, and she later emigrated to New Zealand, to eventually die there.   But according to Dora "Dorabella" Penny's book, the mysterious asterisks represent Lady Mary Lygon.  Lady Mary was a personal friend of the Elgars and was greatly interested in Elgar's music.  As noted by Dora Penny, when Elgar finalized composition of the variations, he asked Lady Mary Lygon permission to use her initials.  But Lady Mary's brother had been named Governor of New South Wales and she accompanied him to Australia at that time – and with no response providing permission forthcoming due to her absence, Elgar used "***" to identify the "friend named within."  As probable confirmation of Dora Penny's claim, Elgar's work notes reference that variation simply as "L" and at one point he thought about re-using some of that variation's material in the finale – noting it as "L.M.L."  We do know for sure that Elgar (in this 13th variation) put in a reference to an ocean voyage, and perhaps even a musical "bon voyage" to his friend by directly quoting a beautifully peaceful melody from Felix Mendelssohn's overture "Calm Sea and Prosperous Voyage" by a clarinet solo over the sound of an ocean liner's muffled engines belowdecks – by having the timpanist play a soft roll with the wooden end of the timp mallets instead of the padded end.
 Variation XIV (Finale: Allegro Presto) "E.D.U."   Well, this final, longest, grandest variation is Elgar himself – of course!  Lady Elgar's pet name for her husband was "Edoo" – and rather than name his own variation "Edoo" – he used the homophonic "E.D.U." instead.  One of the marvelous things about this finale is that Elgar actually quotes from two of the earlier variations – using material from August Jaeger's variation IX (Nimrod) and from his wife Alice's variation I (C.A.E.)  He even wrote much later about his use of their material in "his" variation, and noted of them both posthumously in 1927 as "two great influences on the life and art of the composer" and that the recurrence of these two's material was "entirely fitting to the intention of the piece."  Something not known to even the most devoted fans of the Enigma Variations is that the original version of this finale variant was considerably shorter – by about 100 measures – than the final version by which the world knows this piece.  But even after that wildly successful premiere of the Enigma Variations on June 19, 1899, Elgar's ever-kindly, ever-wise friend and editor August Jaeger suggested to the composer that the original ending was (perhaps) too abrupt and not properly fitting a finale for the piece which precedes it.  And despite that success of the Enigma Variations at its premiere, Elgar came to see his friend's wisdom and subsequently rewrote the finale, extending it into the piece as we know it now – and also added a brief part for pipe organ.  That new version was premiered on September 13, 1899 – with Elgar himself conducting: and the piece was finally complete – and a complete finale.
 Suffice it to say, the 1899 premiere of this remarkable piece instantly secured great fame for its composer not only in England but abroad as well – and instantly established Elgar as Britain's pre-eminent composer and allowed him to stop teaching and concentrate on creating some of the greatest masterworks of his time – and indeed, ours.   Though the "Enigma Variations" was written and premiered in the waning days of the Victorian era, Elgar himself was very much a symbol of the essence of the Edwardian England to follow Victoria's 1901 death.  This was still the great age of the British Empire, though it was perhaps beginning to collapse ever so slightly of its own weight, to be brought down further by that Great War (remember?  That one which was supposed to be the war to end all wars) – and ultimately Elgar's personal voyage through life was to mirror that of his great nation before he died in 1934.  But for now, at least: imagine the sound of the Enigma Variations – a musical portrait of Great Britain in her finest hour – before the clock's ticking was to become deafening.
Louis Joseph Ferdinand Hérold: Overture to the opera "Zampa ou La fiancée de marbre"
Now HERE'S a composer whose name isn't on everyone's lips: Louis Joseph Ferdinand Hérold (January 28, 1791–January 19, 1833.)  Or more commonly: Ferdinand Hérold.  But to those who DO recognize his name, he's really best known for one piece: the overture to his opera "Zampa."  But what a magnificent overture – and really, what an occasionally terrific composer!
First off: Hérold was a composer born to write for the theatre.  Sure, in his 41 years, he DID write two symphonies and four piano concerti, and the ballet La fille mal gardée (among many other compositions – mostly minor,) but: he left no less than 22 operas, and was supremely gifted in developing what became known as the French comic opera – as opposed to the "Grand Opera" model in vogue.  He was drawn to music from his earliest years, but his pianist-composer father François-Joseph Hérold would not even consider allowing his son to follow in his footsteps – despite the fact the elder Hérold HIMSELF had been allowed to be a musician by HIS organist father Nicolas Hérold.  At the age of six, young Ferdinand attended the Hix Institute, proving himself to be prodigiously capable a musician.   excelled in his studies.  His "career" as a musician began with some early pieces composed at age seven.

Then (perhaps regretfully, perhaps not:) the young Ferdinand was freed from paternal domination when his father died in 1802 – and the eleven-year-old could then do as he wished.   He became a student at the prestigious Paris Conservatoire at 15 – and received an amazingly broad education in all aspects of music from instructors as varied (and noteworthy in our own day) as Louis Adam (father of the composer Adolphe Adam,) Rodolphe Kreutzer in violin performance and Étienne Méhul in composition.  The young man became a master – a literal virtuoso – on both piano and violin, and further feathered his composer's cap when he won a piano performance competition by wowing the judges with a masterful performance – of his OWN original composition: a feat which had never yet been accomplished.  By age 21 he had won the prestigious Prix de Rome – and while continuing his studies IN Rome (one of the percs of winning the Prix,) he composed his first symphony (one of the REQUIREMENTS of the Prix,) and finished the (ready?!) LAST of his four piano concertos.   There was no holding him back.   Well – nothing to hold him back but his own fragile health.
In 1815 Herold relocated to Naples' healthier clime and there, wrote his second symphony, a number of string quartets and then: managed to have his very first opera be produced.  Yes, his very first opera (La gioventù di Enrico Quinto – or "The Youth of Henry V") was not only produced, but was very well-received.  The two symphonies?  The piano concerti?   Pretty academic stuff, and truth be told: somewhat dull, too.  But – the opera caught the attention of the public, who loved it.  As a Frenchman in Italy, Hérold was living something of a double-edged life: Napoleon had proclaimed the Kingdom of Italy (a dependency of France) in the north, and had power in various areas throughout the country – including Naples.  But Italy wasn't a country necessarily happy to have Napoleon's fingerprints all over it.   Never mind that the anti-French sentiment of the occupied Italy of the north caused Hérold's name on that opera to be listed as "Landriani" – the esteem of that opera was so high that Hérold was subsequently hired as the music teacher of the daughters of the King of Naples, Gioacchino (or Joachim) Murat. Who just happened to be Napoleon's own brother-in-law. But here's where the other edge of that sword enters the picture: in that same year of 1815, Napoleon suffered his bruising defeat at Waterloo, causing the French expatriate composer to fear for his life.  And – he may have had just cause, as Napoleon and his minions began to exit Italy.  Hérold's patron/employer Gioacchino Murat – again, Napoleon's brother-in-law: was captured by the NEW King (Ferdinand IV of Naples,) found guilty of treason – and then executed by firing squad.  Almost like the plot of a 19th-century opera itself, isn't it?
So Hérold skedaddled back to the safety of France, and once there, began to parlay his skill at writing opera into a whole slew of them – at least 22 in his final 16 years of life.   He had some minor success in 1817 with Les Rosières and also La clochette but it wouldn't be until 1826 that would experience his first major success with Marie and then the massive triumphs of L'illusion (1829,) Zampa (1831) and Prè aux clercs (1832) and then: a month after the premiere of that last opera, and just as he was suddenly the hugely celebrated talk of the international opera world: he died at age 41 of consumption (tuberculosis.)  Why didn't he have greater success?   Why wasn't he able to create more masterpieces?   Simply, because he had great difficulty finding appropriate, skillfully-written libretti.  And he found it impossible to be inspired when working with mundane, and in most case: flat-out terrible libretti with ho-hum stories, ineptly handled.  It wasn't until his final years that he established himself as a composer of skill, after FINALLY being handed worthwhile books to set to music, and as such a successful composer he was NOW one who librettists aspired to work with.  And so, ironically: it wasn't until his success was able to FEED success that he began to receive better libretti, and that resulted in even better operas and then: he died.      
The overture to "Zampa" has become a pretty well-established fixture of the light classical repertoire.  It's exuberant, it's fun; it's a classic example of one tune after another simply lifted right from the opera, plunked down with no apology (or development) and: offered up for the enjoyment of the listener.   Beginning with a near-fanfare of frenzied excitement, the entire opera AND overture simply brim with joie de vivre.  Hérold brazenly borrows the "Rossini crescendo" from THAT composer – the repetition of a tune which grows in dynamic volume – for its finale – and the high quality of all the tunes help to explain its lasting audience appeal.   The French composer Hector Berlioz snootily wrote of the overture that is was merely "four or five motives borrowed and stuck one after another…without any real link" but then again: so what?   Perhaps there was more than a little bit of jealous on display in Berlioz's comment – perhaps he was jealous than in all HIS intellectual dexterity, such facility with simple, memorable, lovable tunes had eluded HIM!   
Engelbert Humperdinck: Evening Prayer and Dream Pantomime from the opera "Hänsel und Gretel"
Yup – this is that composer – the one with the funny name.  And for what it's worth, that name was actually lifted/appropriated by the 60's pop singer – and you can win a trivia contest if you know that the pop singer in question was actually born Arnold Dorsey.  

Now that THAT'S out of the way, the original, real Humperdinck (1854-1921) might not be much known today at all had it not been for his greatest work: the ever-popular opera Hänsel und Gretel and perhaps even more specifically: for the famed Evening Prayer from that opera.  As for Humperdinck's early years?  Yes, I know: it seems so many composers shared a similar life story: showed great promise on the piano at a young age; began composing young (in Humperdinck's case, at age 7 and even wrote two operas by the age of 14,) had disapproving parents who insisted on a different career (in Humperdinck's specific case, it was architecture,) but was driven by a burning inner desire to overcome all the naysayers until he was able to live his dream as a composer.
Humperdinck was to begin serious music study from the age of 18 in Cologne at the Conservatory. On April 24, 1873 Humperdinck was in the audience for a fund-raising concert in Cologne during which Richard Wagner conducted, raising funds for his Bayreuth Festival.  That event apparently caused Humperdinck to become smitten with Wagner's music and affected the course of his life to come.  He won a scholarship which allowed him to study composition at the Royal School of Music in Munich beginning in 1876, and then became the winner of Berlin's first-ever Mendelssohn Prize – which allowed him to study in Italy beginning in 1879.  The young man was on a fast track, and while in Naples, he met the giant himself: Richard Wagner.  Wagner was at that time nearing the end of his career and life (he was 67 and would die a mere three years later) but had become known, idolized or reviled the world over – depending upon whose camp you were in.  He had created the all-new, revolutionary approach to composing operas (which to Wagner, was itself a repulsive term symbolizing all that was old and wrong with music) and his later works were called music-dramas – and were best typified by his mature works including the four-work, 15-hour-long Ring of the Nibelungen.  To a young composer like Humperdinck, it was like meeting the very pinnacle of his chosen profession.  And then: Wagner hired the 26-year-old Humperdinck to be his assistant as the older man prepared his final music drama: Parsifal.  Humperdinck worked in Bayreuth – where Wagner's famed Festival Theatre had been constructed just for him by "Mad" Ludwig II of Bavaria; it was mecca for a musician of the day.   Humperdinck stayed there throughout 1881 and 1882; when some emergency music was needed to help cover a lengthier-than-planned diorama (the Act I Wandeldekoration,) Wagner approved having his now-trusted assistant Humperdinck actually compose a few bars.  Those bars were used in the premiere production, but – not subsequently as the theatrical staging and scene change technology at Bayreuth (and elsewhere) rendered Humperdinck's compositional offering to the score of Parsifal no longer necessary.   I've always wanted to take a look at that passage or hear it to see exactly what the younger man produced – and which Wagner's high standards allowed him to accept (albeit) as merely a temporary addition to Wagner's score.
Humperdinck left for Spain and Paris and subsequently traveled throughout Europe and North Africa, teaching music and writing music criticism.  In 1889 he even spent a year as private tutor of music to the by-then-dead Wagner's son Siegfried.  He also began ruminating over perhaps creating his own opera – and a work began to form based upon brief songs and stories he had set to music based upon Grimm fairy tales as a sort of Christmas project.  He had already (in December of 1888) created a children's entertainment of sorts based upon the story of Snow White.  Now, two years later he had another whole set of sung tales he had created strictly to amuse his nieces and nephews, children of his sister Adelheid Wette.  She would write the libretto for what Humperdinck had come to realize might be the makings of a new opera.  (She had also written the libretto to his Snow White.)  He began earnestly working to turn them into what was to become Hänsel und Gretel.  Privately performed at home, that was little more than a singspiel – a series of sung/spoken tales set to music on the storyline of Hansel and Gretel.  Though the family (and friends) were delighted, Humperdinck was not – and decided to re-write the whole thing into a fully-structured, through-composed opera.  He did so over the course of a year, and that work was premiered in December 1893, conducted by the burgeoning mega-composer Richard Strauss – who raved about the new opera: "my dear friend, it is a masterpiece of the first order."  Hänsel und Gretel was an instant and huge hit.  Though his time spent as amanuensis on Wagner's Parsifal had allowed his approach to orchestral writing to fully and brilliantly absorb the style of the master (Wagner) in all its chromatic richness and harmonic invention, the opera itself was relatively simple, highly accessible, tune-filled and vastly crowd-pleasing: an opera even (and especially) children could love.   And with the great success of Hänsel und Gretel, its composer became a "made" man who could now devote himself to doing what he wanted to do: compose.
He never achieved the sort of success in any of his subsequent works he had attained with Hänsel und Gretel, though he was to compose at least five more operas and various incidental and orchestral works.  He continued to write and teach even as his health prematurely declined due, yes, sadly: to that very same social disease which was to fell Delius; Humperdinck's hearing proved problematic (during one period of his life, he heard pitches in one ear ¼ tone higher than in the other.  That must have been an incredibly vexing condition for a composer.)   A stroke in 1912 left his arm permanently paralyzed; two years later he applied for the post of the Director of Australia's Sydney Conservatorium of Music but he wasn't hired – probably due to anti-German sentiment arising from the onset of World War I.   His son Wolfram helped him physically as he continued to compose, but a heart attack was to end Humperdinck's life at the age of 67.
The plot of Hänsel und Gretel is fairly well-known.  In the version Humperdinck's sister Adelheid wrote as his libretto, the two kids live in their impoverished home with their mother (not step-mother) and father; she sends them into the forest to search for food (berries.)  Drunken broom-maker father returns home with food; he's had a successful day selling brooms.   Mother tells him they've gone off to find berries; father erupts because they might be captured by the "Nibblewitch" of the forest – and the parents go off to search for the kids.  Kids have collected a whole bunch of berries – but then eat them.  It's now dark and they're scared and have no idea how to get home but the Sandman appears, sprinkles sand in their eyes: they say their evening prayer and he posts 14 angels to look after them while they sleep.  (Which is where the opera presents the Evening Prayer and Dream Pantomime which we perform on the concert.)  In the morning, the Dew Fairy awakens them; the kids discover a gingerbread house and start to eat it.  It's (of course) the home of the Nibblewitch – who wants to eat THEM.  She traps Hänsel and puts him in a cage (he's not quite fat enough yet – but Gretel IS) and forces Gretel to set the table.  The witch is SO happy with the thought of her impending feast that she jumps onto her broom and has a cackling good time riding around inside her (huge) gingerbread house.  Meanwhile, clever Gretel figures out the witch's spell, frees Hänsel from the cage and then – when the witch tells her to see if the oven is hot enough, Gretel feigns stupidity, asking the witch to show her how to look inside.   Witch does, both kids shove her in and lock the oven door.  Huge racket in the oven, which then explodes.  When it does, all the gingerbread children inside the house come to life – they were real kids under the witch's spell and just then, mom and dad finally arrive at the house.   They dig through the wreckage of the oven, find a gigantic gingerbread cake which is actually the witch – and then the celebrations begin…and presumably a feast at which the witch-cake will be the main course.  You know what they say about payback.     

And one final note on the piece's personal connection to me: more than 40 years ago, I was principal trumpet of the Junior Philharmonic Orchestra of Fresno; its music director and conductor was the distinguished Maestro Guy Taylor, who was also musical director/conductor of the Fresno Philharmonic Orchestra for many years – and mentor to me as I began to compose and conduct in my early teen years.   My score for the Humperdinck Evening Prayer and Dream Pantomime contains hand-written notes and markings originally made by the late Maestro Taylor, with whom I fortunately re-connected around 2000 after the many intervening years which had taken me both from Fresno and my early, passionate engagement in classical music.   Sadly, he was in terminally ill health and died not long after we re-established communication, but I'm so glad I was able to let him know how much he meant to me, and that with my (disability-ended) career in theatre now over, I was going to consider returning to my musical roots.   His death came before we moved back to California, and to Mariposa – and of course, before I began to ideate and put together the basis of what was to become the Mariposa Symphony Orchestra, but it's wonderful to perform this piece, with that connection to my mentor – and to share it with our audience.  Continuity and tradition.

Ralph Vaughan Williams: Fantasy on "Greensleeves"
Ralph Vaughan Williams (1872-1958) may not be the household name he could have been, but it's only because of the extremely personal nature of his musical sound.  It's a sound that also sometimes defies pigeon-holing due to its many influences and its permutations throughout his creative life; his nine symphonies alone are nine distinct, different – and equally valid sound worlds.  But somehow, as different as they all are, they're all Vaughan Williams' sound.   And I have to say, it's a wonderful personal sound that bears repeated listening.  The great-nephew of Charles Darwin – and a lifelong Socialist and dedicated egalitarian who spent much of his time helping those less able to help themselves, Vaughan Williams was very much a man of his times.  His long life's compositional style witnessed a great deal of personal influences and change throughout his output, from his early British folk song obsession (and collecting) which tended to color nearly all his music even to the end of his life, his studies with Ravel which imparted a certain impressionist bent – and finally the horrors and tragedy of war – both the First and Second World Wars – which had their impact on his sound, along with some elements of the changing 20th Century development of atonal music.  One of the founding British "pastoralists," Vaughan Williams' Greensleeves Fantasy  is itself rife with different eras and different idioms.  After all: it's a piece of music composed in the 20th Century which was built upon a centuries-old tune from the latter part of the 1500s and: that tune itself may be best known by many today as "What Child Is This" – when the tune had THOSE words added to it as a Christmas carol in 1865.   (Sidebar: did you realize another Christmas tune – this one of German origin – "O Tannenbaum" – was appropriated [with new lyrics, of course] to become the official state song of Maryland and Iowa, was formerly the state song of Florida and is unofficially the state song of Michigan?!  Sorry for that diversion; now back to your regularly-scheduled program notes.)  The tune "Greensleeves" was long erroneously credited as having been composed by none other than Henry the 8th of England.  But it's not at all likely that he wrote it.  The first truly legitimate reference to the tune recorded as "A New Northern Dittye of the Lady Greene Sleeves" we have comes from 1580 – a few decades after the death of Henry.  And that original song's Italianate style of composition (in a rolling 6/8-time) was not known in Britain in Henry's time.  Whatever its true origins, for me the hands-down most gloriously beautiful rendering of that tune is probably Vaughan Williams' Fantasy on Greensleeves which he originally composed for his 1924-29 opera Sir John In Love based upon Shakespeare's comedy The Merry Wives of Windsor.  (Fun little sidebar fact: Vaughan Williams originally planned to call his opera The Fat Knight but changed his mind when – as he composed the opera, it began to be more of a romance than the flat-out comedy which Shakespeare's play certainly is.)   This beautiful, brief interlude in the opera is only a simple statement of the tune lasting less than two minutes at the conclusion of Act IV, Scene 1.  Vaughan Williams later decided (rightly!) it might make a nice brief-ish stand-alone concert piece and so he expanded the brief quotation from the opera by adding a middle section (in the opera, it's Mistress Quickly's somewhat bawdy folksong "Lovely Joan" from Act II) that offers a beautiful little contrast to the main "Greensleeves" tune.  And finally, the Greensleeves section repeats (the entire brief piece is a simple ABA form) and that's that.   Scored only for two flutes, harp and strings, the piece is simple, absolutely beautiful – and a wonderfully apt piece for our Festive Holiday Concert.
Les Marsden: Sierra Christmas Party
The less said about this (thankfully) final piece on our concert program the better: but I will say that Sierra Christmas Party has closed each MSO December concert since our very first concert thirteen years ago, nearly to the day – on December 21, 2002.  This piece was quickly (or recklessly?) composed by a certain unfortunate individual whose name-must-not-be-spoken (1957 – .)   It was written at the instigation of local legend Miriam Costello, so please blame her.  Over the last decade the piece has had additions from time to time until it got so out of hand I decided to cut it back down to what I considered to be its optimal length and froze it there!   There's really very little else to be said about this, my errant musical child – other than the fact that we do wish you the best sentiment, as is contained in the spoken line just before the piece's conclusion.  And in any case, we do offer to you sincerely – with this concert: a wonderfully Merry Christmas, Happy Hanukah, Winter Solstice, Happy Kwanzaa, Feliz Navidad, Joyeux Noel, Pancha Ganapati, Jolly Yule.  As noted at the start of these notes: from the MSO's very beginning, I wanted our annual Festive Holiday Concert to be an evening during which we might all come together under the finest of circumstances for a little good old-fashioned musical Holiday joy—best summed up by that (spoken) final line of Sierra Christmas Party.  No matter what holiday you celebrate, the line works for 'em all and so please: if you do remember that line, feel free to jump right in and shout it out with this, YOUR very own symphony orchestra!
Les Marsden, Founder and Conductor