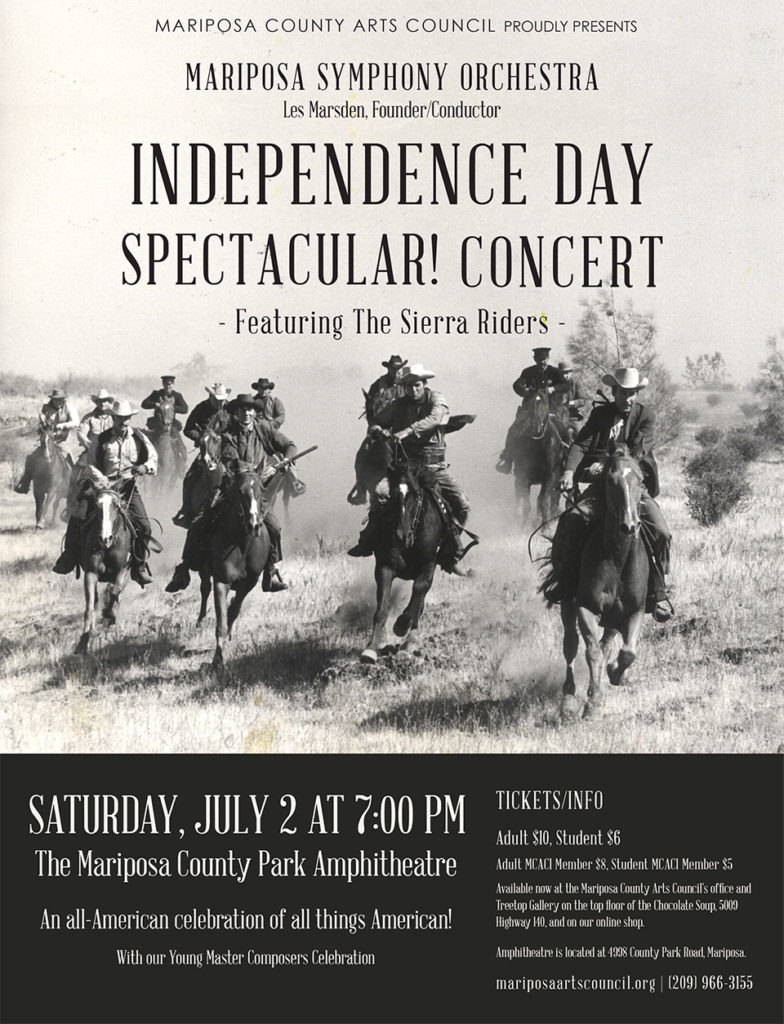 Tickets can be purchased in our online shop.
Your Mariposa Symphony Orchestra goes a little bit country as we happily welcome back our old pardners The Sierra Riders – for a very special Independence Day Spectacular! Concert.
Saturday July 2, 2016


Mariposa County Park Amphitheatre
The Music starts at

7:00


The Fun lasts all evening!
One of our most popular annual events gets even MORE all-American, more down-home and more flat-out fun as we welcome back one of our most popular packs of pardners!
My old friend Tim Johnson (fiddle/guitar) will join us with his brothers Arnie (guitar) and Keith (bass fiddle) plus Mark Campos on drums.
Join us for "San Antonio Rose," "Ghost Riders in the Sky," "Rawhide," "Red River Valley," "Back in the Saddle Again" and many many more good old country favorites – then: find out if the Devil really WILL Go Down to Mariposa!
There's much more on the program, including American music's roots via Victor Herbert's brilliant "Irish Rhapsody," orchestral highlights from Jerome Kern's landmark 1927 musical "Show Boat" and many patriotic favorites. PLUS: 2016 Young Master Composers Celebration winner Matt Kroeker's "Unfinished Symphony."