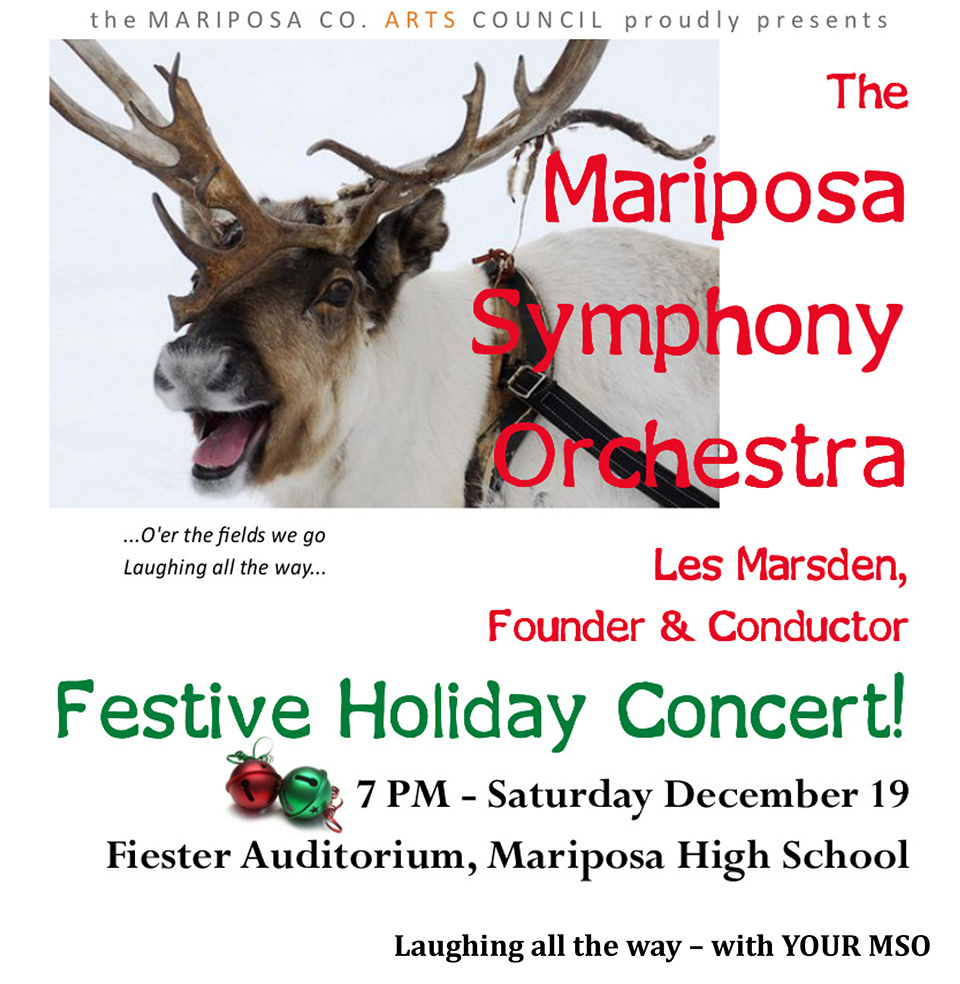 Who knows? We actually may be dashing through the snow if the early-season weather promises hold true – and so our upcoming Festive Holiday Concert features no fewer than four musical sleigh rides.  After all: is there any finer way to negotiate our Yosemite region than by sleigh – or a better way to get into the holiday mood than with live symphonic and truly jolly concert music? The MSO's popular annual concert event will be held in Mariposa County High School's Fiester Auditorium on Saturday, December 19 at 7 PM.  And our longtime audience members know this is one of my favorite events, too – an evening to let your hair down (longhairs, especially!), forget about the sometimes-stress of the holiday season, cease thinking about yet-unwritten holiday cards, unwrapped gifts, cooking, visits and have one evening devoted to yourself: a wonderful, old-fashioned evening sure to get you into the proper spirit of the holidays, in the company of other happy, seasonably-joyous audience members, friends and family.
The Program:
Wolfgang Amadeus Mozart: Overture to the Opera "The Marriage of Figaro"
Serge Prokofiev: Lt. Kijé Suite
Frederick Delius: Sleigh Ride ("Winter Night")
Leroy Anderson: Sleigh Ride
Engelbert Humperdinck: Evening Prayer and Dream Pantomime from
the opera "Hänsel und Gretel"
Peitro Mascagni: Intermezzo from the opera "Cavalleria Rusticana"
Dr. Phillip Smith: Dr. Smith's Christmas Fantasy
Ralph Vaughan Williams: Greensleeves Fantasy
Les Marsden: Sierra Christmas Party
Wolfgang Amadeus Mozart: Overture to "The Marriage of Figaro" is one of the best-known and loved pieces in the entire classical repertoire.   You DON'T have to know a thing about music to recognize this wonderful overture from its first few notes. But first, a little on its composer.
A huge number of stories have been offered on the life, talent and mind of Wolfgang Amadeus Mozart (1756-1791) and they're probably all true. Born in Salzburg Austria, Mozart (or, as he was baptized: Johannes Chrysostomus Wolfgangus Theophilus Mozart) was the archetypal infant prodigy – able to play keyboards and violin nearly before he could walk; composing music at the age of five. His hard-driving father Leopold trotted the child (and elder sister Nannerl) out all across Europe as performing cashboxes: during one period of the young boy's illness, Leopold's writings show more worry about the temporary revenue loss than over his young son's health. The old man even audaciously marketed young Wolfgang in a manner appropriate to the Age of Enlightenment, touting the kid as not only a scientific phenomenon but as a scientific experiment – no doubt as a marvel of what humans could accomplish. And also: just what audiences could experience only after laying down a few florins, groschen or guilders. Around the age of 24 the kid finally had enough and eventually cut professional ties with the father, though several half-hearted reconciliations were assayed before Dad died in 1787. Touring, bad weather, not-always optimal accommodations and other deprivations during his youth are thought to have contributed to the younger Mozart's ill health and ultimately: death at age 35, only four years after the demise of his father.
But in-between, in those 30 years of composing: there was an outpouring of extraordinary music.   These were amazing years in which three titans – Haydn, Mozart and Beethoven actually knew one another to a degree. Mozart and Beethoven both studied with their elder, "Papa" Haydn; Beethoven wanted to study with the 16-years-older Mozart, who respected the younger man's talent but – that pupil-teacher opportunity was never to be. While Mozart was no earth-shattering revolutionary in the manner of the Beethoven yet to come, he did advance form, structure and the very sophistication of music. His short lifetime of composition is witness to a pretty amazing growth as an artist – and he began at a very high level of achievement. Mozart's music built heavily upon the innovations of Franz Josef Haydn – and particularly so in the areas of the string quartet and the symphony (Mozart wrote somewhere around 68 symphonies, give or take, though not all were completed.)   Where Mozart REALLY went to town was in theatre music: his genius in the world of opera moved that form into the future and provided for the continued work of both the Italian and French schools of opera seria, opera buffa and certainly, the form of "grand opera" that would arise some 30 – 40 years after Mozart's death.
Mozart was born theatrical in both person and music. While still (merely) a teen, he composed ten of his (eventual) 22 operas. But the greatest were to come late in his brief career, after his art had achieved a near-perfection.   From the silly pseudo-Turkishness of The Abduction from the Seraglio to the slightly-autobiographical elements found in Don Giovanni, Mozart found his groove. (And for what it's worth, and to those who recall one of the few truthful moments in the play and film Amadeus, it was following a performance of Seraglio that Emperor Joseph II – who had commissioned that opera – offered his alleged critique: "Too many notes, my dear Mozart!")
Some of the truly brilliant heights of Mozart's opera output are found in the works he composed after he had instituted a collaboration in 1786 with one of the greatest librettists ever to live: Lorenzo da Ponte.   Da Ponte's life as a roué inspired his OWN autobiographical input into the libretto of Don Giovanni – da Ponte was apparently quite the ladykiller and cad. But he was also a brilliant writer and adaptor of others' works. His libretti resulted in three of Mozart's greatest operas: The Marriage of Figaro (1786,) the already-mentioned Don Giovanni (1787,) and Cosi fan Tutti (1790.)  We'll focus on the product of that first collaboration: Le nozze di Figaro – or as it's known in English, The Marriage of Figaro.   Librettist da Ponte adapted a smash-hit play: the second play in the (ultimate) stage trilogy by (French) playwright Pierre-Augustin Caron de Beaumarchais' three "Figaro" plays.   Now please stay with me here, but the first play was The Barber of Seville – which Beaumarchais wrote in 1773-4.   Among others, the composers Giovanni Paisiello (in 1776) and Gioachino Rossini (in 1816) later composed operas based upon that first "Figaro" play – and you may remember that the MSO performed the overture to Rossini's The Barber of Seville less than two months ago, on October 24 – with my interminable program notes chronicling the battle royale which was to occur when Rossini's opera premiered. Beaumarchais' second "Figaro" play was 1781's La folle journée, ou le Mariage de Figaro which – due to its elements of political satire had to wait until 1784 to be performed. As a matter of fact, there are some historians who believe Beaumarchais' nobility-ridiculing le Mariage de Figaro spurred the early unrest which was to lead to the onset of the French Revolution. In any event, in 1786 Mozart set that play to music (with libretto by da Ponte) and a great comic opera was born – as well as a great overture. Da Ponte wisely removed all political references from the play (which he adapted from its original French to operatic Italian) and his libretto was quickly approved for performance by the Austrian censors. The resulting opera remains one of the ten most-often-performed operas to this day. The plot is tremendously, deliberately convoluted, and skillfully so – but in a nutshell, the entire action takes place in one day, years after the events of the first play (The Barber of Seville) and is, of course: set near Seville, Spain; the entire action occurs in the palace of Count Almaviva. The Count – who was a fairly admirable young character in Barber, is now something of a middle-aged lecherous jerk. The climax of the first opera occurs when he marries his beloved Rosine but now, years later, with Rosine as his Countess: he's leering at any other young woman unfortunate enough to cross his path. Figaro (the Barber) is now Almaviva's head servant; on the day the opera transpires, Figaro is to (finally) marry his beloved Susanna – hence the opera's title. But the Count has been doing anything he can to delay the marriage because: he's hoping to conquer Susanna himself. Figaro, Susanna and even the Countess (Rosine) herself are fully aware of Almaviva's desires and air his intentions publicly; in revenge, Almaviva arranges for Figaro (who is, after all: Almaviva's mere servant) to be betrothed to an old woman instead of Susanna – and in a fun little twist initially unbeknownst to all, the woman turns out to be Figaro's actual mother!   Fortunately, that fact is discovered before they're married; the Countess and Count are reconciled (love triumphs after all) and Figaro gets to marry his Susanna. The end.
The opera was so popular that many numbers had to be encored each night; after the first three nights it reached the point where Emperor Joseph II (who was a great music lover and particularly admired Mozart and his music) issued a legal decree that limited the number of encores allowed during a performance!
(And just to complete these notes on the Beaumarchais "Figaro" plays for anyone still awake and wondering?   Unfortunately, the final play – La Mère Coupable (1792) just ain't in the same league with its predecessors – and after its ho-hum premiere, it quickly disappeared from sight.   And it had to wait until 1966 for Darius Milhaud to be the first to set it to music – though not memorably. Others since have also given it a shot – with the most recent attempt being French modernist Thierry Pécou's La Mère Coupable in April of 2010.)
Mozart's overture to The Marriage of Figaro is one of the best-known pieces of classical music ever written; its scurrying opening, sudden tutti outbursts and triumphant tunes encapsulate a farcical opera brilliantly – and in less than five minutes!   One of my favorite pop culture uses is in its wonderfully-adapted (by Elmer Bernstein) depiction of upper-crust (and working class) holiday-time Philadelphia in the montage opening sequence of the 1983 hit comedy "Trading Places." And as a final "FWIW," in that movie, the character played by Dan Aykroyd whistles part of the aria "Se vuol ballare" from Marriage of Figaro. Figaro's aria reveals his plot to trick his master Count Almaviva and that's exactly what the two lead characters (Aykroyd and Eddie Murphy) in "Trading Places" will elegantly, brilliantly do to THEIR masters!
Serge Prokofiev: Suite from the film "Lt. Kijé" (1934)
Serge Prokofiev (1891-1953) possesses a household name – and to many people, that's due to one particularly beloved musical work: Peter and the Wolf. A remarkably complex man and also a spectacularly talented one, Prokofiev was a prodigious talent: a powerhouse of a pianist who shook up the musical world as a young man with his early, groundbreaking and dissonant works (particularly, his Scythian Suite – which is one of my favorite works) including his first piano concerto and the "scandalous" second concerto – with which he made an international name for himself in the west as both composer and performer.   Born into Tsarist Russia, his musical precociousness was noted early. His mother was a passionate music-lover and pianist whose musical drive influenced her son's interests. At the age of 11, young Serge was tutored in composition by the musically-conservative Reinhold Gliere, who gave him an excellent grounding in harmony and theory. Gliere, incidentally: was some 16 years older than his pupil but would outlive him by three years.
Even as a student, he began to rebel against old-fashioned structure and harmony.   In his early adolescence, he impressed the famed composer and professor Alexander Glazunov (who himself had been a dazzlingly precocious composer who took the Russian music world by storm with his first symphony in 1881 at the age of 16) of St. Peterburg's famed Music Conservatory; Glazunov recommended the boy apply to study at the school, despite the fact he was considerably younger than the other students. Prokofiev was something of an oddball there. Besides his great age disparity with his (otherwise-) peers, his talent was remarkable and his imagination and ability to think well outside the box in a revolutionary new way all became part of his stock in trade. His age and talent tended to naturally set him apart from the other students.   But he was also a cold, not terribly nice person – making few friends and not caring much if he did. His arrogance and constant criticism of his classmates and their work didn't help, either. But that aloof, critical cold nature was a trait he carried with him throughout his life, and which caused much strife to those who were closest to him – but again: he didn't care.   To him, music was the beginning, middle and end.   And I think that it's important to remember that no matter how harmonically-challenging his music (particularly in his earlier years) might get at times, he himself wrote that the most important thing to a composer – and especially to himself: must be melody.   He believed that to create a melody that immediately resonated and communicated with the listener was one of the most difficult things a composer had to do – and especially so considering the fact that a composer must come up with ORIGINAL melodies.
His initial compositional efforts were directed towards the piano – whether solo or concertante pieces, but by the time of his early 20s and his shocking Scythian Suite (initially, it was to have been the ballet "Ala i Lolliy", commissioned by ballet master Sergei Diaghilev – who rejected the music before Prokofiev had even completed it) he had plunged headfirst into composing orchestra-centric works.   He fortunately left Russia for the West not long after the 1917 revolution and began to develop extremely sophisticated personal tastes (including a love of silk!) as his music continued to shock and as well: break down doors. He initially arrived in the US (in San Francisco) and it was in America where he believed his future and reputation would be built.   The 1921 premiere of his ballet "Chout" (also a Diaghilev commission – but this one was actually accepted and performed) in Paris was a huge critical success for Prokofiev and really made his name, particularly with the important modernists including Igor Stravinsky – who had himself already shocked the world and changed music (and ballet) forever a decade earlier.   He was commissioned by the Chicago Opera to compose an opera for them. The result was the satirical opera based upon the Carlo Gozzi play "The Love For Three Oranges." Its 1921 premiere wasn't well-received; even Stravinsky hated it and his antipathy to the work would cause a huge rift with Prokofiev. Prokofiev began to spend more time between the US and France, living primarily in Paris for many years, with time also spent in New York – where he was embraced by the progressive music community.   In 1923 he married – the operatic singer Carolina (Lina) Codina had been born in 1897 in Madrid to a Spanish father and a Russian mother who moved the family to Brooklyn in her toddler years.   Prokofiev regularly concertized on international tours (including to the Soviet Union in 1927) but his once-shocking music began to be less exciting to the audiences (primarily in Paris) who began to look upon him as passé. The young couple continued to jet-set as Lina developed her own career, but there began to be overtures made to Prokofiev by the Soviet government which yearned to have him return to the "home" country permanently – a home he did miss greatly.   The Soviets enticed him with promises of freedom and all manner of advantages; to have Prokofiev back on Soviet soil would be a huge coup for the Stalinist government.
Prokofiev was a bit naïve when it came to world politics and the true nature of his homeland – he considered himself "above" politics and – again: all that mattered was his music. Despite friction with the Soviet music union/hierarchy in the late 20's early 30's, he began to be courted to produce more work which was of a Russian (or more slyly: Soviet) character, comrades – and which would be premiered in the Soviet Union. He of course was flattered and began to deliver the goods: the film score Lieutenant Kijé (and later, Alexander Nevsky) and the ballet Romeo and Juliet, before finally, in 1936: moving his family back to Russia. In that year, he composed (at the behest of the powers-that-were for the Central Children's Theatre) the musical tale "Peter and the Wolf" which the MSO has performed as recently as just one year ago – on December 20th 2014.
Unfortunately, the trap had been sprung. The Stalin Soviet government (which micromanaged its artists to an appalling degree) rejected his music and told him increasingly how to write, how to extol the Soviet Union in his music – which must be free of "formalism" – and which must not be modernist and (as they saw it) depraved, degenerate music. Music, after all: must serve the people, the homeland – and not the personal whims of the individual composer. Prokofiev should have learned the lesson of Shostakovich, who had been severely condemned following the production of his opera Lady Macbeth of the Mtsensk District in January of 1934. The communist party slammed both Shostakovich's opera and its composer and finally the grumblings about this "pornophony" (as the New York Sun called it in 1935) reached a boiling point with an anonymous editorial entitled "Muddle instead of Music" in Pravda in early 1936 which was widely believed to have been written by Stalin himself. In it, the writer warned that "this would not end well."   Thus began the period referred to as "the Great Terror." Artists, theatre people and musicians (as well as intellectuals, professors, scientists – the whole spectrum of accomplished people) had already begun to disappear, either sent off to gulags or more usually: simply executed.   In secret, of course – though their families found out.   Shostakovich spent many years with a packed suitcase, just KNOWING that one night a knock would come at his door at 2 AM and that would be that.   Not just Shostakovich, of course – but nearly all the Soviet Union's most imaginative composers.   And despite that, despite the fact that it was no secret, Prokofiev somehow thought he would be "above" all that; after all: his return to the Soviet Union had been a flattering courtship, hadn't it?
Unfortunately, no.   His early, imaginative and ground-breaking style was harshly steamrolled into a frequently bland, proletarian, Soviet-virtue-extolling form, though being the genius he was, his personal and distinctive voice still could be heard – though considerably muted.   In addition to his "own" works (which were to follow the approved considerations) he was required to compose such works as Zdravitsa ("Hail to Lenin") and soundtracks to forgettable, propagandist Soviet-worshipping films. He felt the pressure from that first wave of "terror" in 1936 but despite his best efforts to conform, he (and Shostakovich, who had also done his best, as well as Khachaturian – who was about as conformist as they got) and many others were ensnared again in the condemnations of 1948.   Never the best of husbands, in March of 1941 he unceremoniously left Lina and their two sons for 26-year-old student Mira Mendelson whom he'd been seeing for a couple years; Soviet law claimed that marriages which had been performed outside the Soviet Union had to be legally registered to be valid: as Serge and Lina's wasn't, Prokofiev claimed he was free to marry Mira – and did.   To make things even worse for his first wife, in 1948 Lina was arrested and sent off to the gulag for a 20-year sentence, though she was released after eight years of utter misery in 1956; she was later able to leave the Soviet Union in 1976.   To her own death in 1989 Lina claimed still to be married to Serge – and she outlived Mira, who died in 1968.   I have a fascinating 1986 recording of Peter and the Wolf narrated by Lina, in her impeccable English, learned as a child growing up in Brooklyn. And for what it's worth, Simon Morrison's 2013 book The Love and Wars of Lina Prokofiev is a remarkable read, and sheds much light on the many characters in Prokofiev's life – and his own.
But let's first conclude his career: his health began to decline by the mid 1940's and in 1949 Serge had a stroke. Though only 58, seemed like a completely different, feeble and infirm old man. His health further worsened and though it's claimed he fell and hit his head, suffering a cerebral hemorrhage on March 5, 1953, we really don't know for sure.   What we DO know of his death is remarkably ironic: it came on the exact same day his chief antagonist and terrorizer breathed his last: Joseph Stalin also died on March 5, 1953.   Apparently, the masses so crowded into the Red Square in the public outpouring of grief over the death over the "great leader" (which was, of course: required of the people) that Prokofiev's body couldn't be removed from his nearby apartment for three days. And the news of his death was completely obscured by the great amount of attention given to the departure of Stalin.
You just can't make this stuff up, can you?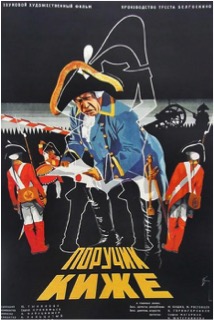 Before it was all to turn out badly, however, and in that early first honeymoon period while Prokofiev was still re-patriating himself to the Soviet Union while also living in Paris, he was asked in the spring in late 1932/early 1933 to compose a film score by the director Aleksandr Faintsimmer. The film was one of the very first projects proposed to the composer and he was excited by the idea of composing for the cinema – which he had never before attempted. Faintsimmer's project was a satire based on the comedic tale "Lieutenant Kijé" by Yury Tynyanov (the film was eventually to have a relatively limited release in the United States as "The Czar Wants to Sleep.") The story's comedic plot is relatively simple: set in St. Petersburg in the year 1800 during the time of the fictional "Tsar Pavel I" (who is essentially, something of an idiot as well as a short-tempered crank) Pavel is under the mistaken belief – due largely to a combination of a clerical error combined with a spoken mis-assumption on Pavel's own part – that an officer named "Kijé" (or "Kizheh") serves in the Tsar's army. But, due to the Tsar being the supreme leader after all: there MUST be a Kijé and so the Tsar's terrified officers create a Kijé. In conspiring to create Kijé they constantly invent new stories in order to prevent their subterfuge coming to light. In a nutshell, Pavel is thrilled by the stories and wants to meet this non-existent invention Kijé. The officers scramble to use the fictional Kijé to their advantage, and to certainly keep from having to introduce a non-existent person to the Tsar – and they create an ongoing scenario which finds Kijé being sent to Siberia, then returning to receive a promotion to General, being festively married to the gorgeous Princess Gagarina and then, after the Tsar puts his foot down and insists upon meeting his great, accomplished General Kijé, he's sadly, woefully informed that Kijé died of a sinister, unknown disease (according to the officers.) Kijé is given a hero's state funeral and thus ends the tale. Though never seen (of course) Kijé himself is the impossible hero of the entire film, and particularly so in light of the idiocy of Pavel, the deceptions of the army officers – and the over-the-top silly acting by the Soviet-era comedic actors.
Prokofiev wrote of some of his frustrations of the film project; though he enjoyed the process overall greatly, he wrote of traveling from Moscow to Leningrad so he could attend the recording sessions of his music. The denouement of the film was changed and re-edited "repeatedly" according to Prokofiev, scrambling even merely the film's simple timing and structure, leaving a film Prokofiev described as "confusing and sluggish."   The film's production dragged on and on; the composer wasn't able to see a screening of the film before or even while writing the music.   He consequently wrote simple musical set-pieces – some 17 of them – which could be adapted or repeated to fit the eventually-created film. Those pieces were intended only to serve as underscoring – not really intending to coordinate specific notes-to-action as he later was to do in other scores. This was the time of great revolution in film music and scoring was to achieve to a highly sophisticated degree of growth as early as 1933 – the same year Prokofiev was composing his Kijé score – in Max Steiner's groundbreaking score to the Hollywood blockbuster "King Kong." But for now, "Kijé" was the opportunity for Prokofiev to get his feet wet, and the score he produced was absolutely wonderful. Evocative, charming music which – after the very successful March 7, 1934 Moscow premiere of the film of "Kijé," was music which its composer began turning into a five movement concert suite. Prokofiev consequently re-scored, re-structured and re-orchestrated the music to create a satisfying and more appropriate stand-alone suite, which premiered in Moscow on December 21, 1934, conducted by the composer. He wrote of taking far more time to create the suite than he had taken to actually write the entire score, finding the job of making all those adjustments for concert use quite complex.   After all: he did have to turn some 15 minutes of brief film cues composed nearly exclusively for a small ensemble of woodwind, brass and percussion into a 20-minute suite for full symphony orchestra. According to the composer, he spent a great deal of time simply coming up with a cogent structural form upon which to hang his (initially-brief) musical movements before elaborating them – and I have to say that he succeeded brilliantly.
Featured prominently in Woody Allen's 1975 classic comedy "Love and Death," the suite opens with a far-off solo trumpet somberly intoning (I) The Birth of Kijé. A jaunty little martial section ensues, with snare drum and piccolo leading the way. Eventually, the movement becomes a full-blown military spectacle complete even with cannon shots (implied in the music!) and much bravado. It all eventually fades away with the trumpet fanfare as it began. Next up: (II) Romance – in effect, the courtship of Kijé in which Prokofiev used the Russian folk song "The Little Gray Dove is Cooing."   In the film score, it's sung by a bass singer, but for the concert suite, Prokofiev re-orchestrated it for the Double Bass. Next: (III) The Wedding of Kijé, which is full of pomp and is nearly a satire on weddings, including a galop featuring drunken dancing by the guests. (IV) Troika – is the most famous music from the entire suite AND film: a troika is a sleigh pulled by three horses – a troika of horses.   It supplies (of course) the first sleigh ride of our concert. This is music you've heard before – and what wonderfully evocative music it is! The strings are directed to play a very rapid pizzicato (plucking the strings rather than bowing them) and you'll note many of our violin/viola players actually holding their instruments as a balalaika or ukulele is held; the rapid pizzicato produces a wonderful imitation of a balalaika orchestra, complete with sleigh bells, the neighing (at one point) of the not-so-amused three horses; it's great wintertime fun which evocatively depicts a sleigh ride through the Russian countryside, immediately recognizable to even the casual listener. The final movement is (V) The Death of Kijé and it's a so-sad, somber funeral depiction which reveals the burial of the now-General Kijé with full military honors. The movement begins with that same distant trumpet fanfare which announced his birth; his life flashes before the ears of the listener as music from the entire film (and suite) are recalled briefly in gradually slightly slower and slower tempi; tunes are juxtaposed creatively and wonderfully; it's all very magical and special and Kijé's own tune is heard one final time on the solo flute before that trumpet makes a final sad plea – the same tune which heralded the Birth of Kijé now closes the final chapter of his life. The life of a man who never existed although really, from the sincerity of this music, you might swear he HAD to have existed, right?
And just in case your attention and interest are now piqued by this mysterious 1933 Soviet film (complete with Prokofiev's score in its originally-intended form) you may actually view it on YouTube by clicking this link: https://www.youtube.com/watch?v=Nbb539QZZXo in order that you may appreciate the intentionally-silly story and its wonderful score yourself.
Despite the constraints of the Soviet system, Prokofiev left behind a remarkable oeuvre including the seven symphonies (best known is probably the Haydn-parody first, the "classical") as well as two versions of the fourth, his five finished piano concertos (the third featured prominently in the 1980 motion picture "The Competition" featuring Richard Dreyfuss and Amy Irving,) the two violin concerti, the nine ballets of which Romeo and Juliet and Cinderella are best known, the Alexander Nevsky Cantata (expanded from the film score,) the film music from Ivan the Terrible, some really great piano music including the "Sarcasms" and much much more. Including, of course: his music for both the film and concert stage of "Lt. Kijé."
Frederick Delius: Sleigh Ride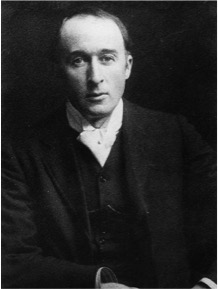 The second of our sleigh rides on this program (the first was the Troika movement of Prokofiev's Lt. Kijé) was actually called "Sleigh Ride" but formally bears a somewhat different name: "Winter Night."
Frederick Delius (1862 – 1934) was a fairly prolific, always-fascinating composer whose music – while actually sounding a bit Germanic and Scandinavian, was a British man of German descent. And he was also something of a bedeviling personality who could be cold and heartless to those closest to him. He was born "Fritz Theodore Albert Delius" in Bradford, England to a well-to-do family (his father was a wool merchant; both parents had emigrated from Germany) and he was brought up very sternly, though with all the cosmopolitan luxuries and exposure one could have wished for in Victorian England. He learned the piano and violin before his adolescent years and wanted nothing more than to be a musician from a very early age – which was about as abhorrent to his family as could be imagined. He proved to be a complete failure in the family wool business, and so – at his own request: was sent off to Florida in 1884 at the age of 22 to manage (of all things!) an orange plantation his father owned.   He was a failure at THAT, too – but he probably had planned on becoming a little more independent away from the old man, and quickly acquired a piano and lessons in music theory in Jacksonville, Florida. After 18 months, he moved from Florida to Danville, Virginia, now feeling he was musically-adept enough to actually teach music. He had relished the opportunity of discovering black American songs and spirituals in the deep South and continued to explore the music and history of the Appalachian region. As a matter of fact, his very first published work was his Florida Suite.   That 40-minute piece – as well as Delius' similarly-lengthy (but much later) 1902 Appalachia – Variations on an Old Slave Song and his full-length 1895-97 Creole opera Koanga – set in New Orleans and sinisterly reeking of voodoo – fairly burst with an idyllic, at-times-dramatic of American lore of the South – as well as a joy of being allowed merely to compose.   As a matter of fact, Delius once remarked that "there is only one real happiness in life, and that is the happiness of creating." (And before I move on, I do have to point out that Koanga, incidentally: is the very first African-American-themed opera and predates George Gershwin's famed Porgy and Bess by nearly 40 years. But yes, I digress so: back to the life and music of Delius.)
His music celebrated nature and both human emotion and human intellect unencumbered by constraints – variously, as was well-noted by the British musicologist Arthur James Bramwell Hutchings far better than I could ever hope to describe him. Hutchings wrote of Delius: "Dawn, sunset, the hills, the sea, with humanity as the sapient and feeling crown of nature, the longing of men and women to be always their 'higher,' more mystical, more Dionysian, more clairvoyant selves, their yearning to fulfill their love passions and their craving for beauty, for identity with the strength and glory of creation, together with their mastery of its pain and evil." That's Delius to me; that's what he and his music is about.
His father finally relented and not only allowed Delius to focus his life on music, but actually paid for his now-adult son's lessons in Leipzig in the years 1886-88. Besides those early years in America and Leipzig, Delius spent his life in Paris and Scandanavia, where he met and became a friend of the great Norwegian composer Edvard Grieg. In 1896 he met the artist Helene Jelka Rosen and moved in with her the next year in her home in north-central France (in Grez-sur-Loing.) In 1901 his father died, leaving Delius only the leased Florida orange plantation, somewhat ironically. Two years later – in 1903 – Delius and Helene married.
But unfortunately, his earlier life in Paris by all accounts had been extremely wild – and sad to say: it was during those out-of-control years in the late 1880s/early 1890s he apparently contracted a certain….social disease which was to eventually lead to his final, debilitating years and death. He first lost the use of both hands, then went fully blind and was paralyzed by 1925 – after which time he continued to compose only with the assistance of his young amanuensis Eric Fenby, a British musician who came to live with Delius and Helene in their home in Grez-sur-Loing in 1928. That relationship was one of the most fascinating and productive in music history; Fenby was to outlive Delius by some 63 years, dying in 1997. In those six+ decades, Fenby continued to champion Delius' music, as the great British conductor Sir Thomas Beecham had done for the six decades before HIS death in 1961. But let's focus on the work on our program: Winter Night or: Sleigh Ride.
It's a very early work for Delius (dating from 1890) which doesn't reveal much about the composer who was yet to come. The piece was to have been premiered at a party thrown by Edvard and Nina Grieg but: there was a little too much schnapps on hand and the party got a little…out of order.   The piece is from the seasonal set entitled Three Small Tone-Poems and consist of I. Summer Evening, II. Winter Night (Sleigh Ride) and III. Spring Morning. The set had to wait nearly sixty years until finally receiving its premiere in London in January of 1949 but since that first performance, Sleigh Ride has become a favorite of audiences (as Beecham described similar short, popular pieces: "Lollipops.")   Its structure is very simple: beginning with soft sleigh bells, then string pizzicati before the first statement of the main tune by solo piccolo which eventually reaches a full orchestral tutti. A slower, dreamier middle section ensues before the "sleighing" tune returns; it eventually peters out as (presumably) the sleigh retreats into the distance and a reflective, quiet ending slowly greets the ear on this idyllic, briskly cold "Winter Night;" one can just close one's eyes and see a crunchy, moonlit wintry nightscape of chilly, snow-covered hills. It's a charming miniature and the first piece by Delius ever to be performed by the MSO.   Stay warm!
Leroy Anderson: Sleigh Ride
Next: a wonderful, immediately-recognizable yet VERY different evocation of a horse-drawn sleigh – the third "sleigh ride" on our concert. This one is probably the most famous of all, and was written by a highly successful American arranger/composer: Leroy Anderson (1908-1975.) And it's even more fun to hear the piece when you realize that Anderson actually composed it not in winter, but in the midst of a very hot summer and not in the Currier and Ives late 19th century era but smack dab in the middle of the 20th century!
Anderson was born in Cambridge, MA, graduated from Harvard and got his start as a conductor leading the Harvard Band. When he guest-conducted the Boston Pops at age 28 in his own music, dynamic conductor Arthur Fiedler immediately asked Anderson to compose/arrange for the Pops, beginning a lengthy and highly successful collaboration. Many of Anderson's arrangements for the Boston Pops became instant classics in the American light classical (or "pops") genre and in fact, became international hits, too. A 1950 Decca Records contract resulted in recordings in which Anderson conducted pick-up studio orchestras in New York in his own works – and those recordings provide us with the composer's own specific interpretive preferences. While Anderson was best-known for his "Pops" arrangements and pieces, he spread his wings and composed a short piano concerto and also a short-lived Broadway musical based on Goldilocks.   His legacy of well-known light popular symphonic scores includes: The Typewriter, Sandpaper Ballet, Bugler's Holiday, Belle of the Ball, Trumpeter's Lullaby, The Syncopated Clock, Blue Tango, The Waltzing Cat, A Christmas Festival (and three lesser-known but wonderful Suite(s) of Carols each for Woodwind, Brass and Strings.) As I've noted, Anderson conceived Sleigh Ride during a July 1946 heat wave; it was first recorded by Fiedler and the Boston Pops in 1949. While Anderson composed it as a purely-orchestral piece (which is how it's most commonly heard,) lyrics by Mitchell Parish were approved by Anderson in 1950. Anderson's own recording of the piece with a NYC pick-up orchestra under his Decca contract made the best-seller chart in its 1952 release. For many decades Anderson's Blue Tango was considered his greatest hit, but Sleigh Ride eventually became his most memorable and most often-performed work. Interestingly enough, Anderson never considered the piece a Christmas – or even a holiday work: just a piece of wintery music. Special effects to listen for: besides sleigh bells, Anderson uses woodblocks to capture the sound of the clip-clopping horses' hooves, a slapstick to reproduce the cracking whip and of course, that now famous horse whinny near the very end of the piece by a half-valved trumpet glissando.
Anderson is still considered the king of American symphonic pop music – it's a title he richly deserved.
Engelbert Humperdinck: Evening Prayer and Dream Pantomime from the opera "Hänsel und Gretel"
Yup – this is that composer – the one with the funny name. And for what it's worth, that name was actually lifted/appropriated by the 60's pop singer – and you can win a trivia contest if you know that the pop singer in question was actually born Arnold Dorsey.
Now that THAT'S out of the way, the original, real Humperdinck (1854-1921) might not be much known today at all had it not been for his greatest work: the ever-popular opera Hänsel und Gretel and perhaps even more specifically: for the famed Evening Prayer from that opera. As for Humperdinck's early years? Yes, I know: it seems so many composers shared a similar life story: showed great promise on the piano at a young age; began composing young (in Humperdinck's case, at age 7 and even wrote two operas by the age of 14,) had disapproving parents who insisted on a different career (in Humperdinck's specific case, it was architecture,) but was driven by a burning inner desire to overcome all the naysayers until he was able to live his dream as a composer.
Humperdinck was to begin serious music study from the age of 18 in Cologne at the Conservatory. On April 24, 1873 Humperdinck was in the audience for a fund-raising concert in Cologne during which Richard Wagner conducted, raising funds for his Bayreuth Festival. That event apparently caused Humperdinck to become smitten with Wagner's music and affected the course of his life to come. He won a scholarship which allowed him to study composition at the Royal School of Music in Munich beginning in 1876, and then became the winner of Berlin's first-ever Mendelssohn Prize – which allowed him to study in Italy beginning in 1879. The young man was on a fast track, and while in Naples, he met the giant himself: Richard Wagner. Wagner was at that time nearing the end of his career and life (he was 67 and would die a mere three years later) but had become known, idolized or reviled the world over – depending upon whose camp you were in. He had created the all-new, revolutionary approach to composing operas (which to Wagner, was itself a repulsive term symbolizing all that was old and wrong with music) and his later works were called music-dramas – and were best typified by his mature works including the four-work, 15-hour-long Ring of the Nibelungen. To a young composer like Humperdinck, it was like meeting the very pinnacle of his chosen profession. And then: Wagner hired the 26-year-old Humperdinck to be his assistant as the older man prepared his final music drama: Parsifal. Humperdinck worked in Bayreuth – where Wagner's famed Festival Theatre had been constructed just for him by "Mad" Ludwig II of Bavaria; it was mecca for a musician of the day.   Humperdinck stayed there throughout 1881 and 1882; when some emergency music was needed to help cover a lengthier-than-planned diorama (the Act I Wandeldekoration,) Wagner approved having his now-trusted assistant Humperdinck actually compose a few bars. Those bars were used in the premiere production, but – not subsequently as the theatrical staging and scene change technology at Bayreuth (and elsewhere) rendered Humperdinck's compositional offering to the score of Parsifal no longer necessary. I've always wanted to take a look at that passage or hear it to see exactly what the younger man produced – and which Wagner's high standards allowed him to accept (albeit) as merely a temporary addition to Wagner's score.
Humperdinck left for Spain and Paris and subsequently traveled throughout Europe and North Africa, teaching music and writing music criticism. In 1889 he even spent a year as private tutor of music to the by-then-dead Wagner's son Siegfried. He also began ruminating over perhaps creating his own opera – and a work began to form based upon brief songs and stories he had set to music based upon Grimm fairy tales as a sort of Christmas project. He had already (in December of 1888) created a children's entertainment of sorts based upon the story of Snow White. Now, two years later he had another whole set of sung tales he had created strictly to amuse his nieces and nephews, children of his sister Adelheid Wette. She would write the libretto for what Humperdinck had come to realize might be the makings of a new opera. (She had also written the libretto to his Snow White.) He began earnestly working to turn them into what was to become Hänsel und Gretel. Privately performed at home, that was little more than a singspiel – a series of sung/spoken tales set to music on the storyline of Hansel and Gretel. Though the family (and friends) were delighted, Humperdinck was not – and decided to re-write the whole thing into a fully-structured, through-composed opera. He did so over the course of a year, and that work was premiered in December 1893, conducted by the burgeoning mega-composer Richard Strauss – who raved about the new opera: "my dear friend, it is a masterpiece of the first order." Hänsel und Gretel was an instant and huge hit. Though his time spent as amanuensis on Wagner's Parsifal had allowed his approach to orchestral writing to fully and brilliantly absorb the style of the master (Wagner) in all its chromatic richness and harmonic invention, the opera itself was relatively simple, highly accessible, tune-filled and vastly crowd-pleasing: an opera even (and especially) children could love.   And with the great success of Hänsel und Gretel, its composer became a "made" man who could now devote himself to doing what he wanted to do: compose.
He never achieved the sort of success in any of his subsequent works he had attained with Hänsel und Gretel, though he was to compose at least five more operas and various incidental and orchestral works. He continued to write and teach even as his health prematurely declined due, yes, sadly: to that very same social disease which was to fell Delius; Humperdinck's hearing proved problematic (during one period of his life, he heard pitches in one ear ¼ tone higher than in the other. That must have been an incredibly vexing condition for a composer.)   A stroke in 1912 left his arm permanently paralyzed; two years later he applied for the post of the Director of Australia's Sydney Conservatorium of Music but he wasn't hired – probably due to anti-German sentiment arising from the onset of World War I.   His son Wolfram helped him physically as he continued to compose, but a heart attack was to end Humperdinck's life at the age of 67.
The plot of Hänsel und Gretel is fairly well-known. In the version Humperdinck's sister Adelheid wrote as his libretto, the two kids live in their impoverished home with their mother (not step-mother) and father; she sends them into the forest to search for food (berries.) Drunken broom-maker father returns home with food; he's had a successful day selling brooms.   Mother tells him they've gone off to find berries; father erupts because they might be captured by the "Nibblewitch" of the forest – and the parents go off to search for the kids. Kids have collected a whole bunch of berries – but then eat them. It's now dark and they're scared and have no idea how to get home but the Sandman appears, sprinkles sand in their eyes: they say their evening prayer and he posts 14 angels to look after them while they sleep. (Which is where the opera presents the Evening Prayer and Dream Pantomime which we perform on the concert.) In the morning, the Dew Fairy awakens them; the kids discover a gingerbread house and start to eat it. It's (of course) the home of the Nibblewitch – who wants to eat THEM. She traps Hwhich we perform on the concert.) In the morning, the Dew Fairy awakens them; the kids discover a gingerbread house and start to eat it. It's (of course) the home of the Nibblewitch – who wants to eat THEM. She puts a spell on them, traps Hänsel and puts him in a cage (he's not quite fat enough yet – but Gretel IS) and forces Gretel to set the table. The witch is SO happy with the thought of her impending feast that she jumps onto her broom and has a cackling good time riding around inside her (huge) gingerbread house. Meanwhile, clever Gretel figures out the witch's spell, frees Hänsel from the cage and then – when the witch tells her to see if the oven is hot enough, Gretel feigns stupidity, asking the witch to show her how to look inside.   Witch does, both kids shove her in and lock the oven door. Huge racket in the oven, which then explodes. When it does, all the gingerbread children inside the house come to life – they were real kids under the witch's spell and just then, mom and dad finally arrive at the house.   They dig through the wreckage of the oven, find a gigantic gingerbread cake which is actually the witch – and then the celebrations begin…and presumably a feast at which the witch-cake will be the main course. You know what they say about payback.
And one final note on the piece's personal connection to me: more than 40 years ago, I was principal trumpet of the Junior Philharmonic Orchestra of Fresno; its music director and conductor was the distinguished Maestro Guy Taylor, who was also musical director/conductor of the Fresno Philharmonic Orchestra for many years – and mentor to me as I began to compose and conduct in my early teen years.   My score for the Humperdinck Evening Prayer and Dream Pantomime contains hand-written notes and markings originally made by the late Maestro Taylor, with whom I fortunately re-connected around 2000 after the many intervening years which had taken me both from Fresno and my early, passionate engagement in classical music.   Sadly, he was in terminally ill health and died not long after we re-established communication, but I'm so glad I was able to let him know how much he meant to me, and that with my (disability-ended) career in theatre now over, I was going to consider returning to my musical roots.   His death came before we moved back to California, and to Mariposa – and of course, before I began to ideate and put together the basis of what was to become the Mariposa Symphony Orchestra, but it's wonderful to perform this piece, with that connection to my mentor – and to share it with our audience. Continuity and tradition.
Pietro Mascagni: Intermezzo from the opera "Cavalleria Rusticana" ("Rustic Chivalry")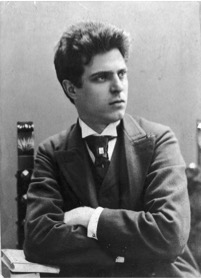 Mascagni (1863–1945) like Humperdinck: is unfortunately, and incorrectly considered to be something of a one-trick pony: Cavalleria was composed when he was only 26 and in one fell swoop, pretty much blew open the doors of staid music theatre with the concept of "verismo" opera in 1890: the idea of "true-life" or realistic opera. Cavalleria was absolutely the first, and opened those doors to the likes of Leoncavallo, Giordano and most prominently: Puccini. Cavalleria also served to overshadow nearly everything else Mascagni ever wrote – including 14 OTHER operas, and very unfairly so.   His output is astonishing for the sheer variety found in his music and style – his was a rare adept talent for adapting to the demands of an opera's libretto, setting and time period.
He was born the son of a baker in Tuscany and his early attraction to music resulted in formal instruction beginning in his early teen years – with something of an elderly, yet neophyte music teacher.   Fortunately, Alfredo Soffredini – though new to teaching music, was a highly experienced critic and composer who really sparked young Pietro's interest in composing. Mascagni composed a couple of short symphonies at 16 and some choral works as well, with a cantata winning him a prize and recognition at 17. He moved to Milan to continue his studies at the conservatory in that city though left before completing his courses and found work conducting touring operettas for different companies.
Seeking (and finding) work in a number of towns and cities with varied responsibilities entrusted to him, Mascagni's reputation for excellence grew.   And then came the big one: the music publisher Edoardo Sonzogno (Milan) created a contest for young Italian composers. It was a smart move as of course: a really excellent winning composition would be published by Sonzogno – and if it had created ripples, it would also create sales.   The operas to be submitted had to be only one-act operas; the judges would consist of a panel of Italy's finest composers and music critics; the winning top three operas would actually be produced in Rome by Sonzogno.   Mascagni was tardy: he didn't find out about this competition until two months before the deadline and even then, managed to submit his opera on the very last day submissions were accepted.   He quickly cast about for material before settling on the short story-turned-play Cavalleria Rusticana by Giovanni Verga, which he asked his friend Giovanni Targioni-Tozzetti to turn into an operatic libretto. Targioni-Tozzetti was a very busy scholar (and professor) and so another friend was enlisted to help: Giacomo de Zerbi. Work on the libretto proceeded hit-or-miss, with one writer or another often sending Mascagni bits and pieces at a time, which the young composer feverishly set to music in a nearly unimaginably out-of-context manner.   Targioni-Tozzetti's commitment to his friend Mascagni's opera libretto wavered to the point that he actually asked yet another friend – Guido Menasci – to complete the final scene of the libretto. Suffice it to say, Mascagni's Cavalleria Rusticana was one of the three winners (from 73 operas submitted) and although at its premiere on May 17, 1890 at Rome's Teatro Costanzi was to a half empty house, the small audience contained some of Italy's most important music-career-makers – and Cavalleria was an instantaneous, massive success. I mean, this was from all accounts: a once-in-a-lifetime premiere: the audience was ecstatic from the very beginning. At the conclusion, Mascagni was called to the stage to receive 40 curtain calls – and his opera was announced as the grand prize winner from those three finalists.   The remainder of that premiere run at Teatro Costanzi was then sold-out nearly overnight (imagine all those who kicked themselves for not having bought tickets to that half-sold first night?) before then premiering all over Italy, in Vienna, in London (Covent Garden in 1892) and in America the Philadelphia Opera Company won the right to be the first US company to premiere the work. Gustav Mahler championed the piece, conducting it in Budapest where it ran for an unprecedented three months.   In America, after its Philadelphia premiere, Cavalleria later opened in Chicago, New York and eventually at the Metropolitan Opera in New York (as well.) Opera companies all over the states and all around the globe clamored for it and purchased the licensing to present Mascagni's one-act masterpiece. As earlier noted, it became the model for libretti (and scores) which were no longer focused on fairy tales or mythology or heroic super-human tales but: upon the truthful recounting of the human story – the common man and woman. Stories of common life in all its drama, tragedy and even comedy: the reality of human life as much as could be adapted honestly and truthfully to the music theatre stage. With music that as much as possible: also helped to tell those stories without unnatural artifice.
The story of Cavalleria?   It's set in a small Sicilian village; at the beginning Turiddu sings in praise of Lola (this aria actually occurs behind the stage curtain, during the actual overture: Mascagni tearing down the formal operatic wall.)   It's Easter and Santuzza (Turiddu's erstwhile paramour) asks Turiddu's mother Lucia – a wine merchant – where he is. Lucia covers for Turiddu in his absence, claiming that Turiddu is in another town getting wine for her. Santuzza knows Turiddu betrayed her with another woman: Lola – who's Turiddu's old flame, but who is also (now) married to Alfio. Turiddu appears and Santuzza confronts him, telling him she loves him anyway and wants him; he denies cheating on her and laughs it off. Lola comes on the scene and ridicules them both; Turiddu becomes exasperated with Santuzza and throws her down; she curses him and she's left alone on stage until Alfio comes into the scene: Santuzza angrily tells him his wife Lola is cheating on Alfio with Turiddu but immediately regrets it: Alfio is angry and violent.   At this point, the orchestral Intermezzo (which is on our concert program) depicts the quiet beauty of Easter as an interlude from the action. After a great deal of interaction, Alfio quietly challenges Turiddu to fight him (in the Sicilian manner: they embrace – and Turiddu bites Alfio's ear to acknowledge the challenge.)   Turiddu admits his wrongdoing, but must fight.   After the women all attempt to get the men to stop, the two (with villagers) go off to fight and after a scream, villagers return to announce the Turiddu has been killed.
The quiet beauty of that Intermezzo from Cavalleria Rusticana has been used in popular entertainment countless times, but never as effectively as in the 1980 film Raging Bull where it serves as both main theme and also as complete counterpoint to the slow-motion, violent ring fight as Jake LaMotta is portrayed by Robert De Niro. The piece was also used to telling effect in the 1990 film Godfather III as part of that film's soundtrack. It's an absolutely beautifully calm, pastoral piece; gorgeous, uplifting music.
Dr. Phillip M. Smith: Dr. Smith's Christmas Fantasy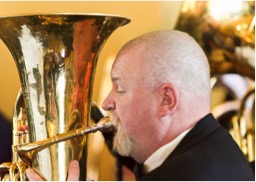 Phil (1955-2013) was a founding member and longtime principal tuba player of the MSO, but before that he had distinguished himself with a noble and accomplished career with the US Army as a composer, arranger, performer and conductor.
His "Armed Forces Salute" is still used by Army bands and his music was performed worldwide during his career. In 2003, Phil created an orchestral arrangement of his "Armed Forces Salute" specifically for the MSO and we've performed it at every one of our "Independence Day Spectacular!" Concerts ever since.   Phil was also the longtime volunteer music director, arranger and conductor of the Mariposa County High School Grizzly Band – and it was through his dedication, tireless efforts and magnificent inspiration to both students and adults that the Grizzly Band was built to an extraordinarily high level of accomplishment, taking top honors at various band competitions over the years. Under Phil's leadership and guidance, the band also won a Grammy Award in 2011 – under the Grammy Signature Schools program. In addition to the remarkable prestige, the band received a $5,500 check. Under Phil's leadership, the band also (that year) was invited to and participated in the 2011 Nine/Eleven Observance and Veterans Day Parade in New York City that November. The band's achievements were astonishing for a small-town, underfunded organization. Under Phil's leadership the Grizzlies became the band to beat in innumerable regional (prestigious) band festivals and reviews.
Phil was born and raised in Philadelphia, Mississippi – as well as spending some of his early years in Texas.   His higher education years were spent at East Mississippi College and the University of Mississippi, where his life was filled with sports in addition to music, with specialization in band.
Initially an infantryman in the US Army, he re-enlisted as a career military man within the military band program, initially serving in Virginia, Japan and Korea. He continued his music education formally within the outlets the military allowed him, including courses through the University of Maryland, Virginia State, Indiana and Purdue Universities and elsewhere; his undergrad degrees were in both Applied Music and History (Phil was quite the Civil War buff) and eventually led to a PhD in military history and an EdD within the study are of music composition. Long before retiring from the service in 1992 and subsequently moving to Mariposa, in Seoul South Korea Phil met and married Yong Song Kim and the couple had two sons: Ian Lee and Shawn Jun. Phil was also my dear, respected friend – but then, the same may be said by anyone who ever met Phil – he was just that sort of a man. He appeared gruff on the outside, but was a sweet, huge teddy bear throughout.
Composed for the Mariposa Symphony Orchestra in 2005, Dr. Smith's Christmas Fantasy uses suggestions of both many well-known and lesser-heard Christmas carols, perhaps making the most of "God Rest Ye Merry Gentlemen," "The First Noel" and "Carol of the Bells." Thoughtful and ruminative throughout, the piece shows Phil's consummate craftsmanship and also his concert band predilection – it's a wonderful, highly individualistic and personal take on tunes for the Christmas season – as perfectly summed up by the work's title.
Ralph Vaughan Williams: Fantasy on "Greensleeves"
Ralph Vaughan Williams (1872-1958) may not be the household name he could have been, but it's only because of the extremely personal nature of his musical sound. It's a sound that also sometimes defies pigeon-holing due to its many influences and its permutations throughout his creative life; his nine symphonies alone are nine distinct, different – and equally valid sound worlds. But somehow, as different as they all are, they're all Vaughan Williams' sound.   And I have to say, it's a wonderful personal sound that bears repeated listening. The great-nephew of Charles Darwin – and a lifelong Socialist and dedicated egalitarian who spent much of his time helping those less able to help themselves, Vaughan Williams was very much a man of his times. His long life's compositional style witnessed a great deal of personal influences and change throughout his output, from his early British folk song obsession (and collecting) which tended to color nearly all his music even to the end of his life, his studies with Ravel which imparted a certain impressionist bent – and finally the horrors and tragedy of war – both the First and Second World Wars – which had their impact on his sound, along with some elements of the changing 20th Century development of atonal music. One of the founding British "pastoralists," Vaughan Williams' Greensleeves Fantasy is itself rife with different eras and different idioms. After all: it's a piece of music composed in the 20th Century which was built upon a centuries-old tune from the latter part of the 1500s and: that tune itself may be best known by many today as "What Child Is This" – when the tune had THOSE words added to it as a Christmas carol in 1865.   (Sidebar: did you realize another Christmas tune – this one of German origin – "O Tannenbaum" – was appropriated [with new lyrics, of course] to become the official state song of Maryland and Iowa, was formerly the state song of Florida and is unofficially the state song of Michigan?! Sorry for that diversion; now back to your regularly-scheduled program notes.) The tune "Greensleeves" was long erroneously credited as having been composed by none other than Henry the 8th of England. But it's not at all likely that he wrote it. The first truly legitimate reference to the tune recorded as "A New Northern Dittye of the Lady Greene Sleeves" we have comes from 1580 – a few decades after the death of Henry. And that original song's Italianate style of composition (in a rolling 6/8-time) was not known in Britain in Henry's time. Whatever its true origins, for me the hands-down most gloriously beautiful rendering of that tune is probably Vaughan Williams' Fantasy on Greensleeves which he originally composed for his 1924-29 opera Sir John In Love based upon Shakespeare's comedy The Merry Wives of Windsor. (Fun little sidebar fact: Vaughan Williams originally planned to call his opera The Fat Knight but changed his mind when – as he composed the opera, it began to be more of a romance than the flat-out comedy which Shakespeare's play certainly is.)   This beautiful, brief interlude in the opera is only a simple statement of the tune lasting less than two minutes at the conclusion of Act IV, Scene 1. Vaughan Williams later decided (rightly!) it might make a nice brief-ish stand-alone concert piece and so he expanded the brief quotation from the opera by adding a middle section (in the opera, it's Mistress Quickly's somewhat bawdy folksong "Lovely Joan" from Act II) that offers a beautiful little contrast to the main "Greensleeves" tune. And finally, the Greensleeves section repeats (the entire brief piece is a simple ABA form) and that's that.   Scored only for two flutes, harp and strings, the piece is simple, absolutely beautiful – and a wonderfully apt piece for our Festive Holiday Concert.
Les Marsden: Sierra Christmas Party
The less said about this (thankfully) final piece on our concert program the better: but I will say that Sierra Christmas Party has closed each MSO December concert since our very first concert thirteen years ago, nearly to the day – on December 21, 2002. This piece was quickly (or recklessly?) composed by a certain unfortunate individual whose name-must-not-be-spoken (1957 – .)   It was written at the instigation of local legend Miriam Costello, so please blame her. Over the last decade the piece has had additions from time to time until it got so out of hand I decided to cut it back down to what I considered to be its optimal length and froze it there!   There's really very little else to be said about this, my errant musical child – other than the fact that we do wish you the best sentiment, as is contained in the spoken line just before the piece's conclusion. And in any case, we do offer to you sincerely – with this concert: a wonderfully Merry Christmas, Happy Hanukah, Winter Solstice, Happy Kwanzaa, Feliz Navidad, Joyeux Noel, Pancha Ganapati, Jolly Yule. As noted at the start of these notes: from the MSO's very beginning, I wanted our annual Festive Holiday Concert to be an evening during which we might all come together under the finest of circumstances for a little good old-fashioned musical Holiday joy—best summed up by that (spoken) final line of Sierra Christmas Party. No matter what holiday you celebrate, the line works for 'em all and so please: if you do remember that line, feel free to jump right in and shout it out with this, YOUR very own symphony orchestra!
Tickets for the MSO's Saturday, December 19th Festive Holiday Concert are only $6 for adults and $4 for students. They're now available online via our MCACI Shop page http://tinyurl.com/MSOTickets  Tickets are also available in person at the Mariposa County Arts Council's office and Treetop Gallery on the top floor of the Chocolate Soup store at the southern entrance to the town of Mariposa. Call (209) 966-3155 for tickets and information.   Tickets are also available at the Mariposa Visitors Center at the north end of town, directly opposite Miners Roadhouse; call (209) 966-7081 for hours. Information is available at http://tinyurl.com/MariposaSO .
E-mail MSO@sti.net and ask to be added to the private, exclusive "Friends of the MSO" e-list.