Superstitious?   Us? Nah!
Notes by Les Marsden
Mariposa Symphony Orchestra's Founding Music Director and Conductor
Season 13 Opening Concert: Saturday October 18 at 7:00 PM
The Fiester Auditorium, Mariposa County High School
The Program:
Gioachino Rossini: Overture to the opera "William Tell"
Pyotr Ilyich Tchaikovsky: Romeo and Juliet Overture-Fantasy (final 1880 version)
Antonín Dvořák: Symphony #3 in Eb, Opus 10
The opening concert of your Mariposa Symphony Orchestra's Lucky 13th Season will be on Saturday October 18th at 7 PM in Mariposa County High School's Fiester Auditorium. Now, it goes without saying that some folks have a superstitious fear of the number "13" – and there's a name for it: Triskaidekaphobia. In fact, so as not to tempt fate, you may know that some buildings are actually built without a 13th floor! But I understand. And if you're superstitious, there's a solution: just think of this as our "Decade-Plus-3-Years" Season! Whatever you call it, we're offering highly enjoyable music, performed live in our Yosemite region by its very own 60-member symphony orchestra.
But first, there's something I've got to get off my chest:
If you've never been to one of our concerts, is it possibly due to that old "but I don't LIKE classical music!" syndrome? Is it because you somehow feel that "classical" music is elite, or that you just somehow don't understand it? Well – perhaps it's only because you've never been introduced properly! To some folks, the phrase "classical music" means: "the incomprehensible." "The unknown." "The feared." "The stuffy." "Long-hair music!" But it's really none of those things – it was the "pop" music of its day AND – it's how I strive to present this great music in our OWN day. Case in point: our October 18th concert – and I've programmed music that's about as familiar and accessibly enjoyable as it gets. Hummable tunes, exciting, evocative and heart-stoppingly beautiful music so famous from its use in popular entertainment that you already know it – but you now will have the rare opportunity to hear this spectacular music performed LIVE, in concert, right here in Mariposa, by your friends, neighbors – and if you're lucky enough: your actual family members.
We'll open with the overture to Gioachino Rossini's final opera, 1829's Guglielmo Tell. See? I've lost you already!   But what if I were (instead) to tell you that we'll begin with "The Lone Ranger"? Even if you're NOT of a certain vintage, chances are you've heard this piece and know its wildly vivid, exciting, galloping finale – and you may be surprised to recognize its other three sections, too – due to their constant use in popular entertainment forms (including cartoons) requiring melancholic, stormy or bucolic music. So – you already know one piece, at least – perhaps a little more familiar under its English name, William Tell Overture.
Now you probably know that artists are inner-DRIVEN to create art, to express themselves in some manner through art or to interpret the work of others. One of the funny things about Rossini (who lived from 1792 to 1868) is that after years of struggle to achieve huge success, he decided – after composing Guglielmo Tell (or William Tell, if you prefer) to huge acclaim in 1829: that he'd retire. At the age of 37. And that's pretty much what he did. But then, he was an enormously quirky man – and by the very end of his life he had actually become just plain enormous. He loved his pasta.
Rossini was born on Leap Day, February 29 1792 into a family predisposed to music: his mother was a singer and his father a horn player. The young Rossini received instruction from spuriously-qualified teachers (including a keyboard teacher who played scales with only two fingers) but by six was performing; composing came only slightly later. His life story could fill volumes, but in brief: he took the model of opera that had been advanced by Mozart (who died the year before Rossini was born) and ran with it – developing it to a remarkable degree in the 39 operas Rossini wrote in a relatively brief career – a career spent victoriously in his native Italy but also in Vienna, London and particularly in Paris. Unlike Mozart (and many others) Rossini's career wasn't cut short by an early death: it ended when Rossini deliberately retired in 1829 at the peak of success and wealth. And after the composition of that final, great grand opera, William Tell. Rossini was to live another 39 years, dying in 1868 at 75 – a cherished international icon.   From beginning to end, his output was incredible for the development he put into the very form and style of both comic opera and opera seria – opening the door to Giuseppe Verdi's verismo style to come. I can't emphasize how greatly Rossini served as the bridge from Mozart to Verdi – a huge leap to have made. In any event, we've performed a few of Rossini's wonderful overtures in the past, including those to his operas "La Gazza Ladra" of 1817, which premiered less than a year after the wildly-successful "Barber of Seville" – the overture to which we've also played. The latter, incidentally, was an opera known and loved by no less than Beethoven – which was a high compliment indeed when one considers the fact that Beethoven most appreciated music of only one composer: Beethoven.
In his earlier days, Rossini wasn't too punctilious when it came to composing overtures to his operas.   And he was an incredible procrastinator – a quality which has led him to be described (at times) as "the laziest composer who ever lived." But that's not really correct at all: he was hugely productive for two decades – writing, in those years – sometimes as many as five entire operas a year, for an eventual total of 39 full operas in those two decades of productivity. Far more, in fact, than many other famed operatic composers accomplished in an entire lifetime of composition.
Prior to "Gazza Ladra" Rossini's overtures were pretty interchangeable with little to no material in the overtures coming from their operas themselves (in fact, the overture to "Barber of Seville" we know and love was actually first written for Rossini's earlier opera "Aureliano in Palmira," then recycled intact for his opera about the first Elizabeth of England "Elisabetta, Regina d'Inghilterra," before becoming permanently latched onto "Barber.") And on at least one occasion when Rossini decided to go that extra mile and create an overture specifically for a new opera, he procrastinated – to the point that – well, why not have him tell you himself? As Rossini wrote,
"I wrote the overture to "La Gazza Ladra" the day before the opening night under the roof of the Scala Theatre (Milan's great opera house, still in operation today,) where I had been imprisoned by the director and secured by four stagehands who were instructed to throw my original text through the window, page by page, to the copyists waiting below to transcribe it. If I didn't write the pages, they were ordered to throw me out the window instead. For "Barbiere" ("The Barber of Seville"), I did better: I did not even compose an overture, I just took one already destined for my opera, "Elisabetta." The public was very pleased.
Rather than fight procrastination he embraced it, and especially when composing his overtures:
"Wait until the evening before opening night. Nothing primes inspiration more than necessity, be it the presence of a copyist waiting for your work or the prodding of an impresario tearing his hair out. In my time, all the impresarios in Italy were bald at thirty. (As was Rossini himself – that's one of his many terrible rugs he's wearing in the picture above, accompanying this section.) I wrote the overture to "Otello" in a small room of the Palazzo Barbaja, where the baldest and rudest of directors had forcibly locked me up with a lone plate of spaghetti and the threat that I would not be allowed to leave the room alive until I had written the last note. I composed the overture to "Comte Ory" while fishing, with my feet in the water, and in the company of Signor Agnado, who talked of his Spanish fiancée. The overture to "Guglielmo Tell" was composed under more or less similar circumstances."
There you have it. I'm nearly embarrassed to share that final sentence from the man himself, but – it's true. This exceptional overture to his final opera – dashed off with little care and – in his own words, circumstances in which his focus and interest were clearly elsewhere.
The opera's story?   You may already about the Swiss folk hero (and incredible archer) William Tell who's forced to shoot an apple off his kid's head? Kid's name is Jemmy? (You can probably use that information to win a bet some time.) I'll condense the opera's story as much as possible but it was a five-act extravaganza before Rossini cut it down to three acts. It takes place in Switzerland, where Arnold, son of Melcthal (both Swiss patriots who despise the Austrian overlord Gesler) saves the beautiful Mathilde from drowning. And wouldn't you know it? She's the daughter of that rotten Gesler! The opera (and its overture) both start with a depiction of Dawn over Lake Lucerne – for a five-part divided cello section with support from other lower strings. Well, Leuthold (another Swiss partisan) is supposed to kill one of Gesler's soldiers, in order to protect the honor of Leuthold's daughter. Don't ask. He's chased by Gesler's men, and his only retreat is across Lake Lucerne, as a huge storm begins to blow up (the SECOND section of the overture – classic storm music from nearly 200 years ago!) William Tell helps Leuthold give the posse the slip – by single-handedly rowing him across that storm-tossed lake, but Gesler's men are so angry they take some Swiss peasants hostage – including Arnold's old (and I mean OLD) man Melcthal. Now it turns really ugly: while in captivity, Gesler's men kill Melcthal. William Tell conveys the news to Arnold just after he (Arnold) has had an interlude with Mathilde in a bucolic little valley, accompanied by the sound of herdsmen calling in their dairy cows (it is, after all: Switzerland.) English horn and flute interplay in this gorgeous, well-known pastorale which is the third section of the overture. Well, THAT does it.   Now our Swiss boys are REALLY angry and they vow to throw off the Austrians and to finally free Switzerland after one hundred years of Austrian rule. Terribly unwise time for Gesler to order all the Swiss to celebrate the centenary of Austrian rule by passing by a pole with his hat perched upon it, and to pay homage to his headgear. Tell refuses, is recognized as that guy who helped Leuthold escape in Act One, and as punishment (here's where THIS happens) is forced to shoot that apple from Jemmy's head. Big deal: Tell pulls it off without even raising a sweat; he then tells Gesler the next arrow was for HIM. Gesler, incensed: orders Tell to be arrested, but that's that: the Swiss revolt in response and Tell eventually DOES kill Gesler with that second arrow. The Austrians are driven out; Switzerland is now independent, Mathilde and Arnold can live happily ever after and Mrs. Tell makes apple pie. The finale of the overture – the really really REALLY famous part better known these days as the "Lone Ranger" theme – is actually the march of the Swiss Soldiers – and it's of course an incredibly energetic cavalry charge full of fanfares, whirlwind string (and wind) writing – and one of the most exciting finales ever. Whew!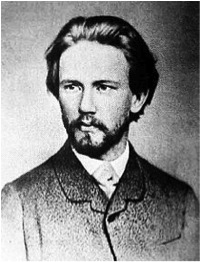 Pyotr Ilyich Tchaikovsky: Romeo and Juliet Overture-Fantasy   Our next piece is another of the world's most recognized, beloved musical works, ever. And another one of those great, special, timeless works of musical art which has become part of our pop culture. Its popularity is fascinating to consider: just imagine – music composed by a 28-year-old Russian in 1869 inspired by a tragic love story written 400 years ago by an Elizabethan Englishman, a tale set in Renaissance Verona and Mantua – music not only still around some 140 years later, but: recognized by you, possibly well-loved by you… and just about anyone else. A great piece recognizable just from hearing the first few notes of its most famous tune. And for what it's worth, the picture of Tchaikovsky at right is from 1869, the year he composed the first version of this remarkable piece, based (of course) upon Shakespeare's great play. This music has become synonymous with the word "love" and still has the amazing power to sweep over the listener; what IS it about that tune and the brilliance of its young composer who was able to capture this universal human emotion as (perhaps) no other composer – classical, pop – no other composer EVER has?
First, a little about Tchaikovsky (1840 – 1893) himself – and longtime MSO audience members know I may be a bit biased when it comes to this composer. To me, great music touches our hearts as well as our minds – not merely our intellect alone. Sure – one can admire the architecture or technique of a composition, even if it's conceived along flat-out academic or theoretical lines alone. But it's tough to love such music if it doesn't also stir passion, or touch the soul, or make one chuckle or feel sadness or giddiness or melancholy or any other of the myriad emotions which we all share and which ultimately make us HUMAN. This may help to explain why the composers that rank among my favorites are those who could do just that.   And Tchaikovsky is high in that pantheon.   Few composers could so brilliantly tap into the universal emotions we all experience and then – miraculously: share those emotions so clearly through their music. Even those listeners not conditioned to or raised with the sound of so-called Western music recognize human emotions in well-written music. And it's truly remarkable when the brilliance of such writing connects with other human beings across other continents, across the centuries – that's one of the things that makes "classical" music – classical.
Tchaikovsky was born in 1840 in the Votkinsk region of Russia, a largely metallurgically-important industrial area even to this day. Fortunately, the boy's father (Ilya Petrovich) was the government bureaucrat in charge of mine inspections in the region and the family was quite well-off. Tchaikovsky's mother Alexandra (d'Assier) – to whom the boy was utterly devoted: was some 18 years younger than her husband and of French ancestry.   All five Tchaikovsky boys (besides Pyotr, there were Nikolai, Ippolit and twins Anatoly and Modest – the last of whom would prove to be closest to Pyotr and ultimately, his librettist, biographer and chronicler) and the one girl (like her mother, also named Alexandra) were raised with the best education possible with emphasis on the arts, which both parents valued highly.   The young Pyotr was high-strung, highly sensitive and as well, a Francophile not only due to his maternal ancestry but also because of the children's French governess Fanny Dürbach, who was only Pyotr's senior by 19 years and to whom Pyotr would remain close until his death. He demonstrated great love and very high aptitude for music at the earliest age but was also plagued at times by music he heard in his head – and wasn't able to stop hearing: it would at times prevent him even from sleeping. It was determined the child would have a career in law, and at age ten he was summarily packed off to the School of Jurisprudence in St. Petersburg: moving abruptly, and alone: from the sticks far west of Moscow all the way to imperial Russia's grandest, most European city. The loneliness was devastating to the boy, but his parents thought it the best thing for him as music at that time was not fathomable as a career other than as a professor or instructor, which was deemed to be nearly as low on the societal totem pole as it was to be a serf or peasant. When the boy was age 14, his mother suddenly died of cholera back home and the young Pyotr was hugely devastated – it was a pain he would carry to the end of his life, noting to the end that even remembering the event of nearly 40 years earlier was just as fresh an painful to him as it had been at the time.   Perhaps as consolation, in 1855 Tchaikovsky's father did establish private music lessons for his son while he studied at the School of Jurisprudence; his teacher pronounced him (in a letter to his father) as not possessing any traits or talents which (in his eyes) could see a future in music for the boy. All I can say about that is: hah – history is littered with so many incorrect pronouncements.
Pyotr graduated from the School of Jurisprudence at 19 and immediately began a career as an assistant in the Ministry of Justice – during which (at age 21) he began to continue his musical studies on the side at the recently established Russian Musical Society. The RMS was the creation of Grand Duchess Elena Pavlovna (Tsar Alexander II's aunt) and the pianist and composer Anton Rubinstein, who was to play a pivotally important role in Tchaikovsky's training and future. Rubinstein's brother Nikolai was also to become an important proponent, advisor and at times, critic of Tchaikovsky's music – but Tchaikovsky was in the right place at the right time. The Russian government had decided to train its own and emphasize the Russian arts and as well, to raise the esteem of the arts in the country and in 1862 the St. Petersburg Conservatory was opened, and there Tchaikovsky continued his studies. The arts were blooming all over Russia – and this was also the time during which the "Mighty Five" were planting their own "anti-conservatory" musical seed – as I've noted in past programs when we've presented the music of Mussorgsky, Rimsky-Korsakov and Borodin (the other members of that cadre were Cui and Balakirev.) To make a long story short, Tchaikovsky quickly distinguished himself as a student, was hired to teach harmony and theory at the conservatory upon his graduation – and by 1862 had left the Ministry of Justice for good following his three year career there: at the age of 22 he finally became a musician for life. He continued to teach at the conservatory while also serving as a music critic for many years; (late in his career as a critic, he notably attended and reviewed the first performance of Richard Wagner's four-opera cycle The Ring of the Nibelungen from August 13 – 17, 1876 in Bayreuth, Germany. He was not terribly amused.)
But back to the 1860s: his music received its first professional public performance on September 11, 1865 when his "Characteristic Dances" was conducted by none other than the visiting famed Johann Strauss (II) at a concert in Pavlovsk Park. Money woes were to plague him to the end of his life; he had no concept of living frugally. But as his music became better known through the years and his admirers grew in numbers, he was contacted in 1876 by the rich railroad widow Nadezhda von Meck – who was enamored of his music. She offered him an annual income which would allow him to focus on composing music; his fourth symphony was dedicated to von Meck "to my dearest friend" and their relationship was one of the strangest in all history: his income was contingent upon their never meeting in person. They once accidentally passed while out walking but didn't speak – Tchaikovsky nervously tipped his hat and they moved on without missing a step; throughout their 14 year association, they corresponded via letter – sometimes in intimate detail – and their preserved thousands of missives make for incredibly fascinating reading.
In 1869 Mily Balakirev (who was more or less the leader of the "Mighty Five") reached out to the talented young composer Tchaikovsky, suggesting some sort of work based upon Shakespeare's Romeo and Juliet. Tchaikovsky had already dedicated his early symphonic poem "Fatum" to Balakirev – Balakirev typically: criticized various weaknesses he perceived in the piece. Balakirev's homespun thrust (as it was with the entirety of the "Mighty Five") was a general dislike and distrust of academic training and the erudite European formal approach to musical composition. He saw in Tchaikovsky a brilliantly talented composer whom he apparently tried to lure over to the folk-inspired, form-eschewing nationalist school of musical approach he was trying to spearhead.   While he felt warmly toward Balakirev, Tchaikovsky wasn't comfortable with the man – sensing his attempts to manipulate the younger man's style. He was also repelled by Balakirev's bluntness and lack of openness to any other approach to writing music other than his own.
Tchaikovsky – though he loved Shakespeare and was to later write other works based upon the Elizabethan's plays, needed convincing. Balakirev wouldn't give up – constantly cajoling the younger man and even outlining the structure for the intended work. He recommended aspects of the play to illustrate via music and even came up with specific keys for specific characters and situations. Tchaikovsky eventually acted on Balakirev's general plan, though made all aspects of the piece's conception truly his own.
Romeo and Juliet was premiered in 1870 to a ho-hum reaction, though not entirely due to the music – rather to certain personal intrigues which were made public at the time involving Nikolai Rubinstein – (remember him?) who conducted the premiere. Balakirev began nagging Tchaikovsky again with all manner of recommendations for improvements and the younger man then revised the piece, with a new version (containing a completely different opening, shortened development as well as different thematic material chosen FOR the development) premiering to slightly better reaction in 1872.
Finally in 1880, the by-now much older, much more experienced and much more famous composer returned to the 1872 version, reworking it a third (and final) time. That final version (now titled for the first time an "Overture-Fantasy" wasn't to be premiered until 1886, but at that time, it landed smack dab in the upper echelon of the orchestral repertoire (and the hearts of music-lovers) immediately.  And there it's remained ever since – becoming one of the most famous pieces of music ever composed – recognized the world over by anyone who merely likes to hear music…
All that said: and while we will perform the famous final version well-known to even the most casual listener, I do think the first version is a remarkable piece.   Oh sure, that love theme is there (and for what it's worth, that famous love theme isn't actually THE "love theme" – it's ROMEO's theme – his feelings of passion and ardor FOR Juliet, who has her own theme – the gently rolling sound of divided first and second muted violins which shortly follows after the first statement of that famous "Romeo" theme.   The final version begins with a chorale depicting Friar Laurence – as well as the tumults between the Capulets and Montagues (which at times reach the very height of tragedy as they do in the play, when Mercutio and Tybalt die in swordplay.)   That final version also ends with an amazing musical peace-making as does the play when the patrician heads of the Capulets and Montagues vow that the long feud is now over.   I would like to share that first version with you in the near future at one of our concerts – and when I have the time to create a performing version from the score, I will.
We've performed quite a few works by Tchaikovsky for you – including his Second Symphony subtitled the "Little Russian," the "1812" Overture, Nutcracker Suite and others.   As his fame grew in the years he had remaining, the works he composed were to become world-famous; from the eventual six symphonies to the Festival Overture "1812," the three piano concertos (the first of which is probably the best-known and loved piano concerto ever written) as well as the violin concerto (ditto re: best loved/known for THAT genre,) innumerable orchestral works, the string quartets and much more chamber music, all the solo piano music, the Swan Lake and later Sleeping Beauty full-length ballets, the 10 operas including Eugene Onegin and the Queen of Spades: he was a master nearly from the start. In 1892, he was named a member of France's distinguished Académie des Beaux-Arts, only the second Russian to be so honored. By the end of his life, he had received honorary degrees from (among others) Cambridge University in England – and was truly an honored and respected composer of the first rank in his own lifetime.
By 1891, he was so celebrated throughout the world that he became the star attraction when Carnegie Hall opened in Manhattan and he was feted there like the legend he had become, conducting his own music at the opening.   But at that time – at the age of 50: he looked and sounded more like a man of 70. He no longer smiled for photographs because – as he wrote: he had lost some of his teeth and he declined from public speaking as well. His hair was starkly white and he felt old and tired. He also felt himself (incorrectly, of course) to be "written-out" – to have no more music in him. How wrong he was; some of his greatest, most accomplished music was to come in those final couple of years. Tchaikovsky was to die on November 6, 1893 – less than a year after the premiere of The Nutcracker Ballet and shortly after conducting the premiere of his final symphony: the Sixth, which he and his brother Modest subtitled "Pathétique" – and which stands as (probably) my favorite work of music – and not just of Tchaikovsky's music, but of all music, of all time.   The cause of his death?   Cholera – the very same water-borne disease he had despised and feared since the age of 14 when it took his beloved mother away. In 1893, in those final months Tchaikovsky had left him, he went from the unbridled, wide-eyed youthful joy of The Nutcracker to (ultimately) that final, brilliant masterpiece – the Pathétique. What might he have produced had he lived beyond 53?   He was at the absolute height of his creative powers, of fame, of mastery of music – what else might he have had in him?   Unfortunately, we'll never know.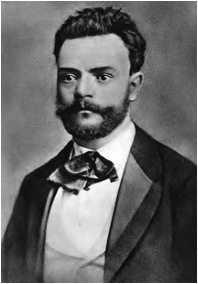 Antonín Dvořák's Symphony #3 in Eb, opus 10 will conclude our concert. This last piece is one you probably haven't heard before, but one that's so incredibly memorable, so tune-filled, so well-written, so timelessly HUMAN – that it's a piece any music-appreciative person must get to know! (A brief digression: in keeping with our "Decade-Plus-3-Years" theme, I plan to offer various composers' third symphonies this season. Well, come on – there just aren't that many GREAT 13th symphonies! And that of Shostakovich – his "Babi Yar" – requires a bass vocal soloist as well as a men's chorus.) So – we'll experience some great "thirds" this season and I want to start with one of the best unknown ones: that of Antonín Dvořák. Don't know the name? Sure you do!   I'm sure you know one of the greatest "American" works ever written: Dvořák's 9th Symphony "From the New World" (which the MSO performed a few years ago in Yosemite at the Ahwahnee; a spectacular setting for a spectacular piece!) Well: Dvořák's third symphony was apparently his very own favorite of his ultimate nine; he retained a special fondness for this one and last leafed through its pages a few days before his 1904 death, over three decades after he composed it. It's an extraordinary, memorable work – and unlike most symphonies, it has only three movements. Third symphony? Three movements? Think Dvořák did that on purpose? Come hear this wonderful piece and see what you think!
As I've noted in the past, Bohemia-born Antonin Dvořák (1841 – 1904) was an extremely modest man who considered himself to the end of his life to be a simple peasant.  In reality, he was anything but that.  Born in the small village of Nelahozeves on the left bank of the Vltava (that's the Moldau to you) River, north of Prague in what's now the Czech Republic.  He was originally destined to follow in his father's footsteps as an innkeeper and butcher, but he was passionate about music and struggled to make that passion his life.  Dvořák was eventually discovered by the great Johannes Brahms, who with great generosity encouraged his own publisher Hans Simrock in 1877 to publish some of Dvořák's early compositions because, as he wrote Simrock "…he is certainly a very talented fellow. And incidentally, poor! I beg you to consider that!"  By the early 1890s the younger Dvořák had become world-famous, and was hired to be the Director of the National Conservatory of Music of America in Manhattan, where he lived from 1892 – 1895.  During that period, he demonstrated to the world what he had been encouraging American composers to do: to find their own national identity and style by looking to the music of the young country itself: the sounds, rhythms and melodies of the native Americans, the former slaves (and as well, their African-influenced music) and finally: the music of the entire immigrant experience from the fiddling of the Irish to the hymns of the Moravians.   He demonstrated his teachings by composing his final symphony: the ninth, more commonly known as "From the New World" and while it's every bit as Bohemian as American, it did serve as the basis from which America's own "classical" sound developed.   While here he also composed his great (second) cello concerto – generally regarded as the greatest for that instrument (the MSO has performed both works over the past few years in both the Fiester and in the Ahwahnee, the concerto featuring cellist Ira Lehn.) His career output contained so many other great works from both sets of the Slavonic Dances (for piano duet and later, orchestra as well – music which he himself described as "they'll bring the house down; they sound like the very Devil himself!") to the great nine symphonies, the five extraordinary symphonic poems, concerti for violin, cello (two) and piano, symphonic overtures (including the trilogy of "In Nature's Realm," "Carnival" and "Othello") and many other orchestral works; the huge output of chamber and piano works including the fourteen wonderful string quartets – and no less than six operas – and much, much more.
The symphony was a form which enticed Dvořák early in his twenties – and by the mid 1860's he was ready to begin. The first symphony, written by the 23-year-old composer, actually disappeared during his lifetime, probably after he submitted the one and only manuscript score to a competition in Germany. Believing it gone forever, he later described it as "destroyed" – and went to his grave mistakenly mis-remembering burning up the score. However – he hadn't – and it did turn up in a bookstore in Leipzig, Germany – and only after a strange set up circumstances, it became public nearly twenty years after Dvořák's 1904 death at age 62. His second symphony from 1865 did survive, but only merited a single performance in its composer's lifetime – in 1888 well after Dvořák had achieved fame and a far greater sophistication.
The revolutionary composer Richard Wagner had visited Prague in 1863 and among other converts, Dvořák became enraptured by the German composer's "new" music. And while Dvořák's music betrayed the influence of Beethoven, his early symphonies also heeded the call of Wagner, and the third was a high-water mark of that influence.   Sketched out in 1872 before being orchestrated in 1873, it was his first symphony to actually be performed, too – with the premiere on March 29, 1874 conducted by none other than that great father of Czech/Bohemian music, Bedrich Smetana. Not entirely satisfied, Dvořák made very substantial revisions to the piece in 1875, and then very slight further revisions in 1887 and 1889 – showing the great regard he had for this piece from his youth. Incidentally – the Mariposa Symphony Orchestra is using the 1887 penultimate version – which differs from the final version most noticeably in its use of a different recapitulation in the first movement and a slightly amended passage in the second movement.
The Eb symphony's first movement opens with a graceful, rolling tune in 6/8 time – an absolutely charming, charming and effortless-feeling comfortable old tune. True to his fascination with Czech syncopation, the movement demonstrates altered emphasis, with the 6/8 bars comingling with bars in 3/4, paying tribute to the folk character that's always present in Dvořák's music – no matter how sophisticated. The first subject undergoes extensive development (especially extensive for Dvořák, who was always bursting with such a wealth of material that expositions USUALLY took center stage in all his early works, with little time for development of his material. This movement's second subject – equally simple and non-threatening – is in Gb – and the main development of the movement is concerned with this lovely theme. Eventually fragments of the first theme come back into play – and the movement ends in a blaze of color.
The second movement – an Adagio – pays homage to Beethoven's moving adagios in many subtle ways, but is chiefly a Dvořákian funeral march. It's also Dvořák's lengthiest symphonic adagio. Deeply heartfelt, it begins with a number of chords and their resolutions – nearly plaintive, hurt sobbing – which then are treated in the manner of a theme and variations. Those bits of material give motivic rise to yet other themes, which lead to a near blossoming of more and MORE material – as well as a wandering through key after key until we reach Db – in an ethereal, almost cherubic pronouncement accompanied by harp – just gorgeous stuff.   There's a reference to the opening chord/resolution motif and finally, an uplifting, quiet and dignified major-mode finale, as if the departed subject of the funeral march has finally thrown off those mortal coils and ascended into an enlightened state.   Magnificent – about 15 minute's worth of directed, purposeful beauty from the pen of a developing young master. Feel free to close your eyes, relax and luxuriate in this unique, beautiful symphonic movement.
And now, after that lengthiest of adagios, Dvořák gives us the shortest finale of ALL his symphonies!   And – as stated up front: there's no third movement to take us from that Adagio to the finale, no stand-alone scherzo (a form which was not only mastered early by Dvořák, but which was filled with his Czech buoyancy and verve in his other symphonies) although there are scherzo-like moments within the Adagio and this final third movement is something of a perpetual-motion humorous dance-fest of joy!   I don't want to say much more than that about this movement; suffice it to say that it's one of Dvořák's most energetic, infectious and just-plain-fun symphonic movements…which, considering his ability to create magical worlds of Czech-infused happiness: is saying quite a lot!
The MSO's Lucky 13th Season Opening Concert will be performed once only: 7:00 PM in the Fiester Auditorium of Mariposa County High School on Saturday, October 18.   Tickets are still ridiculously low-priced at $6 for adults/$4 for students, available at our Mariposa County Arts Council's Tree Top Gallery on the top floor of Chocolate Soup at the southern entrance to the town of Mariposa; call 209.966.3155 for information. Tickets are also available at the Mariposa Visitors Center at the north end of town across from Miners Roadhouse. Call 209.966.6081 for their hours.
But whatever you do, don't test your luck: get your tickets today!   This concert contains two wonderfully familiar pieces of music beloved the world over and one additional work that has the very real chance of becoming your next favorite piece of music forever. Or if not forever, at least for a decade-and-3-years!