Your Mariposa Symphony Orchestra's Festive Holiday Concert
Saturday, December 20th at 7:00 PM
Fiester Auditorium at Mariposa High School
Concert notes by Les Marsden, MSO Founding Music Director/Conductor
What better way to get into the holiday spirit?
What better way to impress visiting friends/family with what our region has to offer?
What better way to introduce anyone aged 5 to 105 to the utter thrill of live symphonic music?
The Program:
Jacques Offenbach: Overture to "Orphée aux Enfers" (Orpheus in the Underworld)
Franz Schubert: Symphony #3 in D, D200
Ralph Vaughan Williams: Fantasy on "Greensleeves"
Serge Prokofiev: Peter and the Wolf
Leroy Anderson: Sleigh Ride
Les Marsden: Sierra Christmas Party
Let's get right down to it: this is one of our most popular annual concerts – and with good reason! It's an evening just for YOU. An important evening to relax, to recharge your energy, to take a break from last-minute holiday chores – no matter which holidays you and yours celebrate.   It's an oasis of peace and sheer pleasure from the sometimes-hectic seasonal responsibilities, baking, Christmas cards, gift-wrapping and other holiday demands: a little time for yourself.   An evening to recall the utter joy of the sounds of the season.   It's a wonderful way to get into the festive holiday mood; to spend a couple of hours in the company of other happy folks at this joyous time of year – people you may not know, but who are all drawn together for one reason: to enjoy terrific music, performed by YOUR Mariposa Symphony Orchestra – an ensemble that grows more amazing with every concert! And thisconcert is sure to bring jolly enjoyment with every single piece, so let's get started: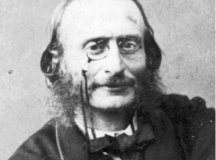 Jacques Offenbach (1819-1880)/Carl Binder: Overture to the operetta "Orphée aux Enfers" ("Orpheus in the Underworld") (1860) — Our December 20th concert opens with the overture to Jacques Offenbach's musical journey – literally – to hell!   I've written before of the tangled paths of composers' lives and the sometimes-lengthy journeys their works can take during the course of the composers' lives. Well: "Orphée aux Enfers" just might take the cake.
More on that in a moment, but first: a little about the composer.   Born in to a Jewish family as Jakob Offenbach in then-Prussian Cologne, Jakob's father Isaac Eberst had been a bookbinder by trade before falling back on his real love: music. Pop Isaac's family had long been musicians by trade but Isaac was only slightly more successful as an itinerant musician than a bookbinder. He became an itinerant cantor and in time, became known as "Isaac der Offenbacher" – or "Isaac from Offenbach" – Offenbach being his native town. Before the birth of Jakob, Dad made it official, changing the original family name of Eberst to Offenbach. Isaac finally settled down to a more-or-less routine life as cantor of his own synagogue and all-around musician on the side, giving lessons and basically doing anything he could to raise his family – which was to grow to ten children. By the time of Jakob's birth, the family was fairly affluent and after his initial studies on violin with dad, Jakob took up the cello and began lessons with famed cellist Bernhard Breuer – before the precocious youth's skill and talent quickly outpaced even that respected musician.  In 1833 the family moved to Paris in order to place the now-composing 14-year-old in the Paris Conservatoire, but: they were abruptly refused as German "foreigners." The Conservatoire had a strict policy: only FRENCH students were admitted. But Dad Isaac was never one to give in: he managed to get a private audience with then-director of the Conservatoire Luigi Cherubini for his son (and despite the name, the famous Cherubini was yes, himself a transplanted Frenchman in addition to being a pretty brilliant composer himself.   And Cherubini had been respected by none other than the six-years-dead Beethoven as being the closest thing HE had to a talented competitor.)
The young Jakob veritably knocked the socks off Cherubini – the final kicker being when Jakob effortlessly played a difficult piece sight unseen.   And bingo: the long-standing "anti-foreigner" policy fell thanks to the talented kid from Cologne.
After all that, though: he was something of a fun-loving goof-off who didn't really fit into the honored old institution – and after only a year left the Conservatoire. It seems a rigorous academic tradition wasn't at all necessary for him as he began a life in Paris as a musician – playing in cafés, in theatre orchestras and eventually, in the cello section of the Opéra-Comique. He also developed his compositional skills – while becoming known as "the Liszt of the cello" after the incredibly virtuosic pianist. His fame on the cello became truly international, but his real desire was to compose. And so he did: at first, brief dance pieces: galops, waltzes, polkas, mazurkas and the like – and their performances increased the status of his name and incidentally: his wallet. He eventually was to become the conductor of the Théâtre Français – and began further developing his skills while composing operettas includingPascal et Chambord and L'Alcove.
By the time of the 1848 "February" revolution in France, Offenbach was well-established in Paris, but even so, returned to Cologne with his wife and young daughter for a brief period, before becoming disillusioned with the city of his youth.   He returned to Paris, where he began music administrator for the Comédie-Française before starting his very own theatre in 1855: the Bouffes-Parisiens. None other than the retired Gioachino Rossini referred to Offenbach as "the Mozart of the Champs-Elysées" and did whatever he could to assist the younger man. Offenbach became a favorite of Napoleon III and his Second Empire government; it's perhaps a mark of Napoleon's patience, respect – and Offenbach's great talent that he REMAINED a favorite of the powers-that-were despite the fact he routinely mocked them in his politically-satirical operettas – and especially so in Orphée aux Enfers. But more on that in just another paragraph or two…
Among Offenbach's other titles and nicknames of respect? It was Napoleon III himself who conferred upon Offenbach official French citizenship (by now, "Jakob" had become "Jacques") and he was also awarded that highest decoration of France: the respected Légion d'Honneur. This despite the fact that the 1870 Franco-Prussian war caused Offenbach's merits to be called into question merely because of the place of his birth. That war caused the fall of the Second Empire; Offenbach's association with that aristocratic, monarchist regime further eroded his standing in France. His fortunes fell and with them, his finances.   The truly international, truly cosmopolitan Offenbach toured abroad, including successful engagements throughout Europe, London (where his operettas were wildly successful) and the United States. His fortune restored, his final years were lived in relative comfort, despite the gout which plagued him for years, and which was to eventually be blamed for the heart failure which killed him in 1880 at the age of . He eventually composed some 90 operettas before his final one – the somewhat grand opera which had obsessed him for many years: The Tales of Hoffmann. Its orchestration was incomplete at the time of his death, but was finished by his 18-year-old son Auguste and as well, Offenbach's trusted friend, the American-born composer Ernest Guiraud (who also completed/arranged some of Bizet's works after that composer's early death in 1875.)   Hoffmann was premiered posthumously to rapturous reaction and was to become one of its composer's greatest accomplishments.
As for "Orphée" itself? Well, it's a brilliantly scathing, really hilarious theatre piece. Its libretto is STILL witty, barbed, clever – and just plain funny. And I mean that: some satires just don't hold up over the years. But despite its sometimes-topical references (including some of those aforementioned spoofs of Napoleon III and France's Second Empire) this thing WORKS today. And as you listen, don't think the music is merely charming – it's frequently MOCKING even the music of its time and that of times past. Now you'll note I referenced it in the singular – but there are actually at least three different versions of Offenbach's Orphée aux Enfers, from the 1858 two-act, four scene operetta to the four-act, 12-scene nearly grand-opera of 1874 to the EXPANDED version of that latter four-acter later in 1874 with the inclusion of an entire new scene representing the Kingdom of Neptune!   And even better? The famous overture (which the MSO performs) is one he didn't even write. But let's get down to brass tacks.
At the time of the Second Empire in France, and especially in Paris – Europe's largest, most influential city at the time: THE classical was revered, and was pretty much the only accepted approach to art: we're talking of classical architecture, classical interpretation of mythology, classical-period music of basically the years 1750 – 1810 and ESPECIALLY that of Frenchmen or those writing in the accepted French idioms (despite his own sophisticated/ironic musical output, Offenbach idolized Mozart – who did after all have his French period,) classical ideals. The French were obsessed with "good" taste – nearly to the point of regressive conservatism. The guidelines for literature as well as the visual and performing arts were rigid – if you wanted to be counted as a serious artist, at least – and to be accepted as one.   For some, it was too much: Victor Hugo spent the Second Empire in self-imposed exile while Flaubert and Baudelaire were only two of many authors formally charged with immorality due to the content of their novels.
Believe it or not, French law of the 1850s actually decreed many specifics of the presentation of theatre – in 1855, the prefecture of police in Paris had limited the presentations in Offenbach's own theatre to pantomimes for five characters, of comic and musical scenes with dialog for two or three characters OR for dance routines with no more than five or six dancers. And there were severe consequences if Offenbach allowed "any chorus" to perform in the theatre without permission from the cultural authorities! Offenbach was further precluded from having ANY words, couplets or "songs" intrude into the pantomime! Later that same year – in October: the strictures were loosened just a bit: Offenbach was now allowed to have an entire one-act "comic or musical piece" (ONE act and no more) with up to four characters (and no more) but with music by at least two composers (and no LESS) in addition to Offenbach! Fortunately, Offenbach was initially able to follow those very strict demands but still accomplish a great deal of brilliant satire and quickly became the talk of the town; it was at that point (1855) that Napoleon III experienced one of Offenbach's "entertainments" and from then on, the noose loosened a bit. Amid such strict regulations decreeing what was and was NOT "art," Offenbach was the perfect musical court jester arriving at that perfect moment in the Second Empire. He was always pushing the envelope and fortunately his great talent helped.   By 1858, the laws were relaxing just a touch – even though by now Offenbach was finding it a little difficult to keep the wolf from the door – despite the success of his works in his own Bouffes-Parisiens Theatre. He needed a monster hit, and while not coldly calculating the composition of a scandalous piece which might draw even more public attention, he now could and DID produce his very first two-act operetta: Orphée aux Enfers. It STILL followed the formal guidelines, but the content of the piece was outlandishly, deliciously audacious to the point of scandal!   Not – mind you – because of any salaciousness or vulgar suggestion, but simply because it ridiculed the classical while simultaneously satirizing the living: in this case, and most prominently: the officials and class-conscious denizens of the Second Empire.   Its opening night on October 21, 1858 was apparently a remarkably incredible event: the audience loved the operetta with a passion; despite the naysaying "preservers" of public decency (read: the classical ideals) who loudly protested, Offenbach had his monster hit. 
In Orphée Offenbach not only satirized the very classical gods of mythology AND the gentry AND the Second Empire, but he brilliantly mocked the music of true "grand" opera, the composers Gluck and Rameau, and much more. Remember the classical mythological Greek story of Orpheus? According to ancient mythology, he was the lyre-playing poet whose music could charm anything – including the gods, beasts and even rocks. His wife Eurydice died and Orpheus was so distraught he traveled to Hades to bring her back. God-of-the-underworld Pluto agreed to give her back on one condition: that Orpheus does NOT look back once they arrive back in the sunlight. But wouldn't you know it? Orpheus, of course: looks back! To the Greeks, Orpheus was considered the pinnacle of music and poetry and so what better figure and myth to mock for Offenbach – who was after all aiming at the fine arts of his OWN day? And so – in Offenbach's telling, Orpheus is a violin-teacher. And something of a schlub.   His wife Eurydice is a browbeating harridan who hates her husband. Unfortunately for Orpheus, Eurydice doesn't actually die, but Pluto (in disguise as a shepherd) carries her off to hell anyway, and Orpheus is THRILLED. But – there's a character in the opera who doesn't merely represent Public Opinion of the Second Empire, but is actually NAMED "Public Opinion." And Public Opinion turns out to be an even bigger nag than Eurydice. She nags Orpheus to do the "right thing": go to hell and reclaim his wife. And finally Orpheus agrees to do so, but only to shut Public Opinion up. He pleads with Roman king-of-the-gods Jupiter to retrieve Eurydice. But there's a complication: Jupiter is smitten by Orphée's wife and wants to get HIS mitts on Eurydice. He disguises himself as a fly to get close to her (there's actually a ballet of the flies ["mouches" in French] at the end of the third scene which is pretty funny if staged as intended.) Cut to the chase: Jupiter decides he'll arrange to have Orpheus reclaim Eurydice from the underworld – but just as they're getting back to our world, Jupiter lets loose with a thunderbolt, which – wouldn't you know it? Causes Orpheus to look back behind him…
The opening night audience was stunned. Gods cavorting around in ridiculous carnival costumes, behaving like out-of-control mere humans, using music-hall language and popular idioms; everyone HAD to get a ticket to see that! The establishment of the arts community was appalled and railed against the piece, which made it even more of a must-see; even Flaubert was offended! And then, the critic Jules Janin wrote a scathing attack against Orphée,calling it a scandal in indignant terms, going so far to label it a "profanation of holy and glorious antiquity." But then,Orphée's librettist Hector Crémieux merely pointed out (in print in Le Figaro) that the most ridiculous, most absurd passage in the entire operetta was simply lifted from one of Janin's very own writings. Thus, Janin's hypocrisy, and the hypocrisy of the entire attack on Orphée was demolished, and that's pretty much all it took for the entire musical press to admit that Orphée was in fact, a remarkably magnificent piece of revolutionary music theatre. And after that, you couldn't get your hands on a ticket for this huge hit – which initially ran for some 228 consecutive sold-out performances. Matter of fact, Offenbach's fortune was made and he used some of the proceeds from that production to build himself a villa which he actually named "Orphée."   And that was only the first of many runs for the operetta which continued to play all over the world to huge acclaim, including a run (in German instead of French, no less!) in New York in a theatre on Broadway in 1861.
The "official" overture Offenbach wrote for the piece is only about three minutes long, and is pastoral music depicting Pluto's shepherd character and Jupiter, by way of a Lully-esque minuet. Sedate for the most part, and in no way does it tip the hat at what is to come in the operetta. But in 1860, Orphée made its (German-language) debut in Vienna and the Austrian composer Carl Binder was commissioned to write a more traditional pot-boiler curtain-raiser overture of about 10 minutes for its production there.   He took many of the main tunes from the operetta, weaving them with much of the violin-obliggato which depicts violin-teacher Orphée – concluding it with the absolutely infectious Galop Infernale from the second act.   You've heard the Galop Infernale before. It's become a remarkably famous piece of music since Offenbach composed it.   But whatever you do, please do NOT call it "can-can."   A can-can is a dance which had originated in the 1830s and Offenbach did NOT compose a "can-can."   He wrote a two-step – a galop. But for some reason, this wonderful little dance has become profaned into being known (somehow) as a "can-can." And when one thinks of a can-can, somehow, this piece has become identified as the most famous one ever written.   But – remember: that's not at all what Offenbach had in mind when he wrote the "Galop Infernale." And whatever you do: please remember NOT to look behind yourself…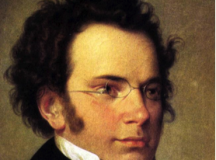 Franz Schubert: Symphony #3 in D Major, D200 (1815) — Our 13th Season musical survey of the third symphonies of famous composers continues with that of the great Franz Schubert.   With a huge output despite his woefully brief life, Franz Schubert (1797 – 1828) took his final breath as a mere 31-year-old – albeit an enormously prolific one. His brief life was spent (for the most part) in poverty, with only limited recognition of his absolutely enormous talent – and his final years were spent in slow decline. But despite a largely difficult life (and such small portions!), Schubert's 3rdSymphony is about as sunny and optimistically buoyant, jolly and bouncy a piece of music as one could imagine.
The 3rd Symphony was composed by a mere 18-year-old Schubert whose life at that point was already well more than half over and it's unfortunate that the pseudo-mysterious 8th Symphony (the famous "Unfinished" Symphony– which the MSO performed earlier this Spring) and the 9th "Great" C Major Symphony have come to overshadow some of their earlier siblings.  Monumental works those are (as well as so much of Schubert's output) but there's no reason his less-well-known works should be ignored.
Schubert was brilliantly gifted. And we recognize him today as a Very Great Master of Music. But had he been allowed just a few more years, or better yet: just a few decades – even merely twice the 31 years he did live, I'm convinced he would be remembered today as the equal (or perhaps even the superior) of the GREATEST greats of music: Beethoven and Mozart.   Schubert showed all the early signs of originality and the sort of organic conceptualization of just what music MIGHT possibly be all about – which might have led him to be an innovative revolutionary of music every bit as influential as Wagner or Stravinsky – or even more so.
His first completed symphony was composed when he was a mere lad of 16, and the growth of his music's sophistication, intelligence, harmonic invention, formal structuring and constant boundary-pushing from that point to his death is nothing short of amazing. Considering what that arc might have eventually achieved had Schubert lived to be 50 or 60 or 70, his early loss is indescribable. The possibility of where Schubert might have taken music is one of the great unanswerables of the past near-two centuries. And that loss to music produced by his early death was caused, in large part: by one of THOSE – ahem – social diseases from which he suffered for his last six years, though in the end the actual culprit that finished him off is believed to have been typhoid fever.   However, the final cause might also have been a high concentration of mercury in his system – mercury was then used to treat that certain – ahem – social disease which Schubert had unfortunately come to harbor, and which would ultimately directly or indirectly result in his early demise anyway.
Schubert was a short, stubby little tub of a man with bad eyesight – and with near-legendary absent-mindedness.   The case of the famous "Unfinished" 8th Symphony is far too famous, and I related the known details of that work in my notes this past spring. But – we do know that there are a great many pieces and individual movements by Schubert which have simply disappeared, with many of them doing so by accident – by his own hand, in his own lifetime.   He was just a tad sloppy, forgetful and disorganized. Matter of fact, and to help form the picture in your minds, he was affectionately called "Schwämmerl" by his very dear, very loyal friends – a term loosely translated as "Tubby" or "Little Mushroom." Unkind to our modern-day sensibilities, perhaps – but Schubert apparently didn't mind and after all – he accepted it as the term of affection it was intended to be for a poor guy who was well underfive feet tall and fairly corpulent, too.   Schubert led a lifetime condemned to near-poverty attributable for the most part to his inability to wisely manage even the small amount of money he earned. He had an overwhelming predilection for drinking and DID have that enthusiastic circle of very close friends who encouraged him in that habit – but they were also remarkably supportive of the genius in their midst. Supportive with (at times) food, money, shelter – and most of all, the encouragement for the genius they recognized. Sadly, that recognition wasn't universal – or even established beyond the Austrian border during his lifetime. Or beyond a relatively small circle WITHIN Austria. Schubert was born and raised in Vienna as the son of a music-loving and talented amateur musician who made his living as a schoolmaster. As the young man grew to early adulthood, he became part of a circle of Vienna's echt-bohemians of the early 19th-century: footloose and (for the most part) impoverished artists, singers, poets, musicians. Schubert spent nearly the entirety of his life in Vienna – aside from a sojourn in 1818 to an estate in Zseliz in today's Slovakia (Zseliz was then in Austria), where he was hired as the music teacher to the children of the then-current Count Esterházy, Johann Karl. Remember?   The same Esterházy dynasty I've written about in the past in my MSO notes? That (for the most part) music-loving lineage of nobility that was also responsible for decades of Franz Joseph Haydn's career?
In the late teens and early 1820's, there began to be very informal, infrequent salon-style concerts of Schubert's music: primarily the songs and smaller chamber works, performed in the homes of friends.   These informal gatherings were later to become known as "Schubertiaden" but before that was to happen, in March of 1820, the authorities arrested a number of the members of Schubert's circle (including Schubert himself) as they were suspicious of any young student gatherings in this time of European unrest and revolt against (particularly) nobility.   Imagine!   Classical music being seen as a hotbed of young peoples' anti-establishment behavior!   Most (including Schubert) were soon released, but that event had a small effect on breaking up that ol' gang of Schubert's – one of his friends was imprisoned for more than a year and Schubert became estranged from a few, in particular: the poet Johann Mayrhofer, with whom he had shared a room for nearly two years. But these events didn't put a lasting damper on these musical soirees: the Schubertiaden grew both in size and importance – and took on more of a sense of legitimacy due to the greater respectability of Schubert's post-arrest circle of less-opprobriously questionable followers. And due to the somewhat better quality of Schubert's associations, his repute grew, as well.   During the early 1820's his individual lieder (and song cycles) began to be performed outside the Schubertiaden – and his fame grew greater.   Friends arranged for his great, evocative song based upon the Johann Göethe poem Der Erlkönig (The Elf-King) to be published and it sold a remarkable 100 copies one night, with their salesmanship certainly helping.   With the sales of that song, Schubert's debts and rent were paid, plus a tidy little sum was left over to go into his pocket.   Unfortunately, Schubert later sold the rights to many of his works to the publisher Diabelli – who was to make something of a small fortune from them, with little going to their composer.   Schubert began to focus on composing operas but all met with failure – those very few which were actually accepted for production.   Rossini was the rage in Vienna at the time and Schubert's stage works just didn't fit in.   And then, with the onset of the symptoms and diagnosis of that dreaded disease in late 1822/early 1823, everything changed – his life suddenly had a small sense of quiet desperation, a sober quality entered into his work – and one feels he knew the end was no longer far off in the distance, but near. Very near. And far nearer than itshould have been for one so young.
Schubert was ultimately to leave a remarkable output for someone who lived a mere 31 years and especially so when you realize his serious creative output began only at about 16 years of age.   His oeuvre includes some 600 lieder (art songs) of such quality that many consider him to be the greatest lieder composer who ever lived.   And what of those art songs? The brilliant song cycles Die Winterreise, Die Schöne Mullerin, Schwanengesang – and the remarkable stand-outs among the individual songs themselves: An die Musik, Tod und das Mädchen (Death and the Maiden), Der Erlkönig, Die Forelle (The Trout), Gretchen am Spinnade – the fact that so much music of such a remarkably, consistently high level came from one person in the span of so few years is nothing short of mid-boggling.   His chamber music includes such masterworks as his 14th String Quartet (Death and the Maiden,) the A Major "Trout" Piano Quintet, the F Major Octet for strings and winds (a nearly-hour-long piece Schubert brilliantly tossed off in less than a month, shortly after being diagnosed with THAT condition,) the 22+ piano sonatas and so many more piano masterpieces, 10 or so operas, incidental music for a performance of the play "Rosamunde" – which is remembered today not at all for the failed (and now-lost) script by Helmina von Chézy but for Schubert's sublime music which – like the play itself, was lost for decades, only to be rediscovered by Sir Arthur Sullivan (of Gilbert and Sullivan fame) in 1867.   And there was remarkable cross-pollination amidst his music, with tunes from the songs (and Rosamunde) intermingling in the chamber music, most notably with the "Trout" Quintet, and "Death and the Maiden" and "Rosamunde" string quartets. And then, the symphonies.
And especially relevant to our concert: his 3rd Symphony.   Composed in mid-1815, it's about as light a symphony as any. Schubert was under the Italianate influence of Rossini (then the rage) and the 3rd is – aside from a slow, but hardly-grave first movement introduction: a breezy work that shows just how established many of Schubert's mature techniques already were. There's no true "slow" movement in the piece – all move along at a clip ranging from amiable to (in the case of the "Presto Vivace" Finale,) breakneck. In keeping with that sunny Italian feel of this work, the fourth movement is a tarantella in all but name. It's not known for sure but, it's probable that this work was only performed once in Schubert's lifetime, and even then, not for the public.   It's believed to have been included in an early Schubertiade in the private apartment of Schubert's friend Otto Hatwig, a piano teacher and violinist in the Burgtheater Orchestra. Matter of fact, in all likelihood, Schubert couldn't even enjoy the piece from the tiny "audience" in the small apartment, but rather: is believed to have played viola in the 30-member amateur orchestra in this sole performance in Hatwig's apartment. It wasn't until over 65 years later that the symphony was finally premiered in its entirety in public – in 1881 and of course, more than a half-century after its young composer had been lain to rest. I could think of few more joyous third symphonies to share with you at this time of year than Schubert's third – and I hope you enjoy it as much as we enjoy playing it.
One last note on the life of Schubert: the younger man idolized the older Beethoven (who lived from 1770-1827.)   Though they weren't constant companions or even, really – even close – (it's believed there may have been one or two brief meetings between the two) Beethoven was extremely impressed by Schubert's music, and particularly so, with Schubert's lieder – and the absolute fecundity of the younger man, which he found astonishing. And Beethoven was rarely astonished by ANYTHING that wasn't of, by or about Beethoven himself.   Schubert apparently (and I hesitate to use this word, but here goes:) stalked Beethoven in a manner of speaking. He knew Beethoven's habits and haunts and would frequently go to those places, merely to shyly observe the older man from a distance. In 1822 when it was accepted for publication, Schubert DID dedicate his (1818) "Variations on a French Song, for Pianoforte, Four Hands" (the opus 10, D.624) to Beethoven. The inscription on the published piece reads: "dedicated to Herr Ludwig van Beethoven by his Worshipper and Admirer Franz Schubert." Who WOULDN'T notice that sort of dedication?! The piece was sent to Beethoven, who apparently played through it with his nephew and was mightily impressed and flattered. According to the account of a possible meeting (which has not been absolutely corroborated) between the two, Beethoven very kindly pointed out a very minor error in harmony in a piece (perhaps even in this very set of variations) by Schubert. Schubert was dumbstruck and unable to reply (after being in communication with the then-deaf Beethoven by writing responses on a sheet of paper) and was "paralyzed" to the point where he couldn't write a response.   After leaving Beethoven's home, Schubert was apparently hugely disappointed by his own weakness in the presence of the man he lionized, or so THAT story goes.   The other purported meeting was at Beethoven's deathbed.   In his final months Beethoven was given a great many of Schubert's songs (some in manuscript) to read through as a diversion when he was physically unable to do much else. It's been confirmed by those who knew him that Beethoven so highly admired and respected Schubert that after getting to know Schubert's lieder, he wished to see other works by the younger man – and particularly his operas.   That simply wasn't possible due to Beethoven's declining health – but he did frequently tell others rapturously that Schubert's time would come and that he would be known widely and well as a "great sensation." And when on his deathbed, it was recorded that Beethoven (whether in Schubert's presence or not) said "…truly, a divine spark dwells in Schubert!" and, according to an account by Anselm Hüttenbrenner (the rascally composer-friend of Schubert and Beethoven guy who was eventually to hoard Schubert's "Unfinished" Symphony for decades) both he and Schubert visited Beethoven as he lay dying and Beethoven was claimed to have said, "you, Anselm have my mind, but Franz has my soul."
In any event, Beethoven did die on March 26, 1827 – in the midst of a well-documented and thoroughly dramatic thunderstorm, of course. Schubert was one of at least 36 named torch-bearers at Beethoven's funeral.   And when – not quite 20 months later Schubert himself lay dying, he asked that the last piece of music he might ever hear would be Beethoven's 14th String Quartet – the C# minor opus 131, which Beethoven ALSO claimed to be his own personal favorite of all his works.   And it was arranged to be played for Schubert, five days before he died, in the apartment of his brother Ferdinand, where Schubert expired.   It was the last music he heard, dying on November 19, 1828.   He had begged to be buried next to his idol, Beethoven – and his wish was granted. Schubert was laid to rest side-by-side with Beethoven in Vienna's small Währinger cemetery.   The story doesn't end there, though: both bodies were exhumed in 1862/63 purportedly for "study." Beethoven's skull was pronounced to be quite masculine, with a very strong mandible.   Schubert's skull was found to be just the opposite and was described as nearly feminine.   And then, 25 years later in 1888, both were disinterred yet AGAIN, this time to be reburied in Vienna's Zentralfriedhof Cemetery, and this time at least: for good.   There they remain to this day, again side by side. And now they're in excellent company, next to the graves of Johannes Brahms and Johann Strauss (II) who were ALSO very good friends in life.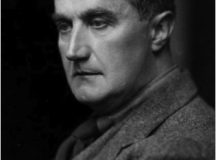 Ralph Vaughan Williams: Fantasy on "Greensleeves" — Ralph Vaughan Williams (1872-1958) may not be the household name he could have been, but it's only because of the extremely personal nature of his musical sound. It's a sound that also sometimes defies pigeon-holing due to its many influences and its permutations throughout his creative life; his nine symphonies alone are nine distinct, different – and equally valid sound worlds. But somehow, as different as they all are, they're all Vaughan Williams' sound.   And I have to say, it's a wonderful personal sound that bears repeated listening. The great-nephew of Charles Darwin – and a lifelong Socialist and dedicated egalitarian who spent much of his time helping those less able to help themselves, Vaughan Williams was very much a man of his times. His long life's compositional style witnessed a great deal of personal influences and change throughout his output, from his early British folk song obsession (and collecting) which tended to color nearly all his music even to the end of his life, his studies with Ravel which imparted a certain impressionist bent – and finally the horrors and tragedy of war – both the First and Second World Wars – which had their impact on his sound, along with some elements of the changing 20th Century development of atonal music. One of the founding British "pastoralists," Vaughan Williams' "Greensleeves Fantasy" is itself rife with different eras and different idioms. After all: it's a piece of music composed in the 20th Century which was built upon a centuries-old tune from the latter part of the 1500s and: that tune itself may be best known by many today as "What Child Is This" – when the tune had THOSE words added to it as a Christmas carol in 1865.   (Sidebar: did you realize another Christmas tune – this one of German origin – O Tannenbaum – was appropriated [with new lyrics, of course] to become the official state song of Maryland and Iowa, was formerly the state song of Florida and is unofficially the state song of Michigan?! Sorry for that diversion; now back to your regularly-scheduled program notes.) The tune "Greensleeves" was long erroneously credited as having been composed by none other than Henry the 8th of England. But it's not at all likely that he wrote it. The first truly legitimate reference to the tune recorded as "A New Northern Dittye of the Lady Greene Sleeves" we have comes from 1580 – a few decades after the death of Henry. And that original song's Italianate style of composition (in a rolling 6/8-time) was not known in Britain in Henry's time. Whatever its true origins, for me the hands-down most gloriously beautiful rendering of that tune is probably Vaughan Williams' "Fantasy on Greensleeves" which he originally composed for his 1924-29 opera "Sir John In Love" based upon Shakespeare's comedy "The Merry Wives of Windsor." (Fun little sidebar fact: Vaughan Williams originally planned to call his opera "The Fat Knight" but changed his mind when – as he composed the opera, it began to be more of a romance than the flat-out comedy which Shakespeare's play certainly is.)   This beautiful, brief interlude in the opera is only a simple statement of the tune lasting less than two minutes at the conclusion of Act IV, Scene 1. Vaughan Williams later decided (rightly!) it might make a nice brief-ish stand-alone concert piece and so he expanded the brief quotation from the opera by adding a middle section (in the opera, it's Mistress Quickly's somewhat bawdy folksong "Lovely Joan" from Act II) that offers a beautiful little contrast to the main "Greensleeves" tune. And finally, the Greensleeves section repeats (the entire brief piece is a simple ABA form) and that's that.   Scored only for two flutes, harp and strings, the piece is simple, absolutely beautiful – and a wonderfully apt piece for our Holiday Concert.
Serge Prokofiev: Peter and the Wolf — Unlike Ralph Vaughan Williams, Serge Prokofiev (1891-1953) probably DOES possess a household name – and to many people, that's due to one particularly beloved musical work:Peter and the Wolf. A remarkably complex man and also a spectacularly talented one, Prokofiev was a prodigious talent: a powerhouse of a pianist who shook up the musical world as a young man with his early, groundbreaking and dissonant works (particularly, his Scythian Suite – which is one of my favorite works) including his first piano concerto and the "scandalous" second concerto – with which he made an international name for himself in the west as both composer and performer.   Born into Tsarist Russia, his musical precociousness was noted early. His mother was a passionate music-lover and pianist whose musical drive influenced her son's interests. At the age of 11, young Serge was tutored in composition by the musically-conservative Reinhold Gliere, who gave him an excellent grounding in harmony and theory.
Gliere, incidentally: was some 16 years older than his pupil but would outlive him by three years.
Even as a student, he began to rebel against old-fashioned structure and harmony.   In his early adolescence, he impressed the famed composer and professor Alexander Glazunov (who himself had been a dazzlingly precocious composer who took the Russian music world by storm with his first symphony in 1881 at the age of 16) of St. Peterburg's famed Music Conservatory; Glazunov recommended the boy apply to study at the school, despite the fact he was considerably younger than the other students. Prokofiev was something of an oddball there. Besides his great age disparity with his (otherwise-) peers, his talent was remarkable and his imagination and ability to think well outside the box in a revolutionary new way all became part of his stock in trade. His age and talent tended to naturally set him apart from the other students.   But he was also a cold, not terribly nice person – making few friends and not caring much if he did. His arrogance and constant criticism of his classmates and their work didn't help, either. But that aloof, critical cold nature was a trait he carried with him throughout his life, and which caused much strife to those who were closest to him – but again: he didn't care.   To him, music was the beginning, middle and end.  And I think that it's important to remember that no matter how harmonically-challenging his music (particularly in his earlier years) might get at times, he himself wrote that the most important thing to a composer – and especially to himself: must be melody.   He believed that to create a melody that immediately resonated and communicated with the listener was one of the most difficult things a composer had to do – and especially so considering the fact that a composer must come up with ORIGINAL melodies.
His initial compositional efforts were directed towards the piano – whether solo or concertante pieces, but by the time of his early 20s and his shocking Scythian Suite (initially, it was to have been the ballet "Ala i Lolliy", commissioned by ballet master Sergei Diaghilev – who rejected the music before Prokofiev had even completed it) he had plunged headfirst into composing orchestra-centric works.   He fortunately left Russia for the West not long after the 1917 revolution and began to develop extremely sophisticated personal tastes (including a love of silk!) as his music continued to shock and as well: break down doors. He initially arrived in the US (in San Francisco) and it was in America where he believed his future and reputation would be built.   The 1921 premiere of his ballet "Chout" (also a Diaghilev commission – but this one was actually accepted and performed) in Paris was a huge critical success for Prokofiev and really made his name, particularly with the important modernists including Igor Stravinsky – who had himself already shocked the world and changed music (and ballet) forever a decade earlier.  He was commissioned by the Chicago Opera to compose an opera for them. The result was the satirical opera based upon the Carlo Gozzi play "The Love For Three Oranges." Its 1921 premiere wasn't well-received; even Stravinsky hated it and his antipathy to the work would cause a huge rift with Prokofiev. Prokofiev began to spend more time between the US and France, living primarily in Paris for many years, with time also spent in New York – where he was embraced by the progressive music community.   In 1923 he married – the operatic singer Carolina (Lina) Codina had been born in 1897 in Madrid to a Spanish father and a Russian mother who moved the family to Brooklyn in her toddler years.   Prokofiev regularly concertized on international tours (including to the Soviet Union in 1927) but his once-shocking music began to be less exciting to the audiences (primarily in Paris) who began to look upon him as passé. The young couple continued to jet-set as Lina developed her own career, but there began to be overtures made to Prokofiev by the Soviet government which yearned to have him return to the "home" country permanently – a home he did miss greatly.   The Soviets enticed him with promises of freedom and all manner of advantages; to have Prokofiev back on Soviet soil would be a huge coup for the Stalinist government.
Prokofiev was a bit naïve when it came to world politics and the true nature of his homeland – he considered himself "above" politics and – again: all that mattered was his music. Despite friction with the Soviet music union/hierarchy in the late 20's early 30's, he began to be courted to produce more work which was of a Russian (or more slyly: Soviet) character, comrades – and which would be premiered in the Soviet Union. He of course was flattered and began to deliver the goods: the film score Lieutenant Kijé (and later, Alexander Nevsky) and the balletRomeo and Juliet, before finally, in 1936: moving his family back to Russia. In that year, he composed (at the behest of the powers-that-were for the Central Children's Theatre) the musical tale "Peter and the Wolf" which we'll perform at our December 20th concert.
Unfortunately, the trap had been sprung, and like the wolf in "Peter and the Wolf", Prokofiev's tail had been lassoed; no matter how he struggled, the noose grew tighter. The Stalin Soviet government (which micromanaged its artists to an appalling degree) rejected his music and told him (increasingly) how to write, how to extol the Soviet Union in his music – which must be free of "formalism" – and which must not be modernist and (as they saw it) depraved, degenerate music. Music, after all: must serve the people, the homeland – and not the personal whims of the individual composer. Prokofiev should have learned the lesson of Shostakovich, who had been severely condemned following the production of his opera Lady Macbeth of the Mtsensk District in January of 1934. The communist party condemned both the opera and its composer and finally the grumblings about this "pornophony" (as the New York Sun called it in 1935) reached a boiling point with an anonymous editorial entitled "Muddle instead of Music" in Pravda in early 1936 which was widely believed to have been written by Stalin himself. In it, the writer warned that "this would not end well."   Thus began the period referred to as "the Great Terror." Artists, theatre people and musicians (as well as intellectuals, professors, scientists – the whole spectrum of accomplished people) had already begun to disappear, either sent off to gulags or more usually: simply executed.   In secret, of course – though their families found out.   Shostakovich spent many years with a packed suitcase, just KNOWING that one night a knock would come at his door at 2 AM and that would be that.   Not just Shostakovich, of course – but nearly all the Soviet Union's most imaginative composers.   And despite that, despite the fact that it was no secret, Prokofiev somehow thought he would be "above" all that; after all: his return to the Soviet Union had been a flattering courtship, hadn't it?
Unfortunately, no.   His early, imaginative and ground-breaking style was harshly steamrolled into a bland, proletarian, Soviet-virtue-extolling form, though being the genius he was, his personal and distinctive voice still could be heard – though considerably muted.   In addition to his "own" works (which were to follow the approved considerations) he was required to compose such works as Zdravitsa ("Hail to Lenin") and soundtracks to forgettable Soviet-worshipping films. He felt the pressure from that first wave of "terror" in 1936 but despite his best efforts to conform, he (and Shostakovich, who had also done his best, as well as Khachaturian – who was about as conformist as they got) and many others were ensnared again in the condemnations of 1948.   Never the best of husbands, in March of 1941 he unceremoniously left Lina and their two sons for 26-year-old student Mira Mendelson whom he'd been seeing for a couple years; Soviet law claimed that marriages which had been performed outside the Soviet Union had to be legally registered to be valid: as Serge and Lina's wasn't, Prokofiev claimed he was free to marry Mira – and did.   To make things even worse for his first wife, in 1948 Lina was arrested and sent off to the gulag for a 20-year sentence, though she was released after eight years of utter misery in 1956; she was later able to leave the Soviet Union in 1976.   To her own death in 1989 Lina claimed still to be married to Serge – and she outlived Mira, who died in 1968.   I have a fascinating 1986 recording of Peter and the Wolf narrated by Lina, in her impeccable English, learned as a child growing up in Brooklyn. And for what it's worth, Simon Morrison's 2013 book The Love and Wars of Lina Prokofiev is a remarkable read, and sheds much light on the many characters in Prokofiev's life – and his own.
But let's first conclude his career: his health began to decline in the mid 1940's and in 1949 Serge had a stroke. Though only 58, seemed like a completely different, feeble and infirm man. His health further declined and though it's claimed he fell and hit his head, suffering a cerebral hemorrhage on March 5, 1953, we really don't know for sure.   What we DO know of his death is remarkably ironic: it came on the exact same day his chief antagonist and terrorizer breathed his last: Joseph Stalin also died on March 5, 1953.   Apparently, the masses so crowded into the Red Square in the public outpouring of grief over the death over the "great leader" (which was, of course: required of the people) that Prokofiev's body couldn't be removed from his nearby apartment for three days. And the news of his death was completely obscured by the great amount of attention given to the departure of Stalin.
You just can't make this stuff up, can you?
Despite the constraints of the Soviet system, Prokofiev left behind a remarkable oeuvre including the seven symphonies (best known is probably the Haydn-parody first, the "classical") as well as two versions of the fourth, his five finished piano concertos (the third featured prominently in the 1980 motion picture "The Competition" featuring Richard Dreyfuss and Amy Irving,) the two violin concerti, the nine ballets of which Romeo and Juliet and Cinderella are best known, the Alexander Nevsky Cantata (expanded from the film score,) the film music from Ivan the Terrible, some really great piano music including the "Sarcasms" and much much more. But probably best known of all:
Peter and the Wolf.  In June of 1935 Prokofiev unexpectedly showed up with his family at the theatre operated by Natalia Satz, to her great shock. She watched him throughout the performance, which she herself wrote "went badly" – and afterwards, when they met, she described him as "stiff and haughty." But – she cultivated a relationship with the family, who returned to the theatre frequently, and with far better performances of other pieces. She "dreamed of making him write something for us" and finally claimed to conceive the idea of a fairy tale for symphony orchestra with music and speech combined. When the Central Children's Theatre opened, she invited Prokofiev to the new facility (which she operated) and eventually did ask if he'd consider writing such a piece…albeit for a pittance. After missteps (he hated the libretto which Satz had commissioned a poet to create – and had promptly "thrown it out") he began to write, and within two weeks had composed and orchestrated the entire piece – and had also written the narration himself. Prokofiev himself thought it was a major disaster at its first performance on May 2, 1936 – which he apparently conducted and perhaps even narrated.   Three days later the piece was performed by the children's symphony orchestra of the Central Children's Theatre at a festival of Soviet art; Prokofiev (according to Satz) decided to "watch from the sidelines this time" and the performance was entrusted to another conductor – and presumably with a separate narrator. This was to be an important concert with international guests (including some from the US, France and the UK) who were fully aware of Prokofiev and his music – and the fact that this would be the first work he had composed since returning to live in the Soviet Union. And fortunately, at that second performance, it was an immediate hit. A huge hit. An international hit. And it wasn't long before the story and music were adapted all over the world, with perhaps one of the most famous versions (albeit with major alterations to the story) being the 1946 animated short from the Walt Disney Studio. Disney himself told of the time Prokofiev visited the studio in 1938 – when he still COULD, thanks to the Soviet authorities – and played sections of the score on a studio piano for Disney.
(It seems almost unnecessary to report that Natalia Satz herself spent time in a Stalinist Siberian prison camp…but managed to write her memoirs, which were published in 1979 when she was 73.)
There have been countless narrated versions performed and recorded, sometimes from the podium (as will be the case with our concert – with intended fidelity to the narrated story!) and some of the more interesting adaptations have included one narrated by "Weird Al" Yankovic with the score synthesized by Wendy Carlos, Allan Sherman's "Peter and the Commissar" and Peter Schickele's "Sneaky Pete and the Wolf." Famed narrators in recorded performances have included Prokofiev's son Oleg and grandson Gabriel (of course I have that one, too!), Boris Karloff, Patrick Stewart, Bill Clinton, Sophia Loren, Cyril Ritchard, Eleanor Roosevelt, Basil Rathbone, Peter Ustinov, Leonard Bernstein, Captain Kangaroo, Sean Connery, David Bowie, Sting, Sharon Stone – the list goes on and on. Not too many people know that this wasn't Prokofiev's first essay at the storytelling form: in 1914 he had set the Hans Christian Andersen "The Ugly Duckling" to music, for singer and piano. But with Peter and the Wolf, he explored new territory, with each character in the story represented by a musical instrument or section. I hesitate to tell you more because 1) it's such a famous piece and 2) the piece explains itself via the narrator.   All I can say is come experience it for yourself, in a rare live concert performance by your very own Mariposa Symphony Orchestra – and make SURE to bring as many kids as you can!
Leroy Anderson: Sleigh Ride — Next: a wonderful, immediately-recognizable evocation of a horse-drawn sleigh, composed by a highly successful American arranger/composer: Leroy Anderson (1908-1975.) And it's even more fun to hear the piece when you realize that Anderson actually composed it not in winter, but in the midst of a very hot summer!
Anderson was born in Cambridge, MA, graduated from Harvard and got his start as a conductor leading the Harvard Band. When he guest-conducted the Boston Pops at age 28 in his own music, dynamic conductor Arthur Fiedler immediately asked Anderson to compose/arrange for the Pops, beginning a lengthy and highly successful collaboration. Many of Anderson's arrangements for the Boston Pops became instant classics in the American light classical (or "pops") genre and in fact, became international hits, too. A 1950 Decca Records contract resulted in recordings in which Anderson conducted pick-up studio orchestras in New York in his own works – and those recordings provide us with the composer's own specific interpretive preferences. His legacy of well-known light popular symphonic scores includes: The Typewriter, Sandpaper Ballet, Bugler's Holiday, Belle of the Ball, Trumpeter's Lullaby, The Syncopated Clock, Blue Tango, The Waltzing Cat, A Christmas Festival (and three lesser-known but wonderful Suite(s) of Carols each for Woodwind, Brass and Strings.) As I've noted, Anderson conceived Sleigh Ride during a July 1946 heat wave; it was first recorded by Fiedler and the Boston Pops in 1949. While Anderson composed it as a purely-orchestral piece (which is how it's most commonly heard,) lyrics by Mitchell Parish were approved by Anderson in 1950. Anderson's own recording of the piece with a NYC pick-up orchestra under his Decca contract made the best-seller chart in its 1952 release. For many decades Anderson's Blue Tango was considered his greatest hit, but Sleigh Ride eventually became his most memorable and most often-performed work. Interestingly enough, Anderson never considered the piece a Christmas – or even a holiday work: just a piece of wintery music. Special effects to listen for: besides sleigh bells, Anderson uses woodblocks to capture the sound of the clip-clopping horses' hooves, a slapstick to reproduce the cracking whip and of course, that now famous horse whinny near the very end of the piece by a half-valved trumpet glissando.
Anderson is still considered the king of American symphonic pop music – it's a title he richly deserved.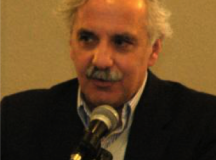 Les Marsden: Sierra Christmas Party — The less said about this one the better: Sierra Christmas Party has closed each MSO December concert since our very first concert: twelve years ago on December 21, 2002. Quickly (or recklessly?) composed by a certain unfortunate individual at the instigation of Miriam Costello, over the last decade the piece has had additions from time to time until it got so out of hand I decided to cut it back down to what I considered to be its optimal length and froze it there!   And with that, I simply want to say that we're looking forward to you joining us on December 20 at 7:00 in the Fiester Auditorium so all the musicians of the MSO can musically wish you a wonderful Christmas, Happy Hanukah, Winter Solstice, Happy Kwanzaa, Feliz Navidad, Joyeux Noel, Pancha Ganapati, Jolly Yule— as noted at the start of these notes: from the MSO's very beginning, I wanted our annual Festive Holiday Concert to be an evening during which we might all come together under the finest of circumstances for a little good old-fashioned musical Holiday joy—best summed up by the (spoken) final line of Sierra Christmas Party. No matter what holiday you celebrate, the line works for 'em all and so please: feel free to join in if you remember that line!
The Mariposa Symphony Orchestra's 2014 Festive Holiday Concert will be held on Saturday, December 20 at 7:00 PM in the Fiester Auditorium of Mariposa County High School. Tickets are now available at an astonishing $6 for adults and $4 for students at the Mariposa County Arts Council's office at 5009 Highway 140 in Mariposa (top floor of Chocolate Soup) adjacent to the Mariposa Art Park. For more information call 209.966.3155.   Tickets are also available at the Mariposa Visitors Center across from Miners Roadhouse – call 209.966.7081.
Hope to see you in Mariposa on the 20th and until then, Happy Holidays from YOUR MSO!