Saturday, April 6 at 7PM
Fiester Auditorium
Mariposa, California

and

Sunday, April 7 at 2pm
The Ahwahnee Hotel
Yosemite Valley, California
---
Notes by MSO Founding Music Director and Conductor Les Marsden –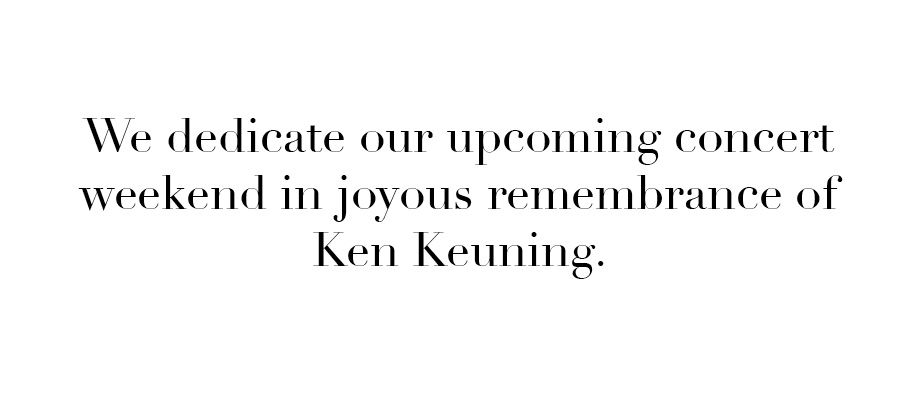 Ken Keuning in the Ahwahnee Hotel, Yosemite National Park – for our April 26, 2015 MSO Concert
I vividly remember phoning Ken Keuning back in August of 2002 – a man I only knew as a name and phone number; he knew even less about ME. He had been suggested to me during my search for local musicians as one who might be interested in this new enterprise – this little Mariposa salon orchestra, or Mariposa chamber orchestra, or Mariposa WHATEVER it would turn out to be: that I was throwing together. Ken – characteristically: was happy to jump into anything having to do with music, and with his background as a retired music teacher – and his
history as a string composer and arranger – as well as the fact he played (among MANY instruments) the viola – one of my favorites: I was extremely happy to make his acquaintance. And then we met, on that evening of our first rehearsal – September 16, 2002. He was, from Day One: the principal violist of this new musical enterprise – an ensemble which would grow from 17 that first night to 31 by our first concert three months later – thereby justifying (to my surprise) a group large enough for me to formally dub this nascent being as the "Mariposa Symphony Orchestra" – a group which became 45 by our second concert and then – well, but that's another story. Throughout those early years, and on into the ensuing ones right into 2019: Ken was our principal violist. Except – the rare occasion I programmed an all-wind piece, and Ken wanted to play trombone and I was happy to have him do so. But principal violist of the MSO he was, and remained so to the very end – an end that came, sadly: the very day after our first rehearsal of this year, a rehearsal on Monday, January 28, 2019. We lost Ken the very next afternoon – it's strange – VERY strange to me that I can chart to the very day I met someone to the very last day I knew him, but with Ken – yes. We knew each other from September 16, 2002 to January 28, 2019. And I'm so sorry to have received that call the next day, sharing the news directly with me from his emergency contact. News shared with me before his next of kin heard it, before his closest companion – news I wish I had never heard, and which I then passed along to Ken's kith and kin.
But I don't want this concert weekend dedicated to our respected friend and founding member of the MSO to be a sad event. No WAY. And Ken wouldn't want it to be maudlin or somber either – and so, it will NOT be. It'll be a celebration – of music, of a life well-lived – the life of Ken Keuning, founding principal violist of the Mariposa Symphony Orchestra.
In the Spring of 2013 the MSO was honored to be joined by not one but two magnificent guest soloists for our performances of Johannes Brahms' "Double" Concerto for Violin, Cello and Orchestra. Famed cellist Ira Lehn had soloed with us before (and would do so again) but the violinist he suggested we bring in to play opposite him in the Brahms was new to me: Ann Miller.
She (I was told) teaches violin at the University of the Pacific and was Juilliard-trained, had traveled widely and had much experience in all aspects of concert music – but when she attended our first rehearsal I was absolutely stunned by her flawless technique, remarkable ear and heart-melting tone. And – as a conductor/music director: was blown away and thrilled. As we later played the Brahms in Mariposa at the Fiester and then in the Ahwahnee Hotel that April, I was tickled to share Ira and Ann with our audiences, who were clearly raptured by these musicians. Immediately after the final (Ahwahnee) concert – and even as the standing-ovation audience was still applauding, Ann turned to me to say she'd like to return to play with the MSO again. I (delighted) suggested we next collaborate by offering our audiences the greatest Violin Concerto ever written – that of Pyotr Ilyich Tchaikovsky – and she immediately agreed.

And so: I'm thrilled to have Ann Miller back as soloist with the MSO, as I know you'll be. Working around the centerpiece of that most famous and magnificent of all violin concertos, I decided an all-Tchaikovsky concert would be in order, but rather than programming the constantly-played warhorses by this, the greatest of Russian composers, I decided to offer some of his lesser-known music in contrast with the concerto. This is music that's in some cases rare, but – as is ALWAYS the case with Tchaikovsky's compositions: well done. Pieces written over a span of his lifetime from 1866 to 1890; from the age of 25 to 50 – from an early piece that surely prompted his inspiration many years later as he started to compose the "1812" Overture, to his penultimate – and perhaps finest opera – composed just three years before his early death at 53.
First, a little biographical background on Tchaikovsky, and then my notes on each of the concert's four pieces. And following that, a little information about Ann Miller, our Guest Violin Soloist.
But a note on dates is important. Imperial Russia, unlike nearly the rest of the world at the time: followed the Julian Calendar; just about everyone else was on the Gregorian Calendar. Russia wouldn't adopt the Gregorian Calendar until 1918. And during the 19th century, the rest of the world – the Gregorian-utilizing countries – were 12 days ahead of the Julian-dictated Russia, so – for example: Tchaikovsky was born (according to his country's calendar of the time:) on April 25th, 1840 – though nowadays we refer to his birthdate as being on May 7th, 1840. And to keep things clear and consistent, all the dates I've used in the following are the dates as they occurred in Russia, during Tchaikovsky's own lifetime – they all follow the Julian Calendar. So though I might write (for example) that his Violin Concerto was finally played publicly for the first time in Russia on August 8, 1882 – to the rest of the world, and to us: it was really August 20, 1882.
PYOTR ILYICH TCHAIKOVSKY (1840–1893):
How to define Tchaikovsky? Well, he was certainly one of the greatest melodists ever. And not surprisingly – one of the most famous composers of all time, if not always by name, simply due to the ubiquity of his music – music known not only to concert audiences, but to just about anyone who's ever heard music. Anyone who's ever watched films, or seen television programming or enjoyed cartoons; from the love theme from Romeo and Juliet, to 1812 Overture, to the Nutcracker Ballet (and especially the suite) – and also his Sleeping Beauty and Swan Lake ballets and the first piano concerto and, well: it goes on and on. He's one of the world's most beloved composers, hands down. Period. But he was also one of the greatest of all orchestrators, a wonderful music theorist, a harmonist of incredible imagination – and, especially in his final works: in some ways a musical revolutionary. THAT's not a word often applied to Tchaikovsky, but in the case of his 6th Symphony (the "Pathetique") and other late compositions – it's true.
Now I may sound a bit biased, and well: I am. To me, great music must touch our hearts as well as our minds. With nearly no exceptions, we don't sit back and appreciate structure, or musical architecture, without the content of a piece of music also reaching out to us, into us – from a composer to the audience. Music, or at least memorable, great music must: connect to our emotions and not merely our intellect alone. Sure – one can admire the technique of a composition, even if it's conceived along flat-out academic or theoretical lines alone. But it's tough to love such music if it doesn't also stir passion, or touch the soul, or make one chuckle or feel sadness or giddiness or melancholy or any other of the myriad emotions which we all share and which ultimately make us HUMAN. Which may help to explain why the composers who rank among my favorites are those who could do just that. And Tchaikovsky is high in that pantheon. Few composers could so brilliantly tap into the universal emotions we all experience and then – miraculously: share those emotions so clearly through their music. Even those listeners not conditioned to or raised with the sound of so-called Western music recognize human emotions in well-written music. And amazingly perhaps: the music of Tchaikovsky continues to touch us across the centuries, certainly across national borders and by bridging continental differences.
Tchaikovsky was born in 1840 in the Votkinsk region of Russia, a largely metallurgically-important industrial area even to this day – then a largely rural and remote area of central Russia about 700 miles east of Moscow. Fortunately, the boy's father (Ilya Petrovich Tchaikovsky) was considered to be Russia's leading metallurgist, and as the government bureaucrat in charge of mine inspections in the region, the family was consequently quite well-off. Tchaikovsky's mother Alexandra (d'Assier) – to whom the boy was utterly devoted: was some 18 years younger than her husband and of French ancestry. Besides the second-born Pyotr, the offspring consisted of his elder brother Nikolai, the younger Ippolit and lastly the twins Anatoly and Modest. Modest would prove to be closest to Pyotr and ultimately, his librettist, biographer and chronicler. In addition to the five boys, there was the one girl (also named, like her mother) Alexandra, born one year after Pyotr in 1841 – and all the Tchaikovsky children were raised with the best education possible. The children were brought up (particularly) with great respect for, and wide-ranging knowledge of the arts, which both parents valued highly. Additionally, Father Ilya had a daughter – Zinayda – from his first marriage, which had ended with the death of his first wife in childbirth.
Young Pyotr was high-strung and highly sensitive. He was also a Francophile not only due to the maternal blood running through his body but also because of the children's French governess Fanny Dürbach, who was Pyotr's senior by only 19 years and to whom Pyotr would remain close until his death. He demonstrated great love and very high aptitude for music at the earliest age but was also plagued at times by music he heard in his head – and wasn't able to stop hearing: it would at times prevent him even from sleeping. When the child was eight years old, the family moved to St. Petersburg, and then Moscow a few months later. The following year, they moved yet again (all due to Dad's work) to the Ural Mountains town of Alapayevsk, about 250 miles further east past Votkinsk, where the boy had spent his earliest years. And then, two years later: it was determined the child would have a career in law, and at the very tender age of only ten he was summarily packed off across that vast country to the School of Jurisprudence in St. Petersburg: shunted abruptly some 1300 miles due west, and alone: from the sticks of the Ural Mountains all the way to Russia's grandest, most European city. For two centuries St. Petersburg was also the capital of Imperial Russia, until 1918. As glorious a place as St. Petersburg was, the 10-year-old's world was turned upside down. From his sheltered, protected family home with his siblings and beloved parents in central Russia to the most modern, and second largest of Russia's cities. It's a city long described as Russia's window on the west – even during the Soviet years when the city would be renamed Leningrad (after a few years as "Petrograd" in the waning days of Tsarist Russia.) The shock and loneliness were devastating to the boy, but his parents thought it the best thing for him. A future in the field of law, life in a cosmopolitan big city.
Music at that time was not fathomable as a career other than as a professor or instructor, which was – seriously – deemed to be nearly as low on the societal totem pole as it was to be a serf or peasant. When the boy was age 14 he had another terrible, huge shock when his mother suddenly died of cholera back home. The young Pyotr was hugely devastated – it was a pain he would carry to the end of his life, noting not long before his own death the mental remembrance of that event 40 years earlier was just as fresh and painful to him as it had been at the time. Perhaps as consolation, in 1855 Tchaikovsky's father did establish private music lessons for his son as Pyotr continued the study of law at the School of Jurisprudence. And I do have to say that despite all this, when – years later – Pyotr yearned to be released from law in order that he might become a professional composer, father Ilya understood and was supportive of his son. But for now, the young Tchaikovsky's music teacher pronounced him (in a letter to his father) as not possessing any traits or talents which (in his eyes) could see a future in music for the boy. All I can say about that is: wow. History is littered with so many incorrect pronouncements.
Pyotr graduated from the School of Jurisprudence at 19 and immediately began a career as an assistant in the Ministry of Justice – but during that humdrum tenure he (at age 21) continued his musical studies in 1862 at an accelerated level at the just-established Russian Musical Society's Music Conservatory in St. Petersburg. At the same time, he also developed the image of a social gadfly: a hard-partying, perhaps-irresponsible young man who began to dabble in a number of questionable activities – a fashionable if kopeks-bereft rake who became well-known within the city's gay nightlife. He never allowed the lack of funds to stand between himself and a good time, sometimes to the horror of his friends. Money simply puzzled him – and he was never able to comprehend finances throughout his 53 years. And so he just kept living as if he HAD money when – at least for the first few decades of his life: his pockets were empty.
The Royal Music Society and consequently its Conservatory were the creation of Grand Duchess Elena Pavlovna (Tsar Alexander II's aunt) and the pianist and composer Anton Rubinstein – perhaps the most famous Russian musician of the day. Rubinstein was to play a pivotally important role in Tchaikovsky's training and future. Fortunately, this was a time of renaissance in Russia when it came to the arts – as the importance of all the arts which Peter the Great had initiated was now coming back into vogue, some 140 years after that forward-thinking Tsar's death. And St. Petersburg was considered to be Russia's most culturally/artistically important city.
Anton Rubinstein's younger brother Nikolai was also to become an extremely important proponent, advisor and at times, critic of Tchaikovsky's music – and to compare those brothers, fiery first-born Anton was considered to be an astonishingly gifted virtuoso pianist whose performances at the keyboard could leave an audience feeling physically drained, and he was also a prolific composer and conductor, while the younger brother Nikolai was the far more introspective pianist – and only composed a small number of pieces, noting that his big brother Anton composed "enough for three." As Anton had founded that first Russian Musical Society's St. Petersburg conservatory in 1862, the younger Nikolai would later found the Moscow branch of the Conservatory in 1866 – becoming important in the career of Tchaikovsky, as I'll write in just a little bit (see my background information on the Festival Overture on the Danish National Hymn below.)

Tchaikovsky was in the right place at the right time. The Russian government had decided to train its own and emphasize the Russian arts and as well, to raise the esteem of the arts in the country. And so with that 1862 opening of the St. Petersburg Conservatory, Tchaikovsky continued his studies – at a new level of dedication and validity. And it wasn't just conservatory training: as the arts were blooming all over Russia, this was also the time during which the "Mighty Five" were planting their own "anti-conservatory" musical seed – as I've noted in past programs when we've presented the music of Mussorgsky, Rimsky-Korsakov and Borodin (the other members of that cadre were Cui and Balakirev.) To make a long story short, Tchaikovsky quickly distinguished himself as a student – and during that pivotal year of 1862 left the Ministry of Justice for good following his three year career there: at the age of 22 he finally became a musician for life, albeit still a student one. But in his final year as a student, his music received its first professional public performance on September 11, 1865 when his "Characteristic Dances" was conducted by none other than the visiting famed Johann Strauss (II) at a concert in Pavlovsk Park – yes, THAT Johann Strauss. Tchaikovsky learned of the concert just a little too late to be able to attend, but from all accounts, the first public non-scholastic performance of Tchaikovsky's music was a success.
Upon graduation from the St. Petersburg Conservatory, Tchaikovsky was hired in 1866 to teach at the newly-opened Moscow sister branch of the (RMS) conservatory under its founder: the younger Rubinstein brother Nikolai, at the urgings of his brother Anton. Tchaikovsky taught while also serving as a music critic for many years; (late in his single decade career as a critic, he notably attended and reviewed the first performance of Richard Wagner's four-opera cycle The Ring of the Nibelungen from August 13 – 17, 1876 in Bayreuth, Germany. He was not terribly amused.)
As noted earlier, money woes were to plague Tchaikovsky to the end of his life; he had no concept of living frugally. But as his music became better known through the years and his admirers grew in numbers, he was contacted in 1876 by the rich railroad widow Nadezhda von Meck – who was enamored of his music, absolutely enraptured by it. She offered him an annual income which would allow him to focus on composing music; his breakthrough fourth symphony was consequently dedicated to von Meck ("to my dearest friend") and their relationship was one of the strangest in all history: his income was contingent upon their never meeting in person. And aside from one brief, uncomfortable, wordless encounter during which Tchaikovsky nervously tipped his hat and they moved on without missing a step; (at a distance, mind you!) on the grounds of her estate (an estate that included the young Claude Debussy as resident pianist!), they never did. But they corresponded constantly, leaving volumes throughout their 14 year association. Their 1,200+ preserved letters (which I've read in their entirety) reveal a remarkable portrait of the man and his (as they referenced each other:) "Beloved Friend."
Early successes by Tchaikovsky included his "Romeo and Juliet Overture" of 1869 and his First and Second Symphonies (the latter subtitled the "Little Russian") – both of which the MSO has performed over the past few years – as well as the final 1880 (famous) version of the "Romeo and Juliet Fantasy Overture." As his fame grew, the works he composed were to become world-famous; from the eventual six symphonies to the Festival Overture "1812," the three piano concertos (the first of which is probably the best-known and loved piano concerto ever written) as well as the violin concerto (ditto re: best loved/known for THAT genre,) innumerable orchestral works, the string quartets and much more chamber music, all the solo piano music, the "Swan Lake" and later "Sleeping Beauty" and "Nutcracker" ballets, the 11 operas including "Yevgeny (Eugene) Onegin," "The Maid of Orleans," "Mazepa," "Cherevichki" and "The Queen of Spades:" he was a master nearly from the start. In 1892, he was named a member of France's distinguished Académie des Beaux-Arts, only the second Russian to be so honored. By the end of his life, he had received honorary degrees from (among others) Cambridge University in England – and was truly an honored and respected composer of the first rank in his own lifetime. In Russia, he was a national treasure – known and beloved quite literally throughout the vast country and amongst all its varied social classes.
In the 1880s, Tchaikovsky began studying a new (to him) discipline of music, and then slowly embarked upon a new career: as a conductor. He was never wholly comfortable conducting symphony orchestras, and it was written by some of his colleagues (and by himself) that perhaps some of his own premieres suffered through his less-than ideal conducting. But: the world wanted to see Tchaikovsky, and he could earn needed money by showing himself to the world. Early on, he wrote of having to use only one hand to conduct, the other being necessary to hold his head in order to prevent it from falling off.
As a man? He was described by all who knew him, in all the scholarship I've read: as remarkably charming. A magnetic, glowing personality, but one who wasn't necessarily aware he possessed such attraction and charm. He had a childlike naiveté – which may seem surprising considering the level of sophistication of his music, of his world travels, his knowledge, the circles in which he traveled. The cosmopolitanism of the man. But he seemed totally unchanged by fame and success; never becoming cynical but always approaching life with eyes-wide-open wonder. Small things could evoke joy in him – and nature was one of those things. He walked every single day, rain or shine, snow or sleet – and usually up to ten miles each day. Whenever he was in a major city, he reveled in the opportunities, spending every night at the theatre, or enjoying opera – a non-stop social life. But his greatest joys were reserved for home life in a house he rented in the town of Klin, outside Moscow – where he only occupied the upper floor of his own home, giving the lower floor over to his loyal servant Aleksey Sofronov, and Sofronov's family. It was in that house, incidentally: that Tchaikovsky touched up and edited his 1866 "Festival Overture on the Danish National Hymn" which is on our program – final refinements to a work composed 25 years earlier by a man in his twenties – in order that the piece could finally be published in 1892.

By 1891, he was so celebrated throughout the world that he became the star attraction when Carnegie Hall opened in Manhattan and he was feted there like the legend he had become, conducting his own music at the opening; his time in America took him to Niagara Falls and Baltimore, in addition to those few days in Manhattan. But at that time – at the age of 50: he looked and sounded more like a man of 70. He no longer smiled for photographs because – as he wrote: he had lost some of his teeth and he declined from public speaking as well. His hair was starkly white and he felt old and tired. At times, he also felt himself (incorrectly, of course) to be "written-out" – to have no more music in him. How wrong he was; some of his greatest, most accomplished music was to come in those final couple of years. He did, however: plan to stop composing altogether before the turn of the 20th century, before he turned 60. Although I very much doubt he actually WOULD have stopped writing. The need to express himself in music was just too strong.
He had written 11 operas ranging from his first: 1867-8's "The Voyevoda" to 1877-8's "Yevgeny Onegin," 1878-9's "The Maid of Orleans" (Joan of Arc) and 1890's "The Queen of Spades" – with perhaps the greatest of his operatic output based upon the works of Pushkin ("Onegin" and "Queen of Spades") though I have to say there's really not a weak work in all of his operas. Tchaikovsky was born to compose for the stage, with an inner sense of the drama of music, one of the greatest natural abilities to compose for ALL aspects of dance beyond any other composer I can imagine – and that talent wasn't demonstrated only in his 11 operas and three ballets. The sense of rhythm, of dance: runs throughout all his music, and perhaps that's another reason it speaks so well to us – to OUR sense of rhythm – our heart beats, our toe-tapping – the need to move in all of us.
That sense of drama and of movement came to a final demand when Tchaikovsky was commissioned to compose a two-act ballet and a one-act opera – both to premiere on the same evening's bill at the Mariinsky Theatre on December 18, 1892. The subjects of both works were to be of Tchaikovsky's own selection, and he opted for two stories he'd always enjoyed and thought would be appropriate for Christmastime performances. The ballet was to be "The Nutcracker" (based upon the E.T.A. Hoffman tale of the Nutcracker Prince and the Mouse King) and the opera was "Iolanthe," based upon "Kong Renés Datter" ("King René's Daughter") – a Dutch play by Henrik Hertz, with the opera's Russian libretto written by Tchaikovsky's brother Modest. Tchaikovsky wrote after the premiere performance: "Apparently the opera gave some pleasure but the ballet not really and as a matter of fact despite all the sumptuousness it turned out to be somewhat boring." And as I hope you know from our past performances of the Suite from that Nutcracker Ballet, he wrote some of his most exquisite music FOR that work.

In 1892 he began a symphony in Eb, which he subtitled "Life" – but by November of that year had abandoned it. He wanted to write a grand, meaningful capstone of a symphony, but came to realize this WASN'T it. My opinion? He had already done so! His 1888 fifth symphony is an incredible exhibition of a masterful, grand and spectacular symphony – as is his 1885 symphony-in-all-but-name "Manfred" – which had been composed 8 years after the breakthrough 1877 fourth symphony dedicated "to my best friend" – Nadezhda von Meck. But still that need burned within him.

He'd later (in his final months in 1893) rewrite the first movement of that abandoned 1892 Eb Symphony into his third (one-movement) piano concerto and after his death, his one-time student and extremely well-trained composer Serge Taneyev would turn the second and fourth movements into the Andante and Finale for Piano and Orchestra. In the 1950s, the Soviet musicologist Semyon Bogatyrev actually reconstructed the entire symphony from Tchaikovsky's notes and the extant piano works. It's interesting, but Tchaikovsky was definitely correct to abandon it as "uninspired." I'm sure his experience of trying to conjure something meaningful from his need to simply work every single day, to compose during his work hours whether he felt the muse or not: had shaken his self-belief, and had added to his feeling of being "written-out."
But then: genius struck with a lightning bolt. And Tchaikovsky rapidly planned and then executed an amazing symphony – one that would NOT end – as symphonies always had: with an impressive, grand or loud, fast movement. No, instead, THIS symphony would end quietly, dying away – a requiem of sorts. A fulfillment of Tchaikovsky's obsession with fate, with life – and with death. Tchaikovsky conceived of the idea of a "programme" symphony that would be written around a subjective theme – one which, as he mentally planned the symphony, caused him "to weep" as he wrote his nephew Bob Davidov, who would eventually become the dedicatee of this symphony. Quickly written from mid-February and March of 1893 and then orchestrated in a little over three weeks that July and August, it was premiered under the composer's baton on October 16/28, 1893 (Julian Calendar/Gregorian Calendar.) An innovative, revolutionary symphony that would make possible the later works of Mahler, inspire Shostakovich – and countless other composers to come. A symphony nearly unimaginable as having been conceived by the relatively conservative monarchist Tchaikovsky. And yet, an astonishing work that could ONLY have been written by Tchaikovsky. A composer who had just scaled an ever-higher peak in his creative powers; a man by no means "written out."
In his final months, he was eagerly planning travels both in and outside Russia to conduct his music, as well as the music of other composers. And despite his plans to wind down his composing career, he was planning many more pieces, including a concerto for two pianos and orchestra, a flute concerto, a cello concerto – and revisions of some of his earlier operas. He was also tantalizingly considering new operatic works, including an opera on a subject that had captivated him since 1869 – and which had already provided him with the inspiration for an Overture (in its three incarnations:) Shakespeare's Romeo and Juliet. He had assiduously studied English for years, and apparently had become quite fluent in the language. His favorite author in that final year or two? Mary Ann Evans, who of course is far better known under her nom de plume: George Eliot. And Tchaikovsky was seriously considering beginning composition of an opera upon Eliot's "The Sad Fortunes of the Reverend Amos Barton" – but was also captivated by her "The Mill on the Floss," "Adam Bede," "Silas Marner" and "Middlemarch." And after reading Eliot's "Mr. Gilfil's Love Story," THAT bit of Eliot's writing knocked "The Sad Fortunes of Amos Barton" out of contention, becoming the composer's new favorite intention for musical adaptation. Unfortunately, it was not to be.
Tchaikovsky was to die on October 25 (JC)/November 6 (GC), 1893 – nine days after conducting the premiere of his remarkable 6th Symphony, which he subtitled "Pathétique" – and which stands as my favorite work of music – and not just of Tchaikovsky's music, but of all music. (Incidentally: "Pathétique" does NOT translate into "pathetic." In French – the language that was a second tongue to the composer – it means "passionate" or "poignant.") That premiere of the 6th – was to an audience that didn't really get it. The normally-sensitive Tchaikovsky, who would have usually taken the lack of interest by both audience AND his musicians in his final symphony very badly: didn't. For once, he retained confident in his latest musical child (he usually DIDN'T) and he was of course correct: at a memorial concert during which the 6th was offered under the baton of his friend Eduard Napravnik, they now UNDERSTOOD it. They GOT it, this novel symphony that ended THAT way, and contained THAT remarkable music, and from that moment, from that second performance: the "Pathétique" has become a favorite of audiences everywhere. As it became my own favorite work from the first time I heard it, immediately: 50 years ago when I was a pre-teen. As noted: my favorite work by any composer, any era.
And just what WAS the cause of his death? Cholera – the very same water-borne disease he had despised and feared since the age of 14 when it took his beloved mother away. And despite the sensational third-hand whispered, unsubstantiated – and ultimately disproven rumors that came out of Russia 40 years ago: Tchaikovsky did NOT commit suicide after being found guilty by some sort of "court of honor" at the School of Jurisprudence he had attended as a youth. Found guilty of some sort of homosexual scandal; the details of that story are absolutely ludicrous – and have been all totally refuted. Matter of fact, I just finished reading a fascinating book dedicated solely to Tchaikovsky's final weeks, and in the virtually minute-by-minute documented activities of the composer, there was no time for that alleged "hours long" secret hush-hush court of honor (and the males-only School of Jurisprudence itself was a hotbed of sexual escapades, and not to conflate the two, but while technically illegal, "homosexuality" was an acknowledged part of 19th-century Russian society, with many high-profile gays including some right in the royal family) – the bottom line being: if you've heard this silly story well, it's false. Tchaikovsky died ultimately of uremia due to cholera's devastation of his body; St. Petersburg was in the throes of one of its someone common cholera epidemics, and his four physicians (including those who were usually the doctors of the royal family) gave detailed reports (confirmed by those close to Tchaikovsky who were allowed into brother Modest's apartment where the ailing Tchaikovsky spent his final few dying days) of all the symptoms and epidemiology of cholera. Period.

In 1893, in those final months Tchaikovsky had left him, he went from the unbridled, wide-eyed youthful joy of The Nutcracker to (ultimately) that final, brilliant masterpiece – the Pathétique. What might he have produced had he lived beyond 53? He was at the absolute height of his creative powers, of fame, of mastery of music – what else might he have had in him? Unfortunately, we'll never know. Tchaikovsky was by nature a bit of a sober man, despite that childlike love of and fascination with simple things, despite his love of having a good time. And despite his generally upbeat personality, he could be somber – even for a Russian in the waning decades of the Tsarist regime. But he could—and frequently did: write music that is uproariously happy, even when his personal life was in devastated turmoil. Just between us: he was far more than a penner of great tunes. Though he broke down few doors in the manner of a Beethoven, he truly knew what to do with those tunes, with form, with harmony.
His death was a national – and even international loss. Seriously. Tchaikovsky's name and music were known and beloved the world over, already. Front-page news in New York, in London – and in all other world cultural meccas. Back home in St. Petersburg, he received a massive state funeral, with all expenses paid by the ailing Tsar Alexander III, who wrote (with regal reserve, of course) "we have many counts and barons, but only one Tchaikovsky." And from the Tsar's son, Tsarevich Nikolai Alexandrovich, the man who would become the final Tsar of all the Russias: the ill-fated Nicholas II, only a year later – well, he could only write in his private diary upon hearing the news: "A terrible misfortune happened yesterday – our wonderful composer Tchaikovsky died."
As for Nadezhda von Meck – the woman who endowed upon spendthrift Tchaikovsky the great gift of financial security? In 1890 she suddenly, with no warning, painfully cut Tchaikovsky off from further endowments, claiming bankruptcy. She wasn't, though her empire was suffering fiscal loss. She was, however—at age 59: dying of tuberculosis and knew it. The 49-year old composer was devastated, wondering why? WHY? Had he had offended her? Though by now world-famous and able to support himself, he never knew the true reason for the break. They were rumored to be reconciling (vicariously) in late 1893, though not back in communication, when Tchaikovsky succumbed to cholera at the age of 53 just nine days after the premiere of that final, brilliant Sixth Symphony, the "Pathétique." And von Meck followed him to the grave some six weeks later from her terminal consumption – (tuberculosis as we now call it) —as her daughter wrote: unable to survive the death of her "Beloved Friend" – that beloved friend she never met.
But now let's have a little bit about his music – the music on our all-Tchaikovsky MSO concert weekend.
Romeo and Juliet Fantasy Overture (First Version, 1869)
Pyotr Ilyich Tchaikovsky, (1869) – at the age of 28 – 29, during the period of his composition of the first version of his Romeo and Juliet Overture-Fantasy
Three of Shakespeare's plays would become the focus of Tchaikovsky's compositions: "The Tempest" Fantasy, "Hamlet" – for which Tchaikovsky composed his "Hamlet Overture-Fantasy" and then nearly immediately afterwards, composed about an hour's worth of incidental music to accompany performances of the play (with a condensed version of the "Hamlet Overture-Fantasy" as part of that incidental music,) and finally: Shakespeare's famous love-tragedy "Romeo and Juliet" – which would result in the three versions (1869, 1870 and 1880) of Overtures/Fantasy-Overtures, a duet scene using themes from the overture(s) in the late 1870s for tenor and soprano (finished by his student Serge Taneyev after Tchaikovsky's death with the addition of a role for a mezzo as the Nurse) and even a proposed opera on the tragic tale, for which the duet scene may have been a trial run.
And FWIW, Tchaikovsky ALSO considered a fourth Shakespearean work – "Othello" – as an opera subject in 1876-77, but abandoned the idea.
But "Romeo and Juliet" seemed to have resonated the most fully with Tchaikovsky, and why not? It's got it all: a beautifully poetic setting in Verona (and Tchaikovsky loved his time spent in Italy,) spiteful vengeance, passionate young love, moments of light humor, memorable characters all through the story, deep-seated hatred directed between two families who are not all that different, the death of both innocents AND innocence – and ultimately, the power of love to triumph over hate and bring peace between former enemies. I won't recount the too-familiar tale here, but Tchaikovsky did a magnificent job of capturing key elements of that plot both in their specifics (think of the street tumult between the Capulets and Montagues – which Tchaikovsky really nails) and in the generalities of sheer, mere mood: the composer came up with love themes representing both Romeo AND Juliet, and brilliantly interwove them in their development section. And of course, much more.

The idea of composing a work based upon "Romeo and Juliet" was foisted upon Tchaikovsky in the summer of 1869 by the composer (and constant nag) Mily Balakirev, during a meeting in Moscow. Balakirev was one of the "Mighty Five" or "Might Handful" I referenced far above; they were the anti-conservatory, anti-formalist nationalist composers and at this point in his career, they felt the young Tchaikovsky was closer to their cause than what he really was: a formally-trained, traditionally European/Western-method trained composer who – while he could and did use Russian folk and traditional music, really WASN'T one of the "Might Five." But that didn't stop Balakirev, and he even went so far as to provide Tchaikovsky with a detailed programmatic structure for the intended piece. When – by early October, Tchaikovsky admitted to Balakirev that he hadn't yet been inspired to compose a single note, Balakirev chewed him out (in Tchaikovsky's words: Balakirev wrote an "abusive letter" to him) and Tchaikovsky responded to that chastisement by very swiftly sketching out the entire piece before the end of October and then finished the orchestration less than three weeks later. He sent the piece to Balakirev, who had some small compliments – particularly about some of the now-famous tunes, but many more complaints about the piece. In the ensuing months, he continued to nag Tchaikovsky to rewrite the piece; in the meanwhile, Tchaikovsky was delighted when the piece, AS composed: was scheduled for its world premiere on the eighth concert program of the Moscow Russian Musical Society. It was performed on March 4th, 1870 under the baton of Nikolai Rubinstein and: promptly made no impression whatsoever. In its one and only performance during its composer's lifetime. The members of the "Mighty Five" however: we thrilled (even Balakirev, whose recommendations for revisions to the piece had fallen on deaf ears.) Tchaikovsky was – against his will – even branded as one of that "Mighty Handful" by the critic Vladimir Stasov, who wrote that the "Mighty Five" was now the "Mighty Six"! Stasov, incidentally: would become, and remain: a close friend of Tchaikovsky, even though Tchaikovsky would disappoint Stasov by NOT following that nationalist path Stasov SO supported. In 1873, it would be Stasov who suggested to the composer that he write a piece on Shakespeare's "The Tempest" – and he would subsequently be named the dedicatee of THAT piece. But back to Romeo and Juliet.
Tchaikovsky's self-doubt plagued him nearly throughout his career. He was always in love with a new composition while he wrote it, proclaiming it to be the best thing he had ever written, but then – after its completion, usually was embarrassed by his latest "child" and sometimes went so far as to destroy the piece. Fortunately, at least one revoked, destroyed piece – "The Voyevoda" of 1890: would be re-constructed from its orchestral parts, and it's a doozy! The one major exception in Tchaikovsky's composing career – the one "child" whom he remained in love with and truly KNEW to be "the best thing I've ever composed"? That final masterpiece, the Sixth ("Pathétique") Symphony. But in the case of Romeo and Juliet, he did decide soon after that premiere to revise the piece radically. He kept the main love themes, fight music, most development – and other essences of the piece, but totally re-wrote the introduction: instead of that 1869's rolling, sober tune in the cellos, basses and bassoons which may be completely new to you, our audience: Tchaikovsky created an entirely different chorale, representing Friar Laurence. He trimmed some of the exposition, extended other sections – and wholly re-wrote the ending. That became the second version of 1870. And then a decade later, Tchaikovsky re-visited the piece one last time, and essentially, just re-wrote the ending – the final section from measure 460 to the conclusion. And THAT version is the famous one, the one that's usually played today, as it has been for the past 140 years. The beloved Romeo and Juliet Fantasy-Overture.
So why unearth the first version? A few reasons. We've played the final, famous version in the past, on more than one occasion. It's magnificent, and shows the mature 40-year-old composer at his finest. But: the first version is inspired, too – it may be a little rough here and there, the ending may be weak, but: this 1869 version represents the passion of a decade-younger man, a young composer in the first flush of inspiration (albeit after being "abused" into action,) and there's a freshness in his initial efforts at interpreting Shakespeare's tragic love story. And – especially to those who know that final (1880) version well: the first version just may have some surprises in store. In some ways, it's like hearing a brand-new piece by Tchaikovsky, while at the same time being a comfortable old friend due to those wonderful tunes. In the 1869 version, as a matter of fact: the famous love theme is actually hinted at prior to its first full statement, and it makes for a wonderful, touching little moment. And in all three versions: that most famous love theme – the tune that's become so ubiquitously used to represent love, or even a parody on love: that's actually Romeo's theme. And the muted, divisi section of murmuring strings, almost a lovely lullaby? That's Juliet. And when he combines those two tunes – literally, as well as symbolically: he's bringing the magic of young passionate love together. Making one out of two. And it's just breathtaking, in all three versions of the piece.
The Festival Overture on the Danish National Hymn (1866)
Pyotr Ilyich Tchaikovsky, (1865) about the time of his composition of the Festival Overture on the Danish National Hymn.
We now move back in time by some three years. During his still-student days, Tchaikovsky began testing his orchestral-composing wings, in addition to writing much chamber and solo music. Those early orchestral works (in order of composition) are his overture to Alexander Ostrovsky's drama "The Storm" (it's a VERY good piece and I nearly included it on this concert,) the now lost musical picture "The Romans at the Coliseum," the (lost) "Characteristic Dances" which Johann Strauss conducted in St. Petersburg (the first public performance of any of his music and Tchaikovsky learned of the performance too late to attend!) And: the two overtures in F and C, which are youthful, but skilled enough. He graduated from the St. Petersburg Conservatory in December of 1865 – his graduation composition was the cantata "Ode to Joy" based upon the same Friedrich Schiller text used by Beethoven in the final movement of his Ninth Symphony, though in a Russian translation from the original German. Though the piece wasn't well-received by critics, Tchaikovsky earned a Silver Medal from the St. Petersburg Conservatory for it. And perhaps more important: he was immediately snapped up by Nikolai Rubinstein (younger brother of St. Petersburg's Anton) AT the urging of Anton: to teach music theory at the newer Moscow branch of the Royal Music Society's Conservatory, which Nikolai served as Director and Piano Professor. Nikolai would prove to be a tremendously important mentor to Tchaikovsky: encouraging him at all turns – and when Tchaikovsky couldn't find a place to live, Nikolai actually took Tchaikovsky in – allowing him to live in his – Rubinstein's own apartment. Rubinstein actively pushed Tchaikovsky's music everywhere, conducting nearly every piece the younger man composed in the premiere performances of each. Tchaikovsky returned the favor in the best way he could: Rubinstein is the named dedicatee of more of Tchaikovsky's music than any other person – and this despite the fact Nikolai Rubinstein died young – in 1881 at the age of only 45. And in his shock at the tuberculosis death of his mentor, Tchaikovsky was inspired to compose the final piece he'd dedicate to Nikolai Rubinstein: the devastatingly beautiful, tragic opus 50 Piano Trio, bearing the inscription to Rubinstein "to the memory of a great artist."
But returning years earlier, to 1866 – and during only the first year of his tenure as a young professor in Moscow, Tchaikovsky received a very flattering commission from his boss, Nikolai Rubinstein, for a piece written to commemorate the upcoming wedding nuptials of Russia's heir to the Imperial Throne – the Grand Duke Alexander Alexandrovich – to his intended bride, Princess Dagmar of Denmark. Upon his ascendance to the throne in1881, the Grand Duke would become Tsar Alexander III and his Danish Princess would be "Russified" as Empress Maria Fyodorovna. To have received a commission to write a piece celebrating the union of THOSE two – the intended eventual most regal highnesses of Russia – was quite a very big deal AND an honor. And while I hate to again jump in time, Alexander III would be on the Russian Imperial Throne during Tchaikovsky's most productive years of fame, and – as noted in my writing about Tchaikovsky's 1893 funeral, this man – whose nuptials were celebrated by Tchaikovsky in his "Danish" Overture: would outlive the composer by one year.
But that commission from Rubinstein resulted in one of Tchaikovsky's earliest extant pieces – and it's a wonderful bit of fun that would certainly come to influence one of his VERY most famous mature pieces some 15 years later. The 1866 "Festival Overture on the Danish National Hymn" was sketched out in about two months between September and early November of that year. Tchaikovsky starts out the piece with a mysterious, but nearly impish allusion to the Danish National Hymn – "Kong Kristian stod ved køjen mast" ("King Christian Stood by the Mast") before introducing a tune that he would use in a number of his compositions: the famous 1833 composition by Alexei Lvov: the Russian anthem "God Save the Tsar." See what he cleverly did there?! He develops motifs from both tunes before finally blazing forth with a full, majestic orchestral tutti of "King Christian" – and a restatement of "God Save the Tsar" intermingled; it's bombastic Tchaikovsky at his finest.
But perhaps most important for the first-time listener? Doesn't a lot of this piece sound like Tchaikovsky's "Festival Overture – The Year 1812" – you know? The famous "1812 Overture" – the one with the cannons? Of course it does! It's clear that when Tchaikovsky received the commission (in 1880) to compose THAT piece in commemoration of Russia's triumph over the French at the Battle of Borodino in 1812, he revisited his early "Festival Overture on the Danish National Hymn" and recycled some of his ideas from that earlier piece. Admittedly: he was NOT inspired in the least when confronted with the idea of writing 1812; he pronounced THAT piece to have been written with NO love at all. Which is pretty amazing, considering it would become one of the composer's best-loved, most-often-played pieces of music…despite the fact he just didn't like it at all! In fact, when – in 1892 he finally got around to digging out his 1866 "Festival Overture on the Danish National Hymn" for editing prior to its very first printing that (1892) year: he was captivated by THAT piece he had composed 26 years earlier. He even wrote to his publisher Pyotr Jurgenson ABOUT that "Danish" Overture:

"And yet now, as I'm checking the proofs once more, I think it's something that will enter the repertoire, because it is, as I recall, very effective, and of far better quality (music) than "1812.""
As for "1812" itself? Here's what Tchaikovsky wrote to Jurgenson while he was struggling to compose THAT piece in time for the consecration of the Cathedral of Christ the Redeemer, which had been constructed to commemorate that Russian victory over the French. On July 3rd, 1880, Tchaikovsky wrote of his "utmost loathing" of this, and similar commissions. "It is impossible to set about without repugnance such music which is destined for the glorification of something that, in essence, delights me not at all. Neither in the jubilee of the high-ranking person (who has always been fairly antipathetic to me), nor in the Cathedral, which again I don't like at all, is there anything that could stir my inspiration." Except, perhaps: jogging his compositional muse by revisiting what he had done in the "Danish" Overture!
It's a wonderfully fun piece, this "Festival Overture on the Danish National Hymn" – and truly an inspired one written by the then-26-year-old Tchaikovsky. It's believed to have been premiered in Moscow on January 29, 1867, conducted by Nikolai Rubinstein – months before the late April wedding week of the Grand Duke Alexander Alexandrovich and his princess bride Dagmar. That concert (if it was indeed the work's premiere performance) a fundraiser for victims of the ongoing war in Crete. But – and this is important: it's not known or believed if the piece was actually played during the intended nuptial week celebrations. Why? Perhaps a clue may be found in an article in the publication "The Voice" – which, in its April 12th edition of that year, noted that "It was decided that Mr. Tchaikovsky's overture, which combines the themes of the Russian and Danish national anthem, should not be performed because the talented young composer, for some unknown reason, set our Russian national anthem in the minor key, which completely transforms the character of this well-known tune."
Whether there was some sort of faux pas committed by Tchaikovsky for yes, flattening the third degree of the key of the tune of "God Save the Tsar" – yes, he did. But it makes for a really cool SOUND in that tune – as well as helping it to counterbalance the Danish hymn "King Christian Stood by the Mast." Tchaikovsky dedicated it to the Grand Duke and groom-to-be, who rewarded the composer with a pair of bejeweled cufflinks. Tchaikovsky, always in need of money, promptly sold those Imperial cufflinks for (as he later recalled) "half a kopek." Though when the piece was finally published in 1892, 25 years after its premiere: it bore no dedication, at the direction of the composer. Ah well. Enjoy hearing this rarity – which Tchaikovsky himself preferred to the incredibly well-known "1812" Overture!
Prelude to the Opera "Pikovaya dama" ("Pique Dame" or "The Queen of Spades") (1890)
We now jump to the very mature Tchaikovsky, and the prelude to his penultimate opera. An opera which, in many ways is, in my opinion: his finest work in the genre. With a libretto written by his brother Modest (who had become a successful playwright who wrote several of his brother's libretti) based upon the magnificently eerie, tragic and otherworldly work of Pushkin.
I think Tchaikovsky was just a bit more inspired in his Pushkin-based operas and songs. The 1877-78 opera "Yevgeny Onegin" ("Eugene Onegin") and the 1881-83 "Mazepa" are two examples, as are the art songs "The Nightingale" and "Zemfira's Song." And in "The Queen of Spades," Tchaikovsky was at the peak of his operatic powers AND inspiration. The story set in late eighteenth-century Saint Petersburg, is this: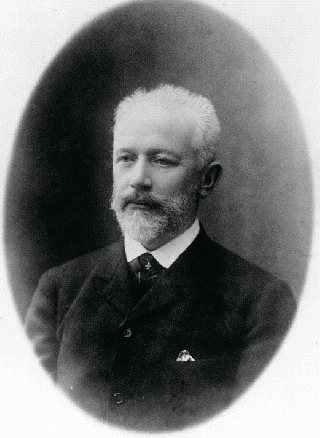 1890 – the mature 50- year-old Pyotr Ilyich Tchaikovsky, a mere three years before his death.
Act I – In St. Petersburg's Summer Garden the soldiers Chekalinsky and Surin complain of their bad gambling luck. Army Engineer Herman, they note: is obsessed with observing others gamble but never gambles himself. Just then, Herman and Count Tomsky enter: Herman explains that he's madly in love with a young lady but doesn't know her name. Then, fortuitously: the Countess, her granddaughter Liza and her fiancé Prince Yeletsky stroll on. Herman realizes that Liza is the target of his love. Count Tomsky explains the eerie story of the Countess, whose nickname was "The Queen of Spades." She was a spectacularly successful gambler in Paris in her youth, but only because she offered herself to the Count de Saint Germain in exchange for the mysterious "secret of the three cards." She was then able to amass a fortune; she shared that mysterious secret with her husband and then a young suitor, but an apparition appeared to her, telling her that she would be struck dead if she ever shared the secret again. Of course, obsessed by both gambling AND Lisa, Herman now has a new obsession: to gain that secret of the three cards AND Liza.
Later back home, Liza realizes she doesn't love the Prince. Herman appears outside, threatening suicide if Liza won't speak to him. But of course: Liza realizes she's in love with Herman.
Act II – A ballroom; Prince Yeletsky and Liza enter, but he notices she seems no longer to love him. Liza wrote a letter to Herman: she has to see him later. As a joke, Surin, Chekalinsky and Tomsky trick Herman by making him believe their whispering is that of a ghost, confessing the secret of the cards. Liza gives Herman the key to her room at the home of her Grandmother, the Countess.
New scene: the Countess' home; Herman steals into her room with Liza's key – he stares at the Countess' portrait; he feels they have a connection. He hides as he hears the old lady coming. She prepares for bed and then nods off, as Herman comes out and stands over her. Terrified by awakening suddenly, Herman begs for the secret, and finally in frustration, pulls out a pistol; the Countess suddenly dies of sheer terror. Liza rushes in, sees her dead grandmother, realizes the entire situation and the truth of Herman's true desires and throws him out.
Act III – Liza sends Herman a letter forgiving him, and arranging a meeting near the Winter Palace. But before he can leave, the Countess' ghost appears before him. She also forgives him and wants him to be rich so he can marry Liza and give her all she needs; the ghost then tells him the secret of the three cards: three, seven, ace.
On the banks of the Winter Canal, Herman re-unites with Liza, but she realizes at last that his obsession is tragic, and that he can never truly give her what she needs. He leaves to go gamble; she throws herself into the canal and drowns.
Tomsky, Chekalinsky and Surin are gambling at the gaming house. Prince Yeletsky arrives, swearing revenge on he who broke up his engagement with Liza. The sickly, wild-eyed Herman enters and then bets on the three and then the seven, winning both times. He now wants to go for broke with the third bet, but no one except Prince Yeletsky will gamble with him. He bets he'll pull the ace, from the deck instead draws the Queen of Spades. The Countess' ghost appears, laughing at Herman. He goes mad, pulls out his gun and shoots himself, and as he expires, he begs for the forgiveness of those he's wronged. The end.
Tchaikovsky felt – as usually he did while composing a new work, and certainly as he wrote THIS three-hour opera: that it was the best thing he had ever composed. From a letter he sent to the Grand Duke Konstantin Konstantinovich on August 5th, 1890: "I wrote it with an unusual zeal and enthusiasm, having suffered and felt vividly all what is happening in the opera (to such an extent that for a time I feared that the appearance of the ghost of the Queen of Spades), and I hope that all my delights, worries and enthusiasm as the author, reverberate in the hearts of a sympathetic audience."
The Prelude to the opera is brief, but beautifully establishes an otherworldly mood – initially the woodwinds chatter a motif that to Tchaikovsky: represents "fate." He used the same motif in the second subject of the first movement of his Fifth Symphony and other works. The trumpets and trombones earnestly threaten in octaves against a forward-marching ostinato in the winds and an arpeggiated filigree in the strings. After a forceful hammering, it all eventually gives way to one of Tchaikovsky's more beautiful tunes, played by unison strings, with an ascending and then descending broad scalic section – reminiscent of other music from this period, including some of the tunes in "The Nutcracker" but most redolent of that great final symphony of his, and one which also has something to do with fate: the "Pathétique."
Violin Concerto in D (1878)
Our final work on the program is not only one of the most famous by its composer, but – arguably, it's also the greatest violin concerto ever written – despite initially being labeled as "unplayable" and lambasted by one of the music world's most important and influential critics at the time of its delayed premiere. Fortunately, and as has so often been the case throughout music history: the composer got the last laugh over the critic as Tchaikovsky's Violin Concerto has become one of the most beloved of his works, or really: the works of any composer.
Tchaikovsky himself wasn't a violinist. He was – according to the writings of friends and students, a pianist of basic competence with some occasional virtuosic ability, but – even that appears to be pushing things. One instrument was thrust upon him during his conservatory days, simply because all students were expected to play an orchestral instrument and participate in ensembles. And Tchaikovsky chose: the flute; he also studied the organ. But even those were instruments he mastered but then largely abandoned after graduation.
So why a violin concerto? Tchaikovsky's biggest career breakthrough to date occurred on February 10th, 1878 – when his Fourth Symphony premiered to remarkable acclaim in Moscow, with Nikolai Rubinstein conducting. The work achieved universal approbation, and no doubt provided huge pride and satisfaction to his benefactor Nadezhda von Meck, whose munificence had made the symphony possible – and who was the subject of the dedication of that piece, though specifically anonymously: "To my best friend." But this was a period of not only incredible highs but also deep lows for Tchaikovsky – and it's important to see the swirling in his life just before he composed this remarkable concerto. During the previous year, in a move that puzzled all who knew him – the homosexual composer suddenly married his former student Antonina Milyukova. Now this was even more bizarre than it may first sound: she wrote him totally out of the blue on March 26, 1877 (he didn't remember her) and offered him her "hand and heart" out of the blue. In her letter, she wrote of her great love for the composer, a deep love which had grown within her over the past four years; she (perhaps floridly, poetically) noted that without him, she wouldn't be able to continue living: implying she'd kill herself. She was 28; he was 36. From a well-to-do family, she had recently received a large inheritance and apparently decided to turn it into a dowry. At the time, Tchaikovsky had just begun working on his opera "Eugen Onegin" from the Pushkin verse-novel; in Pushkin's story, innocent Tatyana writes a letter to the eight-years-her-senior Onegin, proposing her love for the jaded man; how ironically strange is that?! Antonina Milyukova had no way of knowing what the composer was setting to music – but the coincidence is pretty amazing and may have been seen by Tchaikovsky as an omen. There is also some evidence he didn't conceive of turning "Onegin" into an opera until just AFTER receiving Antonina's first letter, and that it was his real-life experience that caused him to decide to begin the opera. In any event, the perplexed Tchaikovsky met with her, offered her no more than "brotherly love" in a marriage – and less than four months later they were married on July 6th, with only Tchaikovsky's younger brother Anatoly and his former student/now-friend young violinist Iosif Kotek as witnesses for him; Antonina had two male friends standing in for her.
Why did he do it? Tchaikovsky may have hoped to quell rumors about his lifestyle (which was NO secret by this time) but we really don't know. What we DO know is that he nearly immediately realized he had made an incredibly terrible decision; he referred to Antonina as an "open wound," couldn't deal with her personality, her friends or family and had to escape; even contemplating suicide. The blank look on his face in this photograph (below) with his bride just after their marriage sums it up pretty well: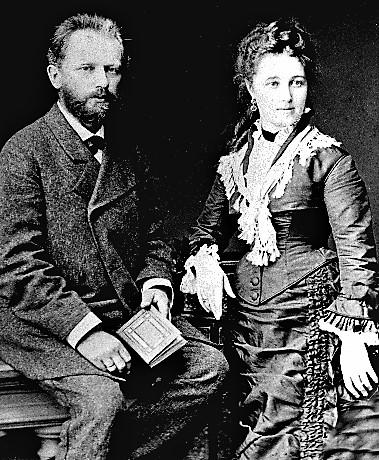 They lived together for less than three weeks before the incredibly sensitive Tchaikovsky had (essentially) a mental breakdown and fled to his sister and brother-in-law's estate in Ukraine for six weeks. Experiencing physical illnesses including gastritis, headaches and insomnia and despite realizing it was impossible, he dutifully returned to Antonina to try again, but it was no use and he left for good, with his friends and family attempting to work with Antonina to find a legal end to the situation, to no avail. He escaped (eventually) to the small health resort village of Clarens on Lake Geneva in Switzerland with brother Anatoly, just to try to regain his mental and emotional composure. Though he felt great guilt over his treatment of Antonina and did attempt divorce or an annulment, she refused and they remained married until his death in 1893 – seeing each other only from a distance – only by chance – but never speaking. Much like his relationship with Nadezhda von Meck.

Tchaikovsky and Antonina did eventually correspond, usually over matters of financial support (Tchaikovsky DID give her a monthly "living" stipend and provided for her maintenance in his will from his royalties) but their usual communication was through his publisher, Pyotr Jurgenson. Though she was apparently aware of his sexual orientation from the beginning, she still hoped for a reconciliation with her "husband" for many years. All the while: living with other men. She had three children with a Moscow lawyer – and even encouraged Tchaikovsky to adopt the youngest, a daughter – which he considered. But eventually, all were given up to a foundling hospital; all were adopted out to peasants in the Moscow countryside; all died in infancy or before the age of 8) – and Tchaikovsky's estranged wife remained "Antonina Tchaikovskaya" until her death in 1917, 24 years after Tchaikovsky's own passing.
Though shaken by this strange, ill-conceived trek into marriage, it was also a period of his life that was also enormously productive: in October of 1877, just after the effective end of his marriage-in-name-only, the rich widow Nadezhda von Meck began her 13-year patronage that would allow Tchaikovsky to focus on composing and not have to worry about where his next kopek would come from. Von Meck knew all the details of her "Dearest Friend's" personal life, or at least as much as he frankly but discretely shared directly with her in their correspondence and what she knew through the highly productive grapevine that allowed for very few secrets to remain secret.
Tchiakovsky in San Reno, Italy January 16, 1878. Two months before composing his Violin Concerto, in a bit of rakish contemplation…
On the creative front, his magnificent orchestral fantasy "Francesca da Rimini" (based upon Canto V of the Inferno from Dante's "The Divine Comedy") and bombastic "Marche Slav" (the latter composed in only five days!) had successfully premiered in 1877 before his marriage – that episode which consequently put a temporary end to his writing. But late in 1877, and with Antonina effectively behind him, he regained his creative focus with a passion and worked in San Remo, Italy early in 1878 to complete both his "Symphony #4 in F-minor" (as already noted: dedicated to von Meck, and referred to him in correspondence with her as "our symphony") and the opera "Eugen Onegin." The Fourth's February 10th premiere was wildly successful as Tchaikovsky's reputation grew. Two weeks later, it was once again time for a road trip – and this one would prove to be miraculously productive.
It would be a five-week vacation/working sojourn (February 25 – April 5, 1878) back to the healing shores of Clarens (again) to which he had escaped the previous year. This time, he was accompanied by brother Modest and a few friends. He wrote, "One only realizes just how powerful the love of one's friends is, when one is separated from them. I am now living in Switzerland, in the midst of breath-taking nature. If I had stayed in Moscow just one more day, I would have lost my mind, or drowned myself in the stinking waves of the Moskva (Moscow River)." While in Clarens, recovering his mental and physical health: Tchaikovsky worked on a set of 12 piano pieces (to later become his opus 40) and the Grand Sonata, also for piano, but the latter was proving to be a real struggle. So it may not be surprising that when his former student and good friend Iosif Kotek arrived and joined the party, Tchaikovsky was easily distracted from the work at hand. The two began playing through a great deal of the violin repertoire, with Tchaikovsky accompanying Kotek, and the composer was (for lack of a better word) inspired to compose a Violin Concerto. A work that made a particularly positive impression upon Tchaikovsky was French composer Édouard Lalo's five-movement, virtuosic and evocative "Symphonie espagnole."
Uncharacteristically for Tchaikovsky – as he wrote to von Meck, "…the sonata and concerto are keeping me very busy. For the first time in my life I have started something new without finishing its predecessor… And so that it is that… for the time being I have set aside my sonata." That letter to his benefactress was dated March 7th; he had been so inspired by his muse that he actually wrote the entire concerto in only 19 days. It was totally structured, composed and orchestrated – having been started just two days before that letter and written in its entirety between March 5th and 24th. (Don't worry: he'd eventually finish the Grand Sonata a little later that year while staying at his sister's estate – and it's a pretty grand handful of challenging fun!)
But the violin concerto – well, now THAT'S a spectacular accomplishment. And his extraordinary speed in writing the concerto is even MORE astonishing when you realize that he had completed the three original movements by March 16th – in only 11 days – before deciding a few days later that the original second movement could be improved, and so: in only ONE day, on March 24th: wrote an entirely NEW middle movement – the Canzonetta – finishing it and the concerto, in its final form on March 24th.
(That discarded original second movement wasn't lost, though: he renamed that original Andante movement "Méditation," added two other violin-and-piano pieces to it and it became his "Souvenir d'un lieu cher," or "Souvenir of a dear place." In 1896, three years after the composer's death, his publisher Jurgenson came out with a version in which the original piano accompaniment was orchestrated (by Alexander Glazunov) – and THAT was finally THAT.)
But AGAIN, back to that CONCERTO! Written with red-hot speed and truly incredible inspiration, but: acceptance didn't come easily. The work was supposed to be premiered just a little less than a year later, on March 10th, 1879 in St. Petersburg – but initial dedicatee and internationally-renowned virtuoso violinist Leopold Auer deemed the piece "unplayable." (Incidentally: Auer taught at the St. Petersburg Conservatoire for just under a half-century, from 1868 – 1917, before emigrating to the U.S., where he continued to teach generations of great violinists before his death in 1930 at age 85.) Tchaikovsky, miffed: removed the dedication (originally) to Auer. He then offered the piece AND dedication to his friend young Kotek – who had been part of that inspiring essay through violin works in Clarens that gave Tchaikovsky the inspiration to compose the Violin Concerto. But Kotek was irritated that his friend had already offered the piece to Auer, who had declined it – without presenting it to Kotek first. And so HE also told Tchaikovsky it would NEVER be played – despite the fact he had already played through the piece with the composer in Clarens while AND after Tchaikovsky wrote the piece and: refused the dedication, too. Other violinists including Emile Sauret and Karl Davydov shared that opinion of the work, and it began to achieve a reputation as a piece that would never be played. It's believed the concerto MAY have been performed in New York some time in 1879 by violinist Leopold Damrosch, albeit in its violin-and-piano-reduction version – so while it was quite an accomplishment if it occurred, it still wasn't the actual premiere. (What WAS it with the US? Tchaikovsky's famous Bb-minor Piano Concerto (#1) WAS officially premiered in Boston, of all places – in 1875)
And then along came Adolph Brodsky. The 40-year-old virtuoso fell head-over-heels in love with the piece, worked it up – and after a preliminary private "audition" performance of the piece in Vienna with full orchestra, it received its official world-premiere public performance on November 22, (Julian) 1881 – or, according to the Gregorian Calendar of Vienna and the western world: on December 4, 1881. Whatever the date you wish to use, that world-premiere performance, despite a partially-hostile audience sector and some outraged critics: caused the piece to become a huge sensation, and mostly due to Brodsky's championing. Many more performances quickly were scheduled; EVERYONE now wanted to hear the piece. It quickly spread throughout the concert world, and usually with Brodsky playing, finally making its premiere in Russia in Moscow at the penultimate All-Russia Industrial and Art Exhibition in 1882; in 1887 it finally made it to St. Petersburg in a concert conducted by Anton Rubinstein, with Brodsky at the violin. And it had already been performed around Europe, around the world.
But, oh: the critical reaction from one person in particular! In Vienna, one dared not rub Eduard Hanslick the wrong way. Hanslick was the earliest of influential, trend-setting and highly feared critics. And conservative Hanslick did NOT like Tchaikovsky, his music, or really: anything outside his expected norm, which did not include ANY music from Russia. Of the composers of his day, Hanslick adored Brahms but panned Wagner, Verdi, Bruckner, Richard Strauss, Liszt – and in fact, any of the innovators of the mid-to-late 19th century. Which meant he was ripe to hate the Tchaikovsky Concerto, which he heard – and reviewed: during that world-premiere performance in Vienna on November 22, 1877 with Brodsky. Hanslick wrote, in part:

"The Russian composer Tchaikovsky is certainly not an everyday talent: however, his talent is forced, that of an obsessive, posturing genius, indiscriminate and tasteless. What we already know of him contains a rare mixture of originality and uncouthness, of fortunate ideas and despairing refinement. This is also the case with his latest, a lengthy and demanding Violin Concerto. For a while it moves soberly, musically, and not without spirit. But soon, vulgarity gains the upper hand and dominates until the end of the first movement. Here, the violin is not played, but thrown about, ripped to bits, beaten black and blue to within an inch of its life. The Adagio (the second movement Canzonetta) is on its best behavior. But it breaks off to make way for a finale that transfers us to the brutal and wretched jollity of a Russian holiday. We see plainly the savage, vulgar faces; we hear curses, we smell vodka. Friedrich Vischer once observed – in reference to obscene pictures, that they stink to the eye. Tchaikovsky's Violin Concerto gives us for the first time the hideous notion that there can be music that actually stinks to the ear."
That review of Hanslick pained the composer deeply. It cut Tchaikovsky to the bone; he could recite it word for word IN German to the day he died. So it's somewhat ironic and satisfying that Hanslick is remembered today mostly: for being so incredibly, vitriolically – and tastelessly: wrong about this incredible piece of music.
As for the dedication, originally to Auer and refused by Kotek? Tchaikovsky was so hugely grateful for the advocacy and energy of Brodsky, that the composer RE-dedicated the piece to the man who had, pretty much: single-handedly pioneered and popularized this once-reviled work. They became friends for life and Tchaikovsky would visit Brodsky and his wife Anna in Leipzig at least a couple times each year. It was at the Brodskys' home that Tchaikovsky later met Johannes Brahms (whose music he despised) and Edvard Grieg, whose music he adored. And as for Auer himself? He decided – after Brodsky's success with the piece: that perhaps he might have been a little rash in his initial pronouncements – and came away with an all-new opinion of the work. After Tchaikovsky's death, Auer noted "once I had mastered the concerto's difficulties, I felt like playing it forever!"
And I have to add that music lovers – those who really know the piece and its unfolding joys: probably feel like LISTENING to it forever, as I certainly do.
About our soloist Ann Miller:
Celebrated violinist Ann Miller has appeared in concert halls throughout North America, Europe, and Asia. At home performing music spanning the Baroque era to the present day, Ms. Miller enjoys a varied career as a chamber musician, soloist, and educator.
A proponent of new music, Ms. Miller made her New York debut as a soloist with the New Juilliard Ensemble in Alice Tully Hall in the North American premiere of David Matthews' Concerto No. 2. She has performed with the ensemble Continuum in venues in Mongolia and Ukraine as well as New York City. In addition, Ms. Miller participated in an exchange program between the Juilliard School and the Lucerne Festival Academy that culminated in performances in Switzerland and New York under the direction of Pierre Boulez.
Recent solo appearances include performances of Tartini's Devil's Trill with the Zion Chamber Orchestra, the Brahms Violin Concerto with the University of the Pacific's Symphony Orchestra, Vivaldi's The Four Seasons with the St. John's Chamber Orchestra, and Brahms's Double Concerto with cellist Ira Lehn and the Mariposa Symphony in Yosemite National Park. As a recitalist, Ms. Miller frequently collaborates with pianist Sonia Leong and has appeared on Old First Concerts in San Francisco and the University of the Pacific's Resident Artist Series. Their debut album of music by Beaser, Ysaÿe, and Bartók will be released in the fall of 2015.
An avid chamber musician, Ann Miller is a member of Trio 180, the piano trio-in-residence at the University of the Pacific. In addition to performing in Canada, Mexico, Maryland, Oregon, and Nevada, the trio has concertized throughout California in such venues as the Mondavi Center, Dinkelspiel Auditorium at Stanford University, and the Center for New Music in San Francisco. Trio 180 has also performed Beethoven's Triple Concerto with the St. John's Chamber Orchestra.
Ms. Miller is an associate professor of violin at the Conservatory of Music of the University of the Pacific. She holds her Master of Music and Doctor of Musical Arts degrees from the Juilliard School, and she received her Bachelor of Music, summa cum laude, from Rice University. Her teachers have included Ronald Copes and Kathleen Winkler. Her chamber music coaches have included Jerome Lowenthal, Seymour Lipkin, Robert McDonald, Norman Fischer, James Dunham, Paul Katz, and members of the Juilliard and Tokyo string quartets. Ms. Miller has participated in the New York String Orchestra Seminar and has spent summers at Kneisel Hall, Bowdoin International Music Festival, and Yale School of Music's Norfolk Chamber Music Festival. In addition to her passion for music, she enjoys running, reading, and vegetarian food.
The Mariposa Symphony Orchestra's Spring Concerts will be offered twice: in performances on April 6 and April 7, 2019.
This annual concert of the MSO in Yosemite is made possible by the generous cooperation and assistance of Michael Reynolds – Superintendent of Yosemite National Park, the National Park Service, Yosemite Hospitality – a division of Aramark, Michael Boyer – Manager of the Majestic Yosemite Hotel and of course: the wonderful musicians of the Mariposa Symphony Orchestra.
E-mail MSO@sti.net and ask to be added to the private, exclusive "Friends of the MSO" e-list.