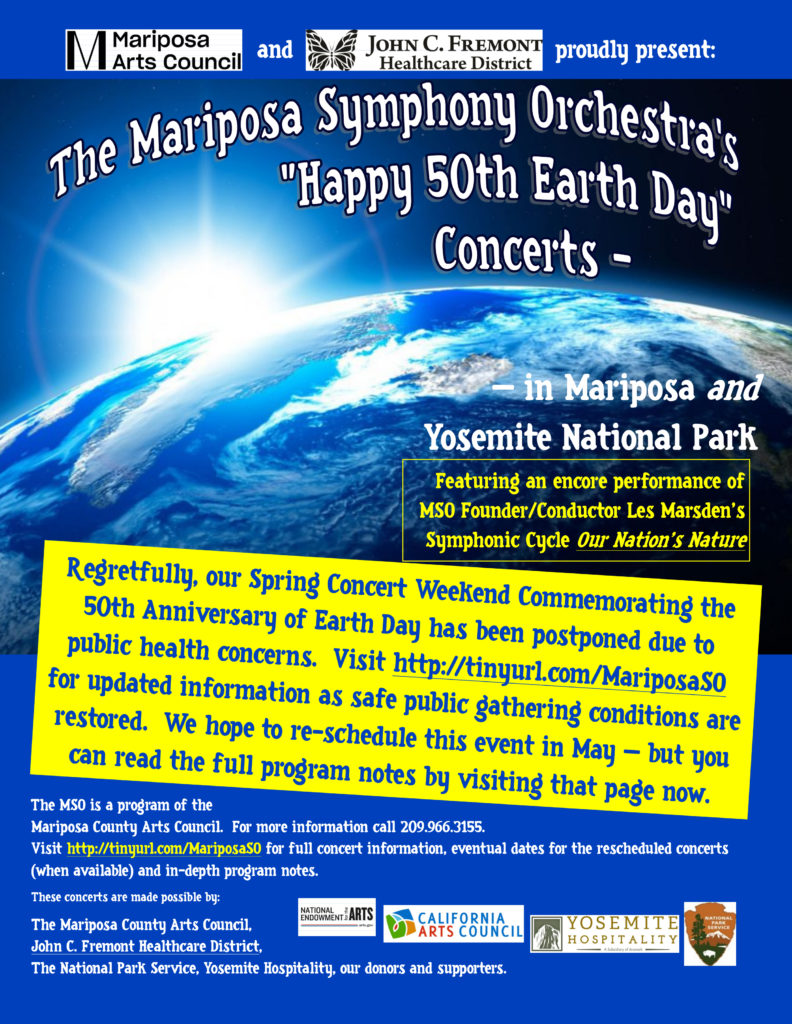 Our Spring Concerts have been postponed to a later date TBA. The new dates will be posted here and also e-mailed to our "Friends of the MSO" subscriber list. If you're not already on that list, e-mail us at mso@sti.net and ask to be added. It's the best way to receive important information such as this in a timely manner.
---
The Mariposa Symphony Orchestra will celebrate Earth Day with our "Happy 50th Earth Day" concerts on a future weekend TBA. Thank you for understanding.
Saturday, April 18th at 7 PM in the Fiester Auditorium at Mariposa County High School POSTPONED
Sunday, April 19th at 2 PM in a special location: the Amphitheatre at Camp Curry, Yosemite National Park POSTPONEDWhen presented, this concert will inaugurate our new sponsor partnership as we offer the first John C. Fremont Healthcare District's MSO Concerts in Yosemite series: the Healing Power of Music*
---
Program notes by MSO Founder/Conductor Les Marsden
50 years ago.
I actually remember that first Earth Day and the events which led to the establishment of that initial observation: I was 13 years old in 1970 and in my first year of Junior High School, but was attentive enough to have become concerned over growing evidence of environmental destruction, species decimation – and pollution of our air, our water and the very planet itself. News which – today, seems quaint by comparison to the accelerated pace of what's happening in the world of 2020.
The event was commemorated publicly with equal parts of determined, positive hopefulness and sober realization that awareness had to be raised. Closer to home, right in my school, there were outdoor booths, special assemblies and grade levels (and in some cases: classrooms) had their own special curricula.
But why did it matter to me?
I had gained much of that 13-year-old's interest and concern right here – in Mariposa County, in Yosemite National Park and throughout the Sierra – via my years in the Boy Scouts and burgeoning love of America's great outdoors. My Scoutmaster Lloyd Moore could be crotchety and cantankerous, but he was a wise outdoorsman and biologist who seemed to know everything about every creature, tree, plant – about the geologic forces which had created much of that inspiring beauty, and – why it was important to protect our great outdoors not only for our own enjoyment but for the future inhabitants of our planet as well. He knew well how to live in balance with the natural world, and how to leave a place in a better condition than he had found it. And he awakened in me that interest and concern which remains with me to this day. He taught me that it IS a pretty fascinating planet but one in which delicate balances are easily and permanently upset.
And Earth Day 1970 was – just that. A day to take stock in the future of our planet. A day of celebration, of awareness and education. A day designed to draw attention to our role with this Big Blue Marble of ours. In my little personal world, there was no expectation the day would turn into a growing annual event or even more inconceivably, into a movement. But then again: I was only 13. And now, here we are 50 years later, and I'm older than the Scoutmaster who inspired me that half century ago.
When I was asked by members of Yosemite's Park Service staff last year to consider celebrating this landmark anniversary of Earth Day by bringing back my "Our Nation's Nature," I was flattered. It made great sense, too – the piece was written with the common thread of protection of our natural resources, with each of the four movements centered on a particular aspect of nature, and in at least two cases, the nature of our region. The first movement salutes Yosemite and the visionaries of the early 1860s. Under their impetus, the Yosemite Grant Act of 1864 established that preserve of incomparable natural lands (Yosemite Valley and Mariposa Grove) at the very height of a devastating Civil War which was rending the nation in two. Signed by Abraham Lincoln less than a year before he would be assassinated – to protect country he'd never see. The final movement commemorates the 1890 Act of Congress which created Yosemite National Park – though it wouldn't be until a few years later that the park itself became whole when Federally-administered lands would be incorporated with lands under the protection of the state of California. The second movement celebrates the 1964 Wilderness Act, signed into law by Lyndon Johnson – and inspired in me music which abstractly travels through the four classical elements which comprise the planet (earth, air, fire and water.) It was that movement I was honored to be asked to conduct in performance in Fort Collins, Colorado in 2018 with the Health and Wellness Orchestra. The third movement salutes those men and women who dedicate their careers to protecting those natural lands all over America for our, and future generations. It was the final movement to be written, and was premiered in 2016 when the entire cycle was first performed as an integral whole as I had envisioned it from the start.
Upon reflection, I was also surprised to realize how quickly time has passed since we last played the entire cycle – on August 21st, 2016 in that landmark concert on Glacier Point at 7,200 feet. A concert which was live-streamed to hundreds of thousands of people all over the planet, and which brought the renown of Mariposa's own (and Yosemite's) symphony orchestra to an all new international level. The concert which concluded our five-county tour of the MSO, a tour begun in the Ahwahnee Hotel, and which now ended, seven concerts later: in that sublime location. That tour had been made possible by a grant from the California Arts Council and that final concert was immortalized by that astonishing photo by the legendary photographer – and my friend: Al Golub – a photo described by British cultural/arts commenter and author Norman Lebrecht in his writing as "The Orchestra Portrait of the Year." From here, in Mariposa County – from here, in Yosemite. And quite a portrait it was:
The first Earth Day. Where were YOU on April 22, 1970?
For those who may not have been around 50 years ago, or for those who may have forgotten the original premise, here's a refresher.
In January and February of 1969, the largest oil spill in American history at that time occurred about six miles off the Santa Barbara coast. Approximately 80,000 – 100,000 barrels of crude were released into the ocean due to a blow-out on a Union Oil platform in the Santa Barbara Channel, and that event remains California's largest and most destructive spill today and the third worst in American history. Thousands of sea birds, fish and mammals were wiped out in the aftermath of that blow-out as the oil moved ashore across a huge section of that sensitive coast. Including elephant seals, sea lions and dolphins. The destruction was massive, shocking and inexcusable.
Many people were stirred to act and none more so than Wisconsin Senator (and former governor of that state) Gaylord Nelson. Nelson was compelled to force awareness of the increasingly troubling and destructive results of pollution of the earth after that giant spill.
One of his models was the student protests against the war in Vietnam, which had coalesced into an organized movement. Nelson hoped to harness that same sort of energy and passion which had arisen in the wake of the Santa Barbara spill – and thought a movement demanding environmental protections could be enough to finally move legislators to enact meaningful laws.
Nelson – a Democrat, recruited California Republican Congressman Pete McCloskey to jump aboard the movement alongside him. Bipartisanship at its best. McCloskey (who's still with us at the age of 92 as I write) had long espoused conservation of our national resources; that combined with his strong anti-war views made him a perfect fellow traveler for Nelson.
Nelson first created – and publicized a day dedicated as a national "teach-in" for environmental awareness. With (initially) a skeleton crew (Nelson and McCloskey as co-chairs, and a young Denis Hayes as coordinating leader,) a nationwide team of 85 was eventually built. The Earth Day Network was established as the non-profit organizing arm behind the Earth Day events, with Hayes at the top.
With the emphasis on reaching the younger generation a goal, the day for that first "teach-in" was decided: April 22. After a great deal of publicity, word-of-mouth and – fortunately, rising outrage and interest from a nation concerned by events such as the Santa Barbara Spill, that first Earth Day in 1970 attracted participation by an estimated 20 million Americans of all ages. Thousands of college campuses hosted organized rallies and witnessed spontaneous protests while educational events were featured in educational campuses right down the primary AND secondary line, including at my school.
But that wasn't all: besides events at educational institutions, Americans marched in the streets, distributed literature, knocked on doors, appeared on local and national news shows and perhaps best of all: talked with one another. Over coffee, over kitchen tables – and the importance of reining in the destructive forces which had been unrestrained in polluting the planet – was finally addressed by a huge sector of American society. The importance of a renewable, clean economy and environment took its rightful place as a front-burner issue.
One of the most gratifying things that happened as a result of that national dialog, that national "teach-in" – that first Earth Day: was the meeting of minds and bringing together forces which perhaps HAD been suspicious of one another. Forces which in some cases had the same goals in mind, but just didn't stop to realize it: farmers and residents of big cities. Unions and business. Political partisan opposites. Because, when it came right down to it: it became very clear that no one truly benefits from the destruction of our own home.
And something happened. A national awareness WAS raised, just as Nelson and McCloskey had hoped. People DID contact their representatives in Congress and began to insist upon legislation to protect our environment AND the American people from oil spills. The loss of wildlife and habitat. Factories spewing pollution into our air and water, toxic dumps which were destroying communities and lands, pesticides (including DDT – which was destroying masses of our national symbol, the bald eagle,) sewage that was spoiling both fresh and sea water. And much more.
And somewhat remarkably, before 1970 ended and within mere months of that first Earth Day, the Environmental Protection Agency had been created under President Richard Nixon, on December 4th. Though in carnations of the Clean Air Act had been on the books since 1963, Earth Day was responsible for a brand-new 1970 version, with more stringent applications which would be expanded in 1977. In 1971, the Clean Water Act would be introduced in the US Senate (as S. 2770) by Ed Muskie of Maine; after ultimate passage in both houses – and a veto by Nixon – which was then overturned by both the House and Senate: that Clean Water Act became law on October 18, 1972. The Endangered Species Act was introduced in the Senate (S. 1983) by Harrison A. Williams of New Jersey on June 12, 1973 and on December 28 of that year (after passage through both Congressional houses) was signed into law by Nixon.
Despite his opposition to and veto of the Clean Water Act, Nixon had already been driven by the writing on the wall. As that first Earth Day was being organized in 1970, he had listened to the demands of the public and sent a 37-point message to both houses of Congress requesting legislation and attention (among others):
requesting four billion dollars for the improvement of water treatment facilities;
asking for national air quality standards and stringent guidelines to lower motor vehicle emissions;
launching federally-funded research to reduce automobile pollution;
ordering a clean-up of federal facilities that had fouled air and water;
seeking legislation to end the dumping of wastes into the Great Lakes;
proposing a tax on lead additives in gasoline;
forwarding to Congress a plan to tighten safeguards on the seaborne transportation of oil; and
approving a National Contingency Plan for the treatment of oil spills.
That consolidated public movement, the urgent commandment from the people arising from the first Earth Day spoke loudly to lawmakers. There was a genuine concern about saving our environment and curbing the rampant pollution and other attacks upon the planet which had become pervasive.
At least for now.
And THAT was the first Earth Day, 50 years ago. Twenty years later, Denis Hayes was tasked to organize Earth Day 1990 as an international event, one which ultimately involved 141 countries and more than 200 million people. It led to the United Nations Earth Summit, held in Rio de Janeiro. And Senator Gaylord Nelson, the man who had first conceived this idea and turned it into a truly international movement which had changed the Earth's future for the better and had educated and enlightened millions of people the world over, was recognized with America's highest civilian honor for what he had accomplished. He received the Presidential Medal of Freedom from then-President Clinton.
The work wasn't yet over: in 2000, Denis Hayes was once again in the lead and there was a new urgency to expand the focus of Earth Day to include climate change (global warming, as it was usually known at that time) and the continuing movement away from carbon-based fuels and to clean energy: renewable, non- polluting and safe sources of energy production. And so, that 30th Anniversary year of the first Earth Day now witnessed participation by 184 nations and the utilization of a new tool: the Internet – to reach literally hundreds of millions of human beings who had awakened to the fact that it was time to act. Before it was too late.
But unfortunately, there will always be opponents to the will of the people, and particularly when money is to be made. Things had changed by the 40th Anniversary of that first Earth Day: in the year 2010, there was well-funded, well- organized opposition to the reality of climate change as a human-caused event. Deep-pocketed defenders of the coal and oil interests had created a very successful campaign of denial and despite the fact that 99% of the scientific community agrees that not only is the planet's climate being altered beyond any pace in all of history, the cause of that dangerous change is human activity – Earth Day's message was being forcefully countered. But environmental forces weren't to be daunted. Despite that opposition, Earth Day once again provided a strong insistence of opposition to the pollution and environmental degradation of planet. A Climate
Rally was held on the National Mall, and over a quarter-million attendees took part. The fledgling "The Canopy Project" began at that time, and is now a global movement dedicated to planting trees all over the planet. A Billion Acts of Green was also launched that year, and is now the largest environmental service project on Earth. In 2010, Earth Day could boast participation by a new record of 192 nations and a mind-blowing 75,000 partnering organizations.
But those numbers are even more incredibly impressive today.
Remember the first Earth Day in 1970? A then-amazing 20 million Americans participated, which – was nearly one-tenth the country's population. But today, in 2020, more than one BILLION international citizens now observe Earth Day. For every single Earth Day celebrant in 1970, fifty TIMES that number now mark the day, with dedicated involvement all over planet Earth. And it's not just a meaningless holiday to those who DO observe it: Earth Day continues to be a day of education, outreach, activism and legislative advocacy.
As for that 13-year-old kid at Fort Miller Junior High back in 1970? His much-older, hopefully-wiser self only hopes that this encore performance weekend of music he composed with the inspiration of nature might remind us of what's at stake. All the aspects of planet Earth's better nature – ranging from the abstract depiction of the elemental properties of this Big Blue Marble as assayed in the "Wilderness" movement to the specific salute: the Scottish reel depicting outdoor savior John Muir – are reminders of our nation's nature. The sounds of an 1864 America battling itself while its President and Congress act to save lands very special to all of we who live right here in the Yosemite region – is a reminder of our nation's philosophical nature, at its very best. From a hat-doff to the enthusiastic men and joyous women who sacrifice much – including higher-paying private-sector jobs in lieu of all they provide as employees of our National Park Service, to the musical depiction of that long- and rightfully-ended "Firefall" in Yosemite – which will transpire right at the base of its landing-spot: that's all a tribute to our nation's nature. As is this 50th Earth Day, and – a kick-off for at least another 50 to come.
Provided we can save the planet in time to HAVE another annual 50 Earth Days…
And now, my original program notes from that concert tour from the Spring and Summer of 2016, during which the MSO performed "Our Nation's Nature" in the Fiester Auditorium, the Ahwahnee Hotel, Merced College Theatre, Oakhurst's Sierra Vista Church, Sonora High School Auditorium, Mammoth Lakes Middle School (at 7,800 feet of elevation!) and finally: Glacier Point. And now: we're back. See you at the Fiester and – or – the Camp Curry Amphitheatre, in the glorious, great outdoors.
Our Nation's Nature (original program notes) by Les Marsden
I conceived this evening-length, concert-long symphonic cycle of four integrally- interrelated commemorative symphonic movements marking four special American Anniversaries in Yosemite National Park at a Yosemite Gateway Partners meeting in 2012. Movements I, II and IV were individually premiered in Mariposa and Yosemite NP (Ahwahnee Hotel) in 2013-2015 by the Mariposa Symphony Orchestra under the composer. Movement III was premiered in April 2016 when the concert- length cycle was performed for the first time. This cycle was awarded a California Arts Council Creative California Communities Grant to partially underwrite a seven- concert, five-county performance tour of the MSO to the Gateway communities surrounding Yosemite National Park, in April-May and August 2016, culminating in the now-legendary concert atop 7,200-foot high Glacier Point in Yosemite National Park. The entire concert cycle was designated as an official event of the National Park Service commemorations. The composer was honored to be named a National Park Service Centennial Ambassador.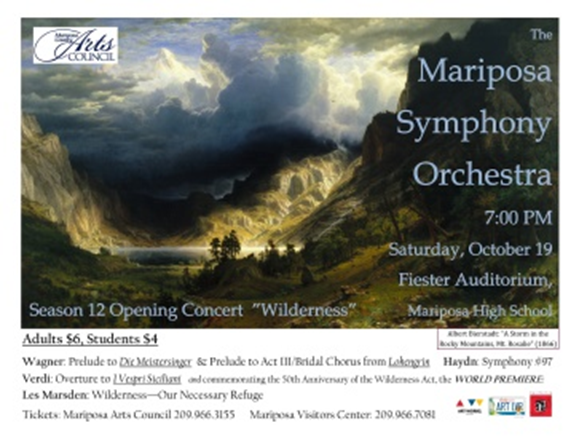 I. Hope in a Time of Tragedy (Approx. 20 Minutes)
This symphonic poem is meant to honor one of the greatest acts of vision in our nation's history: the 1864 signing of the Yosemite Grant Act by President Abraham Lincoln. I think the aspect of this pioneering act that strikes me the most is the incredible irony of its timing. It's boggling that this remarkable act of preservation was created during a time in which our country was literally tearing itself apart. Which helps one to realize why this was such an historic deed, with lasting impact not only to our Yosemite region in which I live, but to the entire nation – and even, arguably: to the entire world.
I wished to extol the extraordinary vision of a few thoughtful Americans who realized there are such things as lands which are so special they must be preserved for all time. Men ahead of their time and at least prominent woman: Jessie Benton Frémont, wife of John C. Frémont and daughter of Senator Thomas Hart Benton of Missouri. Those far-sighted individuals conceived something brand new: an act which made Yosemite (and in fact,) all our national parks possible. And I want to offer my gratitude for the existence of this very special symphony orchestra – the Mariposa Symphony Orchestra (founded 2002) and all those who support it, which in turn allows we here to celebrate Yosemite in a very special, unique way no other community in our region can. By offering a large-scale, original symphonic work – composed and performed in a world premiere right in the home of, and also right in: Yosemite National Park. And we of the Mariposa Symphony Orchestra are honored to be able to so celebrate and commemorate these monumental anniversaries in 2014 – 2016.
On June 30, 2014 we celebrate the 150th Anniversary of the signing of the Yosemite Grant Act by Abraham Lincoln. But what WAS the earth-shattering, lasting significance of that act? In the 13 years since Major Savage's Mariposa Battalion in 1851 had become the (apparent) first white Europeans to enter Yosemite Valley, the entire region began to be settled, irrevocably altered and developed. Destruction was rampant: meadows were overgrazed, squatters built ramshackle structures and commercial enterprises in Yosemite Valley itself while immensely giant redwood trees which had survived nature for thousands of years were wantonly cut down – in some cases just for firewood. The brittle wood frequently shattered when the trees fell – but with so many still standing, the ruined majestic trees were just left on the ground, destroyed for no reason at all. Stock animals polluted watercourses and men demolished anything which might obscure gold-bearing ore. Just a brief year after the Mariposa Battalion stepped foot in Yosemite Valley, the killing of two interloping gold miners in the valley (in Bridalveil Meadows) by the Ahwahneechees in 1852 become the fulminating event in the eventual tragic destruction of that tribal group's home and removal from its ancestral grounds. 3,000 years of a peoples' historic homeland ended nearly overnight, largely because of: greed for riches and the exploitation by outsiders of already-occupied lands.
That damage was done. Those Ahwahneechees who hadn't succumbed to disease or privation had been disbanded, sent to a reservation, had been released or escaped, returned (against orders) to Yosemite – and more were to die (including Chief Tenaya in 1853 at the hands of neighboring Monos.) By the mid-1850s, the few remaining Ahwahneechees were permanently scattered – forbidden by the US government from ever returning to Yosemite Valley, their homeland, which many were never to see again. It's a tragic and terrible time from our past and there's no other way to see it – the legacy and aftermath of Manifest Destiny.
With the aboriginal population removed, white Europeans began to see and accept the reality of this extraordinary place. Some who only heard about Yosemite Valley refused to believe such a place could exist, scoffing even at the paintings, sketches and descriptions by those who had actually been to Yosemite. Once there, of course, and as we know: the exceptionalism of place is evident. Many were gravely concerned that these areas were SO special and so spectacular that they needed protection for the enjoyment of all. These were not wild lands to be exploited by the highest bidder or the craftiest schemer but – as we fortunately still experience them today: a truly exceptionally beautiful region to be left as nature had created it. Chief proponents included Galen Clark, who is credited with having "discovered" the Mariposa Grove of Big Trees in 1857 and became their self-appointed protector. (John Muir wasn't to enter the picture – or Yosemite itself – until the spring of 1868.) Others included Frederick Law Olmsted (who was to play a very important role in the park and its guardianship for decades to come) as well as a particularly pivotal, but nearly-unknown-today man: Israel W. Raymond. Raymond was the California-based representative of the New York-chartered Central American Steamship Transit Company. It was Raymond who was responsible for contacting California (junior) Senator John Conness and urging the protection of these lands in a letter of February 20, 1864 noting: "I think it important to obtain the proprietorship soon, to prevent occupation and especially to preserve the trees in the valley from destruction." Conness saw the wisdom of Raymond's case and communicated with a great many other parties on the ground in California, ultimately writing to J. W. Edmonds, the Commissioner of the United States General Land Office just a few weeks later. Conness asked Edmonds to create a final draft of a bill (utilizing much of Israel Raymond's recommendations, as well as his wording of location and perimeters of both the Mariposa Grove and Yosemite Valley.) Pretty clever – as Conness was able to eventually introduce the Yosemite Grant Act by noting the imprimatur of "gentlemen in California of taste and refinement" and as the General Land Office had produced the draft language of the bill, the implication was that the support for this action was broad and institutional.
Cut to the chase: just two months later in May of 1864 Senator Conness introduced this fairly brief bill in the US Senate which (among other things) ceded Federal lands including the Mariposa Grove of Big Trees (and here I quote:) "the 'cleft' or 'gorge' in the granite peak of the Sierra Nevada Mountains, situated in the county of Mariposa, in the State aforesaid, and the headwaters of the Merced River, and known as the Yo-Semite Valley…" to the state of California – but only on the condition that those lands were protected and held "for public use, resort, and recreation… inalienable for all time." This was a big deal. A big BIG deal. America and much of the developed world were in the thralls of the mature stages of the industrial revolution which had seen mechanization of so much open land, a slow shift from rural living to clustered industrialized mega-cities – and the engines of commerce had become unstoppable. But now, for the first time: a portion of a country's land was demarcated with a protected status – and removed from potential private development, destruction or alteration. Most important perhaps: the land was ceded to a state – and the state was charged with protection of those lands. This had not previously been done. That action didn't actually create a "Yosemite National Park" – and in fact, the first National Park (also a pioneering American idea) was to be Yellowstone in 1872, with Yosemite National Park not to come into being until 1890 – and even then, Yosemite Valley and the Mariposa Grove were to remain under California's state control until 1906, when those two areas were ceded back to the Federal Government to become part of Yosemite National Park. But this 1864 Yosemite Grant Act is what made possible the idea of inalienably preserved public lands being held for the enjoyment and use by all. A remarkably novel, far-reaching concept – and it all began right HERE. And there's something so very special about the fact that the premiere weekend of this musical work honoring the Yosemite Grant saw performances in Mariposa and also right THERE, smack dab in the center of Yosemite Valley – where it all began.
Interestingly enough, when Conness was selling his bill in 1864 at large, he described the Yosemite lands as "worthless." My guess is that he did so as a strategic argument – and essentially arguing against their potential for any real developed use, presumably. After Conness' bill received some brief discussion, it was easily passed by the US Senate, with the House following suit about a month later in June. And shortly after, on June 30, 1864 – at the height of the Civil War, with a once-cocky nation now desperately weary over the profound loss of lives in battle, President Abraham Lincoln signed that bill without much ceremony. Our nation was not yet a century old and the division which could have ended its unity forever was still far from being over. And again, keep in mind: on June 30, 1864: there were some who believed with great cause that the United States as an entity was gone forever.
The mindset of a nation, at a specific time: On June 30, 1864 no one could see an end to the war – or even if there would EVER be an end to the war but: Yosemite Valley and the Mariposa Grove were now protected. By the signature of a President who ironically, sadly would never live to see what he had saved. And the concept of National Park lands had become tangibly real on that day. The amazing vision of Clark and Conness is alive today and their names are also figuratively etched into the very geography of Yosemite: 11,522-foot Mount Clark AND the Clark Range (one of my favorite expansive panoramas) and 12,649-foot Mount Conness and its Conness Glacier. It's the very least we could have done for them.
That's a thumbnail background on the Yosemite Grant Act itself. But what about a piece composed to honor that act?
Musical Analysis of Hope in a Time of Tragedy
When I began considering how I wanted to approach the musical commemoration of this idea of a Yosemite Grant Act, this 150th anniversary – the thing that struck me and kept resonating was the fact of this incredibly far-sighted legislation being enacted while the country was tearing itself apart. Harmony in the midst of chaos. Beauty in the face of horror; the creation of something forever-lasting while endless destructive war was the ongoing experience of the nation. Hope in a Time of Tragedy. The unknown future. And remember that while this legislation was being created and signed, no one knew the outcome of the war or even the future of the nation. Beauty in the face of horror. Sure, the general direction of the war had changed since the July 1863 Battle of Gettysburg slowly, incrementally began to give the Union the edge it had lacked since the beginning – but the end of the war was not in sight and the preservation of this American nation was NOT a foregone conclusion while the Yosemite Grant Act was being created. That's something I wanted to keep in mind and in fact, to make the very basis of this piece.
The piece is in a highly-modified sonata form and opens with a simple three-note motif played by solo, unaccompanied pp flute: A♭, B♭, E♭. A-b-e. A few bars later, an extension motif spelling out the name "Abraham" (in musical cryptology) is also heard on the flute with piccolo joining at the end of the phrase – just once, but that simple initial motif of "A-B-E" is to be a pivotally important and recurring motif through to the very final bars of the piece. In the ninth bar, the divided celli (joined by the divided violas in bar twelve) state my "Yosemite" motif. As this particular movement will eventually be the first movement in the entire comprehensive cycle of my American Anniversaries I'm composing and contributing to these observations of 2014 – 2016, this will be the first time that motif is heard – though it'll reoccur throughout all four movements. Though in fact, it's already been heard due to its brief quotations in my Wilderness – Our Necessary Refuge, which had its world premiere on October 19, 2013, commemorating the 50th Anniversary of the Wilderness Act. I conceived and composed that motif as notes inspired by, and physically mirroring the profile of Yosemite's horizon from the iconic Tunnel View – and it's always heard as you see it, two notes played in thirds, to symbolize the meeting of the sky and the earth:
There's a slight development and intertwining of these two initial motifs ("Abe" and "Yosemite",) leading to an unsettled, questioning, searching mood by the end of the introduction. At Rehearsal Letter A (approx. 1:15 on the audio demo) the tempo becomes moderato marziale and the snare roll swells before being joined by timpani, trumpets and trombones in a brash re-statement of "Abe." Bass drum and crash cymbals finalize the military additions and we then get a string sectional lead-in to the full-fledged introduction of a jaunty American march in all its brash splendor, bristling with Scotch snaps and other syncopated rhythms reflective of the international hodgepodge origins of American music – which represents the Union. I deliberately did NOT want to authentically re-create the style of music of the Civil War period, nor did I want to take the (relatively) easy way out by utilizing well-known tunes of the era – been there, done that with my piece "Foster Child." The march's "A" section leads to a "B" strain which then introduces a nearly circus-march bridge strain in the trombones and low brass until at letter D (about 2:30 on the audio) we have a quiet trio section which is: the Yosemite motif, simplified. The trio builds, the march's opening strains are reprised with slight development until the die-off ending just before rehearsal letter G – as the violas slowly build a pp held G (the third degree of the key of E♭) initially without vibrato into a throbbing forte as that third becomes the tonic. We modulate into a wistful G Major as that note (at the Andante grazioso at letter G) becomes a quiet, expressive and somewhat slightly melancholic tune opening a section representing the antebellum South. A graceful, hospitable, genteel Old South which may (or may not) have existed before the times of troubles. The brief "B" section thematic material – solo clarinet over harp accompaniment: will briefly return in altered form in the final minutes of the piece, during the "anthem" finale.
At Rehearsal H (about 6:30 in the audio) the substantial development section begins – and it's not necessary to give a bar-by-bar play-by-play. Suffice it to say that the two sections' tunes and subtunes: the Union North and Confederate South take on far different and increasingly complex characters. I didn't want to write 'battle music' per se – and so that's not what I did. I wanted to portray conflict, stress and growing differences with an ever- deepening mood of darkness within a militaristic sound-frame – without directly imitating the sounds of battle. This is NOT Wellington's Victory or 1812 Overture or Hunnenschlacht – it's a different, less literal, perhaps a little more psychological approach to musically illuminating war. Or at least that's what I attempted for it to be. The development begins darkly, of course: but it's not too terribly dark. Mere clouds on the horizon. Taunts. Distrust. If you WANT to think about things in an historically abstract way: let's just say that Fort Sumter hasn't yet been fired upon.
Modes are altered, moods grow continually darker. Little snatches of what HAD been subtle or even totally irrelevant counter-melodies in the exposition section now become dominant – and drive the exposition forward. The "Abe" motif appears, but not always utilizing the original tones – instead, only the intervals of a second and a fourth remain constant, with new coloration from plaintive to threatening. Listen to note how the motifs AND rhythms are developed – how the Southern tune's three initial ascending notes, leap upward of a sixth and descent which was originally a hopeful though morose plaint now becomes a steely, driven 'vengeance' tune. Even so simple a one-bar lick as the brass p cadence that first appears after the initial brief flute/oboe statement of the Union "A" strain (eighth bar after rehearsal B, at about 1:48) returns three bars before the key change at bar 259 (about 7:16 in the audio) to become a far more important fulminating agent of development. At Rehearsal Letter I, the first and second violins and first and second clarinets begin a far more negative statement of the "Southern" tune and two bars later, horns II and III begin a direct counterpoint of the "Northern" tune in direct opposition – or actually: counter-harmony at exactly the same time: north and south in conflict. This is the crux of the struggle stated at its most musically primal.
I don't want to sound glib, but I was so fortunate to have a President whose nickname lent itself so well to the many ways in which that "ABE" motif could be used throughout different keys, maintaining the concert (key) spelling of the notes despite the initial statement being in the key of Eb Major – and eventually ending up in the key of C Major. Thank YOU, Mr. President!
By Rehearsal K, things are heating up. The tension builds steadily for about 100 bars but a few bars before Rehearsal P, a low brass z which intensifies until boiling over at the Allegro deliberatamente between Rehearsal Q and R featuring a brief but all-out percussion eruption. The final angry tumult builds to chaos – a desperately out-of-control situation. All breaks down. At the three-four meter five bars before Rehearsal T, basso instruments intone a slow pattern of A♭, B♭, E♭which increases in its metric pattern and becomes more rhythmically complex – but with a disjointed accent on the final note of the pattern – the Eb. At the Andante Resoluto, a penultimate half-note "ABE" precedes a final statement of the motif at the three-four bar at Rehearsal U – as the sounds slowly begin to slip away – worn out. D minor becomes dominantly g minor – with that overlay of the "ABE" motif in its original (flattened) pitches, leading the key into the Phrygian mode – until the strings (initially) begin softly bitonally intoning a bm7 arpeggiation resolving into a G♭M7 one, with harp accompaniment. A final G ♭M7 tonality is reached as the celli and violas softly pizz an A♭, B♭, E♭…which (elegantly!) resolves into the key of B Major at Rehearsal V for a very simple, non-harmonized, 'honest' B major statement of the Yosemite theme by two oboes, two clarinets and two horns – at last. I really hope the simplicity and – dare I say – "American" sound of this theme will feel and SOUND like: Hope arising from Tragedy; Harmony from Chaos. The strings repeat the theme before brass fanfares and upper woodwind filigree resolve the key up one half step to a bright, positive, optimistic C Major; the tune builds into a far more heroic sound – an outdoor, majestic treatment of the celebration of that which is Yosemite – before the piece finally comes to an end with an all- out joyous peal of chimes and one last "ABE" from the brass in the penultimate bar – but this time, it's now A♮B♮E♮–and the piece is over. I had actually strongly considered– arising from that final orchestral tutti cadence: a very soft military tattoo with the north and south tunes hinted at – just as a reminder that while Yosemite was now real, the war was not over yet…but thought better of it. Let's end on an up note – literally AND figuratively. And the Hope that arose in that Time of Tragedy remains alive to this very day, 150 years later. A protected Yosemite is born; the seeds of our National Park Service are sown.
II. Wilderness—Our Necessary Refuge (Approx. 20 minutes)
This was actually the first movement of the cycle to be composed and premiered—and commemorates the 50th Anniversary of the 1964 Act signed into law by President Lyndon Johnson. So: what's the sound of wilderness and can it be interpreted symphonically? To me, "wilderness" describes places of tremendous variety—from placid ponds to pounding surf; Alpine meadows to barren deserts, gentle rain deep in a primeval forest, volcanoes in eruption—terrifying gorges. But I find them ALL to be places of enormous comfort, no matter how wild, dangerous or seeming inhospitable. There's something comforting to me about any area which bears no sign of man. Wilderness, is above all: beauty, power, life, death, harmony, danger and the absolute majesty of nature. After rereading the Act itself and returning to that touchstone John Muir, I reminded myself of the four "classical" elements which comprise our planet: water, earth, air and fire: and then I structured and composed a piece depicting those four elements' roles in the extraordinary power of wilderness starting with the miasma of elements at the time of creation. I set about depicting their many permutations: rivers, lightning, waterfalls, the gentle plinking of rain, thunderstorms, a still pond, rain, earthquakes, a tempest at sea, the wind in various forms and much more and ultimately, the harmony of those elements, intransigent as harmony can be…and above all, end all: OUR absolute, utter need for wilderness. Our need for ALL those things. That's what I set out to capture. It was ironic to interpret and compose the sound of musical "fire" while evacuated for days from our house—itself threatened by an insatiable force of nature during the Carstens Fire, and to continue writing—back home—during the Aspen and Rim Fires, which were sufficiently distant from our home to be no threat but merely a constant, nagging smoky reminder of the power of nature – but, fire is there in the piece.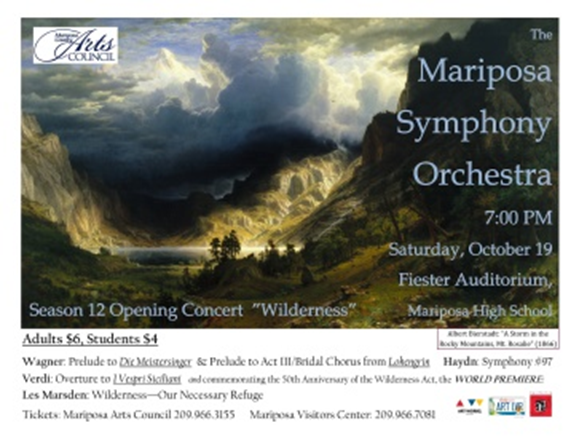 The movement both begins and ends in a quiet hush of tonal ambiguity – but not a harsh one – more a comforting sense of being adrift – perhaps in the wilderness of space. I created a subtle role for a wind machine and hand-made the one we use in our performances.
(Additional Update: This movement – "Wilderness – Our Necessary Refuge" – is the only one to have been performed by an orchestra other than the MSO, and well outside our area. I was humbled and honored to be asked to conduct the Health and Wellness Orchestra of Fort Collins, Colorado in a performance of this movement, and did so in concert there on June 10, 2018. While being introduced to the Colorado audience by Dr. Ann Yanagi, Founder of the Health & Wellness Community Orchestra (and twin sister of our own MSO Second Violin Section Leader Amy Yanagi,) Dr. Ann Yanagi revealed that the example of our Mariposa Symphony Orchestra's creation in 2002 had actually served as the model for the creation of the Fort Collins orchestra. During my subsequent address to the Colorado audience from the stage, I surprised attendees, the members of the orchestra – and also,myself by spontaneously proclaiming a "sister orchestra" relationship between the two ensembles, which (fortunately!) prompted extended applause.)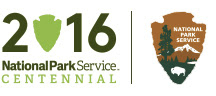 III. Guardians of Wonder, Stewards of Magic (Approx. 12 minutes)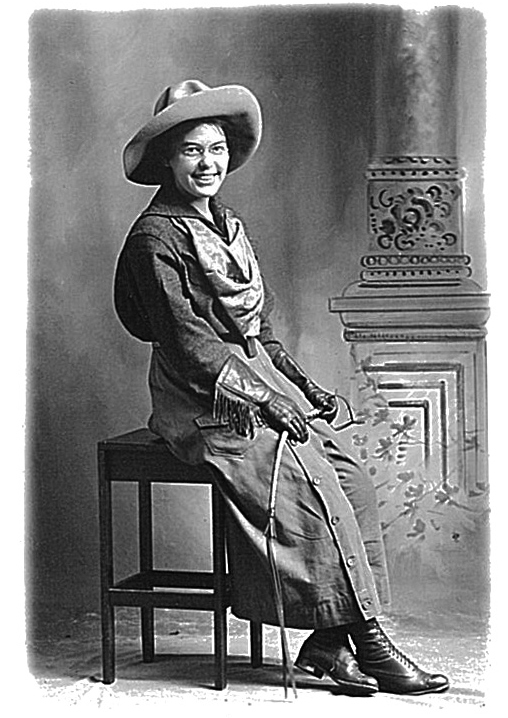 This movement is the sole example in this cycle of "absolute" music – rather than the programmatic approach I used in the other three. When I was very young, and despite profound musical training as an instrumental musician (and conductor/composer) I decided at the age of FOUR upon my chosen career field – that of the professional theatre, as some of you may know. It's (of course) a field in which success is highly elusive and often based more upon luck than accomplishment – and I pursued that field with a passion which actually DID, surprisingly to me: result in a very fortunate, rewarding career as an adult: as a working actor based in Manhattan and London. A career which ended when I became disabled at age 42. But – in my early adolescence, there was one and only one other occupation which seriously turned my head: that of a Park Service Ranger. I was enthralled by the idea of a life lived largely outdoors, a career dedicated to the preservation of nature, an occupation founded in major part on helping others to discover and experience the joys of nature. I read book after book of outdoor life and the reminiscences of career rangers – I was in my element whenever I lived in nature for a few days and nights: cold winter or blistering summer, blazing sunshine or relentless thunderstorm: the partnership of the elements. And so it's those abstract thoughts I had in mind when I decided to compose a movement dedicated to the men and women of the National Park Service. The title was inspired by Ansel Adams' 1967 Occidental College commencement speech in which he stated "I believe the world is incomprehensibly beautiful—an endless prospect of magic and wonder." (And I was graciously supplied with a facsimile copy of that speech by the staff at Occidental, to my great gratitude.) Those two words—magic and wonder—describe our national parks and monuments well – and it was easy to assign titles to their protectors. To work in the extraordinary landscape of the woods, or the desert or the plains or near (or on) the sea or (for the only slightly-less- fortunate) within the urban park settings or within the office component of the NPS, how more fulfilling a career can there be to the human psyche? To be in touch with nature on a constant basis? And so this movement is built on a few simple motives and tunes – including one whose subtle galloping lilt offers a tip of the hat to the pre-NPS African-American Buffalo Soldiers – among the earliest guardians of our parks – and the original "Park Rangers." And as a native Westerner fully aware of where those first parklands inspired the preservation of lands across all our states, I probably unfairly gave this movement more than a hint of a Western feel. But no apology is forthcoming. Other tunes range from heroic to joyously rapt – all qualities I would hope are experienced regularly by the men and women of the NPS, no matter where they serve (and serve they DO) as they relish the satisfying careers with which I once flirted. After our first rehearsal of this movement our principal oboist wanted to share her impressions of my music, of this movement. She noted to me somewhat excitedly that during one of the more light-heroic moments of this NPS movement, she saw in her mind's eye "a person wearing a business suit – dashing into a phone booth, ripping off the clothing and exposing beneath it: a park ranger uniform!" While it's not precisely what I had in mind as I wrote this piece, I really do love that image and can't think of a better visualization to attach to this music! If I owned a flat hat, it would be OFF in salute to our guardians and stewards of the NPS. Thank you for a century of protection and preservation.
IV. Yosemite! (Approx. 35 minutes)
It's impossible to honor all the aspects of its extraordinary 1,169 square miles which captivated me from my very
first visit well over 50 years
ago; we all love Yosemite for many of the same, as well as many different reasons. One of my great regrets is that my physical disability as well as TIME will never allow me to explore Yosemite's many
places I haven't yet visited but would LOVE to see—particularly in the back country. But life shouldn't be about regrets!
Here's a guide for the concert-hall visitor to my musical interpretation of my Yosemite! – what to listen for, how to tell where we are. There are NINE sections; some sections lead into the next without interruption; others have clear endings before the next begins:
I. Introduction: the Waters of Yosemite
This is a reintroduction of water motifs heard in the previous movements. Not only do they reach a racing, bubbling climax in this brief, 2—3 minute intro, but they remind us that the park owes its very existence and present to: water. Glaciers shaped it, snow and rain nourish its flora and fauna, and rivers, streams, lakes and extraordinary waterfalls attract the human and animal visitor. Waters recur throughout the remainder of Yosemite!, intertwined within the other sequences and sections.
II. Prelude to Dawn: the Giants of Mariposa Grove Low strings/winds in 5/4 time and a single stroke on the large Tam-Tam (gong) find us amidst the big trees in Heinrich Berann's spectacular panorama of the park the dark, yet completely welcoming giant grove before dawn. In glorious solitude, in the deep dark with these welcoming giants. But it's not only the big trees I honor: it's also an homage to that forward-thinking giant Galen Clark, protector of these massive trees. Music and the grove (and birds) slowly erupt into ecstatic day over the course of several minutes.
III. The Waters: Illilouette Fall Strings, harp and suspended cymbal recall this large, beautiful, mostly- hidden fall, best seen from the Mist Trail or the Panorama Trail. It was named by Josiah Whitney in an apparent corruption of the original native name: Too- loo-lo-we-ak which, translated means (ahem) "urinating." Whitney, incidentally (for whom Mt. Whitney is named) was the California State Geologist and Harvard professor who derided Muir's contention that glaciers formed Yosemite Valley. Until Muir was proven correct!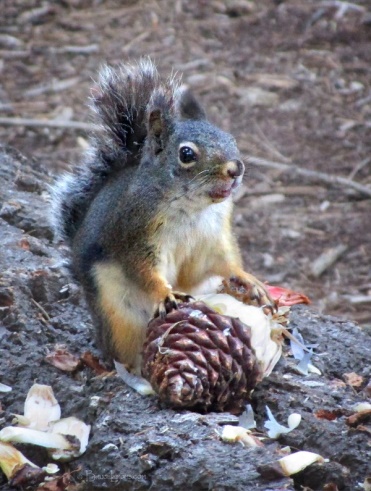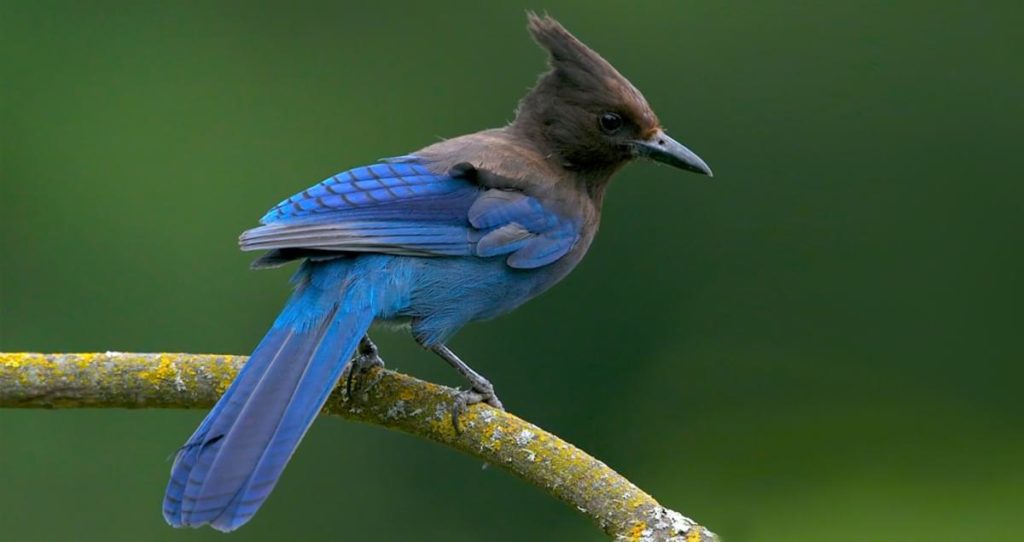 IV. Chickaree, Steller's Jay and the Black Bear's Lament Chickarees (Douglas Squirrels) are scurrying little forest bullies: even larger Gray Squirrels are chased off. As a matter of fact, no less an expert on animal life than John Muir himself noted of the chickaree: "He is, without exception, the wildest animal I ever saw, –a fiery, sputtering little bolt of life." Steller's Jays are amazingly intelligent and also VERY talented imitators of other birds; they can do a dead-on mimic of red-tailed hawks intended to scare away the competition. But they possess an annoying screech: it's the Jay's sole outburst repeated ad nauseum you'll hear as they argue. A grumbling black bear – one of the most recognizable symbols of Yosemite (and cousin to the now-extinct California Grizzly, whose name in Miwuk – "uzamati" is – perhaps: the source of our name for the park itself) slowly lumbers onto the scene to lament —after he passes, squirrel and bird resume their scurrying quarrel before being VERY decisively forced to retreat for good by the returning, VERY irritated bear.
V. The Waters: Tuolumne River: High Country, Late Autumn Harp begins, then horns and oboes intone as the entire orchestra erupts into an embrace of autumnal beauty built around the water motif.
Summer's final rays pass with a trumpet's solo call before a deep chill sleep isolates this gorgeous area for two-thirds of the year. Autumn is my favorite season—a time of beauty and preparation for winter's sleep. And this Upper Montane and Subalpine (and Alpine) zone area is, to me: the essence of pure, stark natural beauty.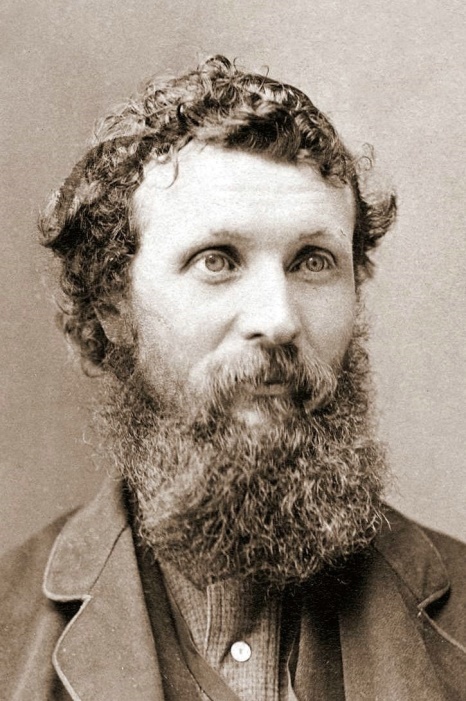 VI. Go West, Young Muir I composed an East-Lothian (Scotland)-inspired reel representing the great man's Dunbar birthplace, despite the fact his family moved to the US when he was 11! However, he did keep his Scottish accent to the end of his life, by all accounts. Muir loved nature even as a boy and his wide travels (including Canada, Alaska and Cuba) saw his "thousand-mile" walk from Indiana to Florida before finally making it to California and: Yosemite. Though he first worked as a high-country sheepherder who came to describe his charges as "hooved locusts" before managing a small sawmill near the base of Yosemite Falls, Muir knew this extraordinary region must be preserved. He – more than any other person: was most responsible for the 1890 establishment of Yosemite National Park. At the end of his life, he fought to preserve part of that park he had worked so hard to help create: the Hetch Hetchy Valley of the Tuolumne River, which he described as the twin of the Merced River's Yosemite Valley.
That was a battle he'd lose, though: as the Raker Act of 1913 allowed San Francisco to dam the valley for its use as a municipal water supply; Muir died the following year. But my depiction ends a little more happily: just as young Muir was drawn to the great American West, the music of this reel eventually absorbs and is overtaken by the "Yosemite" motif, that anthem established in the first movement.
VII. The Waters: Ke-Ko-Too-Yem and Tissiak's Tears Ke-Ko-Too-Yem ("Sleeping Waters") is the beautiful native name for Mirror Lake; Tissiak is Half Dome. In legend, she was a nagging wife turned to stone by her husband and her tears on Half Dome's face may be seen reflected on the surface of "Sleeping Waters." But on a deeper level: Tissiak's sorrow represents the tragic, violent expulsion of the Ahwahneechees from their home of 4,000 years with the entrance of European whites in 1851—and it's that disquiet, that unjust and terrible history I've tried to suggest. As a reminder of bitter history and as homage to those long-passed: the first stewards and guardians of this extraordinary region, the original residents of Yosemite Valley.
VIII. 1962: Yosemite Valley, Late Summer at Twilight (Firefall) Recall a far simpler, wonderful time—the end of a soul-enriching Yosemite day filled by magnificent, ennobling, amusing and inspiring experiences. The Chickaree and other adventures of the day play through one's mind before eventually the tone changes: the two vocal callers (at Camp Curry and Glacier Point) begin the six simple phrases which presage the Firefall. (Note: August 17, 1962 saw the normally-clockwork 9:00 PM Firefall begin late: President Kennedy stayed in Yosemite that night and an important Presidential phone call delayed the Firefall until 9:30!). Hear hints of the two tunes associated with the Firefall: "America the Beautiful" and an aria from a popular operetta (see note below.*) Then: listen carefully for this section's quiet end: a Great Horned Owl hoots as we all drift off to sleep.
X. Finale: Majestic Yosemite Falls North America's tallest falls and the most iconic symbol of water in all of Yosemite National Park. During peak seasonal flow the earth truly shakes in one of nature's most thrilling demonstrations of power; in a symphonic apotheosis, earlier motifs— including the first movement's "Union" motif: combine—until percussion and strings offer thunder and spray interrupted by brass recapitulations of that "Yosemite Anthem" leading to an all-out finale both of this movement and the entire cycle.
*I had to update this reference. That "aria from a popular operetta" was the
Indian Love Call from Rudolf Friml's 1924 operetta "Rose Marie." It was popularly, casually sung by many people in the Valley in the aftermath (and sometimes, the PRE-math!) of the nightly firefall event; it has become completely knitted into the memory of those who observed the firefall so of course I had to include a quotation of that tune in this section. The only complication is that when I first wrote "Yosemite!" and wanted to include that brief quote, "Rose Marie" was under copyright, though it had been composed 91 years earlier and its composer had been dead for 43 years. But I've always striven to do the right thing, and even though my small snippet of a quote was probably allowable under the fair use clause, I actively began my search to find the current copyright holder of Friml's "Rose Marie." After contacting the first likely source and being told it belonged to a different publisher, and then having THAT publisher tell me no, it's held by THIS publisher, and then – after being directed by THAT publisher back to the ORIGINAL PUBLISHER I HAD FIRST CONTACTED: I realized NO ONE apparently knew who owned the rights to "Rose Marie" and "Indian Love Call" and so – I just said 'the hell with it!' and used that snippet anyway – especially as it was SO close to the end of its protected life.
The good news? I tend to follow copyright developments, and now – as of January 1, 2020: I'm pleased to report that "Rose Marie" passed into the Public Domain, and as such is no longer under copyright! So – if I wanted to, I could have a tenor and soprano come onstage, link hands, and sing the entire selection at that point in the firefall section. But for your sake AND mine, I won't!
But all the same, it IS nice to know I don't have to worry about using that little snippet anymore…
Tickets for the MSO's Saturday, April 18th "Happy 50th Earth Day" Concert are now available at the following prices: General Admission: $10 Adults, $6 Students. Special prices for Mariposa County Arts Council Members: $8 Adults, $5 Students. Tickets are now available online via our MCACI Shop page http://tinyurl.com/MSOTickets
Tickets are also available in person at the Mariposa County Arts Council's office and Treetop Gallery on the top floor of the Chocolate Soup store at the southern entrance to the town of Mariposa. Call (209) 966-3155 for tickets and information. Information is available at http://tinyurl.com/MariposaSO .
The Sunday, April 19th 2:00 Matinee presentation of the Earth Day Concert in Yosemite National Park is free of charge, first-come-first seated. In case of anticipated inclement weather, the concert location will be changed by Friday, April 17th to the East Auditorium, directly behind the Yosemite Valley Visitor Center in Yosemite Village. That concert is provided to the public at no charge as part of John C. Fremont Healthcare District's MSO Concerts in Yosemite "The Healing Power of Music."
We are also indebted to Yosemite National Park's Acting Superintendent Cicely Muldoon and staff, as well as Yosemite Hospitality, Yosemite National Park's Official Concessionaire for all they've done to help make our Yosemite concert a reality.
E-mail MSO@sti.net and ask to be added to the private, exclusive "Friends of the MSO" e- list.