Date/Time
Date(s) - 03/23/2018
2:30 pm - 4:00 pm
Location
Mariposa Human Services
Category(ies)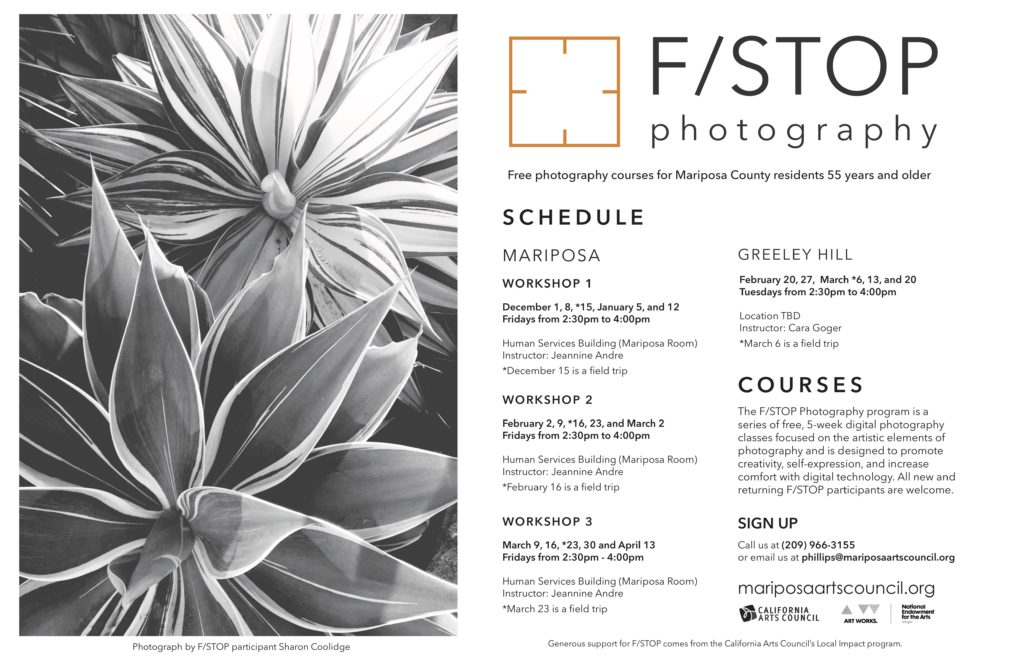 The Mariposa County Arts Council is pleased to continue F/STOP, a photography program aimed at Mariposa residents 55 years of age and older. This program consists of a series of free, 5-week digital
photography workshops focused on the artistic elements of photography and is designed to promote creativity, self-expression, and increase comfort with digital technology. Each workshop includes: lessons on the elements of art, principals of design, composition, and lighting; facilitated discussions; a photographic field expedition/field trip; and guidance on presenting the artwork created in the program. Images from all the workshops will be included in an exhibition at the Arts Council's Treetop Gallery in late spring 2018.
Workshop 3 will be March 9, 16, 23, and April 13; Fridays from 2:30 – 4:00 PM. March 23 will be a photography field trip. This workshop will be held at the Mariposa Room of the Human Services Building (5362 Lemee Lane, Mariposa)
Registration is required but the workshops are offered free of charge and the Arts Council provides all the necessary equipment.
Contact our office at (209) 966-3155 or email phillips@mariposaartscouncil.org to register.