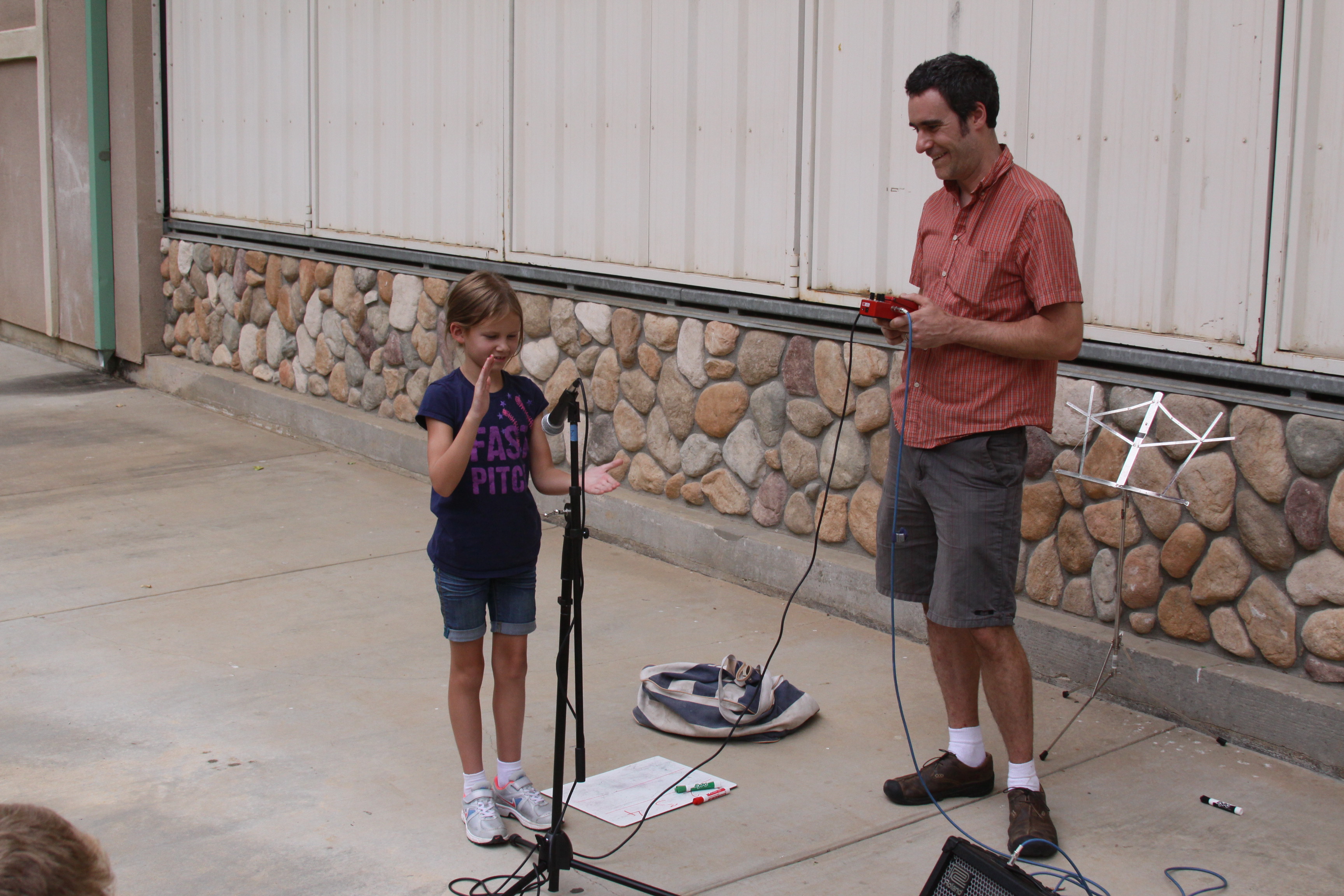 Adam Burns and a summer camp participant create a musical piece by layering beats on top of one another. 
The Wallace Foundation just released a report entitled "New Opportunities for Interest Driven Arts Learning in a Digital Age" authored by Kylie Peppler, and as the title implies, it focuses on the ways in which digital technology (specifically the digital devices so often used by kids – tablets, phones, etc.) can be a vehicle for creativity. Furthermore, the study argues that there is a disconnect between the kind of art youth are offered in formal settings and the art they are already creating on their own.
In 2010, 85% of teens between the ages of 15 and 18 owned a cell phone; this represents a major jump from 54% in 2004 (Rideout, Foehr, and Roberts, 2010).  Even more interesting is the fact that two thirds of online teens regularly generate original, creative content such as blogs, artwork, short stories, etc. and immediately share their work with their online community (Pew Internet and American Life Project). All this work is done outside of school or after school art classes and this is important for all of us involved in the arts and arts education to bear in mind.
Over the years I've encountered a lot of resistance to the incorporation of new technologies into the arts. I think that this may stem from the fear that something will be lost (history, tradition, technique) with the introduction of something new.  And to a certain degree, those fears may be legitimate. But really, art has always been closely connected to innovation and technological advances. As a photographer, I know my medium owes as much to the many inventors, chemists, mechanics, software developers, and tech gurus who have advanced photographic arts as it does to Alfred Stieglitz, Ansel Adams, Beaumont Newhall, Henri Cartier-Bresson and all the other famous (and wonderful) photographers, curators, and art critics.
In summer camp this week we created several pieces of artwork that wouldn't have been possible 100 years ago and that are all thanks to technological innovation. I had a blast helping to create two stop motion films with the kids and, in music camp, Adam Burns and his campers recorded musical loops that allowed campers to layers multiple beats and vocalizations on top of one another in order to produce a richly textured musical piece. (BTW, there are an overwhelming number of apps that make it possible to make both stop motion films and record loops on a smart phone). Both projects were amazing hits and I suspect it was the technology involved in each piece that initially hooked the participants and stirred the muses.
I am excited about where innovation and new technologies are propelling art and I am all for leveraging popular media and the tools and techniques kids are already using to nurturing and grow their creative potential.
Just for kicks…here are the rough cuts of our two stop motion shorts. 🙂