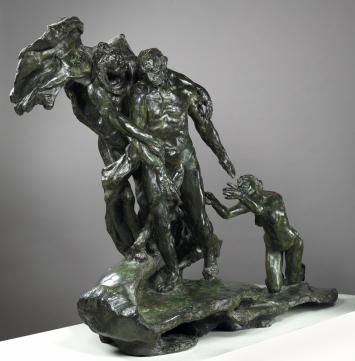 One thing that I've enjoyed about moving back to Central/Northern California has been exploring and getting familiar with all the great museums in the Bay Area. I've been fortunate enough to see the Cindy Sherman exhibition at SF MoMA, the Terra Cotta Warriors at the Asian Art Museum, and the very impressive David Hockney exhibition at the de Young. These showstoppers were fantastic and I appreciate the massive efforts that these museums made to curate, locate, secure, and install the featured pieces required for each exhibition. However, I've also been acquainting myself with the permanent collections at each of these museums and reflecting on how wonderful collections are.
A defining feature of a museum is a permanent collection of unique objects. This collection is used to curate and design exhibitions, build educational and community outreach programs, and be primary source material for academic research. Collections are not brought together in haphazard ways but are built through careful and intentional selection ensuring that the included objects supports the museum's mission and are of a certain quality.
Collections are HUGE and it is likely a good percentage of a museum's collection will never make it into the galleries…but that doesn't mean you can't see them, virtually. Most museums provide e-access into a large portion of their collections via their websites (many museums have their entire collection available to be viewed in the comfort of your own home). Don't get me wrong, if it's possible, I'm a firm believer in seeing artwork in the flesh – I've yet to have a transformative moment staring at Camille Claudel's statue "The Age of Maturity" on my computer, however it broke my heart in person. But there is value to being able to access the world's finest pieces of art at any time and any place. It's cool to know that while I sit in Mariposa (or Tegucigalpa, for that matter) I can share with another person sitting next to me a piece of random artwork physically residing in a collection in Paris.
Many museums' online collections have features that allows the viewer to curate their own mini collection and save it, share an image on social media sites, or even quickly save your mini collection as a PowerPoint (great tool for teachers). Here's a PowerPoint I created for a selection of photos I found on the Balboa Park Commons that all feature windows (notice the PP contains all the metadata and interpretive info for each piece). The Balboa Park Commons is cool because it consolidates the digital collections of several San Diego museums into one place. But I have also been having fun with the features of the Museum of Modern Art, the Tate, the Getty, the Rijksmuseum, and Musee d'Orsay digital collections. And those are just a few of the good ones.
These digital collections represent a great deal of work on the part of museum staff and volunteers and I am grateful to them for opening up their collections to the world.