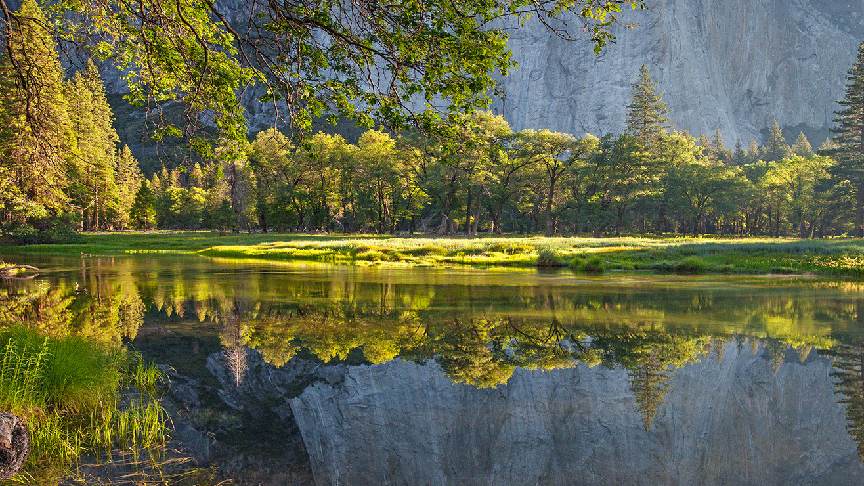 Here at the Arts Council we are already months into planning programs for 2016 (and 2017), but with 2015 quickly coming to an end, I thought it would be a good idea to reflect back on what our organization accomplished this year. Turns out 2015 has been a banner year for us — here are some highlights.
New Programs!
The Mariposa Theatre Alliance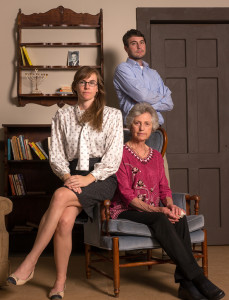 This past spring we welcomed a new principal program into our organization, the Mariposa Theatre Alliance (MTA). The MTA is an association of producing theatre artists formed to foster and promote theatre throughout Mariposa County. Its purpose is to share information, resources, and technical support. In addition to staging productions, the MTA provides theatre classes and workshops open to members of the community at large.
This year, the MTA held an Acting Fundamentals class taught by Connie Stetson, and staged two productions – "The Tramp and the Rough Rider" (created by and starring Lee Stetson) and "The Goldman Project" (directed by Richard Hoffman and starring Karen Silver, Audrey Davis, and Ira Jones).
JumpStArts
In line with a growing body of research indicating that exposing youth to art promotes emotional development and critical thinking skills, and in partnership with Sierra Quest Human Services Foundation, we have developed and launched a new visual arts/artist-in-residency program for probation and foster youth in Mariposa County. Designed for at-risk, teenage youth residing at Sierra Quest's group home in Mariposa, this visual literacy and communication program compliments Sierra Quest's strength-based counseling program. Serving as the program's resident artists are our very own Anna Friedland and myself and we are currently a little over half way through the 20-week residency. Looking to 2016, we have been given the opportunity to talk about this program at the upcoming State of Creativity Statewide Summit on Arts, Education, and the Economy in March 2016.
Veterans Initiative in the Arts/In Uniform Exhibition
Thanks to the Veterans Initiative in the Arts pilot grant program through the California Arts Council, this fall we were able to partner with the Keith M. Bertken VFW Post in Mariposa to organize an exhibition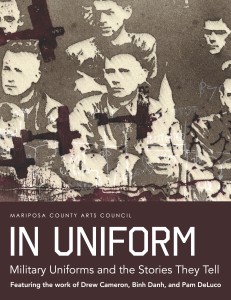 featuring art made from military uniforms and designed tell the stories of American military veterans, exploring the experience of war individually, collectively and environmentally. With the end of military conscription following the Vietnam War, civilians have been given the option to become increasingly distanced from the impacts of war. Yet, war continues and those in our community still serve our country through military service. By using material that has witnessed combat, the artists featured in this exhibition create a multi-layered platform to share the many experiences, emotions, and stories of those who have directly witnessed war. These stories of service are vital because they bring veterans' experiences to the forefront of the general public's consciousness and facilitate a necessary dialogue about our collective understanding and shared responsibility of war. This exhibition features the work of Binh Danh, Pam De Luco, and Drew Cameron as well as uniforms on loan from local service men. This exhibition will run through the middle of March 2016.
Adult Art Workshops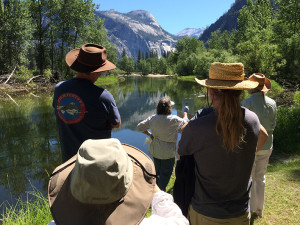 This year we created our first full set of summer adult workshops designed as both an opportunity for local adults to hone their creative talents and a fundraiser for our Artists in the Schools program. This past summer we offered the following workshops: Transfer Making with Anna Friedland, Plein Air Oil Painting in Yosemite with Penny Otwell, Leather Mask Making with Jackie Baxton, Metal Clay Jewelry Making with Lothlorien Stewart, and Short Story Writing with C.B. Mosher. Stay tuned for next summer's schedule.
New Developments — while these programs may not have been new this year, they all experienced remarkable growth!
The Mariposa Symphony Orchestra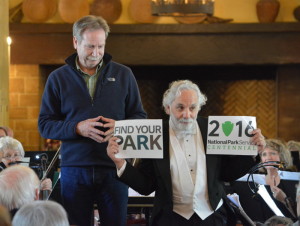 2015 was yet another big year for the Mariposa Symphony Orchestra (MSO), which began its 14th Season in October. This past April, MSO Founder and Conductor Les Marsden unveiled his half-hour composition "Yosemite!", the third piece so far to be premiered in his "American Anniversaries" – a large-scale four-movement symphonic cycle commemorating four milestones: the 150th Anniversary of the Yosemite Grant (2014), the 50th Anniversary of the Wilderness Act (2014), the 125th Anniversary of Yosemite National Park (2015), and next year, the 100th Anniversary of the National Park Service (2016). That final movement (commemorating the Nation Park Service's centenary) will premiere this coming April. Then in July we were awarded a Creative California Communities grant from the California Arts Council, making it possible for us organize a regional performance tour in the spring and summer of 2016 of the MSO to venues in five counties of the Yosemite/Central Sierra Region – including performances in Yosemite itself. Each concert will feature a complete performance of "American Anniversaries" in its entirety – as originally envisioned by its composer.
Artists in the Schools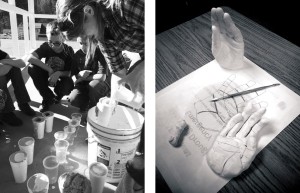 Our Artists in the Schools program launched in 2014, but the majority of residencies took place in 2015. This program places trained teaching artists into all of Mariposa's 5th grade classrooms for 8-week residencies. These artists have worked with their respective classroom teachers to develop an arts-infused, standards-aligned curriculum that teaches art in concert with at least one other academic subject. The residencies provide in-depth, hands-on visuals art lessons that develop students' critical thinking and creative problem solving skills while challenging students to transfer knowledge across traditional subject area boundaries. We look forward to bringing rigorous art programming to Mariposa's 5th graders again in 2016.
F/STOP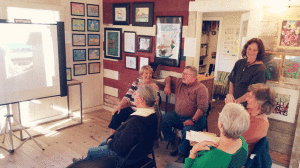 We expanded our F/STOP photography program, which provides free photography workshops for people 55 years of age or older in Mariposa, by offering more classes in District 2 and challenging our returning participants to create photographic essays that capture little known historical stories about Mariposa County. These photographic projects, along with images taken by first time participants, will be exhibited at the Treetop Gallery in the spring of 2016.
Music on the Green Summer Concert Series
Our beloved Music on the Green Summer Concert Series, shepherded by Producer Ronnie Sweeting, experienced record attendance numbers in 2015. Ronnie did a bang up job bringing new musical talents and genres to Mariposa (if you didn't see Baraka Moon or Trance Mission, you missed out) while peppering the concert series with local favorites. We are already looking forward to next summer's musical evenings.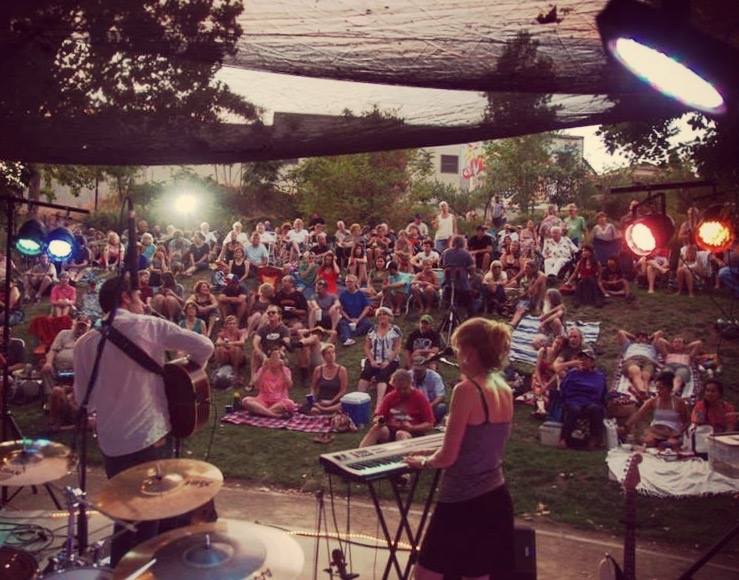 Organizational Growth
While not a programmatic change, one extremely exciting bit of growth for us was the fact that our long time (17 years!) staff accountant, Alicia Rodriguez, went from working part-time to full-time and was promoted to Operation Manager. We cannot overstate what an asset Alicia is to this organization and how much we love having here around all day now!
Steady as She Goes — in 2015 these programs continued to anchor our organization, demonstrating their resonance with the community and staying power.
The Mariposa Storytelling Festival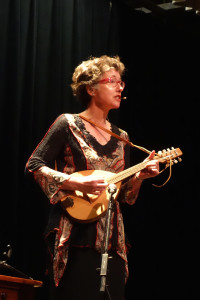 2015 marked the 28th year for the Mariposa Storytelling Festival and the 20th year it has been under the Arts Council's umbrella. This year's Storytelling Festival mixed new and seasoned voices as we welcomed master tellers, Beth Horner, Tim Lowry, Michael Parent, Antonio Rocha, Anne Rutherford, and Sarah Saulter. This year we also held our second annual Story Slam the night before the Festival opened, inviting local tellers to spin a yarn for cash prizes. Looking forward to the second weekend in 2016, our 29th Festival will feature Charlotte Blake Alston, Donald Davis, MaryGay Ducey, Joel ben Izzy, Angela Lloyd, and Jim May. The Story Slam is also returning, so get your story ready!
Marilyn Rudzik Storytellers in the Schools
This favorite program, which complements our Storytelling Festival, continued in 2015 bringing the Festival's featured tellers to schools all across the Central Sierra and Central Valley region for assembly performances. This program continues to demonstrate to over 6,000 students the power of storytelling and oral tradition.
Treetop Gallery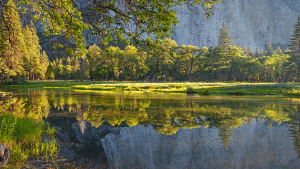 Throughout 2015 our gallery featured the work of many local artists as well as multiple community and curated exhibitions including the Framing the Street: Documentary Photography, Young Masters Youth Exhibition: My Mariposa, a selection of images from our F/STOP workshops, Artists' Point: Reflections from Yosemite's Contemporary Artists, and In Uniform: Military Uniforms and the Stories They Tell.
Young Master Composer Celebration
The Young Master Composer Celebration is an annual competition in which Mariposa County residents aged 8 – 18 are challenged by the MSO's Founding Music Director/Conductor Les Marsden to compose their very own "classical" music. This year we had two winners, 13-year-old Matt Kroeker and 15-year-old Sean Cox. Both are violinists in the Mariposa Symphony Orchestra and Matt Kroeker is enjoying his second win in the contest. Kroeker's,"Symphony #3," and Cox's work, "Freedom's Flame," were orchestrated by Marsden and received their world-premiere performances at the MSO's  "Independence Day Spectacular!"
District 2 Art Show
This year we held our 3rd District 2 Art Show in Greeley Hill at the home of Merlin and Mimi Jones. This event provides an elegant venue for approximately 40 artists living in Mariposa County's second district to showcase their work in their own community.
Summer Art and Music Camp
This longstanding partnership program between the Arts Council and Parks and Recreation continued to grow in 2015 as we experienced a record number of day campers in the program – over 60 each day! These campers enjoyed 4 weeks of papermaking with Jeannine Andre, 5 weeks of ceramic classes with Phyllis Becker and Tiffany Newberry, and 9 weeks of music instruction with Adam Burns.
So as you can see, 2015 was a great year and we look forward to continued growth and more exciting art programming in 2016!