Young Master Composers Celebration 2017
The Young Master Composers Celebration – Rules and Entry Form 2017 is here!
The Young Master Composer Celebration is an annual competition in which Mariposa County residents ages 8 – 18 are challenged by the MSO's Founding Music Director/Conductor Les Marsden to compose their very own "classical" music. One winning young composer is selected in each of three age categories and those three Mariposans will each be awarded $50 and the opportunity to hear their own music performed live, in concert by the Mariposa Symphony Orchestra, which now numbers over 60 musicians.
The "Young Master Composers Celebration" educates by doing: the contest's guidelines explain Sonata Form, the most basic, most important form of "serious" or "art" music. Following this simple outline makes it easy for students with a basic understanding of music reading to attempt their very own "classical" masterpiece. Marsden's goal is not only to engage Mariposa County youth in the world of classical music by making it very accessible, clear and enjoyable, but to educate at the same time. Marsden adjudicates all entries and selects those which best meet the criteria for each year's contest. He then orchestrates the winning compositions, which will be performed by the Mariposa Symphony Orchestra.
---
Welcome to Classical Music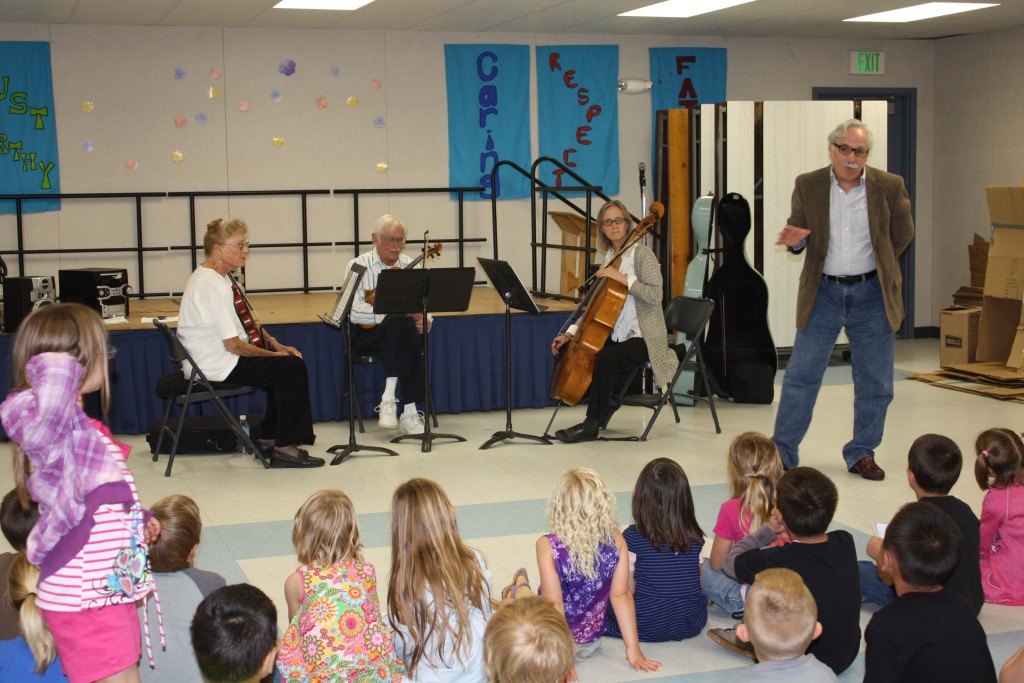 "Welcome to Classical Music" is an annually-offered program in which Mariposa Symphony Orchestra Founding Music Director/Conductor Les Marsden offers visits to every campus in Mariposa County, including schools of the Mariposa County Unified School District, charter schools in Mariposa County, and other sites.   The program is inclusive for the home-schooled as well.   Every year Marsden offers a brand-new focus on classical music, and his theme for 2013 is "Words and Music."   2013's assemblies are being scheduled for the months of April and May and details will be available at the Mariposa County Arts Council's office and at school campus offices when the schedule is finalized by early April.
In past years, Marsden has sometimes (separately) brought distinguished visiting guest artists to Mariposa school campuses whenever possible.  Students have been able to experience such accomplished soloists as Violinist Lewis Wong (NY), Trombonist Thomas Ashworth (MN) and Saxophonist Lawrence Gwozdz (MS).   But Marsden has been eager to present actual ensembles of musicians so students can not only see and hear various instruments, but to experience the interchange and cooperation of musicians playing together as an ensemble.  And so in 2013 Marsden will be accompanied on his visits by a gifted trio of string players from the Mariposa Symphony Orchestra: Violinist Martha Eads, Violist Ken Keuning and Cellist Gay Dunn.  And to tie in with this year's theme, Marsden has specially composed a simple musical story that takes place in various areas of Mariposa County which he will narrate while the string trio plays the musical portion of the story: a demonstration of "Words and Music."  He will also play and discuss (via recordings) other well-known pieces for narrator and full symphony orchestra as Sergei Prokofiev's "Peter and the Wolf," Aaron Copland's "Lincoln Portrait" and others.