A professional highpoint for me this winter has been sharing the photography of David Johnson (Johnson is the photographer featured in our  "Framing the Street" exhibition) with the community of Mariposa, especially the many middle school and high school students who have visited the gallery over the past few months. The experience has reminded me that photojournalism can pack a devastatingly powerful punch as the images bear witness to the events that shape our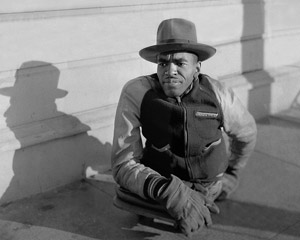 world and bring us face-to-face with the joys and tragedies experienced by people with whom we would never otherwise come in contact. Johnson's "Man on a Skateboard" has elicited some of the most sincerely empathetic and emotionally sophisticated comments I've ever heard from kids between the ages of 11 and 13 as they try to relate this man's reality to their own.
Documentary photography can also serve as historical primary source material. Johnson's work focuses on the African American community and the Fillmore neighborhood in San Francisco during the mid-20th Century and as 30 middle school students and I worked through the exhibition today, Johnson's images prompted a rich, freeform discussion that moved from internment of Japanese Americans in the wake of Pearl Harbor, to Civil Rights and the nonviolent civil resistance strategies employed by African Americans under the leadership of Dr. King, before concluding by talking about the Watts Riots and the racial frustrations we still experience today.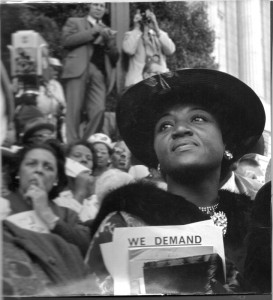 I was so impressed by how the students could objectively talk about the larger historical events represented in the photographs while also interpreting the nuanced feelings and emotions they observed on the individuals in the pictures. As I was listening to the kids respond to Johnson's work, I was reminded of a quote by Henri Cartier-Bresson, quite possible the best photojournalist to date, "To take photographs means to recognize – simultaneously and within a fraction of a second – both the fact itself and the rigorous organization of visually perceived forms that give it meaning. It is putting one's head, one's eyes, and one's heart on the same axis." Johnson's images demonstrate that his head, eyes, and heart were on the same axis and the impact of that alignment does not diminish over time.
To learn more, check out KQED's Scott Shafer's interview with David Johnson and his wife Jacqueline Sue.