Click here to purchase tickets for Saturday, April 29 securely online.  The Sunday, April 30 concert in Yosemite is free, with first-come, first-seated availability. 
A concert featuring music of incredible beauty and awe-inspiring power. And a magnificent soloist. Or two.
One of the most beloved and amazing symphonic works ever composed, Scheherazade's four movements portray the Arabian Nights tales of The Sea and Sinbad's Ship, The Story of the Kalender Prince, The Young Prince and Princess and that fantastic finale depicting Festival at  Baghdad – The Sea – Shipwreck – and Conclusion. All woven together by tale-teller Scheherazade, who each night cleverly weaves a cliff-hanger in order that her Sultan husband will allow her to live another day – only so his curiosity about the story's ending will be sated. Until the end, when – well: you'll find out.
Ernest Bloch's Schelomo is a remarkably soul-searching work, and the finest one composed by a man described by no less than Yehudi Menuhin as a "great composer without any narrowing qualifications whatever." An opinion with which I concur.  First composed with the human voice in mind as soloist, Bloch decided the cello was an "infinitely grander and more profound voice that could speak all languages." And so the cello speaks the voice of Schelomo – the Hebrew name for King Solomon.  And in this music, the orchestra represents Schelomo's world, while the cello considers the many meanings of life – including the rhythms of "Oriental" seduction, making it a more than apt concert partner for Scheherazade. The overall tone is one of sadness and despair at the human condition – though hope is delivered briefly during the cello's musing. Special Guest Cello Soloist, Ira Lehn, will perform Ernest Bloch's deeply moving Schelomo Hebraic Rhapsody for Cello and Orchestra.
The darkly-hued opening of the overture to Mozart's "dramma giocoso" opera "Don Giovanni" (or if you prefer, "Don Juan") will begin our concert.  Truly a brilliant combination of comic and dramatic – and even horrific elements: this is one of its composer's most powerful overtures and was written literally overnight.
Notes from Les Marsden, MSO Founding Music Director and Conductor
Les Marsden,
Founding Music Director and Conductor
The Mariposa Symphony Orchestra
Take a look at the Mariposa Symphony Orchestra's mini-documentary!
For the full story behind "Our Nation's Nature" and for program notes, please click here.

About the Mariposa Symphony Orchestra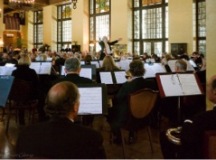 In 2002, Mariposa County Arts Council Board Director Les Marsden proposed creating a modest Mariposa chamber music ensemble. The idea was considered outlandish in this rural, sparsely populated region, but ten players became 19 by the first rehearsal in September of 2002 before growing to 31 musicians by the December 21, 2002 premiere concert. The newly-named Mariposa Symphony Orchestra's very first piece of music performed founder/conductor Marsden's 'Mariposa Festival Overture' composed for and dedicated to the MSO's founding musicians. In the ensuing years, the orchestra has grown to 60 musicians and boasts an impressive history of performances in three counties, as well as an annual performance in Yosemite National Park, the only symphony orchestra afforded that opportunity in the park's history. Mozart, Haydn, Beethoven, Pachelbel, Bizet, Bach, Schubert, Saint-Saens, Barber, Hanson, Mussorgsky, Copland, Tchaikovsky, Vivaldi, Schumann, Mendelssohn, Brahms, Strauss, Joplin, Dvořák and many more great
composers are now heard live, regularly, symphonically in these mountains. MSO audiences have enjoyed guest soloists including cellist Ira Lehn, violinist Ann Miller, pianist Patrice Stribling Donald, classical saxophonist Dr. Lawrence Gwozdz of the University of Southern Mississippi, trombone virtuoso Dr. Tom Ashworth of U-Minn, Dr. Lewis Wong of New York and even Tim Johnson and the Sierra Cowboy Riders. In 2005 the annual MSO 'Young Composers Celebration' began with performances of 8-18 year-old students' compositions (orchestrated by Marsden) as well as the introduction of Marsden's "Welcome to Classical Music" programs in every school campus in Mariposa County.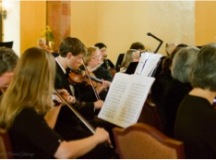 The MSO is a member of the League of American Symphony Orchestras and an ASCAP and BMI signatory. The orchestra is an partner in the four American Anniversary celebrations from 2014-16 relevant to Yosemite National Park, with the premieres of "American Anniversaries," a new large-scale dedicated symphonic cycle composed by Les Marsden rolling out from 2013-16.
Mariposa celebrates a proud distinction: it's considered the smallest town in all America with its own symphony orchestra: the Mariposa Symphony Orchestra.
(All photo credits: Brent Gilstrap.)
About Les Marsden, Founder and Conductor of the Mariposa Symphony Orchestra
A thoroughly annoying, musically precocious child, Marsden began piano lessons at age 4 and was credentialed to teach piano by age 11. He added trumpet in elementary school and as a pre-teen/teen performed in recitals and with chamber ensembles as pianist/harpsichordist, becoming proficient on other brass, strings and woodwinds, as well as the concert grand harp. He composed his first symphony at 13; as a teen was principal trumpet of ensembles including the California Honor Orchestra and the Fresno Junior Philharmonic for many years. His composing and conducting interests were nurtured by (the late) Maestro Guy Taylor, conductor of the Fresno Philharmonic Orchestra. Under Taylor's tutelage, Marsden conducted the FJP in performances of his own works. As a teen he acted in local theatre; upon entering college (CSU Fresno) Marsden settled on a theatre career. While a college student he wrote, produced and starred in his one-man show "A Night at Harpo's" with the cooperation of Harpo Marx's widow Susan and children. The show was professionally booked directly from college and served as the young man's entrée into show business. Well acquainted with the elderly Groucho Marx, he performed as that Marx Brother for years in various theatrical presentations. Groucho's son Arthur Marx wrote the play Groucho: A Life in Revue and in it created the DUAL role of Harpo and Chico Marx specifically for Marsden who in addition to playing both brothers in and out of their well-known film personae also stunned audiences by actually playing lengthy piano and harp solos in each brother's distinctive style. Highly successful in New York, the show then played London's West End to great acclaim; Marsden was nominated in the U.K. for London's prestigious Laurence Olivier Award for "Comedy Performance of the Year"—the equivalent of Broadway's Tony Award. He also received the London Critics Award and many others for his work on the London stage. The Marx Brothers were carefully maintained only a sideline to his mainstream theatrical career, however: Marsden was seen nationally and internationally in innumerable dramas, comedies and musicals from Shakespeare to Neil Simon, Chekhov to Cole Porter, with countless appearances on film, TV and in commercials. He worked with greats such as Robert Redford, the late Charles Nelson Reilly (one of this country's finest stage directors,) Albert Finney, Vanessa Redgrave, Burt Reynolds and Jeremy Irons to name only a few. While starring in a play at the famed Arena Stage in Washington, DC in 1999, Marsden had an onstage accident which resulted in a career-ending permanent injury to his left leg. Disabled, he retired at age 42; with no further need to maintain an East Coast professional base, Marsden, wife Diane and young son Maxfield moved back to their native California to live near their beloved Yosemite National Park. In addition to the MSO and affiliated MCACI programs, he offered his 'Acting in Mariposa' (AIM) program; as Master Acting Teacher, his (rare) adult acting classes in Mariposa fill beyond capacity. He was honored to receive the "Golden Apple Award" from the Madera-Mariposa Charter of the Association of California School Administrators for his work as a volunteer arts presenter in all Mariposa County schools. A member of The Conductors Guild, aspects of his former theatrical career may be found at: http://tinyurl.com/ygpj7og
(All photography credits: Brent Gilstrap.)
Save
Save