Our Annual Mariposa Storytelling Festival brings you the best storytelling performances every 2nd weekend in March. This spring 2016 will be our 29th Annual Storytelling Festival!
This festival begins in historic Mariposa, with storytelling events on Friday, March 11 and Saturday, March 12. On Sunday, March 13, the festival moves to Yosemite National Park for the finale in the East Auditorium at the Yosemite Valley Visitors Center.
To view and/or print this year's schedule, please click here: Mariposa Storytelling Schedule 2016. To view and/or print our registration form, please click here: Mariposa Storytelling Registration Form 2016.
Order your tickets early! Our evening shows typically sell-out several weeks before the festival. Please note that tickets for the Yosemite concert must be pre-purchased, no tickets will be sold in Yosemite.
To order tickets, please visit our online shop. Order online before February 19th and receive $5 off our Special 2 Day Festival Passes. You may also order your tickets by calling us at (209) 966-3155 or (800) 903-9936.
To join our mailing list, please email rodriguez@mariposaartscouncil.org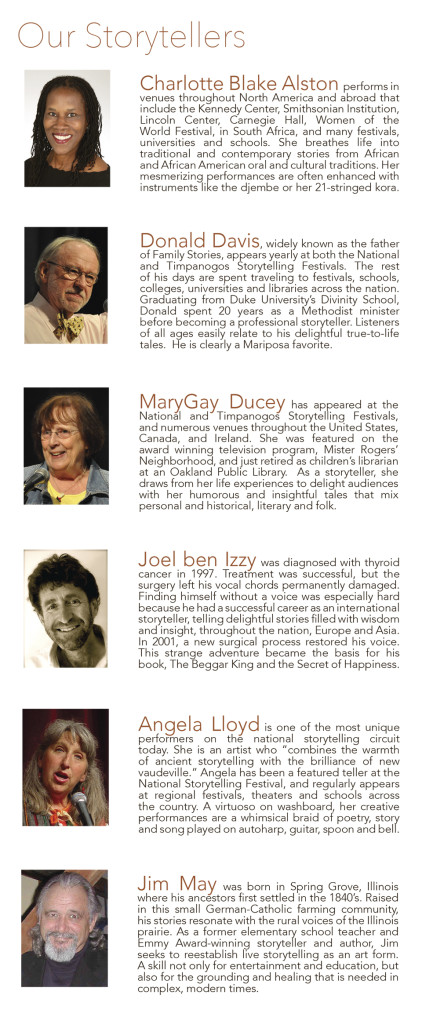 Teachers call for Dominican University credit for Festival attendance, (209) 966-3155.
All Festival sites are handicapped accessible. Check the schedule for performances with ASL interpretation for the hearing impaired.
Festival is recommended for ages 8-108. Children's Concert is on March 12 at 2:00 PM
Lodging: Contact Mariposa County Visitors Center at (866) 425-3366 or visit www.yosemiteexperience.com. RV parking at the fairgrounds: (209) 966-2432.